May 30, 2015, 11:50 PM
Well, there you go: my 34th birthday officially sucked.  I think a few things led to it being a pretty crummy day.  I knew a few weeks ago that I would have the day off on my birthday and wanted to do something for it.  I didn't tell anyone about the day off because I just wanted to do something for myself, by myself, and didn't want anyone trying to make any requests for my time.  I was tossing around the idea of going to either Ocean City or Rehoboth Beach today, but really wasn't all that excited about either one.  Then I woke up today, and went online to do a little more research and some more figuring out of what I wanted to do, and I had a different idea that sounded a lot more appealing than going to the beach: New York City.
That was something that I was excited about.  I have never really been to New York City.  I've only passed through New York City on the way to and from other places.  I went through by car in 2010 when I went to Boston, and I went through by train in 2011 when I went to New Hampshire.  But since I never exited a vehicle on those occasions, those don't count as visiting New York.  The way I figured, it would take about four hours to drive up.  I would park at a PATH station (probably Journal Square), take PATH to World Trade Center, and then explore for a few hours before heading back home.  I actually left to go on this trip, and then by the time I got to the end of the street, I realized that it was probably a bad idea.  After all, this was a single day off.  I had to go to work the next day, and didn't want to be all groggy from a big trip, or worse, oversleep and be late for work.  I quickly came to the realization that I couldn't go anywhere today, and that just shot my day.  I ended up going to the shopping center up the road from me, bought a new pair of shoes for work, and then went back home.  Total distance traveled: 1.5 miles.
Sometimes I hate being an adult with adult responsibilities.  I wanted to go out and have fun.
Continue reading…
May 30, 2015, 12:49 PM
So today is my birthday.  I am officially 34 years old.  I rang my birthday in doing one of the things that I always enjoy doing, i.e. driving the bus, and watching out for Virginia drivers (yes, Virginia drivers are, by far, the worst drivers in this area as far as I'm concerned).  Then I took my birthday as a floating holiday, so I don't have to work my birthday (yaaaaaay!).
But at the beginning of my workday on Friday, my friend Elyse met me at the location on the street where I pick up my first bus, and gave me a birthday card.  Check it out:
And of course, I immediately made sport of the grammatical error in the handwritten message.  But no worries – I did it with a smile, so it's all in good fun.  Then down at the bottom is an Edwards Integrity fire alarm horn/strobe, like they have at work.
Continue reading…
May 20, 2015, 12:09 PM
I recently read in an article in The News Leader that Augusta County Public Schools, where I went to middle and high school, is partnering up with the local sheriff's office to outfit two of its school buses with cameras.  These particular cameras are mounted on the exterior of the bus, on the left side, and are designed to catch people who pass a stopped school bus while their red warning lights are flashing.  Normally, drivers in all directions are supposed to come to a complete stop when the bus's red warning lights are flashing and the stop arm is out.
Now we all know better than to think that this always happens.  I've written about school bus stops before, in regards to whether a right turn that begins just beyond a stopped school bus and moves away from it is a legal movement, or if it's not.  I casually asked a Montgomery County police officer about this one time while I was out and about, and he said that it wasn't a legal move, describing the area where drivers are required to come to a full stop for a school bus as being like a bubble, rather than as a line of demarcation.  I would have loved for the move that I described to have been legal, because then I could just zip past and be on my way.  But apparently, it's not.
Also, for those of you who have never driven a large vehicle before, let me let you in on something: if you think that the people around you drive like wackos when you're in your car, you haven't seen anything until you've watched drivers around a large vehicle.  The "wacko" factor gets turned up to eleven when you're driving a large vehicle.  After all, large vehicles are very different than your car.  They're big, they're heavy, and they're slow.  And in the case of school and transit buses, they make frequent stops.  Drivers in cars know that, and as such, will do anything, even some very unsafe/illegal moves, to get past or otherwise not have to wait for a bus.  I have been cut off in just about every way imaginable when I'm driving the bus, and I don't get special privileges like school buses get, i.e. I don't get to stop all traffic when I'm boarding and alighting passengers.  And even if I could, fellow road users are still very poorly behaved and would stop at nothing to get past or around me while I was stopped, threat of ticket or not.
Continue reading…
May 6, 2015, 4:58 PM
This message recently went up on the sign for the church up the street from me: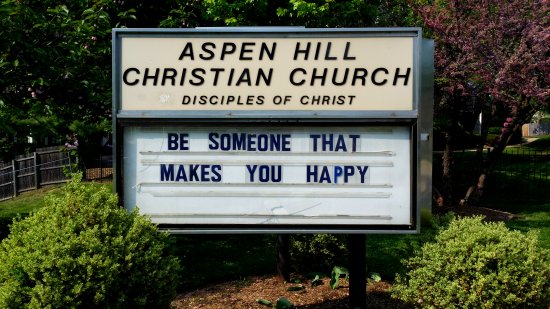 Couldn't have said it any better than that.  No religious overtones, and nothing cheesy.  Just a nice message to help put things in perspective.  Be someone that makes you happy.  After all, we only have one life to live, and it's far too short to spend it being miserable about yourself.  Be the person that you want to be.
That is all.