February 26, 2018, 1:56 AM
No one ever told me that losing a car would be so difficult.  The car itself is gone, and after about a week in a rental car (a Hyundai Accent), I am now the proud owner of a Honda HR-V, a crossover SUV: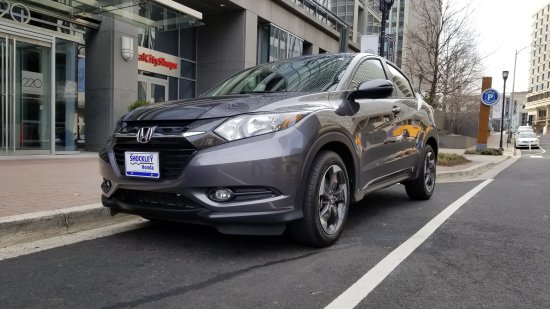 Continue reading…
February 13, 2018, 2:40 PM
Sad to say, my 2012 Kia Soul is no more.  On the night of February 7, in Lucketts, Virginia, as Elyse and I were on the way back home from a trip around the area with friends, my car caught fire and was destroyed in the resulting inferno.  Thankfully, we both escaped without injury.
The day had gone pretty well.  We had gotten together with two friends, Trent and Jackson, and we went from Gaithersburg to Rockville to Silver Spring to DC to Alexandria to Annandale seeing various things, with a focus mostly on elevators, as Elyse, Trent, and Jackson are all elevator enthusiasts.  I have somewhat of an interest in them, but not nearly as strong as the other three.  At the end of our day, we dropped Trent off at Northern Virginia Community College in Annandale, and then took Jackson up to Dulles Airport to meet up with family members of his that were flying in from out of town.  After we left Jackson with his relatives, Elyse and I headed out.  We took the Dulles Greenway to Leesburg, and then headed north on Route 15, intending to go over the Point of Rocks Bridge, and then continuing to follow Route 15 until we reached Frederick, after which we would turn south to head home.
However, circumstances would dictate otherwise.  As we were going up Route 15, the car suddenly started losing accelerative power, getting it back, losing it again, and so on.  The end result was that I was rapidly losing speed.  Elyse thought that it was the transmission slipping, and with that in mind, I was trying to see if I could get the car to a safe location in order to stop and call AAA for a tow truck.  A transmission problem would be covered under the Kia 100,000 mile powertrain warranty, and so, like the engine replacement that I had a couple of months ago, I would take it to the dealer to get it fixed, and everything would be fine.
Continue reading…