August 13, 2022, 10:00 AM
On Thursday, August 11, 2022, I made what you might call an unexpected trip down to Augusta County.  Since the previous Sunday, Elyse had been down in Roanoke attending to some business related to a nonprofit that she is involved with, and was supposed to come back on Wednesday evening via Amtrak.  However, due to some heavy thunderstorms across Virginia that day, her Amtrak train was significantly delayed due to flooding and fallen trees, which meant that she only got as far as Charlottesville before delays on top of more delays meant that she would not arrive in Washington for many hours.  She ended up getting off the train in Charlottesville, and stayed overnight at my parents' house.  That was a strange thing, with Elyse sending me photos from my old bedroom and all, while I was at home in Maryland.  Then since I was off on Thursday, I ended up coming down there to scoop her up and bring her home.  I figured that this was a good excuse for a road trip, so I gathered up my DSLR and my drone and hit the road.  We did a lot of stuff on this one-day trip, including spending quality time with the parents, but photographically, my main push was to get another update for Staunton Mall, after I had previously given an update in June.
Since my last visit, the mall has continued to be hollowed out.  When I visited in June, the interior walls were mostly demolished, with only the exterior walls remaining, from JCPenney to just past the Peebles.  From the end of Peebles to Montgomery Ward was where most of the demolition was occurring, as the roof was off of the mall corridor, while the stores were mostly still there.  The Wards building and the Belk wing were still mostly intact.  Now, the Wards building has been hollowed out to the exterior walls, as has the Belk wing up to the mall entrance next to Family Barber & Beauty.  I imagine that there is a reason behind the way that they're doing this, demolishing the interior while leaving the exterior mostly intact until the end, but I don't know what the reason is.
I followed the same process that I did before when it came to documenting the demolition of Staunton Mall.  I first drove around the property in order to figure out what was worth checking out, and then took the drone up for some flights near the areas that I wanted to photograph.  After all, why send my soft, vulnerable little body in there where things are unstable and could fall on me, when I can send a robot in my place and live vicariously through its eyes, while remaining in a place of safety at all times.  In this case, I parked in front of Boston Beanery to check out the south end of the mall, and then repositioned in front of Family Barber & Beauty to do the north end of the mall.
Continue reading…
August 5, 2022, 10:37 AM
Do you remember that Journal entry that I did a few months ago about David Pinson, the guy who had no clue about why I was filing a copyright claim against his video that used my photo of the old Giant Food store on O Street NW?  As it turned out, he didn't learn a thing.  Recently, while I was nailing another YouTube user for a copyright infringement issue, I ran into Pinson's channel, Earl of Baltimore, in my list of past copyright infringement claims.  So while I was in there, considering our history, I gave it a quick look over to make sure that my image was still gone.  I went in expecting to find nothing, so I was surprised that I actually had a hit.  I found this: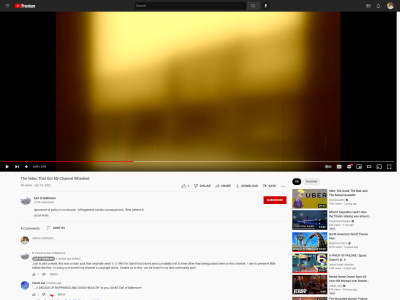 Continue reading…