May 24, 2020, 11:06 AM
I'm currently working on a photography project where I'm going through my old photos from the period before I started using Flickr seriously, which means stuff prior to around September 2013, with the goal of putting more stuff from the back catalog on my Flickr feed.  What I've noticed is that of all of the photos that I took, I took a lot of stinkers, but there is a lot of good stuff that got passed over in the past, mostly because the Life and Times and Photography formats tend to tell a story through the photos, with various levels of narration, and if an otherwise good photo doesn't help to tell that story, it typically won't get used.  Flickr is a different format from Schumin Web, and photos tend to be viewed individually rather than as collections, though that capacity does exist.  So photos that are good but otherwise irrelevant to the story will "work" there.  The recent Journal entry about my trip to Hampton Roads is a good example.  That entry used 79(!) photos from the four-day trip, and there was a lot that I didn't cover because that was already an obscene amount of photos for one Journal entry, and I already found pacing to be a challenge when writing that one, wanting to cover a lot but not go on for too long.
In any case, I found a group of photos that I did on February 26, 2013 that I never used anywhere.  I set a camera inside the washing machine and the dryer in my apartment building, and set the shutter timer, and posed for the camera.  I believe that my intent was to use one of these as a splash photo, but I ultimately didn't like any of them enough to run them on the front of the website, so this whole set got shelved.  I think that I rejected them primarily because it was rather late at night, and I wasn't really looking my best.  However, in going back through these for the Flickr project, they made me laugh a little bit, because the even though the concept was a bit ridiculous, the results aren't as bad as I thought at the time.
Continue reading…
May 17, 2020, 12:21 AM
You may have noticed the photo feature that is currently running on the front of the site depicts a vehicle on its side following its being involved in an accident.  First of all, before you ask: we were not involved in this accident.  Elyse and I saw a car with a bashed in front in the middle of the road and a second car on its side at the intersection of Montgomery Village Avenue and Lost Knife Road while we were on the way home from dropping off a package at a UPS locker, and, seeing no emergency vehicles around, stopped and called it into 911.  Thankfully, no one appeared to be seriously hurt, as both drivers were able to walk away from their respective vehicles.  However, I suspect that the driver of the smashed car hit her head on the windshield, as there was damage to the windshield consistent with that sort of impact.  Additionally, both drivers did ultimately leave the scene in ambulances, presumably to get checked out.
Once we were finished talking with 911, we got some photos of the scene.  Here are some of mine: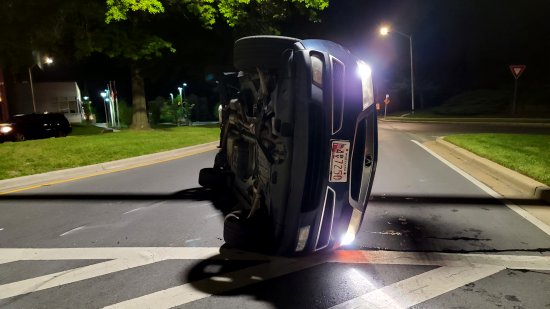 The overturned vehicle, an Acura MDX.  The driver had not yet turned the car off when this photo was taken.
Continue reading…
May 12, 2020, 11:30 PM
Today, Elyse and I headed up to BWI in order to photograph an Antonov An-124 Ruslan that was coming in for a landing.  For those not familiar, Antonov planes have helped transport various medical supplies to where they are needed in the fight against the coronavirus.  As I understand it, these movements are generally not publicized in advance, but the plane shows up on various aviation tracking apps, and as such when one is found, people tend to head out to spot them.  Elyse let me know, and after I warmed to the idea (I don't take too kindly to requests for adventures before I even get out of bed), we went up to the aircraft observation park (we've photographed here before) to await it.
When we got there, there were a bunch of guys with cameras that had really big lenses, as well as radio scanners.  Then the winds shifted, and the planes started landing on another runway that is not very visible from the observation park.  All of the guys with the big lenses then left and headed to a nearby Royal Farms, which is an excellent vantage point for the other runway.  We followed them, assuming that they knew what they were doing.  Then after we got there, we saw all of the guys head back to the observation park, and we followed.  And then the plane, tail number RA-82042, came through: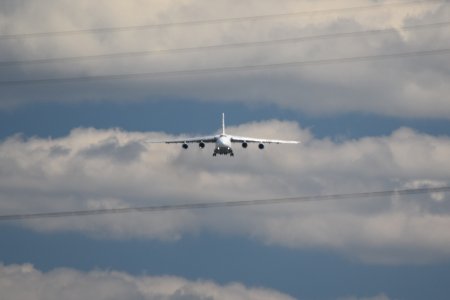 Continue reading…