January 21, 2023, 10:17 AM
On January 5 and 6, while Elyse was at National Harbor attending MAGFest, I did a little overnight trip up north while I was unsupervised.  This was to be a quick adventure, since this wasn't one of my long weekends, and the goal was to pack as much fun as I could have into two days' time.  The plan was to leave home in the late morning on the 5th, go up to Philadelphia that day and stay at the Courtyard by Marriott in Langhorne, Pennsylvania, which would stage me for the second day, where I would head over to Trenton and then take the train up to New York.  I would spend about eight hours in New York, ride the train back to Trenton, and then head home from there.  Interestingly enough, this was an adventure where I put more focus on the logistics of the travel than I did on what I would actually do at the destination.  Thus, the execution didn't go as well as I had intended, as I ended up getting there and then was like, well, now what? as I more or less played it by ear with less direction than I usually like to give myself.  I also knew that this would need to be a more indoor-focused trip, because it was going to be rainy or overcast all day both days.  This adventure was also unusual because on this adventure, the drone stayed home.  The Philadelphia day was not going to be conducive for flying, and New York, forget about it – too many people to worry about.
For the "Philadelphia" day, I actually put more of my efforts into the Wilmington area than I did in Philadelphia.  I have a list of photo shoot ideas on the computer, which I jokingly refer to as "the place where photo ideas go to die", and initially pulled out the Cathedral Basilica of Saints Peter and Paul, which a photographer friend had previously photographed.  However, I wanted to do the interior, and they also closed at 5 PM, so that would have to be a first stop since it closed relatively early.  So while I wanted to do it, I put it into the "we'll see" pile, because I wanted to do some stuff in Delaware, which would have to come first because of its location.  I ended up spending a lot of time at Christiana Mall, since I'd been going past it on 95 in 15+ years of adventures up north, but I'd never stopped there in all of that time.
When it came to Christiana Mall, I sort of knew what to expect.  Christiana Mall was a one-story mall, and, unlike a lot of malls these days, was doing well.  As such, I didn't go in expecting something massive like King of Prussia and then experience disappointment when I got a one-story mall.  Even for a one-story mall, the facility was smaller than I expected, being arranged roughly in a loop.  It had five anchor spots, and they were all filled.  I think that the biggest surprise there was the way that Target was attached to the mall.  In most cases where I've seen Target at an enclosed shopping mall, the store is either adjoining the mall but otherwise freestanding (i.e. no mall entrance), or the mall entrance is located at the front of the store near the regular exterior entrance.  Not so at this store.  At Christiana, the mall entrance for Target was in the back of the store.  From the perspective of the store, there was a row of self checkout machines in the random location in the back of the store, and there was a mall entrance nearby.  If it tells you anything about how random the mall entrance's location is, after I finished up at Target, I had to hunt for that mall entrance in order to get back to the mall.  It is very non-obvious in its placement.
Continue reading…
August 18, 2019, 12:55 AM
August 13 was a day of unexpected twists and turns, for sure.  What was supposed to be a trip to Philadelphia with friends ended up turning into a trip to New York City for Elyse and me.  As originally planned, we were going to meet up with Brian, Trent, and a few other folks from the DC area who were traveling up separately at 30th Street Station, and the bunch of them plus Elyse were going to go fan transit for a while, while I did my own thing, mostly photographing in and around Center City.  That didn't happen.
What caused our plans to change was twofold.  First, the weather forecast called for storms all up and down the east coast.  So I would have to figure out something else to do, as I would be rained out.  Secondly, we were running a tad late due to traffic around Baltimore that led us to take a more southerly route before resuming our planned route.  Once we got up there, the plan was to park in New Jersey and then ride PATCO into the city.  What happened, though, was that the other group didn't want to wait for us at 30th Street Station, and so they went and continued with their plan without Elyse, and took SEPTA Regional Rail out to Norristown, with the idea that we would catch up with them later.  We learned this while we were on PATCO riding into the city.  So essentially, they ditched us.  We did not take too kindly to this, and so rather than chase them in an effort to catch up with them, when it was pretty clear that we were not a priority (otherwise, they would have waited for us), we did our own thing instead.
We ended up getting off of PATCO at City Hall station in Camden.  There, we walked over to the Walter Rand Transportation Center station for the River Line.  Neither of us had ever ridden the River Line, so this would be a new experience.  We were surprised that there was very little transit-oriented development around the River Line stations.  Much of what was right around the stations that we could see was older construction that predated the service.
Continue reading…
March 23, 2019, 1:55 PM
You know, one of these days, I'm going to realize that doing New Jersey and New York City is too much to bite off for a day trip.  However, that day has not come yet, and so on Tuesday, March 12, Elyse and I did exactly that, going to Asbury Park, where we visited the Silverball Museum, and then we rode a New Jersey Transit train from Long Branch to New York City, and spent a few hours in New York.
All in all, though, it wasn't a bad trip, but it was very strenuous.  New York definitely needs to be its own thing, and always its own thing.  No bundling it with stuff in New Jersey, because we always end up getting home extremely late.  But unlike the last time that we bundled New York with Asbury Park, this time, New York was planned from the outset.
Our time in New Jersey was pretty typical: in via the Delaware Memorial Bridge, up via 295, make the big right turn near Trenton to get on 195, comment on the sign at milepost 14.6 that says that the trees are treated with a noxious substance, go to White Castle, and then arrive in Asbury Park.
The Silverball Museum was excellent, as always, as I played my way around the facility.  They had some new chairs this time around, and a few new games.  Elyse noticed that besides her favorite baseball game, there were four or five other vintage baseball games to try.  They also now have the arcade version of Asteroids.  I used to play Asteroids for the Atari 2600 all the time, so I knew my way around that game.  The controls are different on the arcade machine, though.  I found that the all-button controls were not as intuitive as the Atari 2600's joystick-based controls.  That said, I didn't do very well, but with more practice, I could probably get a decent score.
Continue reading…
August 25, 2017, 12:30 PM
Wednesday, August 23 had been planned as a road trip day for quite some time.  Elyse turned 21 two days prior, and this was my birthday present to her, going on a trip up to Asbury Park, New Jersey to visit the Silverball Museum, a pinball arcade on the boardwalk.  We previously visited this facility in May.  Then the plan was to go up to Menlo Park Mall in Edison to go to Rainforest Cafe, where we were having dinner, and I was buying Elyse a drink.  The day that we ended up having was a lot of fun, but definitely more expansive than I had originally planned.
We left the house around 11:00, with Asbury Park as our destination.  We made a quick stop at Maryland House, and then a White Castle in Howell Township: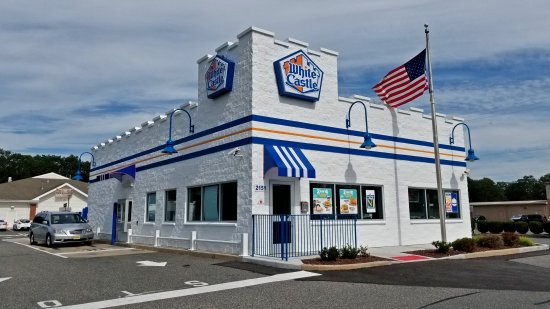 Continue reading…
June 13, 2015, 3:55 AM
Just in case the current photo feature's being of One World Trade Center didn't tip you off, I'm happy to say that yes, I did recently make it to New York City for that day trip that I had wanted to do on my birthday but quickly realized that I couldn't do.  So I regrouped, and did it the way that works best for me: planned in advance.  I got together with my friend Doreen, and we went up on June 9.  And here's proof: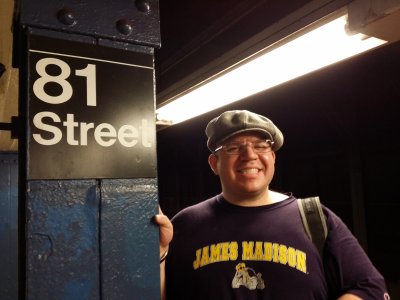 Doreen got this photo of me at the 81st Street subway station on the IND Eighth Avenue Line.
Continue reading…