A trip to the pinball museum…
May 29, 2017, 10:08 AM
On Tuesday, May 23, Elyse and I, along with mutual friend Brian, went up to Asbury Park, New Jersey for the day.  Our goal was to go to the Silverball Museum, which is a vintage arcade on the Asbury Park boardwalk.
We left in the 10:00 hour, and headed up via the Delaware Memorial Bridge, I-295, and I-195, with a stop for lunch at Maryland House.  On the way up I-295, imagine Elyse and Brian's surprise when I said, "I think I left my hat at Maryland House," in that oh, crap sort of way.  Elyse suggested turning around to get it, but we were too far afield to do that.  To turn around would be tantamount to cancelling our trip to return to Harford County, Maryland, just north of Baltimore.  So we continued on, hatless.  After all, we would pass Maryland House coming home, so we could see if it was still there at that time.  I know what I did – I set my hat down on the table next to me when we were having lunch, and I walked off without it.
Arriving in Asbury Park, we located the pinball museum, but first, I wanted to check out a place from my childhood that I had missed during my 2013 trip: Asbury Youth Center, which was a children's clothing store run by my Uncle Skippy.  I remember Uncle Skippy, and remember his being pretty awesome.  Many of the outfits that you saw me in on the Childhood Days page, such as this one came from Uncle Skippy's store.  The store closed in the late 1980s when Uncle Skippy retired, and I hadn't been back there since.  So a quick Google search revealed the address to be 660 Cookman Avenue, and it was off to the races.  This is what the building that housed Uncle Skippy's store looks like today: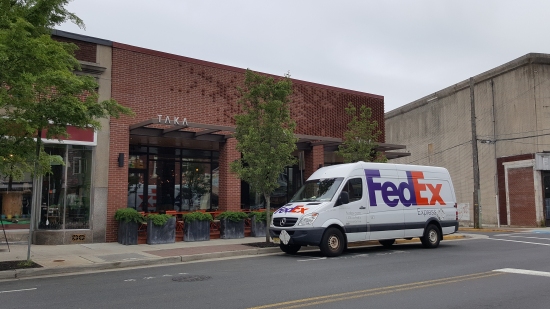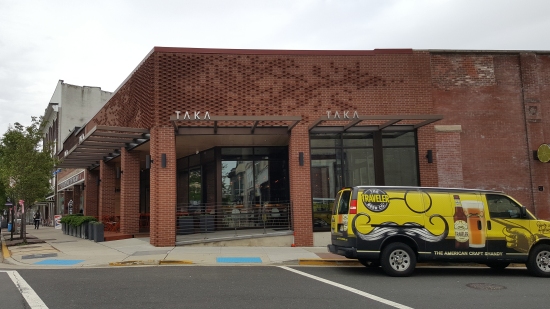 I sent a photo of the place to Dad, and his reaction was, "Sure looks different."
We also checked out the building next door to Uncle Skippy's store, which was once a Woolworth's, but is now a mini-mall: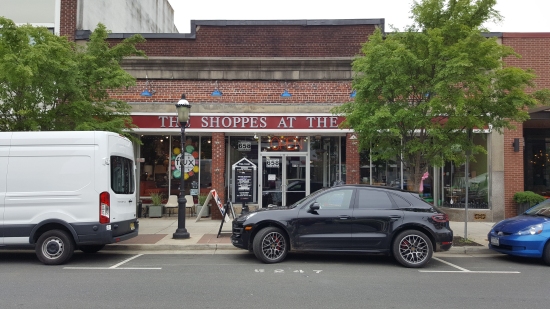 That was fun, as we checked out a few of the stores, including one that I had seen on Reddit that sold wooden sunglasses.  I chatted with the owner of that store for a little bit.  Meanwhile, Elyse and Brian went to a store across the way that sold vintage and modern video games, going back as far as the NES era.  I was impressed to see that they sold games for the Sega Master System, as that system wasn't all that popular, and thus it's really rare to see those games being sold.  Elyse and I didn't buy anything, and then Brian bought a Nintendo 3DS.
Then from here, it was off to the pinball museum.  We parked in space 42 (the answer to life, the universe, and everything – at least automotively), and headed on over.  We all bought our wristbands, and it was time to play.  Unlike other vintage arcades that I've been to, this place had signs over the games providing background information about the company that made the game and what that game did that was new and innovative.  It was also my first time seeing mechanical pinball machines.  I grew up in the era of solid-state pinball machines, which used far fewer moving parts than older machines, with the score and other information's being displayed electronically.
It's interesting – my father worked at a pinball arcade in nearby Belmar as a teen, plus Palace Amusements and the Casino had video games and such as part of their history.  Much of the boardwalk isn't about amusements anymore, with gift shops and such in Convention Hall, and most of the businesses fronting the boardwalk's being restaurants and souvenir shops.  So the pinball museum is something of a spiritual successor to the Palace (which is now a parking lot and other minor structures), the Casino (partly demolished, remainder still somewhat in use), and other amusement attractions at Asbury Park.
Reinforcing the idea that this was something of a spiritual successor to these amusement facilities of the past was this artifact: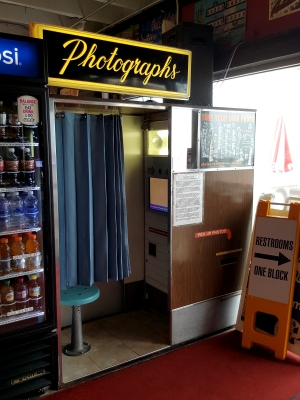 This is the old photo booth from Palace Amusements, still in operation.  A sign on the booth explained that it was at Palace Amusements, and then operated in Vermont for a number of years before returning to the Jersey Shore.
Meanwhile, check this place out: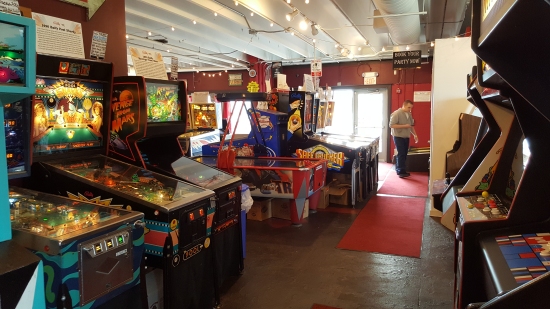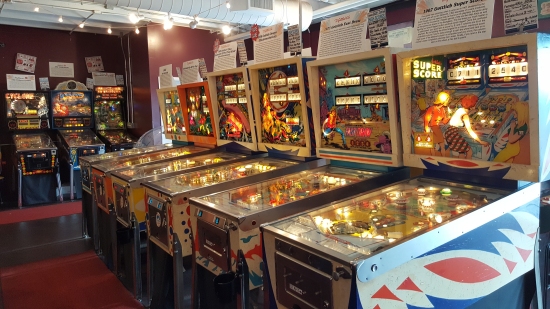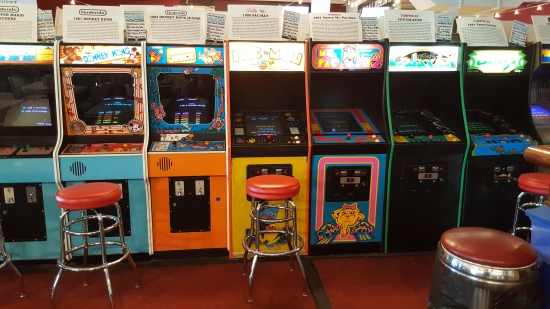 Yes, this place is as awesome as it looks.  One could easily spend hours here, playing all of the games.  Some of the games had the flippers in unusual places, like this: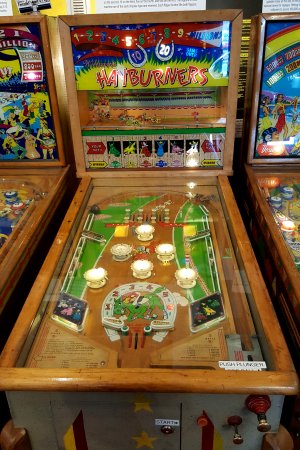 Note that the flippers face the opposite direction and are oriented closer to the center.  Definitely a challenge from the usual.  The object of this game was to move the horses around the race track.  This game was also completely mechanical.
This crane machine, which Brian is playing here, was something that I'd never seen before: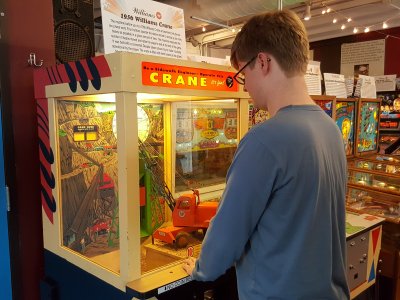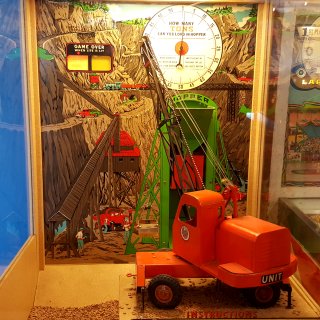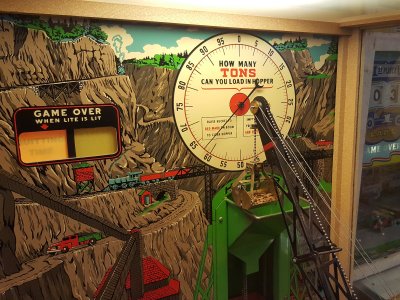 This was pretty fun.  Unlike most crane games, this was played for entertainment only, i.e. no prizes.  The object was to pick up the gravel (which was actually lentils) with your crane, and drop them in the hopper, and see how many "tons" you can get in there before time expired.  Very challenging, especially since if you went too fast, you got less material per scoop.  Thus you had to pace yourself to get maximum yield.
Of course, in the end, everyone was having fun, and that means making this face, as demonstrated by Elyse: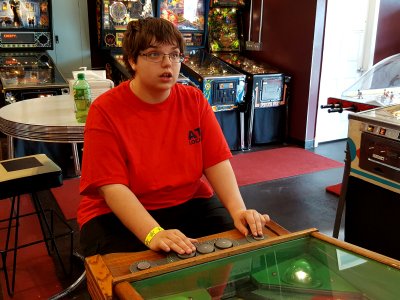 We ended up spending two hours here before doing other things along the boardwalk.  But don't worry – we'll be back at the end of August for Elyse's birthday.
Leaving the arcade, and after feeding the meter again, we headed over to the Casino.  That had seen some changes since I was there in 2013, because now, the carousel house was in use again: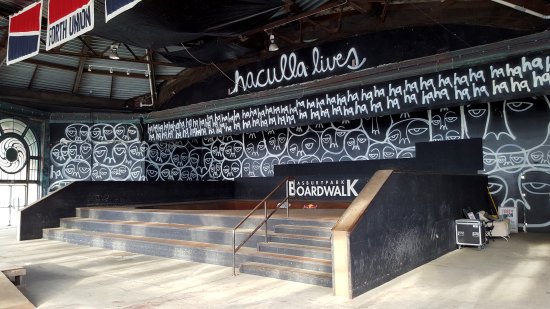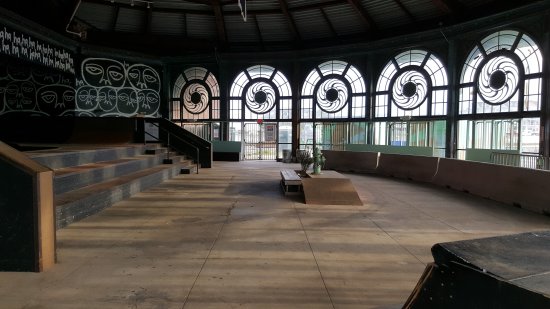 The old carousel house is now in use as a skatepark, operated by an organization called Forth Union.  It's not being used for a carousel anymore, but you know what?  It's putting the space to good use for entertainment, and that's awesome.
The midsection of the Casino, meanwhile, looked the same as it did in 2013: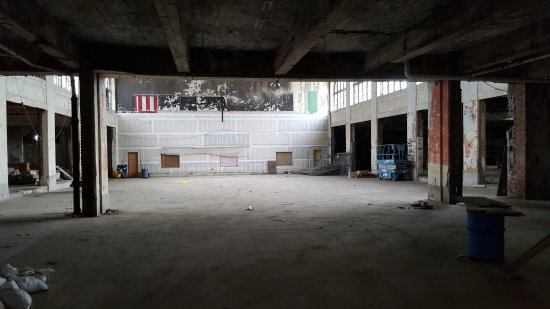 Looking straight back towards the walled-off carousel house.  The former Mad-O-Rama space is back and to the right.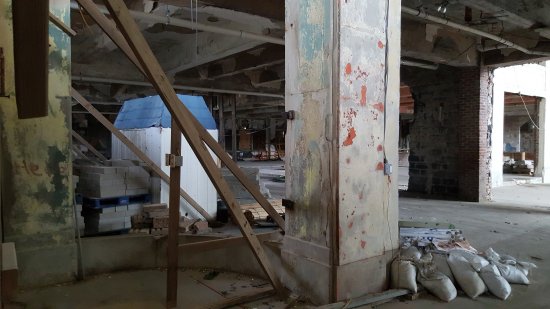 View to the left of the previous view.  Pretty sure that this was part of the Casino fun house, but my recollection is a little fuzzy on this.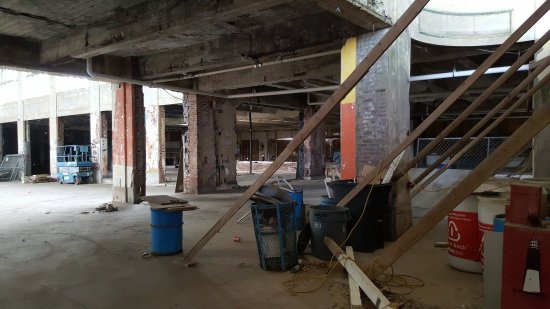 View to the right, showing the Mad-O-Rama space and the areas next to it.
The arcade, meanwhile, looked the same, other than a fence down the middle: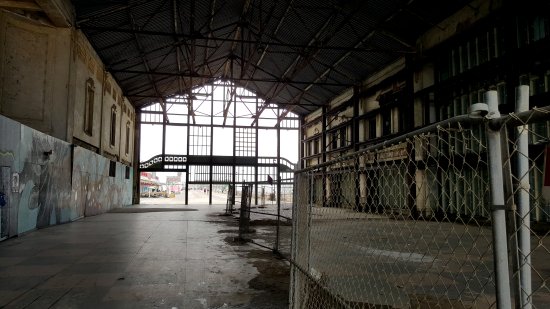 The north facade, meanwhile, looked a little rough: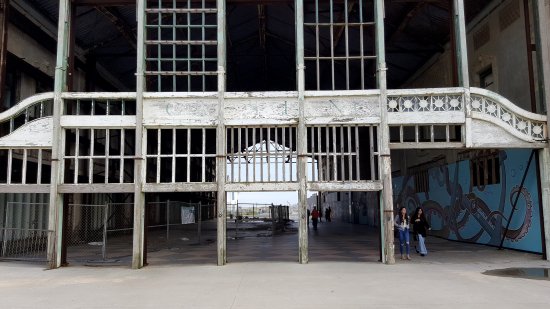 Does anyone know what happened to the "CASINO" lettering?
We also headed over to Convention Hall, which looked the same as it did in 2013.
After this, we went to Monmouth Mall, where Elyse and Brian filmed a Montgomery Vector elevator at the Lord & Taylor:
I was amused about what was carved into the display: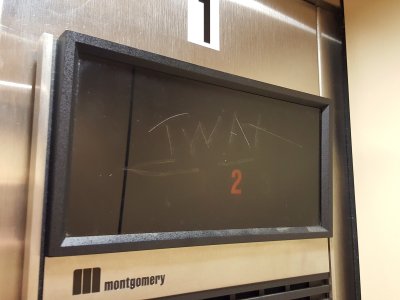 Yes, I am immature.
Otherwise, we found a rare specimen: a living Suncoast!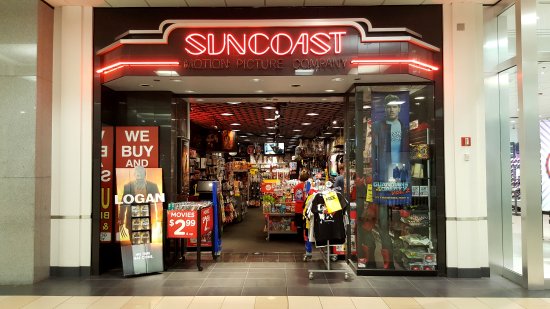 I've only seen one other living Suncoast store in the last decade or so, and that's at White Marsh Mall north of Baltimore.  The company is now owned by the same people that own FYE, and has had similar "format decay" as FYE, i.e. they now sell mostly merchandise tie-ins with popular entertainment franchises, and very little actual media.  However, I did get this photo of two candy containers: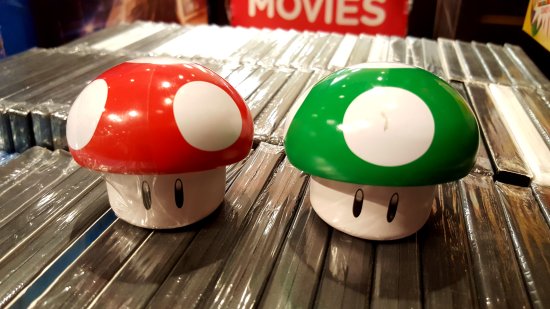 I captioned this "Grow up and get a life."  Fans of Super Mario Bros. will understand this immediately.
And then from there, we headed back home.  We returned to Maryland House on the way back to inquire about my hat.  The guy checked the lost and found, and bad news: no hat.  I'm guessing that someone saw it laying there abandoned, and got themselves a new hat.  And I hope that they enjoy it, as I harbor no ill will towards whoever found it.  I only had that particular hat for six months, and it never quite fit as well as I would have preferred, so I'm not too upset about losing it.  Plus I have the classic hat to fall back on until I get another hat.
So that's that.  I'd say that everyone had fun.  I like these little road trips.