Childhood Days
Part 1
I will admit – I had a good childhood.  Great parents, great situations, and lots and lots of fun.  Also lots of pictures for that matter.  And what can I say?  The camera loved me.
In this photo set, you can follow my growing up through old photos from my childhood, from birth to my high school graduation.  I've put the photos in chronological order (for the most part – there was some educated guessing involved).  To give you something of a sense of the timeline, I was born in May 1981, and Sis was born in December 1984.  We moved from Glassboro, New Jersey to Rogers, Arkansas in February 1985.  I started kindergarten in 1986, and started at first grade at Grimes Elementary in 1987.  We got our first dog, a little black dachshund named Greta, in October 1988.  Sis started kindergarten in 1990, and attended Grimes Elementary in 1991.  Then in August 1992, we moved from Rogers, Arkansas to the home where my parents still live in Stuarts Draft, Virginia.  The first Greta died in 1994, and we got a little brown dachshund, which we also named Greta, in 1994.  I started Schumin Web on March 23, 1996.  I graduated high school in June 1999.
---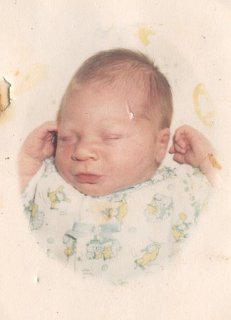 Wasn't I a cute baby?
---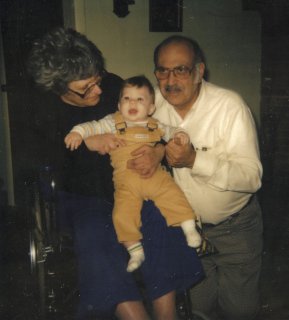 My grandparents on my father's side, Ruth and Seymour ("Pop") Schumin, with me as a baby.
---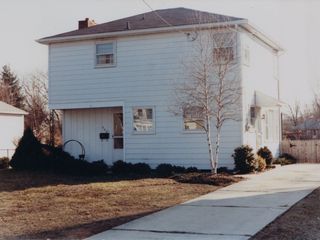 Our house in Glassboro, New Jersey, at 304 Cornell Road. Compare this, as we knew it in the 1980s, to how it looked in 2009.
---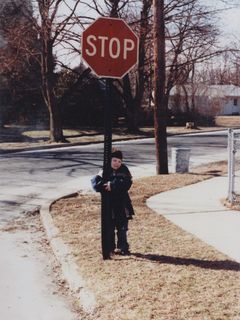 One of the noteworthy features of our neighborhood in Glassboro was the "falling down stop sign", so named because it looked like it was falling down, likely due to having been struck. When we drove by the falling down stop sign in August 1996 while visiting family nearby, the falling down stop sign had been replaced, and thus was no longer falling down. However, by September 2009, the falling down stop sign was once again at an angle, likely due to soil settlement, but now leaning left instead of right.
---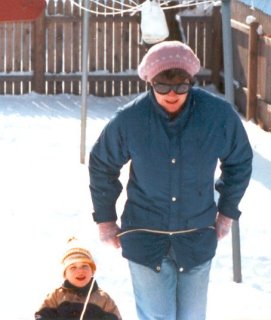 When the snow fell, Mom used to run me around the background on our little orange sled. That sled was awesome, and we used it until it literally fell apart in 1991.
---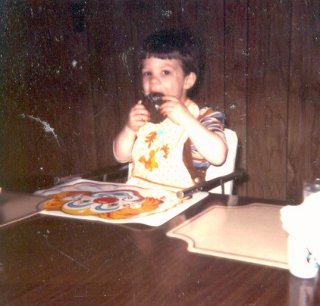 Visiting Pop and Grandma Schumin, we find me doing one of the things I did best – eating a "flying saucer", which was an ice cream sandwich with vanilla ice cream and chocolate cookie outsides.
---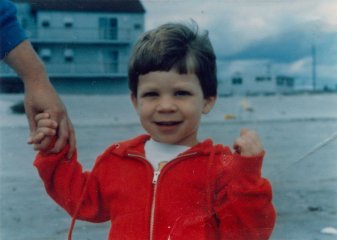 Here I am on the beach at Sea Isle City, New Jersey, holding Mom's hand.
---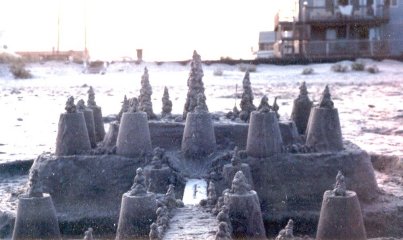 Sand castle that we did one year at Sea Isle City.
---
Face painting. This series of photos shows me before, then having face painting done, and then afterwards. I vaguely remember this face painting session, but it's kind of fuzzy.
---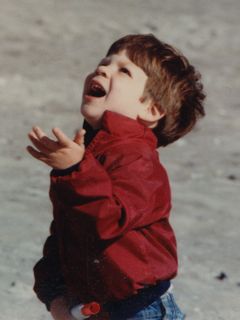 Here I am, quite amused, holding the string end of a bright orange kite on the beach one day.
---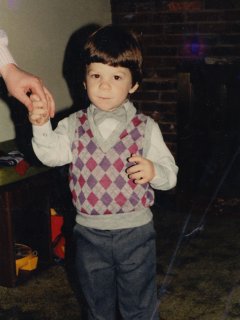 This is me prior to an unsuccessful attempt at getting some professional portraits done. As I understand it, my parents dressed me up as you see, and then we went to an Olan Mills studio. Then at Olan Mills, they kept us waiting for so long that it had become ridiculous, and I, being my usual energetic self, was no longer looking my best on account all of the above. We ended up leaving, and my parents still won't patronize any Olan Mills location to this day on account of this incident.
---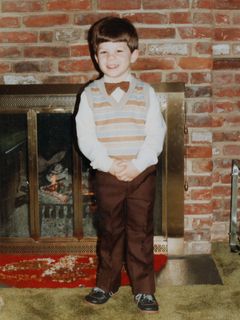 This photo is what resulted from the poor experience at Olan Mills. My parents dressed me up, and took photos of me in the house. Result: adorable!
---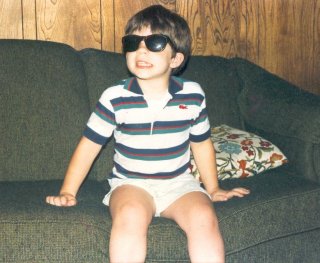 Having moved to Rogers, Arkansas by now, here I am sitting on the green couch demonstrating my complete lack of fashion sense. Note, though, the little alligator on the shirt.
---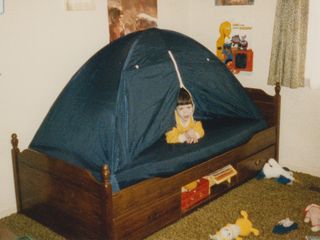 In my room in Rogers, Arkansas (an early view of it in light of the lack of car wallpaper on the left wall), I relax in the bed tent that my parents got me.
---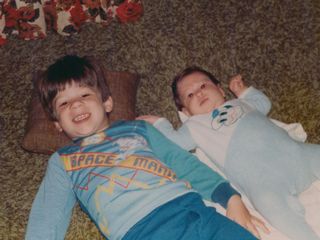 Sis and I laying on the floor in the family room in Rogers.
---
This was a recurring scenario in my childhood: posing for photos with stuffed animals. In the left photo, I'm sitting on the couch with a stuffed cat we called "Smoky" (there was a similar cat in the Children's Department on the early seasons of Today's Special, by the way), and Donald Duck. Then in the right photo, I'm posing with E.T. and a Glo Worm.
---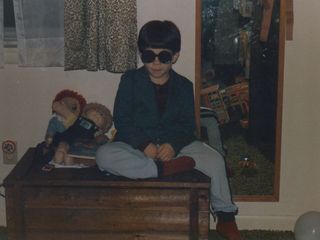 Wearing "Joe Cool" sunglasses, and trying to look cool in the process.
---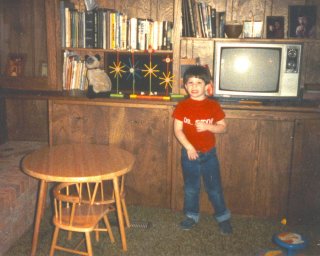 Here I am, wearing my red "Dr. Stop" shirt, showing off the fans I made out of Tinkertoys. I loved my Tinkertoys, and my favorite things to do with them for the longest time were to make fans like this, or spell "EXIT" with the "I" reaching way up to the ceiling.
---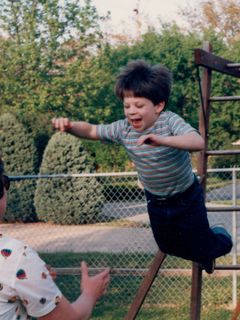 Jumping off our old swingset in Rogers, into Mom's waiting arms.
---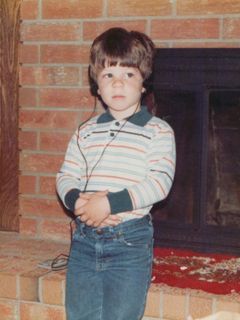 Here I am next to the fireplace, just rocking and rolling to the tunes of the Walkman…
---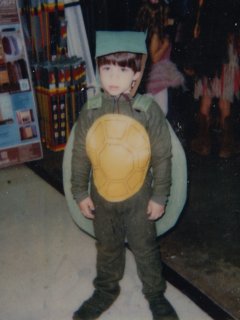 At Kmart in Rogers in 1986, at their children's halloween event. I won first prize for this turtle costume that Mom made for me.
---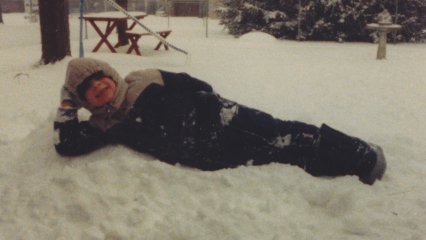 Hamming it up for the camera while laying down on a pile of snow.
---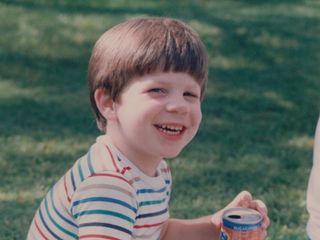 Sitting in the grass at Prairie Creek park near Beaver Lake, drinking some sort of (sugar free) Sunkist soda.
---
At the Teddy Bear Parade in Rogers, Arkansas in 1985 or 1986, I brought my bear, Chris. Unfortunately, however, Chris the bear later managed to escape my sight and got sold at a yard sale.
---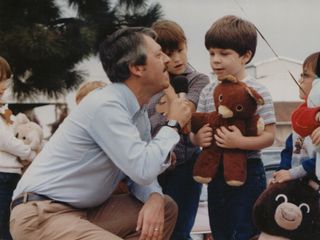 Speaking about Chris the bear with the then-mayor of Rogers, John Sampier, at the Teddy Bear Parade.
---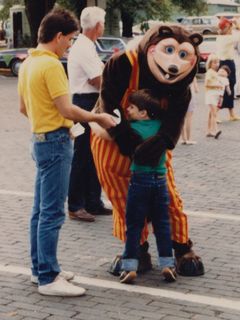 At another event in downtown Rogers, I'm getting a hug from Billy Bob (of Showbiz Pizza fame), while a man tries to hand me a flier of some sort. I love my expression here, kind of saying, do you mind?
---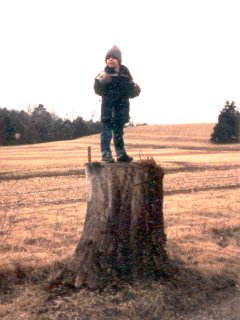 Here, I'm standing on a tree stump in a field near War Eagle Mill near Rogers.
---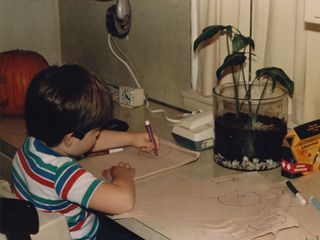 Hard at work, in this case drawing stop signs. Yes, I was something of a roadgeek, even from a very young age…
---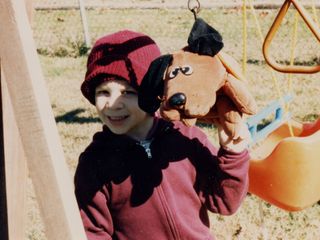 Posing outside with a stuffed Pound Puppy.
---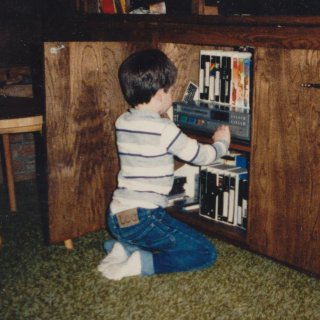 Even in my young age, I could work the VCR like a pro, even though by today's standards, this VCR was primitive (no remote!).
---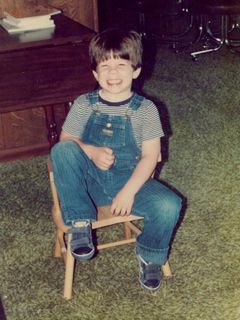 All smiles while sitting on a chair in the family room.
---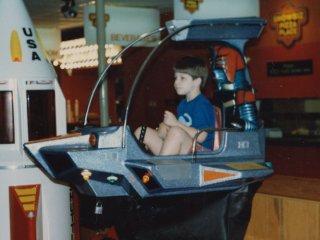 I celebrated my sixth birthday at Showbiz Pizza in Fayetteville, Arkansas. Here I am going up and down on one of their rides – some sort of spaceship.
---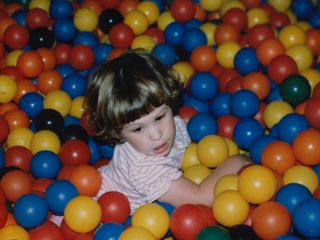 While my buddies and I were having fun all over the place, Sis played around in the ball pit.
---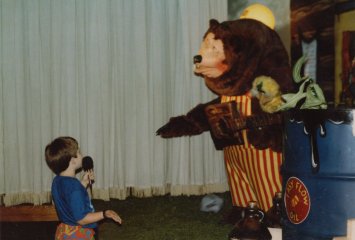 One of the things I will never forget about my childhood was at my sixth birthday party when I got to talk to Billy Bob, Showbiz Pizza's mascot at the time. I even told a joke while I was up there! And I quote…
Me: "What do you get when you cross an apple and an airplane?"
Billy Bob: "I don't know… what do you get when you cross an apple and an airplane?"
Me: "Apple plane!"
---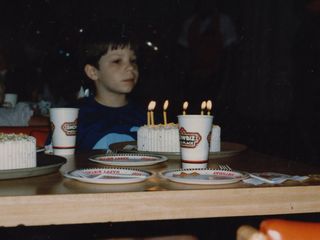 Getting ready to blow out the candles on my cake.
---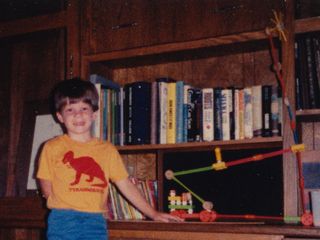 Apparently, I was something of the Tinkertoys engineer when I was little. I believe, based on the thing at the end on the upper right, that this was another fan. I'm not entirely sure what the rest of the structure was for, but it certainly does look cool.
---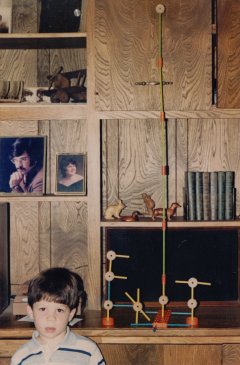 Another favorite thing to do with Tinkertoys was spelling the word "EXIT", with a very long "I". This photo ran as the splash photo in July 2005.
---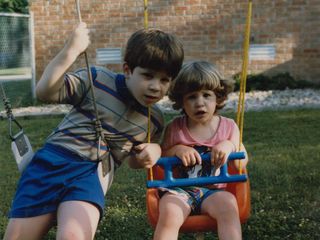 Sis and I pose for the camera on the old swingset in Rogers.
---
Question: What am I going to do with this ball full of water?
Answer: Pour it out over my head!
---
One of the fun times as a child was when Dad brought a Compaq Portable home from work. When he didn't need it, I got to use it, and use it I did. With no actual games (we didn't yet own a computer and this was a computer for business), I was allowed to play with a blank spreadsheet on Lotus 1-2-3. And in the hands of a child, a blank spreadsheet is a lot of fun, as I entertained myself for hours with that.
I'm also amused how, in the left photo, I appear to be multitasking, with a yellow Speak & Read on its end next to the computer.
---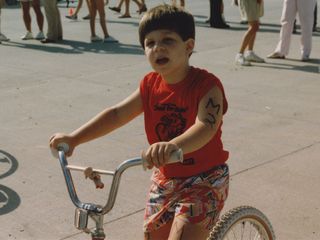 In the "Trianimal Triathlon" in summer 1987. The Trianimal Triathlon was a team-based event, with running, swimming, and bicycling. I was the bicycling part of the team, seen here ahead of my part of the event.
---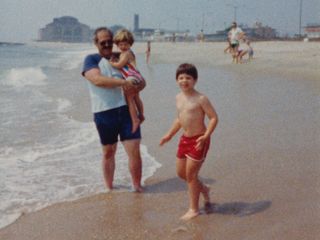 On the beach at Asbury Park, New Jersey in August 1987. The Casino is visible in the background.
Part 1