Cars
Since I started driving, I've driven three cars on a regular basis.  I've driven a sport-utility vehicle, a minivan, and a station wagon.
1974 Ford Bronco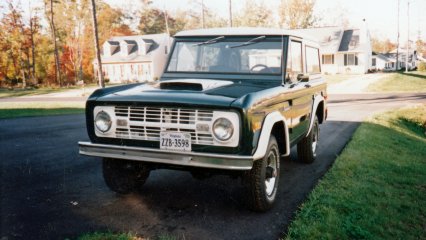 The first car I drove on a regular basis was a 1974 Ford Bronco.  It was most definitely my parents' car, as my father originally bought it in 1994 to have a four-wheel-drive vehicle to use in the snow.  It saw a period of inactivity from September 1996 to May 1997, consisting of the time between when my father upgraded to a 1996 Ford Ranger, and before I got my driver's license in May 1997.
The Ford Bronco, which we nicknamed "spot" due to the way it tended to drip oil on the pavement beneath where it was parked, was definitely an old car.  One look at the front of it confirms that.  It also had an all-metal interior, no seat belts for the rear seat, no shoulder belts on the seat belts in front, only one side mirror, and no air conditioning.  However, it did have a multi-speaker stereo system, which was totally unnecessary, but it seems that the person who owned it before us wanted to hear music while driving.  So there it was.
This car also had its fair share of problems.  It took a while to get started, and wasn't exactly the most reliable car in the world.  I remember when Dad taught me how to work the "automatic choke" on that car to warm it up.  It involved wedging a long ice scraper in between the gas pedal and the driver's seat.  But it worked.  And once it was warm, it could produce some serious heat.  It did, however, eat up gas like a madman – to the point where traveling in it required a gas station at practically every street corner.  It also had a tendency to stop running at the most inopportune times.  I remember three occasions.  Once it stopped running on a straightaway on Route 608.  Another time it stopped running on US 340, at night.  Thankfully both of those times I was somehow able to get it going without any assistance, though it was positively awful to have happen.  A third time, it died just short of the railroad tracks on Route 608 in Stuarts Draft.  That time, another motorist stopped and helped me out of the middle of the road, and somehow managed to help me get it started again.
I only drove that car for seven months.  In December 1997, Mom got a new 1998 Toyota Sienna, I got Mom's old 1991 Toyota Previa, and the Bronco was officially unemployed.  We sold it soon thereafter.
1991 Toyota Previa LE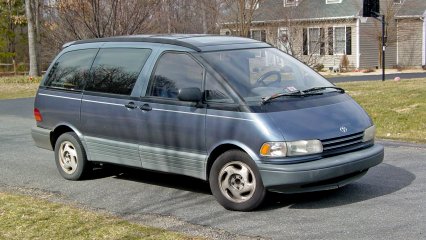 My parents bought our 1991 Toyota Previa LE new in July 1990.  It was also the car that I learned to drive on.  I got it as a hand-me-down in December 1997 after the aforementioned car change, and drove it until February 2006, when it was retired.  The final mileage was 275,275.
When I took over the Previa in December 1997, it was the perfect car for me.  I could carry all sorts of stuff, it was reliable, and it was in great shape with very few problems.  It also had a number of amenities – seven speaker sound, cassette player, power locks, two sunroofs, power windows, a rear spoiler, etc. etc. etc.
Some people may find the Previa's distinctive egg-shaped profile to be a bit "out there".  Some may find it looks obsolete, as a dated view of the future, like the Xanadu House in Florida.  However, this profile did have a specific use, at least for me.  I could find it in three seconds flat in a parking lot, regardless of the size of the lot or the amount of cars parked around me, due to its distinctive profile.
I owned the car outright (vs. belonging to my parents) beginning in April of 2004, and it served me for another two years.  Then in February 2006, with a failed inspection and with the costs of bringing it back up to code being prohibitive, I had to bid the Previa goodbye and get a new car.
Before I retired it, though, I did do a large tribute to the Previa in my Journal, where I also introduced my next car.  I also described the Previa's last hurrah, and the Previa's final voyage.
2004 Mercury Sable LS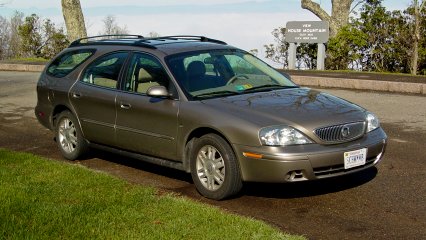 On February 9, 2006, I traded the Previa for a 2004 Mercury Sable LS.  This was a big change for me as far as cars went.  The Sable was a station wagon, and as such, I still had lots of room to carry people and things.  It had power everything, including power seats, an all-leather interior, an electronic climate control system, a remote, "smart" keys, a third fold-up seat in the back, and so much more.
Being so much shorter in height than the Previa, and lacking the Previa's distinctive profile, however, it was more of a challenge to find the Sable in a crowded parking lot, especially when an SUV would park right next to me.  However, the remote that came with the car often worked to my advantage such cases, as hitting the "panic" button on the remote would cause the parking lights to flash, and make the horn sound intermittently.  Looking for the lights and listening for the horn, I could find where I was parked in no time flat.
As a Ford vehicle (since Mercury was a Ford nameplate), however, the Sable unfortunately lived up to the old mantras of "Fixed Or Repaired Daily" and "Found On Road Dead", as I had to take it in on a few occasions for costly repairs.  With another major (expensive) repair looming in late 2011, I determined that rather than pay for another trip to the mechanic and then wait for the next problem to come up, that it would be more cost effective in the long run to replace it with a new car rather than repair it, and also would be a more regular payment vs. having to come up with money for a repair bill right away.  With that in mind, I looked around for a new car, got trade-in bids for the Sable, and then finally traded the Sable in on March 12, 2012 for my next car.
2012 Kia Soul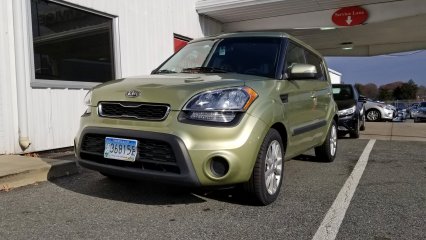 The 2012 Kia Soul that I bought on March 12, 2012 was my first brand new car.  As such, the process for getting the Soul was a bit different from the Bronco and the Previa, both of which I got as hand-me-downs from my parents, as well as the Sable, which I bought used.  For this, I did extensive research on what sorts of cars I wanted.  First I did an online search, weeding out cars that I could reject out of hand on account of price and other factors.  From there, I gave cars a test run in a few phases.  First I tried various Toyotas and Scions.  Then I tried a Toyota Yaris and a Kia Soul.  Then I tried various cars from Honda, Hyundai, Kia, and Ford.  That led me to settle on a Soul.  Then I got my money in order and went out to discuss Kia Souls the way I wanted them.  I ended up getting assistance in finding a Soul from the credit union that I belong to, and visited the various dealers that the credit union sent me to in order to get trade-in bids on the Sable.  Then finally, I closed on a deal, and bought my "alien" green Kia Soul from a dealer in Staunton.
The Soul is definitely different from what I had been accustomed to driving prior to it.  This car feels much lighter to drive (because it is), and is extremely maneuverable.  It has a very tight turning radius, and is very easy to parallel park.  Compare this to the Sable, where due to its longer length and lesser maneuverability, parallel parking was always a pain.  Plus the height of the ride is more like a van vs. like a car.  The Previa was a slight step up to get into it, while the Sable was a step down to get into it.  The Soul is definitely higher than the Sable, but I don't believe it's as high as the Previa was.
In any case, I'm hoping to have many happy years driving this car, and who knows – maybe (hopefully) it will last as long as the Previa did!