Two trade-in bids for the Sable, and some roadgeekery in between!
March 10, 2012, 5:36 PM
First of all, you knew I was also a bit of a roadgeek. I admit – I am. I'm a nerd about transportation in so many different ways. But interestingly enough, I'm not that into cars. But in any case…
So I am coming ever closer to replacing the Sable with a Kia Soul. Today I went to two Kia dealers that my guy at the credit union had previously spoken with and had gotten bids from for a Soul. My goal was to get bids from these dealers for a trade-in on the Sable, and of course they would need to actually see and feel the Sable to do that.
The first place I went to was JBA Kia in Ellicott City. This was surprisingly closer than I expected. Baltimore seems so far off to me, and Ellicott City is a suburb of Baltimore. I felt like I was there in no time. Arriving there, I explained what was going on, how I had been working with my guy at the credit union, etc. So they knew what to do, but they didn't exactly give me a warm and fuzzy feeling in the process. I had to explain multiple times that I was not interested in discussing new cars with them (since I would do that exclusively through my guy at the credit union), and that I was there only for the bid on the Sable. You could tell that they were none too happy that I wouldn't give them a chance to swindle me. If it tells you about the vibe that I got from this dealership, I posted this about it to my Facebook: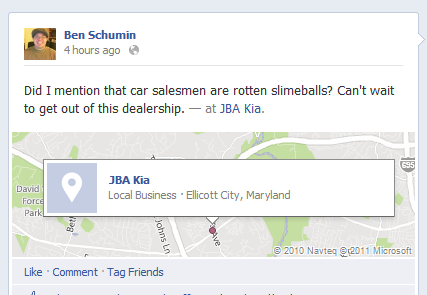 Seriously, I did not exactly feel comfortable there, watching all these guys trying to get me to sign and drive. And then when they gave me their bid, I made sure that they put it in writing, and then got out of there as fast as I could. And even the way they gave me the bid turned me off to them. They gave me a bid that I considered low, and then went on to say that they were doing me a favor by giving me said amount as a bid. Bulls—. I didn't believe a word of that. Good thing don't have to go back there again!
On the way up to Ellicott City, I realized upon seeing signs for Interstate 70 that I might be close by to one of those little quirks on the Interstate Highway System. In this case, I'm discussing the eastern terminus of I-70. For those not familiar, I-70 ends in Baltimore, Maryland. It was always planned to end in Baltimore, but where and how it actually ends was not in the original plan. I-70 was supposed to end at I-95. Instead, I-70 ends at a park and ride lot just inside the Baltimore city limits, just east of Security Boulevard. As I understand it (and I'm grossly oversimplifying it), I-70's route east of its current terminus was a highly contentious issue, and was ultimately cancelled due to public opposition.
So while I was in the dealership, I tweeted a message to Adam Froehlig, who is @ajfroggie on the Twitter. I asked him how hard it was to reach the park and ride, and was delighted to hear back that I was very close to it. Sweet! I had wanted to visit this park and ride for years, but it wasn't a big enough thing to actually make a special trip just to see it. So this was a good opportunity to see it, since I was already up that way and all.
But first, an incorrect sign: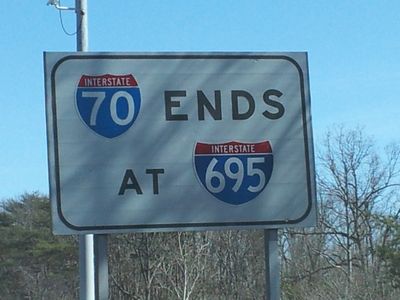 Interstate 70 does not actually end at the interchange with I-695, you see. Now mind you, most traffic exits there to continue on its way, but the road is actually signed as I-70 to the far end of the park and ride.
So I got to the park and ride, parked the car, and then explored for a little bit. I think I spent about 20 minutes there taking photos.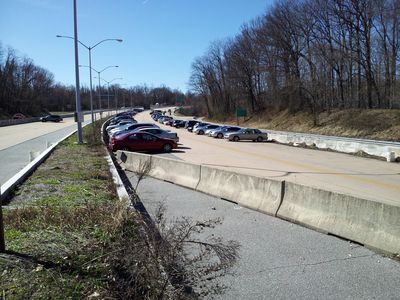 Cars parked in what was intended to be westbound I-70. I am standing on that raised divider in the left of the photo, by the way.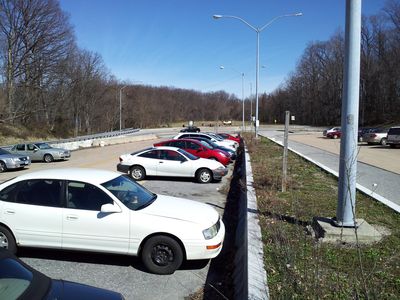 Looking east towards the physical end of the roadway. The intended eastbound lanes are to the right of the divider and the intended westbound lanes are to the left of the divider. I-70 traffic loops around the end of the roadway to switch from the eastbound side to the westbound side. The parking spaces are also accessed from the east end of the facility.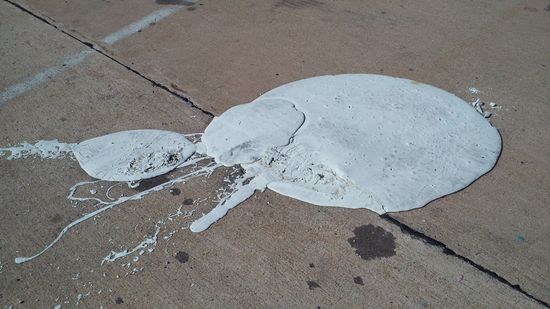 The remains of what I presume was a paint spill. No idea how that happened, and I'm guessing that it's been there for years.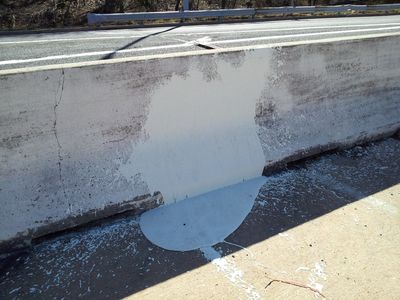 More paint on the Jersey barrier next to the other paint blob.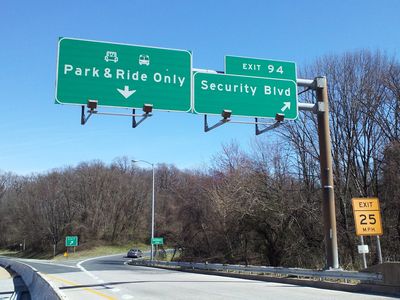 Final overhead sign assembly on I-70 east. Note the "END STATE MAINTENANCE" sign at the exit ramp for Security Boulevard. The final stretch of I-70 is maintained by the Baltimore City Department of Transportation rather than SHA.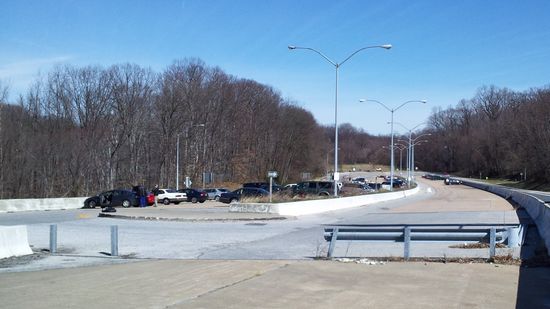 Overview of the I-70 park and ride from the western end of the facility. The intended westbound lanes (where most of the cars are parked) are to the left of the barrier in the center of the photo, while the intended eastbound lanes are to the right of said barrier.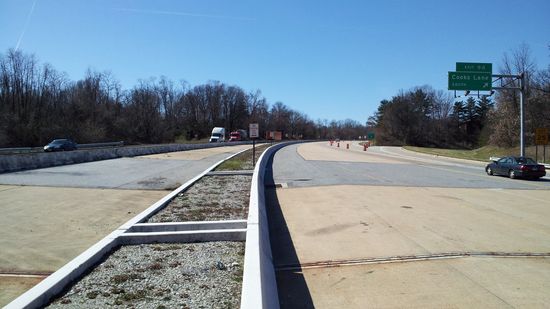 Taken from approximately the same location as the previous photo but facing the other way. This is the area where eastbound traffic (at left) enters the park and ride, and where westbound traffic (at right) departs the park and ride.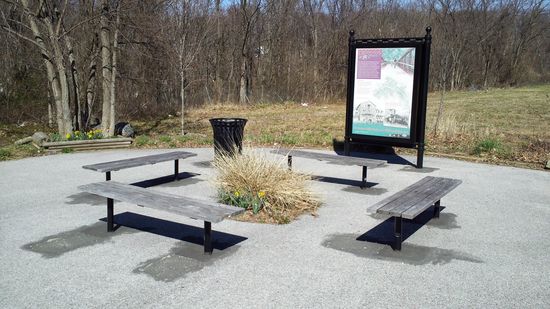 Seating area east of the end of the roadway. The Gwynns Falls Trail begins from this location.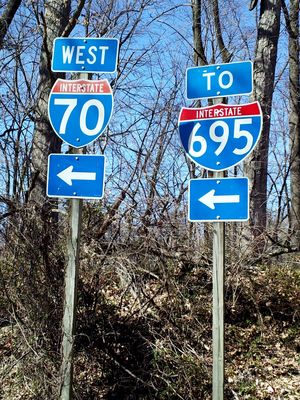 Interstate shields posted at the eastern end of the park and ride, adjacent to the westbound roadway. Note the lack of a "TO" sign over the I-70 shield. That is the indication that the road is actually I-70 all the way into and through the park and ride and that the earlier sign is incorrect, because signage indicates that westbound I-70 starts in the park and ride. If the earlier sign was correct, and the I-70 designation actually ended at I-695, there would be a "TO" sign over the I-70 shield, similar to the "TO" sign over the I-695 shield.
After this, I went back to my car and left the park and ride. I had now seen it, after all. If you're planning to explore the park and ride like I did, by the way, make sure you wear decent shoes. It is a big step up to the median barrier that I was standing on for a few shots, plus there is broken glass around (mostly from beer bottles). So please step with care.
Then on the way out, I was looking for one more sign. My understanding was that there was a sign on the left side of the road not far from the park and ride that gave mileage information about major cities along I-70's route, including the distance to the western terminus at Cove Fort, Utah. It was also my understanding, based on an article on FHWA's site that the sign was created in the first place to test the Clearview font on highway signs. The idea was to test the font, but not on a sign containing critical driver information. Thus the sign.
However, the sign was not where I was expecting it. This is where I was expecting: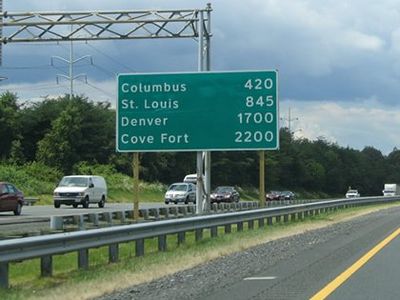 Photo: AARoads
This is where I found it: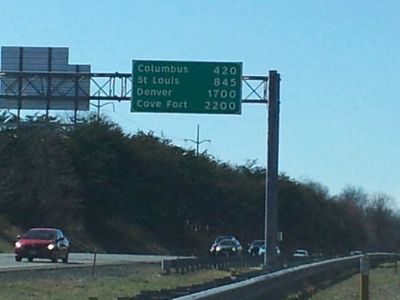 So now it's on the back of an overhead sign gantry. How interesting! Does anyone know when that sign was moved from the median to the overhead?
In any case, though, I found and explored one of the Interstate system's little quirks. Fun. Recall that I explored Breezewood, another Interstate quirk in Pennsylvania, in 2006.
And then it was on to Kia dealer number two. The second was Herson's Kia in Rockville. These guys were less slimy than the folks at JBA, but still pretty slimy. They wanted to know if I had gotten any other bids. I said that I had. They wanted to know what it was. I wouldn't tell them, instead telling them the blue book value for a trade-in. That's when they explained that they didn't go by blue book, since, according to them, that's only for private sales (I call bulls— on that, since Kelley Blue Book lists a separate, higher value for private sales). After they hemmed and hawed about the blue book value, they came up with a bid. It was better than the JBA bid. When they asked how they did, I told them that they had done better (but not by how much). I also told them straight up that I wouldn't tell them what it was no matter how much they insisted, nor would I identify the other dealer. I also said that I wasn't buying the car today no matter what they said or did. I was there for the bid only. I got my bid – in writing.
This is where it got amusing. When I indicated that I was going to a third dealer down where my parents live, he inadvertently admitted that car dealers were dishonest scumbags. He said that the last dealer always gets the sale, because they'll undercut him and get it. Translated: he didn't give me the best deal, and admitted as much. He even offered me an extra hundred bucks to buy a car from him right on the spot, and that he was already at rock bottom on his bid to sell the Soul to me (why should I believe that when he was offering me an extra hundred that he apparently couldn't spare?). After I realized that he was just complaining about how I'm actually being a smart shopper and not just blindly giving him all of my money, I stood up, bid in hand, and thanked him for the bid before beginning to walk away. I said that I would be in touch about whether or not they got the sale. When they asked for my contact information, I repeated: "I'll be in touch." Translated, I'm saying, "Don't call us. We'll call you." Besides, I don't want them having my number. I am the one in control of this situation. Therefore, I will decide when they will speak with me again.
And that was basically that. I have completed the picture for JBA and Herson's. JBA for one lost the sale from their behavior alone, and their crappy bid just sealed that non-deal. Now I need to find out what kind of deal I'm going to get from the place in Staunton, and then jump on one of them.
So tomorrow, I'm headed to Stuarts Draft! That will be fun, since I haven't been down there since Thanksgiving, and who knows – I might come back with a different car. We'll see, I suppose.