February 20, 2014, 12:30 AM
At last, I have finished my Washington Monument photo set.  I started work on this photo set in September, finished up the photography for it in November, and now it's February and with the scaffolding mostly gone (only a quarter or so of the height is now covered) at the time of this writing, the set finally goes out.  This was quite a project, too.
I spent most of the first day, September 5, out on the Mall, shooting photos of the monument under clear to partly cloudy skies.  I was out there from mid-to-late morning until around 5:00.  I got home around 7 PM, after having walked 6.35 miles around the Mall area.  I got off the train at Metro Center, headed to the Washington Monument, and looped around it once at fairly close range.  Then I did another loop around it from a distance, following the path around the Tidal Basin, going past the Jefferson Memorial, the FDR Memorial, the MLK Memorial, the DC War Memorial, the Lincoln Memorial, the Vietnam Memorial, Constitution Gardens, and the World War II Memorial.  Then I headed back up to the Washington Monument, and did another loop up close before heading out.  I went over to the Old Post Office on my way out in order to get a few photos of the Washington Monument from up above, before returning to Metro Center to head home.  After I got home, I don't think I made it to 7:30.  I was out like a light.  Walking all that distance while taking some 900 photos, I definitely earned my sleep that night, as I was both physically and mentally exhausted.
Continue reading…
February 20, 2014, 12:00 AM
As of today, The Schumin Web is no longer offered under the Creative Commons Attribution-ShareAlike license.  The site will now be offered under the traditional "all rights reserved" model, i.e. explicit written permission is required for most downstream usages.  I am doing this for one purpose: to make money.  I went to the Creative Commons model back in November 2005 in order to give my work more exposure through downstream uses, and apparently it's worked.  I now have a portfolio of over 250 downstream usages, both online and in print.  I now have plenty of exposure.  People know who I am, and know about my work, based on multiple usages from a few high-profile entities.  Therefore, I believe that I have reached the point where I can monetize my photography work and bring in a few extra bucks.  The idea is that if you work for some vague notion of "exposure", that is all you are ever going to get, and it's very easy to be taken advantage of that way.  As I field more and more licensing requests from companies, it is clear that there is monetary value in what I produce.
Because of this, there are a few changes in the way that things will operate as far as image licensing goes, as I attempt to reconcile the old Creative Commons license with the new all-rights-reserved model.  First of all, please note: as of today, no new downstream usages of any Schumin Web content are allowed under any form of Creative Commons license.  Please see the new Content Licensing page for information about new downstream usages of Schumin Web content.  All existing downstream content usages that were made using the old Creative Commons license are grandfathered.  Thus, for example, if you used a picture under the Creative Commons license last year, nothing affects that past usage.  However, if you want to use another image today, you need to receive explicit written permission to use that image, even if the image was originally published during the period when the Creative Commons license was in effect.
Continue reading…
February 13, 2014, 6:55 PM
So considering that the pool is closed tonight due to the snow, I still got my exercise today, pool or no pool.  For those not familiar, the east coast of the United States got hit with a pretty significant snowstorm.  This is the biggest snowstorm that I've seen since Snowmageddon in 2010.  And hitting in the same week as Snowmageddon did back in 2010, no less.  However, this snow has mostly been the light, fluffy kind so far, and that's the stuff that you can clear off the car with the brush part of the scraper with little effort (and really get some distance when slinging it).  However, when more than a foot of it falls in a short time, it does start to compress a bit.  But it looked very pretty while coming down last night: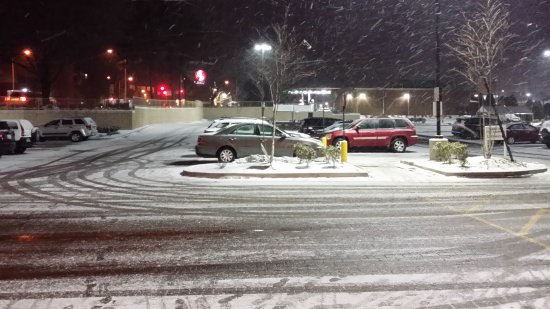 The parking lot at the Safeway in Olney at around 10:00 on Wednesday night.
Continue reading…
February 6, 2014, 11:34 PM
So Tuesday night was fun.  I got together with my friend Melissa, and we hung out for a few hours.  We did some computer and phone maintenance over at my house, and then headed out for dinner.  We went to The Potomac Grill, which is located in Talbott Center on Rockville Pike.
For those not familiar, The Potomac Grill hosts Blinkie's Karaoke, which is run by my friends Ken and Luisa.  I've done fill-in work as the engineer for Blinkie's Karaoke from time to time, but this was my first time going solely as a participant.  Melissa didn't sing, but I did.  I sang a karaoke version of the theme to Mighty Morphin Power Rangers.  Those of you who are familiar with what I've talked about know that I'm a bit of a Power Rangers geek (I got into it in high school).  This was a new addition to the catalog, and so I premiered it.  And to top things off, Melissa filmed my performance:
Continue reading…