Okay, that's enough…
February 7, 2010, 3:08 PM
Well, I got the windows cleared. That's probably enough for now, since the maintenance folks are going to need to do some more plowing before I can even think about moving the car. There's more than six feet of two-foot-deep snow (some of which can support my weight) behind the car that I can't move with the tools that I have.
But just to show you the epicness of this snowfall, here are pix: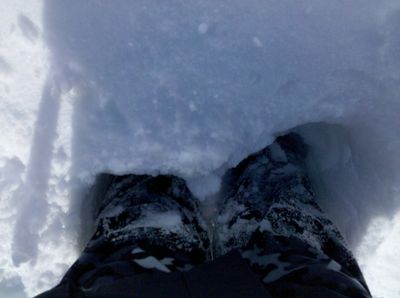 The snow next to the car is up to my knees.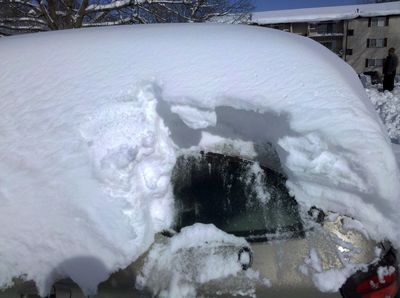 The top of what's dug out in this picture is the roofline of the car. Everything above that is just snow. Wet, heavy snow, no less.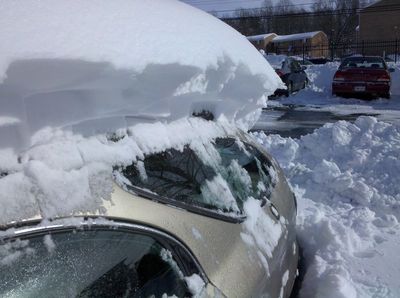 I'm finding a car under all this. Again note the sheer amount of snow piled on top of the car. I doubt I'll be moving that pile on top any time soon. I'm hoping to like shed all that while driving, and hope that it falls backwards when it does.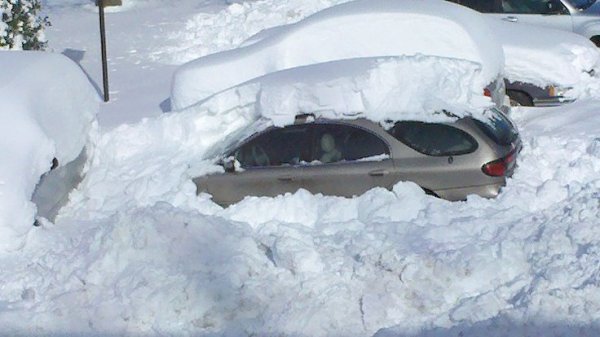 So there you go. I've cleared all the side windows, the back window, and part of the windshield. Hopefully that will be enough to at least allow the sun to reach the inside of the car and warm it up a little. If the interior is warmer, that will hopefully melt the bottom layer of snow on the windshield and make it easier to remove later.
All I have to say is, this snow is ridiculous. Being the wet, heavy variety rather than the light, fluffy stuff we got in December, it holds a shape quite well, and doesn't take well to being moved. Clearing the windows was enough, thank you.
And still no call on work tomorrow. Needless to say, if we're having work, I'm taking the Metro to get there. And I'm wearing my boots.