March 20, 2022, 3:24 PM
Let's be honest: this winter was brutal for me. This was the first winter in a very long time where I truly felt cold. After going from the upper 300s to the lower 200s in weight, with a goal weight of 185 (we'll get there!), this winter made the weight loss feel very real. I suppose that this is to be expected when you shed most of your insulation, but expecting it didn't make me feel any warmer for it. This is even more so when you consider that I work in a job where I spend a decent amount of time out in the elements, and therefore have plenty of exposure to the cold.  I suspect that I understand why they don't tell you about this part of losing weight when you are going through the pre-work for weight loss surgery, because the prospect of being cold all winter long might scare some folks off. All I know is that I certainly miss the days when I could go out and do some very long photography sessions at night in the dead of winter, and be just fine with a coat, a hat, and a pair of gloves. Nowadays, to go out in winter, I feel like I need eight hundred layers of clothing and heated everything. I remember my efforts at doing some night photography in Atlantic City back in January. Sub-freezing temperatures coupled with wind chilled me to the bone. I lasted long enough to get a few photos of Resorts before tapping out. I was just too cold.
I think that this screencap from when my cousin Mike was on the TV news a few years ago talking about a polar vortex event sums it up quite nicely: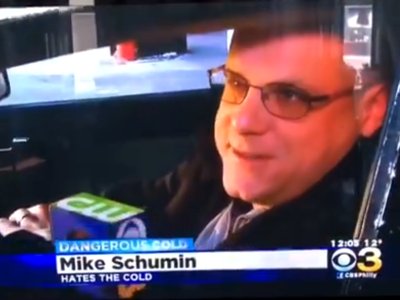 Mike Schumin: Hates the cold.
Continue reading…
March 15, 2022, 12:00 PM
This past Thursday evening, Elyse and I found ourselves at JMU, touring the recently renovated Zane Showker Hall.  I'm going to go into more detail on that adventure later, so stay tuned for that, but while we were in the lecture hall formerly known as G5 (now numbered 0212), I found a microphone up front, and it turned on and worked.  When you give me a microphone, you never know what I'm going to do with it.  In this instance, I had a little bit of fun with it, and belted out a tune, which Elyse recorded:
Continue reading…
March 14, 2022, 2:40 PM
As we move ever closer to the midterm elections in Maryland, and the primaries that accompany them, this seems like the perfect time to remind everyone about the way that primaries are conducted in Maryland.  Specifically, Maryland, along with 13 other states plus DC, conducts closed primaries.  That means that the only way to participate in a primary election is to have registered your political party choice with the state voter registration system ahead of time, usually before a deadline. In the case of Maryland, that party deadline is June 7, 2022.  Party registration in a closed primary state is not something to be taken lightly, and determines which candidates you get to vote for in the primary.
All of this about party registration should not be confused with any actual political leanings that you may have.  In a jurisdiction that skews very heavily in one direction, and where party registration is required in advance in order to vote for a given party's primary candidates, the only way that you get any say in your local governance is to register in that party.  In a situation like this, the primary election for that party is the election that decides the result, and the general election is just a formality, because the nominee of that party always carries the race by a very large margin, and the other general election candidates know that they have no real chance at winning.
(By the way, if all of this sounds vaguely familiar, this is not the first time that I have written about this subject.)
Continue reading…
March 5, 2022, 6:10 PM
At the end of February, I got myself a new phone: a Samsung Galaxy S22 Ultra.  This is the latest and the greatest as far as Samsung phones go, as of the time of this writing.  I typically get a top-of-the-line phone for myself, mostly because of how much I use it for photography.  I also like a big phone screen, especially now that I am in middle age, and have to hold things further away from my face in order to read them clearly.  This new phone was a bit of an update compared to my last phone, the Galaxy S20 Ultra.  It still looks and acts like a Samsung phone, so there was very little learning curve, but it's faster, easier to read, has a better camera, and has the S-Pen (which I had not had since 2017, back when I had a Note 5).  Most importantly, though, the camera is much better than the S20.  The S20 Ultra's camera was a bit farsighted.  It did just fine photographing things that were far away, but it couldn't focus if you got really close to it (sounds like me!).  So in order to get the proper effect, you had to back up and then zoom in.  It wasn't perfect, but it worked well enough.  Sounds like when I need a magnifying glass in order to read the fine print sometimes.
So with the new phone in hand, Elyse and I went out, and I took it for a spin while running some errands.  I was interested in trying out the improved macro function, and focused on shooting things really close up.  We got together with my friend Matthew, and he got to see me do my thing, getting up, on, over, and around everything while Elyse did the things that she needed to do.
Our first stop was Fair Oaks Mall, where Elyse wanted to go to BoxLunch, which is a gift shop.  I had assumed that BoxLunch was a restaurant, i.e. a place where you can buy a boxed lunch (imagine my surprise to find out that they didn't sell food!).  While Elyse was going around there, Matthew and I waited outside, where I took the new phone camera through its paces in the mall, focusing on the details in the sitting area just outside of BoxLunch:
Continue reading…