Shooting macro with a new phone…
March 5, 2022, 6:10 PM
At the end of February, I got myself a new phone: a Samsung Galaxy S22 Ultra.  This is the latest and the greatest as far as Samsung phones go, as of the time of this writing.  I typically get a top-of-the-line phone for myself, mostly because of how much I use it for photography.  I also like a big phone screen, especially now that I am in middle age, and have to hold things further away from my face in order to read them clearly.  This new phone was a bit of an update compared to my last phone, the Galaxy S20 Ultra.  It still looks and acts like a Samsung phone, so there was very little learning curve, but it's faster, easier to read, has a better camera, and has the S-Pen (which I had not had since 2017, back when I had a Note 5).  Most importantly, though, the camera is much better than the S20.  The S20 Ultra's camera was a bit farsighted.  It did just fine photographing things that were far away, but it couldn't focus if you got really close to it (sounds like me!).  So in order to get the proper effect, you had to back up and then zoom in.  It wasn't perfect, but it worked well enough.  Sounds like when I need a magnifying glass in order to read the fine print sometimes.
So with the new phone in hand, Elyse and I went out, and I took it for a spin while running some errands.  I was interested in trying out the improved macro function, and focused on shooting things really close up.  We got together with my friend Matthew, and he got to see me do my thing, getting up, on, over, and around everything while Elyse did the things that she needed to do.
Our first stop was Fair Oaks Mall, where Elyse wanted to go to BoxLunch, which is a gift shop.  I had assumed that BoxLunch was a restaurant, i.e. a place where you can buy a boxed lunch (imagine my surprise to find out that they didn't sell food!).  While Elyse was going around there, Matthew and I waited outside, where I took the new phone camera through its paces in the mall, focusing on the details in the sitting area just outside of BoxLunch: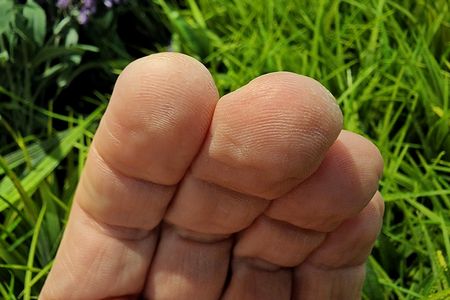 The fingers on my left hand.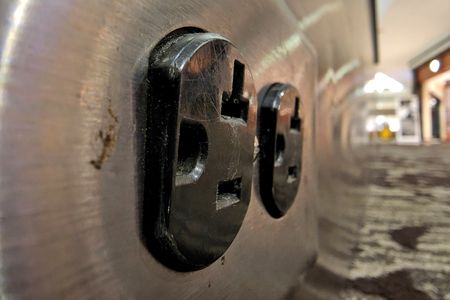 Close-up of a power outlet underneath of a planter.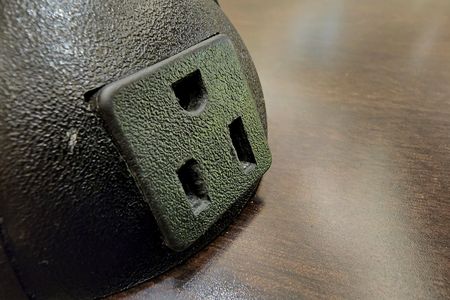 Another power outlet, this one on a little dome between the seats.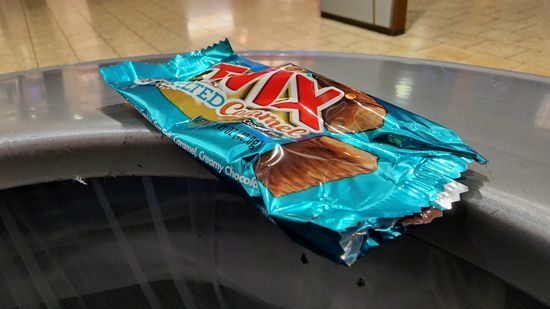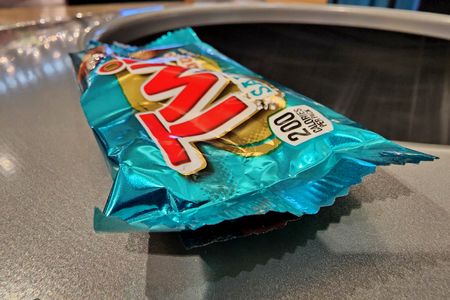 Elyse got a salted caramel Twix, and we shared it between the three of us (it was good, by the way).  Afterward, I photographed the wrapper before throwing it away.  The phrase "looking over the abyss" came to mind as I photographed this, as the wrapper was perched on the rim of the can before I pushed it in.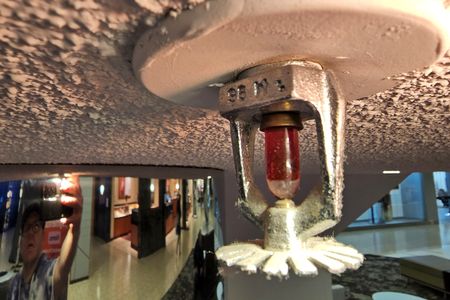 This photo of a sprinkler head was taken under a stair that Matthew and I were next to.  I give myself an "A" for effort, but it didn't come out very well.  Though the reflection of me taking the photo amused me.  I didn't notice that when I was taking it, but I laughed when I spotted it later on.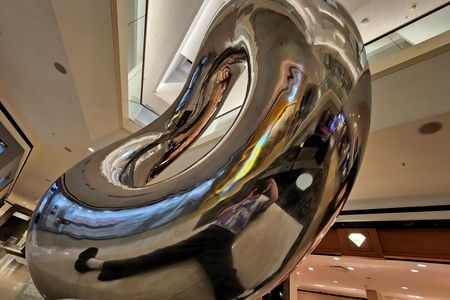 This one isn't macro, but it's another case where the reflection amused me.  I climbed onto the pedestal for this sculpture and laid on my back with my legs spread apart in order to get the right angle for this.  I don't know what I was going for, but it didn't work out.  But at least I got a funny accidental selfie out of it.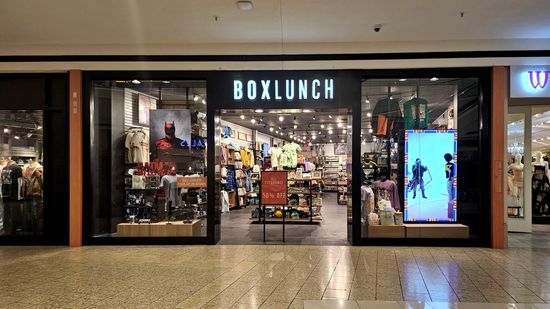 The facade for BoxLunch.  I still say that with a name like that, it should be a restaurant rather than a gift shop.
We then all went to a Sheetz in Chantilly for dinner, where Matthew and Elyse got salads, and I got a wrap.  While we were there, I took the opportunity to get up close and personal with the donuts: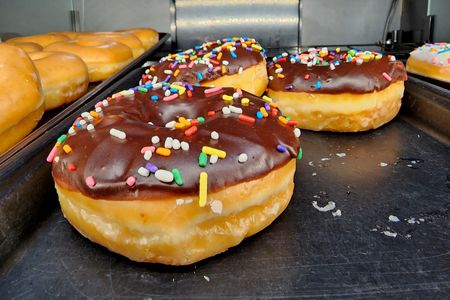 Chocolate iced ring donuts with sprinkles.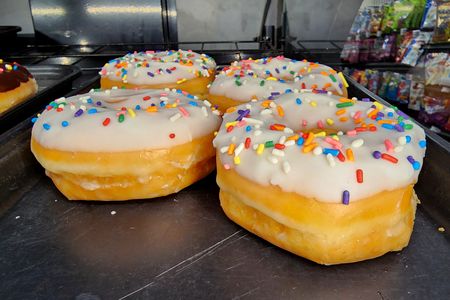 Vanilla iced donuts with sprinkles.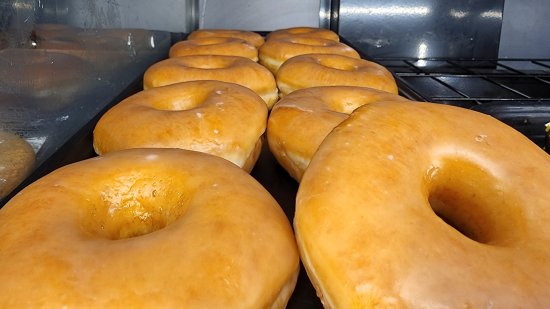 Classic glazed donuts.
Then, after we took Matthew back home, we stopped at the Giant Food store on Bureau Drive in Gaithersburg, so that Elyse could go grocery shopping.  While she did that, I took the phone camera for another spin: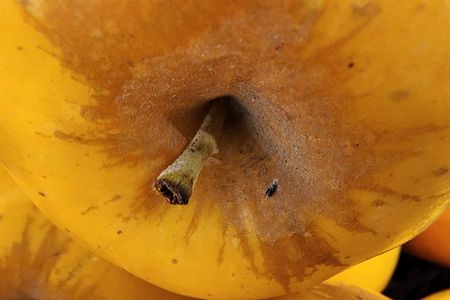 Stem of an Opal apple.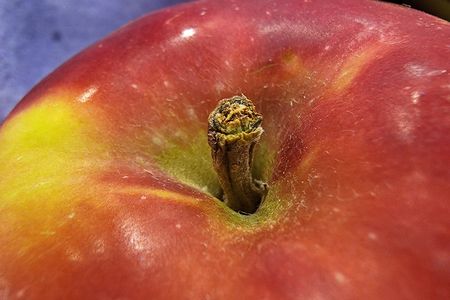 Stem of a McIntosh apple.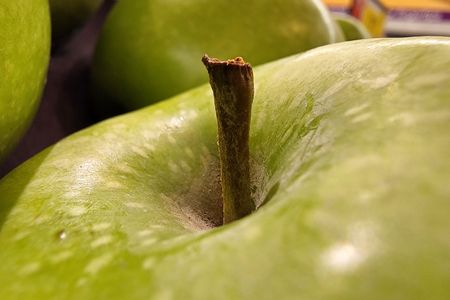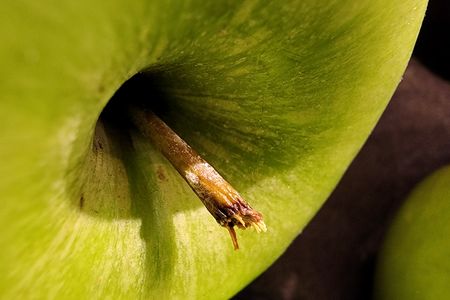 Stem on a Granny Smith apple.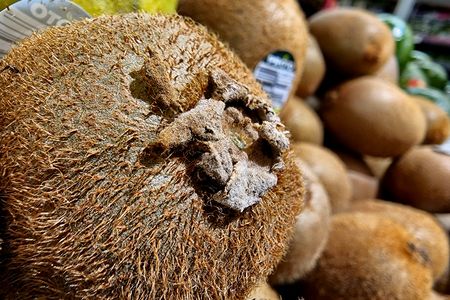 Some sort of flower(?) on the end of a kiwi fruit.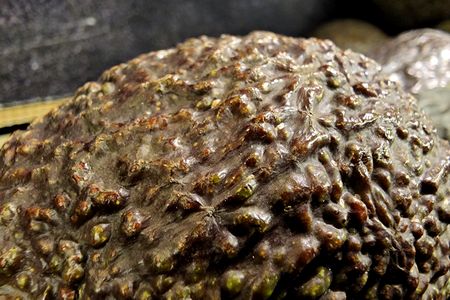 The peel on a Hass avocado.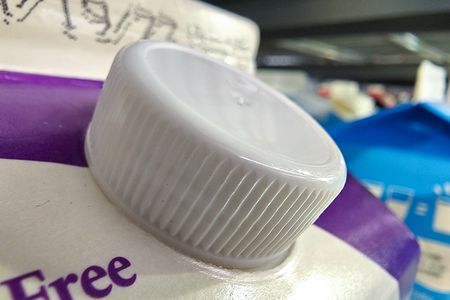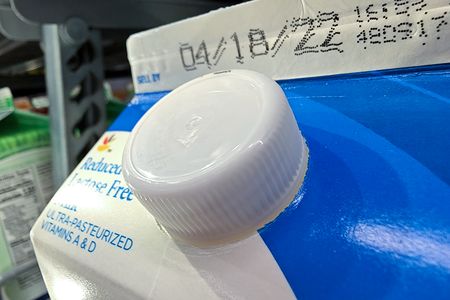 Caps on some of the half-gallon cartons of milk.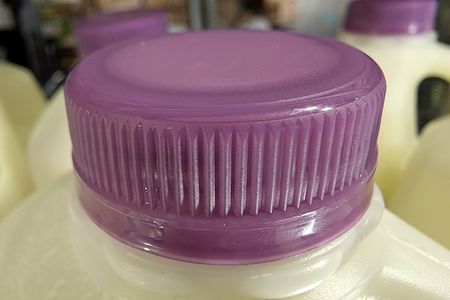 Lid on a gallon jug of milk.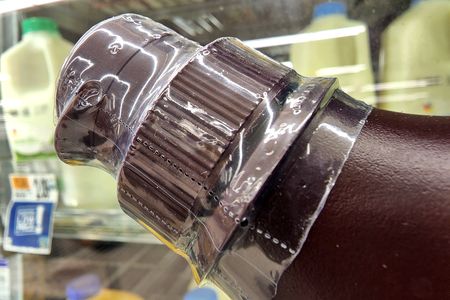 The lid on a bottle of Hershey's chocolate syrup.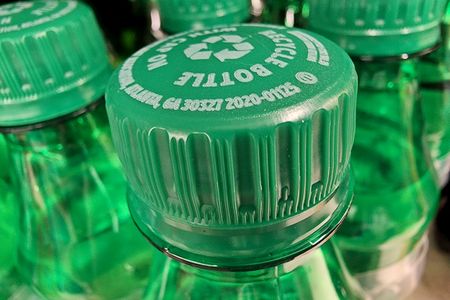 The lid on a bottle of Sprite.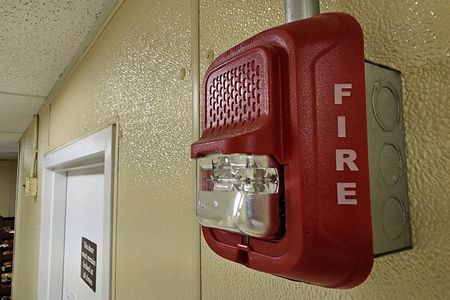 The new phone's first fire alarm, a System Sensor L Series strobe.
All in all, I had fun with this new phone.  I put it through its paces, and I was quite pleased with how it performed.  I think that I'm going to have a very good time with this camera for the next couple of years until it's time to upgrade again.