April 1, 2020, 1:25 AM
So my latest experiments with photography have been with stacking exposures.  For those not familiar, the general idea behind stacked exposures is to take several short exposures instead of one long exposure, and then "stack" them on top of each other in order to simulate a photo with a longer exposure.  It is useful in situations where a true long exposure is impractical, such as when shooting in daylight.  The way it's done is that you take all of the shots that you intend to stack out in the field, preferably using a tripod and a remote control for the shutter, and then do the stacking at home.
Whenever I test a new technique, I typically will shoot photos of something that I've photographed before.  This way, I already know what the photo is supposed to look like, and I know what works as far as angles go.  That eliminates a few variables so that I can just focus on the technique.  In this case, I did two field trips.  One was out to Point of Rocks and along Route 7 in Virginia and ultimately into DC, and the other was to Burnt Mills Dam off of US 29 in Montgomery County.  The Virginia trip was mostly for nighttime shots, and the Burnt Mills trip was for daytime shots.
At Point of Rocks, Elyse went trainspotting at the nearby MARC station while I wandered around with my tripod to photograph some stuff.  My focus was on the Point of Rocks Bridge and the Potomac River running under the bridge.  My focus was mainly on smoothing out the water.
Continue reading…
March 28, 2020, 12:40 AM
In the era of social distancing brought on by the novel coronavirus, I have definitely observed some changes in how the world looks.  As a person who works in an essential industry (people still have to go places, yo), I still get out quite a bit.  In my work, service levels have been reduced, and all trains are now eight cars in order to allow people to space themselves out, plus it's strange to go through some stations in the middle of the day and pick up nobody.  It's also strange seeing the message boards on the Beltway advising people in big letters to stay home.  It's also strange to see so many people wearing gloves and surgical masks, even though those don't do anything when the general public wears them as a preventative measure, and may actually be harmful if the person wearing them thinks that it excuses them from things like not touching their face, washing their hands, and so on.
In any case, most of the time when I'm going out, it's to pick up a few things at stores, mostly on my days off of work.  The first thing that I noticed was the panic buying, as seen on March 14 at the Target in Rockville: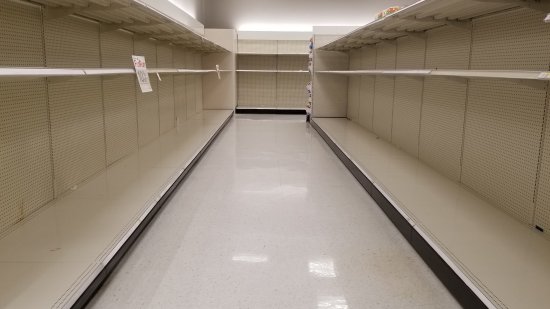 The toilet paper aisle, picked completely bare.
Continue reading…
February 28, 2020, 8:30 AM
While on an outing on Thursday, I stopped to photograph the former Walmart store in Leesburg, Virginia.  I had been planning a photo shoot here ever since the store closed in May 2019, upon the opening of a new Supercenter store elsewhere in the Leesburg area.  I was drawn to this location because, unlike a lot of former Walmart stores, this one left a massive labelscar on the building due to repaintings over the years, as revealed in photos taken by Aaron Stone.  Other Walmarts that closed have had lesser labelscars, and Walmart has also been known to paint out their labelscars.  But this one had "WAL★MART" still easily readable in blue.  I felt something of a sense of urgency in getting down to this location, because who knows how long a former Walmart will sit idle.  Other former Walmart stores in the DC area have been scooped up relatively quickly, such as the former Manassas Walmart, which was quickly converted to other uses.  So who knew how long this might remain in this form.
Arriving on site, I couldn't have gotten better shooting conditions.  The skies were partly cloudy, with only a small amount of cloud cover, which worked to my benefit.  Completely clear skies make for slightly bluish photos that need to be color corrected in post-production, while partly cloudy skies tend to lend to more accurate colors that require less work at the computer.  My only complaint about the conditions was that it was cold and windy, which was not fun to shoot in.  By the time I finished this shoot, which took about 25 minutes to do, I was quite cold.  It took me some time to warm back up once I got back in the car.
Continue reading…
February 13, 2018, 2:40 PM
Sad to say, my 2012 Kia Soul is no more.  On the night of February 7, in Lucketts, Virginia, as Elyse and I were on the way back home from a trip around the area with friends, my car caught fire and was destroyed in the resulting inferno.  Thankfully, we both escaped without injury.
The day had gone pretty well.  We had gotten together with two friends, Trent and Jackson, and we went from Gaithersburg to Rockville to Silver Spring to DC to Alexandria to Annandale seeing various things, with a focus mostly on elevators, as Elyse, Trent, and Jackson are all elevator enthusiasts.  I have somewhat of an interest in them, but not nearly as strong as the other three.  At the end of our day, we dropped Trent off at Northern Virginia Community College in Annandale, and then took Jackson up to Dulles Airport to meet up with family members of his that were flying in from out of town.  After we left Jackson with his relatives, Elyse and I headed out.  We took the Dulles Greenway to Leesburg, and then headed north on Route 15, intending to go over the Point of Rocks Bridge, and then continuing to follow Route 15 until we reached Frederick, after which we would turn south to head home.
However, circumstances would dictate otherwise.  As we were going up Route 15, the car suddenly started losing accelerative power, getting it back, losing it again, and so on.  The end result was that I was rapidly losing speed.  Elyse thought that it was the transmission slipping, and with that in mind, I was trying to see if I could get the car to a safe location in order to stop and call AAA for a tow truck.  A transmission problem would be covered under the Kia 100,000 mile powertrain warranty, and so, like the engine replacement that I had a couple of months ago, I would take it to the dealer to get it fixed, and everything would be fine.
Continue reading…
April 27, 2017, 10:24 AM
On Tuesday, Elyse and I took a big loop trip through Virginia and Maryland.  We started at my house, went up through Frederick (where we had a late lunch at Sheetz), then took US 15 over the Point of Rocks Bridge into Virginia, where we went through Ashburn, and then down into Manassas, and from there, back home via the Beltway.  The plan was to see Manassas Mall, which we both realized that we had never actually been to.
As it turned out, Manassas Mall wasn't that exciting.  It was a fairly generic one-story suburban shopping mall that contained fairly typical mall stores and a Walmart store, plus it contained an indoor go-kart track, as well as a place called Uptown Alley, which contained an arcade, bowling alley, and laser tag, as well as a restaurant.  Other than the entertainment venues, it was more or less as expected.
However, more interesting than Manassas Mall was a side trip that we made on the way down.  You may recall that, since 2007, Schumin Web has been hosted with DreamHost.  In 2012, DreamHost began operating in a data center in Ashburn, Virginia, and my site was one of many to get moved there.  It makes enough sense, since Schumin Web is based in the eastern US, and the largest segment of my viewership is also in the eastern US.  I remember getting a big boost in speed when the site started serving from Ashburn rather than Los Angeles, which made site maintenance that much easier.  With the site hosted in Northern Virginia, it wasn't a large leap to imagine a trip to go see where the building that it was housed in was.
Continue reading…