June 17, 2019, 11:54 AM
Sometimes, it's fun to look back at old photos.  The world changes, after all, and sometimes, old photos document things that don't exist anymore.  For whatever reason, Elyse and I were looking at my photos from a trip to the Washington DC area that I made on April 13, 2002.  For context, back when this trip happened, I was a junior in college, and had just been notified that I was being laid off from my call center job with Telegate USA (the successor company to CFW Information Services) after just under five years' employment there.  The call center where I worked was closing, and Telegate, primarily a European company, would exit the US market entirely within the year.
This particular trip produced the Old Town Alexandria set in Photography.  I now consider that set to be poor work, and have it on my list of photo sets that I eventually want to reshoot, along with Meridian Hill Park.  I figure that, with the passage of time and my becoming more proficient with the camera, I could do a much better job a second time around.  In the case of the Old Town Alexandria set, I really didn't take enough time to compose the shots.  Timestamps indicate that it took me an hour to cover from near the waterfront to the Metro station.  I was really just walking and photographing without putting much thought or effort into it.
The rest of the day was spent wandering around the DC area via the Metro, and more or less exploring around.
It's also funny to think that I took these photos with my original Sony Mavica camera, which recorded at 640×480 resolution, with corresponding image quality.  It was only slightly better quality than a potato.
Continue reading…
February 23, 2017, 9:21 AM
About a month ago, Elyse, Brian, Aaron, and I took a field trip to Landmark Mall in Alexandria, visiting it for the last time.  Landmark was slated to close permanently on January 31, and so we came by to get photos before it all shut down.  This trip took a similar form to when Elyse and I visited Owings Mills Mall in September 2015, though in the case of Owings Mills, we didn't know that in less than two weeks from our visit, the mall would close permanently.  With Landmark, the mall was closing at the end of January in preparation for a redevelopment that would replace the mall with a mixed-use "town center" style development.  The Macy's and Sears stores would remain through the redevelopment, however, I suspect that may change.  The Landmark Macy's was included in the round of store closings that Macy's was doing in early 2017, and I'd suggest that the long-term prospects for Sears' survival are looking pretty grim, so the plan to include those two buildings in the new development might change, as one of those stores is vacating, and the second may not be far behind.
And then here are photos: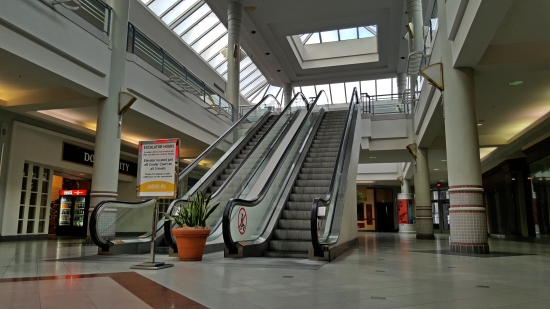 Escalators in the mall's northeast corner, viewed from the lower level.
Continue reading…
December 18, 2006, 7:53 PM
Picture with me if you will…
I'm walking up Diagonal Road in Alexandria towards the Old Town Transit Shop, and right when I get there, I hear a loud crashing sound and see sparks. Then I see a tire rolling down towards King Street station. A gentleman in a red SUV actually dropped a wheel! Literally dropped a wheel, as the left front wheel separated from the car and, now liberated, went rolling on its own down the hill. My exact reaction was to say a four-letter word that I can't say in this space. So I went in to see my friend Tristan, and what did we do? We went outside to look. We both couldn't believe that this guy had dropped a wheel. But the car was visibly off-kilter, leaning down in the direction of that missing wheel. I'm sure that the guy was not happy about that.
Otherwise, I had a lovely walk in Georgetown, discovering The Shops at Georgetown Park, which is a very expensive three-story shopping mall on M Street. I got a few pictures of it, and I'm going to tell Sis about it, since she loves to shop. Those of you who have seen the movie First Kid will know Georgetown Park, since that is the place where the big hostage/shootout scene happens.
Continue reading…
June 29, 2006, 5:37 PM
I took a little trip to the DC area via Richmond and I-95 on Wednesday. Fun trip. I went that longer way instead of my usual I-81 to I-66 route because I wanted to visit Fredericksburg and Potomac Mills.
My visit to Fredericksburg was fairly simple. The question before the house was whether it was worth it to make a trip to Fredericksburg, which is somewhat hard to reach for a day trip, to do a photo set. My determination for Fredericksburg was that while it was indeed charming, and definitely a place to visit when I eventually find a job in the DC area and move up that way, I didn't see anything on this drive through that I would really want to make a special trip for, and that I couldn't do using a similar feature in another city that is easier to reach.
However, I did see a sign that was, to say the least, surprising.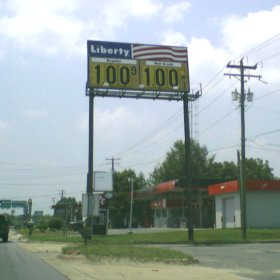 Continue reading…