Looking at some old photos from 2002…
June 17, 2019, 11:54 AM
Sometimes, it's fun to look back at old photos.  The world changes, after all, and sometimes, old photos document things that don't exist anymore.  For whatever reason, Elyse and I were looking at my photos from a trip to the Washington DC area that I made on April 13, 2002.  For context, back when this trip happened, I was a junior in college, and had just been notified that I was being laid off from my call center job with Telegate USA (the successor company to CFW Information Services) after just under five years' employment there.  The call center where I worked was closing, and Telegate, primarily a European company, would exit the US market entirely within the year.
This particular trip produced the Old Town Alexandria set in Photography.  I now consider that set to be poor work, and have it on my list of photo sets that I eventually want to reshoot, along with Meridian Hill Park.  I figure that, with the passage of time and my becoming more proficient with the camera, I could do a much better job a second time around.  In the case of the Old Town Alexandria set, I really didn't take enough time to compose the shots.  Timestamps indicate that it took me an hour to cover from near the waterfront to the Metro station.  I was really just walking and photographing without putting much thought or effort into it.
The rest of the day was spent wandering around the DC area via the Metro, and more or less exploring around.
It's also funny to think that I took these photos with my original Sony Mavica camera, which recorded at 640×480 resolution, with corresponding image quality.  It was only slightly better quality than a potato.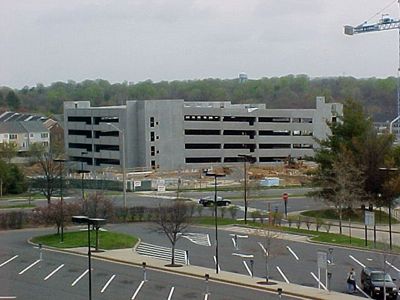 I remember seeing this parking garage going up and being kind of excited, thinking that Vienna was getting a third parking garage.  Unfortunately, this was not the case, as this garage was to be part of an apartment complex rather than public parking.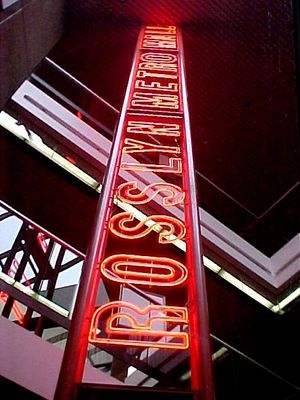 Rosslyn Metro Mall signage.  The last time I was in Rosslyn, this mall was in the process of being vacated to make way for something new.  As I understand it, the new development will include a fitness center and a food hall.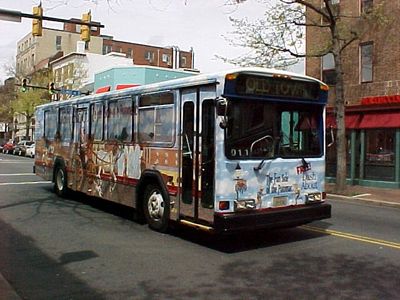 Back in 2002, the King Street Trolley was called "Dash About", and used a standard Gillig Phantom with a wrap on it for the special service.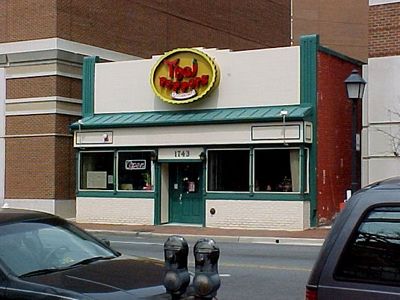 Thai Peppers is long gone (though the company is still around), and since 2007 or 2008, the building has housed a business called Ernie's Crab House.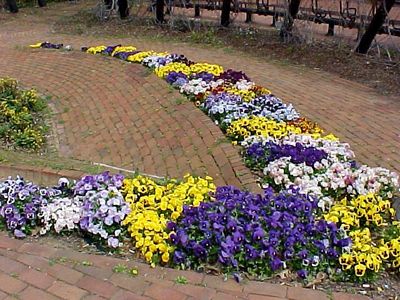 Let the record show that Elyse made fun of me for this shot.  It's a photo of a row of flowers in a park near King Street station, and not a good photo by any means.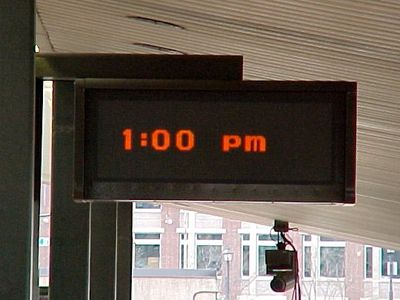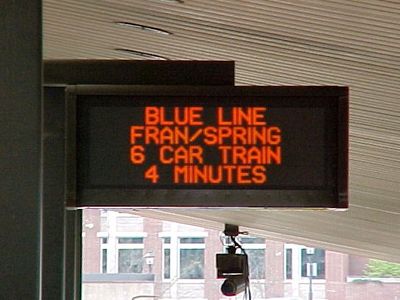 It's so weird to see some of the old messages that the PIDS used to display.  I'll bet that a lot of people nowadays don't remember when the PIDS would show the time, or use the whole screen for one train's information.  The current three-train display was not implemented until 2005.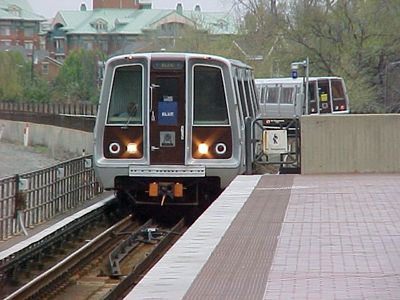 Of course, Metro has no more Rohr cars, as the last of them were retired in 2017.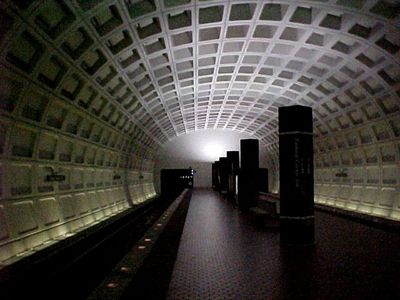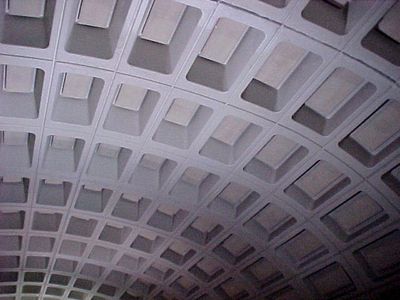 This was my first time visiting Federal Center SW station, and I remember being struck by how bright this station looked.  As it turned out, the station's vault had recently been cleaned and painted.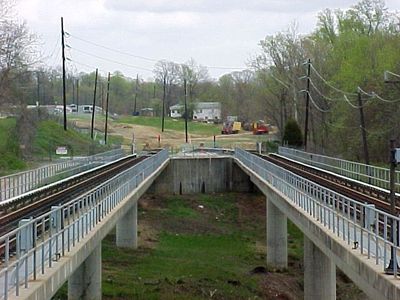 This was my first time taking the Metro to Maryland, as I rode out to Addison Road station, completing the Blue Line in its entirety, and marking the first time that I had ridden an entire line from end to end (though not in one sitting).  This was during the early stages of construction of the extension to Largo.  Note the bump posts marking the original end of the tracks just past the bridge over Cabin Branch Road.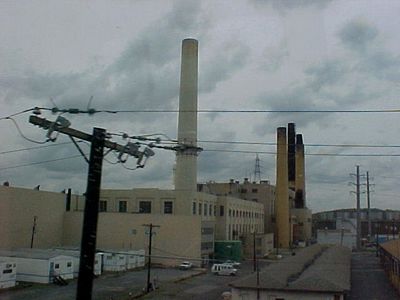 The old Pepco facility off of Benning Road.  This building was torn down in the 2010s and the land is currently vacant.  Pepco still has a large facility elsewhere on this property.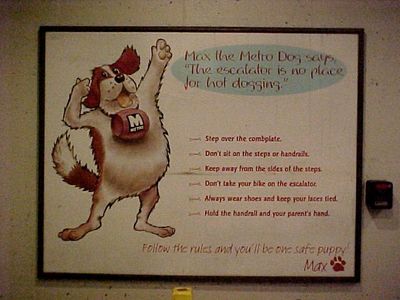 This "Max the Metro Dog" advertisement, discussing escalator safety, has always been a favorite of mine.  I agree with its message, that the escalator is no place for hot dogging.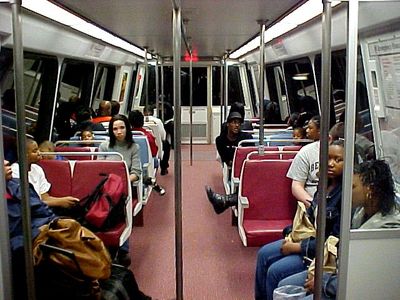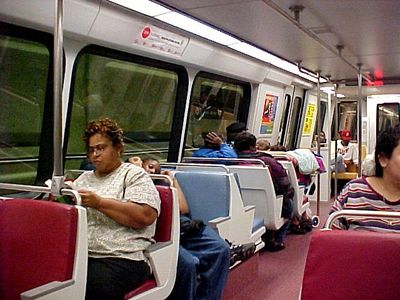 This was my first time riding on a 5000-Series railcar, and also my first time riding the Green Line.  The 5000-Series was relatively short-lived, only lasting for 17 years before being retired in 2018, as Metro opted to forgo a midlife rehabilitation for these cars and retire them early in favor of more 7000-Series cars.  Back then, this new color scheme was hot stuff (I think that it looks somewhat dated nowadays), and these cars were so bright and clean looking.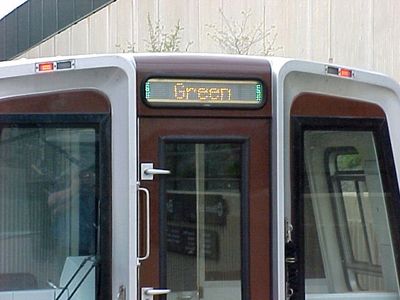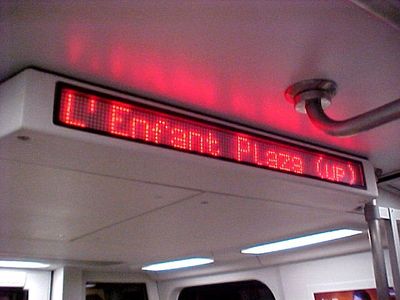 The 5000-Series was also Metro's first time using mixed case on the train signs.  This was replaced with all caps a year or so later.  Mixed case would reappear on the 7000-Series in 2015.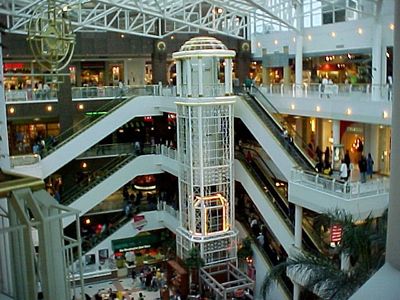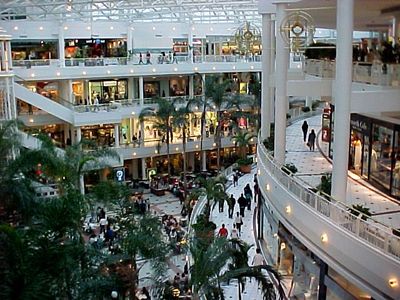 In 2014, the eighties called Pentagon City Mall, and they asked for their decor back.  Pentagon City now looks totally different, sporting a dark color scheme.  The new decor looks great, but I admit that I kinda miss the old styling, because that's the Pentagon City that I grew up with.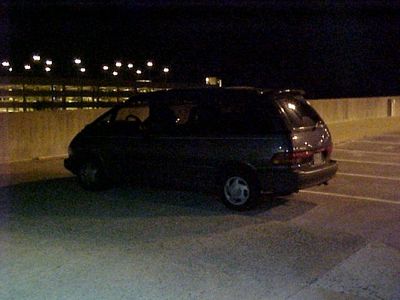 The Previa, parked at its usual spot at Vienna station.  It's been thirteen years since the Previa was retired.  I had some great times with that car.
I typically look back fondly on those early DC trips that I took while I was still in college.  I kind of knew by then that Washington was where I wanted to end up, and there was a certain level of exploration involved in these adventures.  This trip was the first where I really went all over, going into Maryland and such, and visiting more end-of-line stations.  By the end of this trip, I had been to four out of nine terminals: Vienna, Franconia-Springfield, Addison Road, and Branch Avenue.  And like almost every DC trip I made prior to moving up here, a stop at Pentagon City Mall was a must.
There are times when I miss those adventures, exploring an area by Metro.  It's not the same anymore now that I live here.