November 11, 2023, 10:17 AM
From November 2-9, Elyse, our friend Kyle, and I took a road trip out to the Midwest.  We went to Austintown, Windsor, Detroit, Dearborn, Chicago, Sheboygan, Gary, Elkhart, Cleveland, and lots of places in between over the span of eight days.  The genesis of this trip was a desire to visit Chicago to see my sister and do stuff there, and then it expanded a bit into a much larger adventure.  This was always intended to be a road trip, and we put quite a few miles on the HR-V over the course of the trip.  It also means that the new HR-V has traveled further in its first year than any of my other vehicles ever did over their entire careers.  The new HR-V has gone as far north as Ottawa, as far south as Charleston, as far east as Brooklyn, and as far west as Chicago.  The only vehicle of mine that has gone further in any of those directions is the Sable, which traveled as far east as Quincy, Massachusetts in 2010.  The highlights were a visit to The Henry Ford, where we not only saw the exhibits, but I also viewed a photo of mine that the museum licensed from me a long time ago, doing my own version of a walk through a Chicago neighborhood that SpinnWebe did as a spoof of a photo set of mine, a visit to the Kohler factory up in Sheboygan, Wisconsin, a siren test in Niles, some drone flights around Gary, Indiana, a visit to Garfield Heights, Ohio to see the former City View Center shopping facility that was later successfully repositioned as an industrial park, a visit to the Kent State University May 4 Visitor Center, a small museum about the Kent State shootings, to see a photo of mine that was used there, and finally, a ride on Cleveland's RTA system.  Unfortunately, my DJI Air 2S drone did not survive the week, as a stronger-than-anticipated wind caused it to run out of battery power on the way back from a flight in Sheboygan, which caused it to force-land into Lake Michigan, taking all of my drone shots from that day with it.  However, I had my original drone, the DJI Mavic Mini, on hand in case Elyse had wanted to fly, so it was quickly pressed into service to complete the trip.
I'm going to do a full photo set about this trip for Life and Times, so right now, I'm just going to share a few photos of the highlights.
Continue reading…
August 11, 2023, 8:09 PM
So the trip to Toronto that I discussed in my earlier Journal entry about going flying again was a whole lot of fun.  I did not know that one could pack that much fun into three short days.  Seriously, this was a really fun weekend trip, where we got to spend time with friends and see lots of interesting things.
First, though, let's address the elephant in the room: yes, I went through with it and went flying, and no, I didn't die.  I don't know if I would necessarily characterize flying as "enjoyable", but it was at least relatively painless.  This trip was in part a test to see how well I would tolerate flying, with one of two possible results: either my horizons would be expanded greatly, or I would never fly again.  Fortunately, it was the former, as I think that my being much more mature since the last time I flew, plus my doing a little bit of research did me well.  I also had Elyse with me, who is something of a seasoned flyer and knew what we needed to do, so I just had to do as I was told.  We took public transit from the house to Dulles, via the 58 bus, the Red Line, and the Silver Line.  Then security at Dulles was relatively straightforward, throwing all of our stuff on a conveyor belt and running it through this massive machine.  Though I did roll my eyes at having to take my shoes off – but I wore flip-flops on purpose in order to expedite that process.  Once we got through security, it was just a matter of waiting until our plane arrived and then it was time to board and depart.  This whole airport thing was totally new to me, so I was just sort of taking it in.  I'd never been past the main atrium at Dulles before, so there was lots to see.  We took the air train to our terminal, which was pretty straightforward, but seeing as it was fully enclosed, it was no fun for fanning, since there was no real angle to get a photo of the vehicles.  Though with its being fully automated, there was no cab, which meant that you got a great view of the roadway ahead.
Continue reading…
May 24, 2023, 2:39 PM
From May 17-20, Elyse and I made a weekend trip to Ottawa.  The primary objective was to go and see the Canadian Museum of History in nearby Gatineau, where a Sam and Muffy puppet from Today's Special were on display as part of a larger exhibit about children's television in Canada.  The exhibit was amazing, with puppets and costumes from all kinds of Canadian-made children's programming on display.  We also explored around Ottawa and Gatineau.  The latter was a particularly interesting experience as that was my first time in a place where the predominant language was not English.  Ontario is largely English-speaking, and signage is largely bilingual, containing both English and French, but once you cross the border into Quebec, it's like a whole different world, as everything is in French, and only French, and some people over there do not speak English.  It was my first time experiencing a language barrier in a major way, and while I managed, remembering that a large amount of English words are derived from French, it was certainly a challenge nonetheless (but Google Translate helped a lot).
I am planning on doing a larger, more detailed photo set in Life and Times for this trip, so to avoid duplicating efforts, I'm just going to share a few photos here and let that be that for now.
Continue reading…
April 24, 2019, 9:30 PM
I mentioned about a month or so ago that Elyse and I were going to Toronto in mid-April.  That trip is now in the history books, and much fun was had.  I'm going to do a more detailed photo set in Life and Times later, but I want to present a high-level view of what we did on our trip now.  Much of the focus of the trip was to visit various locations where Today's Special was filmed.  We visited the store, as well as other places where various characters visited over the course of seven seasons.  We also rode a lot of the TTC, visited friends, had dessert at a poop-themed restaurant, and rode some vintage elevators.
So here we go…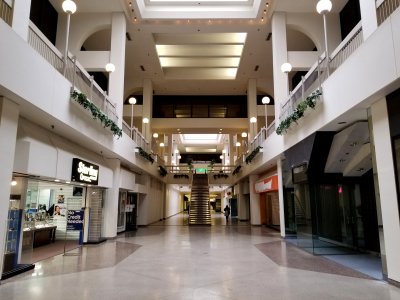 Main Place Mall, a mostly dead mall in Buffalo, New York, where we met up with a friend.
Continue reading…
March 10, 2019, 12:17 PM
In about a month, I'm going traveling.  Elyse and I are going to Toronto for about a week, and we're going to see as much as we can in the five days that we will have on site.  My goal is to see as many Today's Special filming locations as possible.  I've done a lot of research on these for the new version of the Today's Special site that I'm still working on, and have written about these filming locations in the past.  I plan not only to visit the store again, but also a whole lot of others.  Meanwhile, Elyse has given me a list of stuff that she wants to see – a lot of it elevators – and we're going to work as many of those in as we can as well.
It's funny about what I'm doing similarly to my original trip to Toronto back in 1999, and what I'm doing differently.  We're staying the Chelsea Hotel at Gerrard and Yonge, just like I did last time.  I booked a deluxe room, just like I did in the nineties, which should place us on a relatively high floor.  Mom and I had room 1667 back in 1999, and then I suppose that we'll see what they give us this time around.  I would laugh if we got room 2137, which is also the number of Elyse's favorite Metrobus.  We'll see, I suppose.  From the photos that I saw, though, the Chelsea has been renovated since we were there before, so the Chelsea will be a very different experience than before, as I imagine that everything will look quite different.  The rooftop bar is now a fitness center, for one.  And speaking of the rooftop, unlike last time, when I was just under the age requirement to go on the roof deck (you had to be 19, and I was 18), and Mom brought me in anyway, I now am well above the age requirement to go in there.
I also wonder if the fire alarm will go off this time, like it did back in 1999.  I remember being a little uptight about that whole situation before.  After all, all of my experience prior to this was that if the fire alarm sounds, you leave the building.  They only evacuated three floors: the fire floor, and the floor immediately above and below.  I found out later that it was a relatively minor electrical fire on the 20th floor that was the source of all of the commotion.  Nowadays, I know a lot more about how high-rise fire alarm systems work, and might be a bit more sedate should something like that happen again.  I wonder if it still has those Pyrotronics pull stations.  Funny, though – I still remember what their alarm sounded like almost twenty years later.  That was the first time that I had ever heard a voice evacuation system, or a two-stage system.  It was memorable, but also a bit unnerving, since this was well outside of my experience, plus it was getting close to the time that we needed to leave to head home.
Continue reading…