Toronto was fun, and flying… wasn't bad.
August 11, 2023, 8:09 PM
So the trip to Toronto that I discussed in my earlier Journal entry about going flying again was a whole lot of fun.  I did not know that one could pack that much fun into three short days.  Seriously, this was a really fun weekend trip, where we got to spend time with friends and see lots of interesting things.
First, though, let's address the elephant in the room: yes, I went through with it and went flying, and no, I didn't die.  I don't know if I would necessarily characterize flying as "enjoyable", but it was at least relatively painless.  This trip was in part a test to see how well I would tolerate flying, with one of two possible results: either my horizons would be expanded greatly, or I would never fly again.  Fortunately, it was the former, as I think that my being much more mature since the last time I flew, plus my doing a little bit of research did me well.  I also had Elyse with me, who is something of a seasoned flyer and knew what we needed to do, so I just had to do as I was told.  We took public transit from the house to Dulles, via the 58 bus, the Red Line, and the Silver Line.  Then security at Dulles was relatively straightforward, throwing all of our stuff on a conveyor belt and running it through this massive machine.  Though I did roll my eyes at having to take my shoes off – but I wore flip-flops on purpose in order to expedite that process.  Once we got through security, it was just a matter of waiting until our plane arrived and then it was time to board and depart.  This whole airport thing was totally new to me, so I was just sort of taking it in.  I'd never been past the main atrium at Dulles before, so there was lots to see.  We took the air train to our terminal, which was pretty straightforward, but seeing as it was fully enclosed, it was no fun for fanning, since there was no real angle to get a photo of the vehicles.  Though with its being fully automated, there was no cab, which meant that you got a great view of the roadway ahead.
I got some photos at the airport: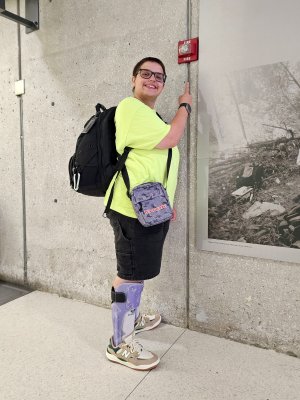 Elyse points to a relatively low-mounted fire alarm strobe along the way to the main terminal from the Metro.  Elyse isn't all that tall, so having something at her height like that amuses us both.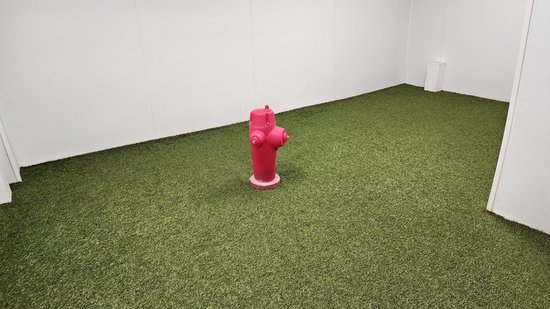 Pet relief room, complete with fire hydrant.  Pet owners had to scoop their pets' poop, but there was a "flushing" system for liquid waste underneath the fake grass that was activated with the press of a button.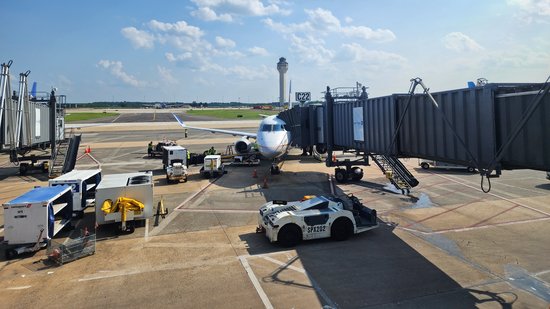 Our chariot awaits, at gate C22.  This was N88327, an Embraer ERJ 170-200 LR operated by Mesa Airlines as United Express flight 6169.
I knew that once I left the house and went through airport security (a surprisingly painless process at Dulles), there was no going back.  Our flight boarded on schedule, and then we departed.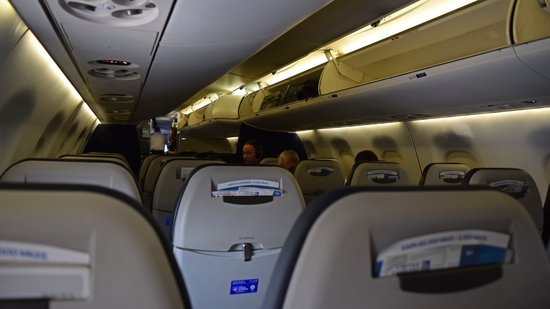 In the cabin of N88327.  I found it somewhat curious that mist was visible coming out of the air conditioning vents.  I looked this up, and it turns out that it's just a byproduct of how the system handles moisture in the air.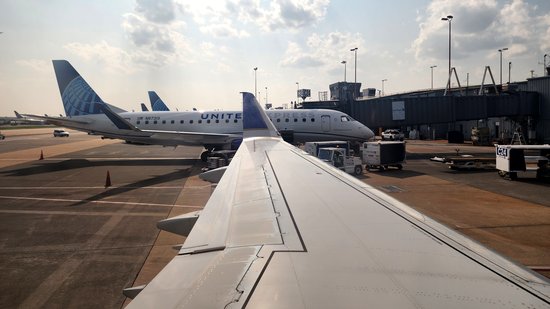 Sitting at the gate at Dulles.

Selfie in our seats.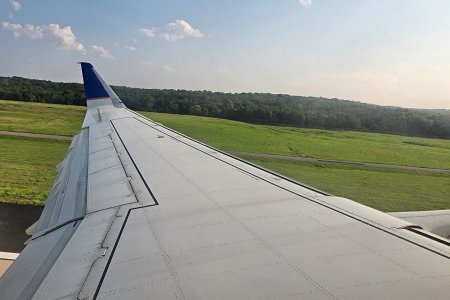 Taking off.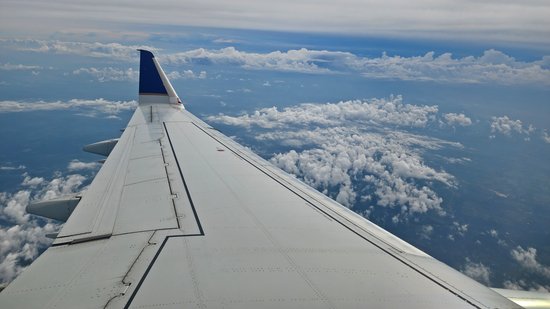 In the air, somewhere over Maryland or Pennsylvania.
For most of the middle part of the flight, we were flying above the clouds, so there wasn't much to see outside, so I got on the plane's wi-fi and played the various Wordle clones, like Dordle, Quordle, Hexordle, etc.  I don't remember how many of those I played.  The flight was quite smooth, though I did find a few unexpected (to me) downward movements to be a little off-putting.  However, I took something that Elyse told me about when she flew in a Cessna a few years ago.  She watched the pilots while the plane was doing things.  If they weren't worried about it, she shouldn't be.  I obviously couldn't see the pilots, but I did watch the other people on the plane, particularly the two flight attendants.  They were the seasoned professionals, after all, and they know what they're looking at.  If they weren't concerned, then I don't need to be concerned, either.  It's kind of like the train ride over to Dulles, when the train dumped (i.e. the air was vented from the brake system, causing immediate full braking application) in between stations on the Silver Line.  A woman nearby looked a tad concerned about this sudden stop, while Elyse and I were laughing our heads off.  I operate those beasts, so I knew exactly what the operator did to cause that, and I knew that they didn't mean to do it, and were probably annoyed with themselves for doing it.  I told the lady that the operator probably got a little bit too comfortable in the cab, and inadvertently activated the deadman switch.  Then you just recharge and keep going.
Then as we approached Toronto, I was back to the window.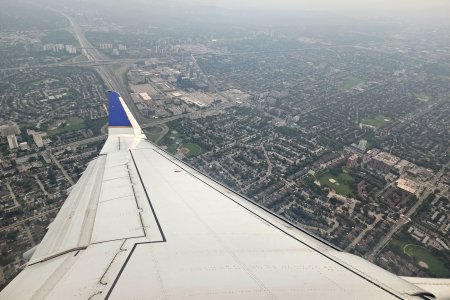 Flying over Scarborough.  The highway visible in the top left of the photo is the 401.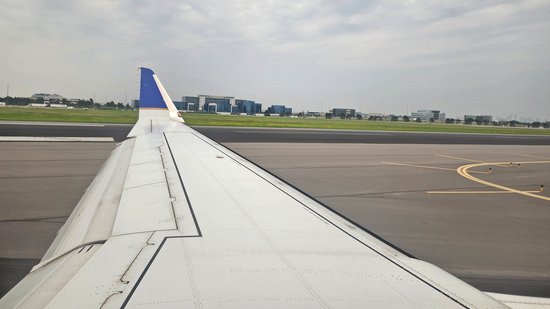 On the ground at Toronto Pearson.
And then this was our route:
As you can see, this was a very straightforward path, going more or less directly between Dulles and Toronto, roughly equating the return trip on our 2019 visit to Toronto, where we went more or less straight south, driving through the woods for a lot of it.
Meanwhile, one thing I don't get is why female flight attendant uniforms still look like it's the 1980s.  Male flight attendant uniforms, from what I saw around the airport, were pretty reasonable.  Shirt, pants, tie, maybe a vest.  But the uniforms that the women were wearing seemed incredibly outdated, with the pencil dress and the little neck scarf.  I don't get it.  Flying has advanced considerably since the 1980s, but the uniforms don't reflect that.  I would ponder that when I was going past the airport stations and would see the flight attendants boarding the train, and it still makes me question things, since it makes it look like the airlines are stuck in the past with these outdated designs.  Even a simple thing like losing that ridiculous little neck scarf thing would go a long way in updating the look, since no one on the ground wears those things anymore.
Leaving the airplane and coming into the terminal, it was quite obvious that we were in Canada when we saw this: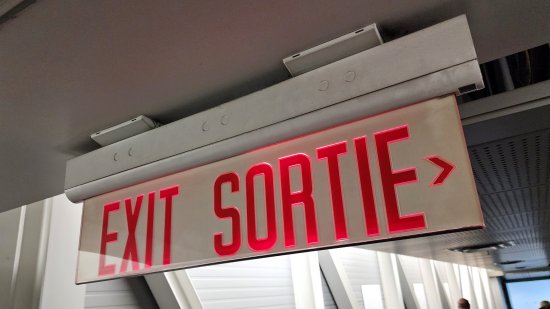 Nothing says "Welcome to Canada" quite like a bilingual exit sign.
From there, we made our way through customs, and then we headed out.  We took the UP Express train to get to downtown, which quickly whisked us from the airport to Union Station.  Toronto's Union Station looked pretty much like I would expect a "union station" to look like: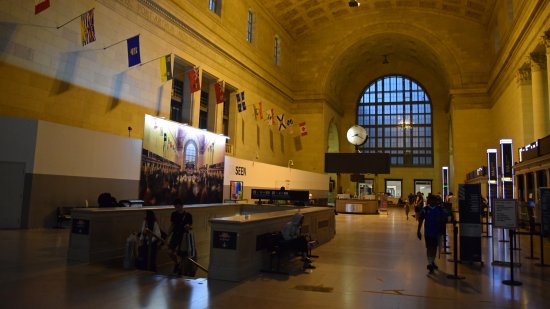 We then got on the subway and took the 1 train to get to our hotel.  Only problem was that we got on going the wrong direction, i.e. traveling towards Vaughan rather than Finch.  Since this was on the bottom part where the 1 line loops around, we just took it to St. George station, took the 2 train to Bloor-Yonge, and then took the 1 train again, getting off at College.  Coming out of the station, we spotted something interesting: Bulk Barn.  Bulk Barn is something that I wish existed around me.  Basically, everything in there is sold by the pound, and you scoop it and bag it yourself.  Take a look: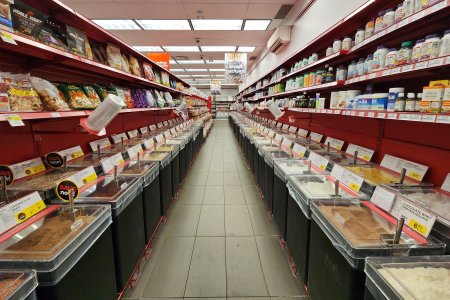 I instantly fell in love with this place, and rest assured that if the HR-V had been on this trip, we probably would have come out of there with a significant haul.  Failing that, I just bought a drink, and Elyse bought two small bags of cereal to have for breakfast in some flavors that we didn't recognize.  They were good.  Wish that they had something like this near me.
We then walked the couple of blocks down Yonge Street and went to our hotel, which was once again the Chelsea.  This is the third time that I've stayed there, and I've found that I just like the place.  It's funny how a pattern gets set.  The first time is, "This is the hotel that we chose to stay at."  The second time is, "We liked it here, so we're going to stay here again."  Then for the third and subsequent times, it's, "This is where we stay when we come here."  Hotel 24 South in Staunton is like that, in that we always stay there whenever we visit that area.  The staff knows us there, and we know our way around the place very well.  I'm glad that the Chelsea has reached that vaunted "this is where we stay" status as well.  I'm happy that my friends Sarah Lanthier and her mother Darlene recommended it.  It has never done us wrong.
This time, our room was 771, which was a bit lower than I expected, and which put us on the red elevators.  The way that the Chelsea's elevators are set up, different floors are served by different sets of elevators.  The lower floors are serviced by the red elevators.  The middle floors, from wherever the red elevators leave off to as far up as the 15th floor, are served by the green elevators.  Then 16 up to 25 are serviced by the blue elevators.  There's also a set of service elevators in a back room that serve all floors, that the staff doesn't care if you use.  Additionally, all elevators serve the lobby, meaning that green and blue run express from the lobby up to their designated blocks, and all of the elevators also go up to the top floor to allow access to amenities on the the roof deck, meaning that red and green both run express from their respective blocks up to the top.  There are also no sky lobbies.  Therefore, this separation of the hotel into three blocks does not allow for any savings as far as space goes, as all elevator shafts run from the lobby to the roof.  Additionally, if one wants to move between guest floors in different blocks, such as back in 1999 when Mom and I were on the 16th floor (blue elevators), and Sarah was on the 12th floor (green elevators), notwithstanding use of the service elevators, which we didn't know about at the time, it required either going all the way down to the lobby and back up, or all the way up to the 26th floor and back down, since the lobby and the 26th floor were the only floors served by all of the elevators.  I thought that it was a very inefficient system, as it doesn't anticipate people having friends staying in other areas of the hotel, and therefore requires very big movements to go short distances.  I've often pondered what would improve the Chelsea's elevator system, and the best that I can think of is to create shaft openings on the other floors, i.e. all elevators service all floors, and then put in a destination dispatch system to control the whole thing, which is a system where you enter the floor that you want to go to on a keypad in the hallway instead of pressing an up or down button, and then it assigns you to an elevator that will take you to your floor, with few or no stops in between.  In the situations where I've seen it used, it is quite efficient, as it is able to group requests together and help speed movement through the building, with no more stops on every single floor on the way up or down during busy periods because everyone is going everywhere, and they're all crammed into one elevator.
Meanwhile, our floor smelled of fresh carpet, as our floor had recently been refurbished.  I appreciated that, as the carpet was all nice and fluffy between my toes.  The Chelsea was undergoing a refurbishment at the time of our visit, and was mostly complete.  They redid the rooms and the corridors, with new carpet, new light fixtures, new furnishings, etc.  They also redid the exit signs, replacing the older US-style signs where "EXIT" was in red letters with the international standard using the green "running man" symbol, which the National Research Council of Canada added to their model building code in 2010, and which Ontario adopted in 2014.  However, the toilets were not replaced, as they still had the units with that gigantic tank: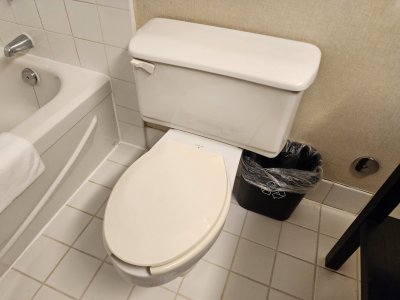 After getting settled into our room, Elyse and I went out in search of food.  Our original plan was to go to some places that we knew about right by our hotel for convenience.  Elyse wanted to hit up a McDonald's that was one block south of our hotel for a McWrap, and I wanted to go to Pizza Pizza.  We both ended up being disappointed, as the McDonald's that we knew about was closed for unspecified repairs, and the Pizza Pizza that I intended to go to, visible here in this photo from 1999, and which we visited in our 2019 trip, was completely gone.  Elyse ended up getting something Asian from an H Mart store nearby and then went back to the hotel.  I continued in search of food for myself, going south as far as the Eaton Centre and finding nothing that I really wanted.  I ultimately found another Pizza Pizza location up Yonge Street on the other side of the Chelsea, and got that.  So I had to do a bit of walking, but it was okay, because it meant that I had earned my (not so healthy) meal.
The next morning, we were up early, and we had places to go.  The first order of business was food, and we both had different plans.  I don't remember what Elyse did for food, but I went around the neighborhood a bit in search of some grub.  The first place I hit up was the Market Garden restaurant at the Chelsea, which is where I had breakfast every day on the 2019 trip.  This time, because I can't do buffets anymore, the amount that I could eat wouldn't justify the price of the meal.  I also didn't find anything satisfactory otherwise, so I went out in search of other options.  It's not the Chelsea's fault here, because their breakfast buffet was wonderful when we were here last time, but I just can't eat like that anymore.  What worked for me in 2019 doesn't work for me anymore in 2023.
So I started walking south on Yonge Street looking for other options.  McDonald's was still closed for repairs.  Pizza Pizza was out of the way, plus they weren't open yet (this was around 9 AM).  Jollibee was open, but I didn't see anything there that I wanted (though Elyse loves the place).  I ended up at the Toronto Eaton Centre, where I walked the length of the facility looking for food options, and didn't find any.  One thing that I noticed was that they were doing renovation work on the glass roof, so there was scaffolding up over much of the place: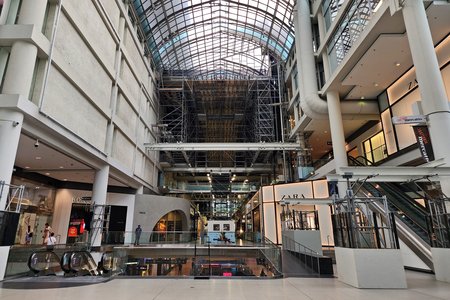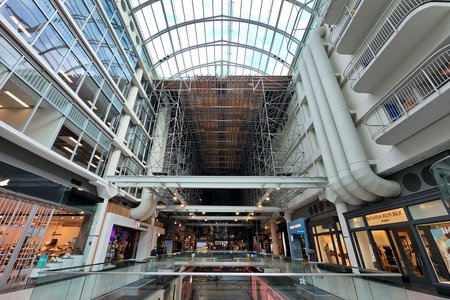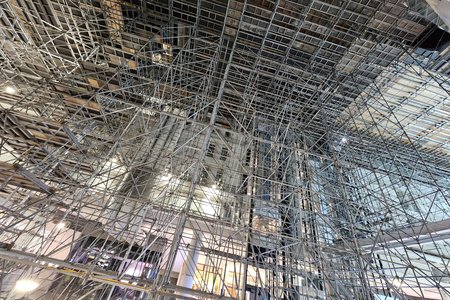 Eventually, I asked a security guard where the food court was located, and he directed me to a location two levels down.  Owing to the early hour, most of the establishments had not yet opened for the day, but a few places were open for breakfast.  Tim Horton's was really busy, while the A&W location next to it was not nearly as busy.  So I went there, and got a breakfast sandwich: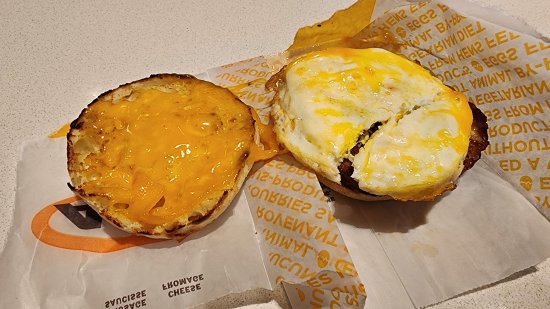 My sandwich.  And as is typical for me, I ate it with a fork, open-faced.  It was pretty good.
Elyse later joined me here, and we then headed over to the Hudson's Bay store on Queen Street, i.e. the store from Today's Special.  We got there pretty close to opening – so close that when we entered, you could hear the sound of Jeff's magic hat being removed in the distance as he resumed his daytime role as a mannequin.  I felt like I was communing with my childhood when exploring around the store.  It didn't matter that I was 42 years old.  This was a magical place.  First thing that I did was to go up the escalator that you see in the opening credits.  Unfortunately, that escalator was not running for some reason, so I had to walk it.  I signaled exactly what I was doing when I said, "Well, everything's all safe down here.  Let's go upstairs!"  Then as I was walking up, I said, "Need a hand with him, is he too heavy?  No, no, I can manage fine, thank you.  Heh.  Well, we're on our way to the Children's Department once again!  Uh-huh!"  Elyse, meanwhile, stayed at the bottom and (reluctantly) waited for me to come back down.  After this, we went through all of the levels via the elevators and the escalators, taking a little more than three hours exploring and looking around and thinking about all of the joy that this place has brought me over the years.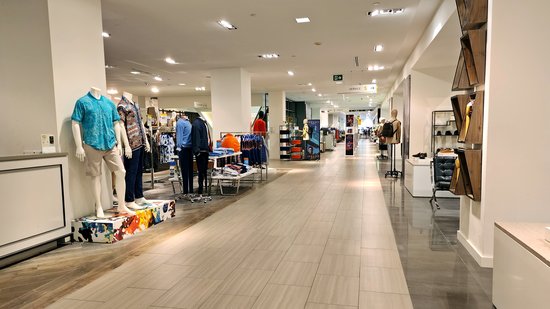 Up on the fifth floor.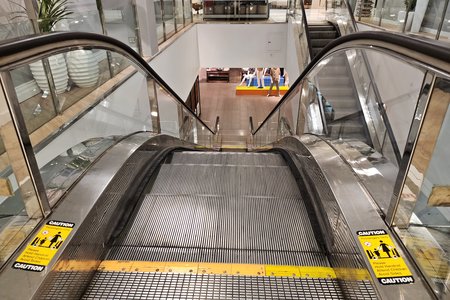 Down escalator between the sixth floor and the fifth floor.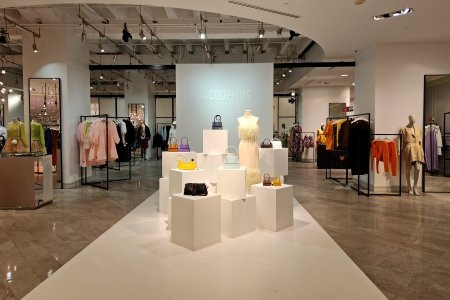 The St. Regis Room, a fixture at Simpsons since 1937 and continued by Hudson's Bay as "The Room", now located on the second floor.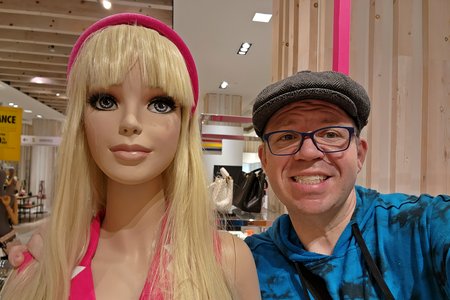 Selfie with a Barbie mannequin on the first floor.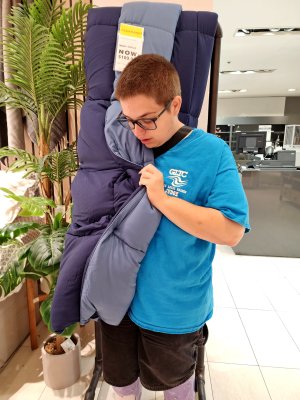 Elyse checks out a comforter in the basement.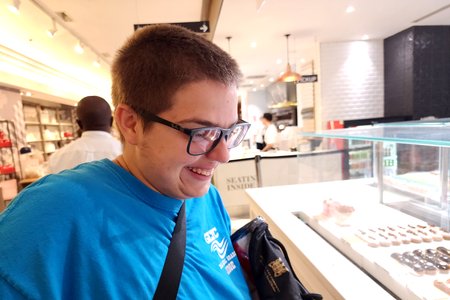 Elyse laughs at a confection on display in one of the cases at the Pusateri's food hall in the basement of the store.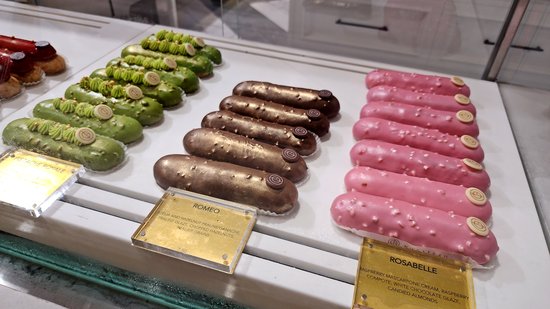 The confections that Elyse was laughing about, specifically the ones in the center row with the "ROMEO" sign in front of them.  I don't really have to explain why she was laughing about these, do I?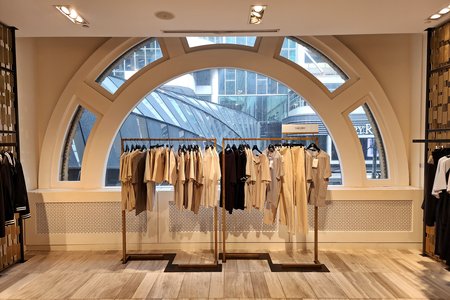 Up on the second floor, this is the window that Jeff stood in and then danced around on "Wheels" in the "In the Night, There's Magic" segment towards the beginning of the episode.  I thought about getting up in the window myself and getting Elyse to photograph me in there, but upon checking that surface in front of it, I was like, nope – this is not strong enough to hold an adult.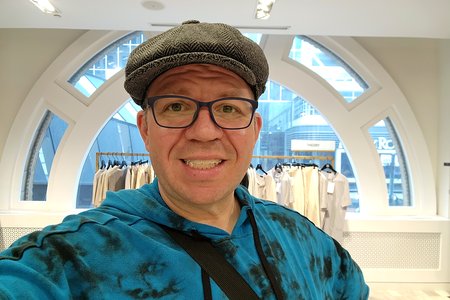 But I did get a selfie in front of it.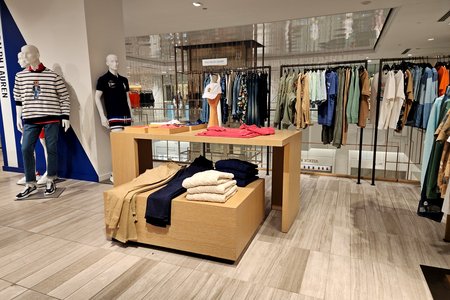 This is the area where Sarah Lanthier and I posed for a photo in 1999.  I made the same mistake as I did in 1999, identifying this as the location where Jeff and the robot did the Go Away Grumples Gavotte in "Moods".  As it turns out after doing some quick research later, that location is around the corner to the right in the same position along that side.  Something for next time, I suppose.  Nonetheless, I definitely did a little (quiet) singing and dancing here, doing Jeff's part of the Go Away Grumples Gavotte.  One step fast, two steps slow, spin twice on the spot, and then tell the Grumples all to go in the Go Away Grumples Gavotte, i.e. the dance you can't be taught.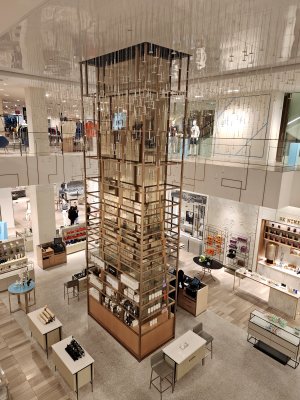 The double-height section of the store, in the Saks Fifth Avenue section.  I reported on my 2019 visit that this area had been eliminated, but as it turns out, I simply missed it last time.  So here it is, with a very different appearance today than it had on Today's Special, though it is still readily recognizable.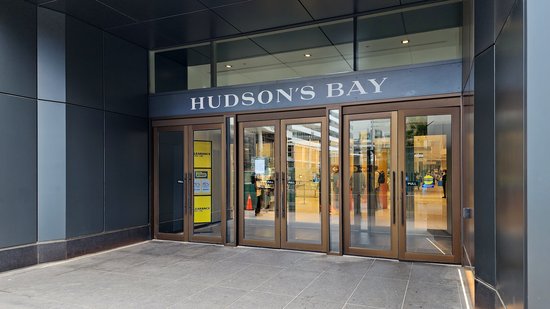 One of the Queen Street entrances to Hudson's Bay.  This was the one that Today's Special used as the main entrance, with the double set of revolving doors, which we saw on many occasions, including in "Our Story Part 2" and "Live on Stage".  I was surprised and disappointed to discover that some time in 2020, according to Google Street View, the revolving doors were removed and replaced with more conventional doors.
While we were at the store, we wanted to get something from there that was clearly from the store that we could use at the house.  We found ourselves in the bedding section looking at the big Hudson's Bay Point Blankets with the green, red, yellow, and indigo stripes on them.  Elyse wanted a twin size, but we initially couldn't determine what size was what, and we didn't want to have to unroll anything to figure it out.  I went to get someone to help, saying to Elyse, "Let me go find Jodie."  I ended up finding a man with a beard in another part of the department who was very helpful in showing us what sizes were what.  As it turned out, the number of thin stripes corresponded with the sizes of the blankets.  Twin size had four stripes, queen size had six stripes, and king size had eight stripes.  Unfortunately, though, they didn't have any twin-sized blankets in the classic HBC colors in stock, and we didn't want one of the gray blankets.  Elyse ended up taking interest in a 90cm x 90cm (3′ x 3′ in American) crib-sized blanket in the correct colors.  It was still pretty pricey, but it fit the bill, and everyone was happy.
I was also talking to my friend Laurie from San Francisco via text, whom I've known for over twenty years at this point.  She knows about as much about Today's Special as I do, and we've collaborated on my T.S. site in the past.  It was fun to share this experience with her.  I also got a call from Bob Dermer, i.e. the person who played Sam Crenshaw.  We had made arrangements to meet up later in the day, and this call was to confirm plans.  I was a little surprised about Bob's response when I said where we were.  I said, "We're at the store."  He said, "What store?"  I was immediately reminded that not everyone places as much of an iconic status on 176 Yonge Street as I do.  I then had to clarify that I meant the store from Today's Special.  We were going to meet up nearby, go somewhere to chat for a while, and then all of us would head over to the Myseum to see Sam, Muffy, and Mrs. Pennypacker.
On the way out of the store, I found myself singing "We've Got A Store That I Explore" from "Sleep" (in a reasonable voice) as I went down the escalators.  It seemed fitting.  Elyse kept her distance while I was nerding out, and sent a recording to our friend Kyle of me doing this in that look-what-I-have-to-deal-with kind of way.  Like she doesn't nerd out about things in her own right or anything like that.
We met up with Bob Dermer at Yonge-Dundas Square, and then we headed down to the Eaton Centre, where we went back to the food court.  I wasn't hungry, but Elyse got something from Ruby Thai, which she ate with chopsticks.  That led to something of a discussion of my incompetence when it came to handling chopsticks.  Elyse is very adept at handling chopsticks, and will eat anything – including baked beans – with them.  I can't manage, but not for lack of trying.  I have tried and tried and tried, but I know when I'm beaten.  It's like Jerry Seinfeld has said: they've seen the fork.
Bob then took us in his car down to the Myseum, and there they were: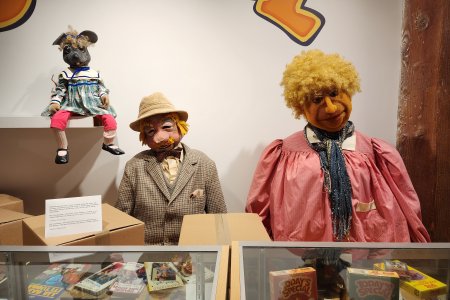 Muffy, Sam, and Mrs. Pennypacker.
The Muffy and Mrs. Pennypacker puppets belonged to Nina Keogh, and the Sam puppet belongs to Bob Dermer.  That is the same Sam puppet that was in the video that I linked to above.  Bob doesn't quite know how Sam's nose got pinched, but he's reached out to Noreen Young, the original designer, to see about making a repair.  Muffy, meanwhile, is still wearing the outfit that she wore at the beginning of "A Visit to the Opera".  The Mrs. Pennypacker puppet appears to be an early version of the character, seeing as she is wearing the pink shirt with the white collar, which she only wore in the 1984 season, where she was introduced, and appeared in just under half of the episodes (7 out of 15 total) that year.  One thing that I noticed in 2019 was that this pink outfit appears to be "hard-coded" onto this Mrs. Pennypacker puppet, meaning that the outfit was part of her and not able to be separated.  I assume that later versions of Mrs. Pennypacker modified this, because in later seasons, she changed her outfits regularly.
What surprised me most about the puppet display was the differences in size between the puppets, particularly between Mrs. Pennypacker and Sam.  Muffy, we knew was small, because she's a mouse.  Her head is just a little bit bigger than a grapefruit.  However, look at the difference between Sam and Mrs. Pennypacker.  I never realized how much bigger Mrs. Pennypacker was compared to Sam.  If you look at them in the show, such as in these examples from "Boxes and Boxes", "Wheels", and "Locks", they look to be about the same size.  Sam has a more slender body and a smaller head, but they're around the same height.  Here, we see that Mrs. Pennypacker is much larger than Sam by quite a bit.  I was not expecting that at all.
We also chatted while the episode "Moving" played on one of the televisions in the Myseum, and we commented on various things as they came on during the episode.  I was surprised about how Bob described the Sam puppet from the first season of the show.  He described it as being a terrible puppet, with "T. Rex arms".  See for yourself how the early version of Sam looked in this screenshot from "Snow".  I always thought that Sam had practically no shoulders in the first season of Today's Special, but I never realized how bad they thought it was.  Sam's body was redesigned for the second season onward, and he looks a lot more natural for it.  Bob also came to realize that I probably know more about the ins and outs of the show, as aired, than he does.  He also liked my Sam voice when I did it a couple of times when describing certain things.  Bob also called up Robyn Hayle, who played TXL, on the phone, and we all chatted for a bit.  Robyn Hayle and I already knew each other from Facebook, but we've never spoken before in real time.
We also got a group photo in front of the puppets: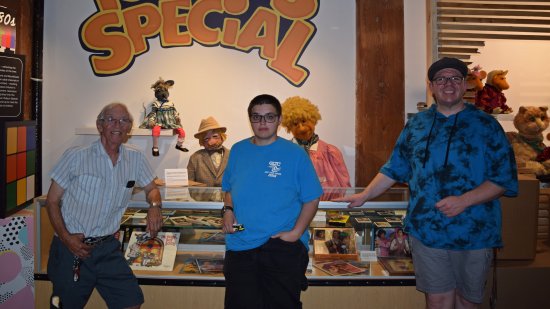 Bob eventually had to leave in order to take his son to an event, but before he did, he autographed a photo that he had in his car of him and Sam, as well as one of Grumpy Bear.  We also took a selfie together: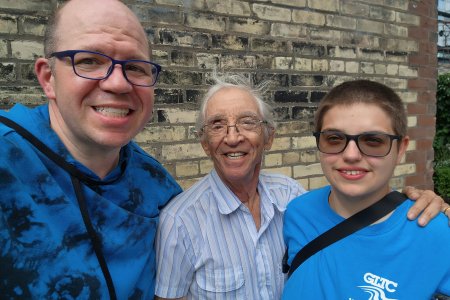 He also asked me to record something:
I was amazed at what I was hearing.  That was awesome.  After this, we said goodbye to Bob, and we went back into the Myseum.  They had a lot of neat stuff on display, and I was going to see it.  First, I got some detailed shots of Muffy, Sam, and Mrs. Pennypacker: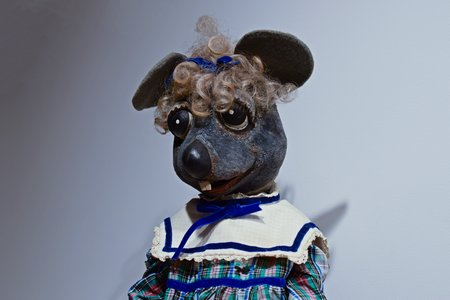 Muffy Mouse.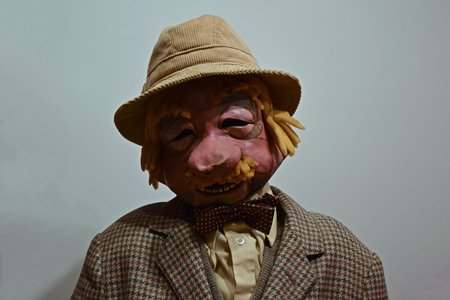 Sam Crenshaw.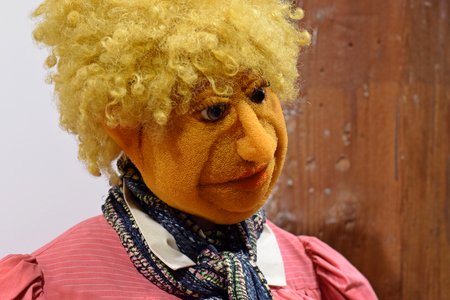 Mrs. Pennypacker.
I got plenty of other photos of them from other angles, but we'll save that for when I get to this trip on my Flickr.  This is just a Journal entry, after all, and I have much more to discuss.
There were also quite a number of other things on display in the case in front of the three puppets: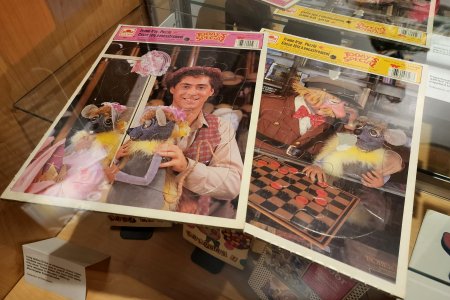 These were two of several puzzles on display in the case.  The one on the left shows Jeff standing with Muffy while she admires herself in the mirror while wearing the hat that she wore in "Family", and the one on the right shows Sam and Muffy playing checkers.  I couldn't help but think that the one of Sam and Muffy looked a little bit… wrong.  Sam's position facing Muffy with his arm around her, and Muffy's look of surprise makes me think that Sam is about to put the moves on Muffy.  I couldn't help but hear, in Sam's voice, "We're alone now, Muffy…" and then noting Muffy's surprised look, saying, "Sam, I don't quite know just what to say, but that is not the way I play!"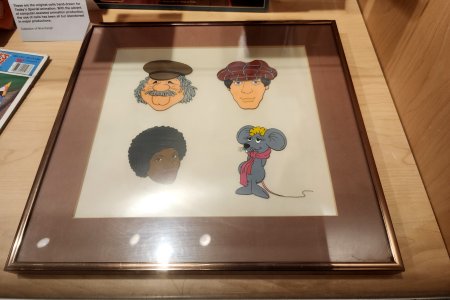 This is an original cel from the opening credits.  This was from the part of the opening where they sing "a world for us to share", and it would have looked similar to this in the final product.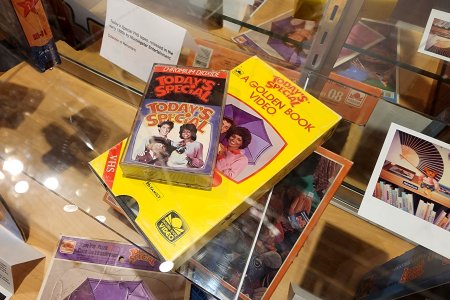 A videocassette from Golden Book of "Storms" and an audiocassette copy of the Today's Special album.  I've known about the album for many years, but I never knew that Golden Book released episodes on VHS.  I only knew about the Morningstar videocassettes, of which I have the complete set.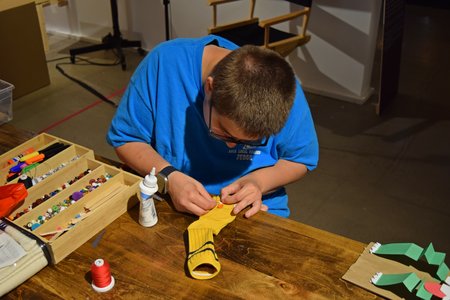 Elyse sat down at this little workshop bench that the Myseum provided and made a sock puppet while I photographed.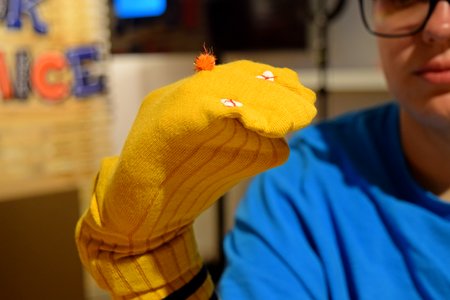 This is the finished sock puppet.
I have plenty more photos from the Myseum, including the Bookmice puppets, but I'm saving those for the Flickr queue.  Let's keep it moving for now.  While we were there, I also shared my ideas with the lady working at the Myseum about what happened with the various characters from Today's Special many years down the line.  I've been thinking about writing these ideas up as a Journal entry for about six years at this point, but I don't think that they're quite ready for prime time yet.  The lady at the Myseum thought that they were pretty sound, so that's a plus.  I also watched a video that the Myseum was showing of Nerene Virgin, who played Jodie on Today's Special.  As in Ottawa, the video of Nerene Virgin was very insightful, and provided lots to consider.  Nerene Virgin is a very gifted speaker, for sure.  Unfortunately, I couldn't capture a recording of it for my own records with my camera because they used headphones rather than an open speaker, and the headphones weren't loud enough.  When I did a test recording, I only got video and no sound.  The lady at the Myseum said to contact them after the exhibit closed at the end of September to discuss their posting it up somewhere online.
Before leaving the building, we also stopped in at a gift shop across the hallway, where Elyse got a model bus, and I got myself a t-shirt with an illustration of the Sam the Record Man store on Yonge Street.  Sam the Record Man's big neon signs captivated me in a major way on the 1999 trip, and so it was only natural to get a t-shirt of them.
Leaving the Myseum, we got on a bus, riding it down to Bay and Richmond Streets.  Now, talk about embarrassing: I didn't have bus fare!  My Presto card didn't have enough funds on it because I didn't know that we would be riding the bus, and therefore I hadn't taken an opportunity to reload, as I had planned to do this later on (I expected that we would walk back from the Myseum, but Elyse jumped at a bus ride).  Then I saw the contactless payments logo on the card reader, and so I tried Google Pay.  That didn't work, either.  I also didn't have any cash, because I've usually managed to get along just fine going card-only in Canada.  I ended up making this embarrassed face at the operator as if to say, "I'm sorry!" but he thought nothing of it.  Good, because I didn't like the idea that I couldn't pay the fare.  I am usually better than that (though at home, I ride free with an employee ID).  Getting off there, we went down into the Path system, which then led us into the store.  I didn't mind.  We just walked through the basement of the store as a de facto cut-through to the Queen subway station, where we boarded a Toronto Rocket train on the 1 line to ride back to the Chelsea.
The stop back at the hotel was supposed to be a quick one, just to offload photos, consume some beverages that we bought at a 7-Eleven across from College station, and then go back out for transit and dinner.  However, when Elyse opened up a bottle of sparkling water too quickly, it fizzed over and got on her shorts.  For some reason, she only brought one pair of shorts on this trip, which was the pair that she was wearing, and had just messed up.  So she sent me out to get her new pants.  I ended up going to West 49, which is a clothing and shoes retailer, kind of like Zumiez in the States.  They were having a big sale, and so shorts were super cheap.  After the bank translated what I paid on the credit card into US currency, I only paid $8.59 for a pretty good pair of shorts.  That was a really good deal.  So I came back with new shorts, Elyse put them on, and we were good.
The idea now was to take transit to get to dinner.  We liked Kinton Ramen the last time that we were in Toronto, so we went again.  We walked back up to Yonge and Carlton, where we took the 506 streetcar to Spadina Avenue.  We then transferred to a 510 streetcar, which we rode to Spadina station on the 2 line.  This would be my second streetcar experience, and my first time riding a Flexity.  My first streetcar experience was on a CLRV, all of which are now retired.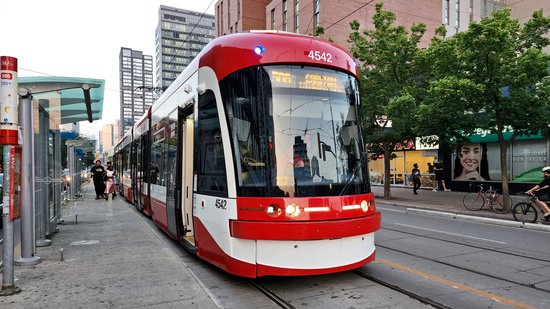 Our chariot arrives, 4542 on the 506.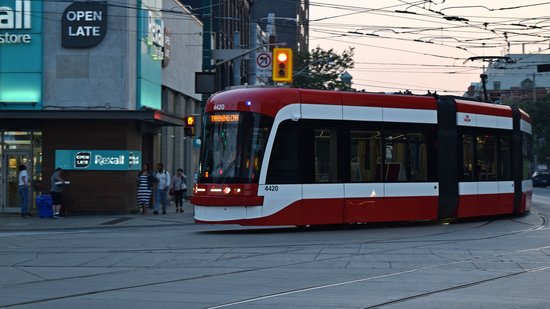 While we were waiting for our next streetcar, we spotted 4420 rounding the corner from eastbound Carlton Street onto southbound Spadina Avenue, running nonrevenue for training purposes.  I admit: I would love to take one of these puppies out for a spin, but I know that it will never happen.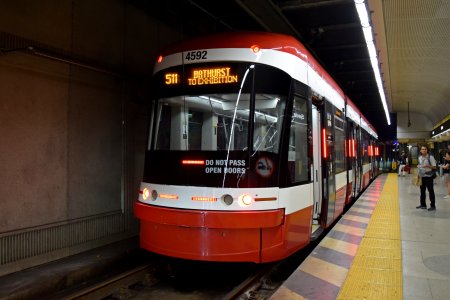 Car 4592, properly berthed at Spadina station.
We then rode the 2 line from Spadina to Christie, and then walked a few blocks to the Koreatown location of Kinton Ramen.  We first ordered this small serving of four dumplings as something of an appetizer to share, and we only had chopsticks.  This is how I handled it: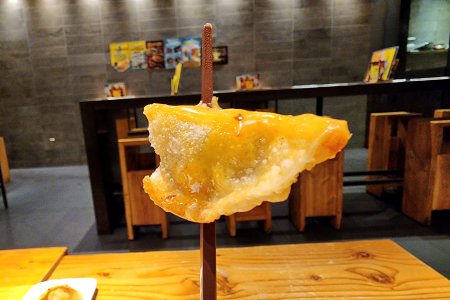 Yeah, I speared it.  That counts, right?  For the record, Elyse made fun of me for this, and told me that it didn't count as eating with chopsticks.  Everyone's a critic.
Then we both got this for our meal: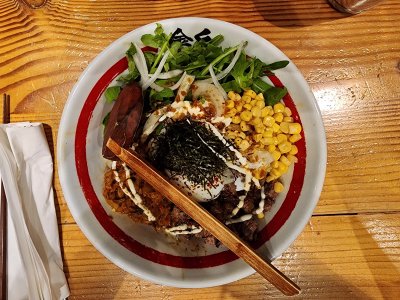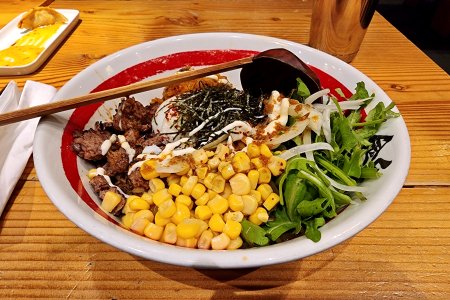 This is Spicy Beef Mazemen, and is described by Kinton as "Brothless ramen with thick noodles tossed in original sauce, topped with beef, homemade spicy kimupeño, onsen tamago, sweet corn, arugula, white onion, Kizami nori, and chili powder."  I asked for a fork, and I was all set.  The meal was good, and it was enough to be two meals.  That solved my breakfast problem for Friday, since I would just have the rest of it in the morning.
Leaving Kinton, Elyse and I took separate paths to get back to the Chelsea.  She went busfanning a bit, while I took a subway ride and then a long walk back.  Kinton was right in between two stations, and so I walked to the other one, which was Bathurst station.  I took that to Bloor-Yonge, and then exited the system.  I figured out while I was walking that I was fairly close to the original Rabba Fine Foods location, which was on Today's Special in "Food" and called Variety Food Fair back then.  We visited it in 2019, and it made sense to visit again, and come explore the aisles of the grocery store.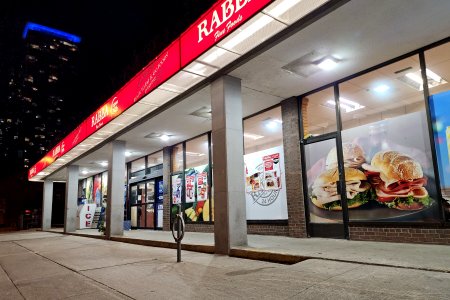 Establishing shot.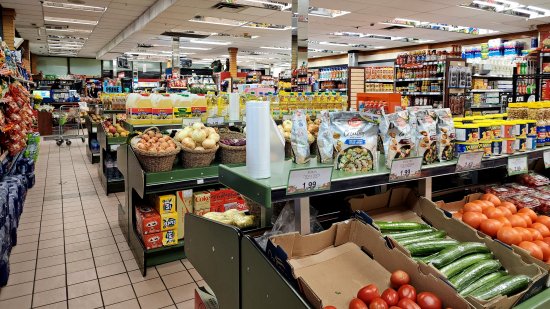 Interior of the original Rabba store.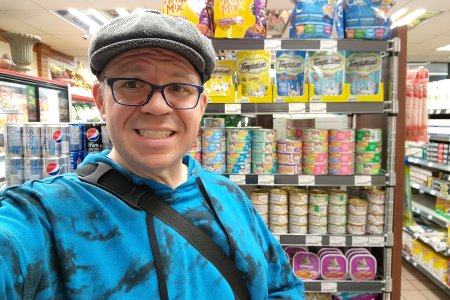 And of course, another selfie with the cat food, as Muffy was filmed singing much of the market song in front of the cat food, though it was in a different place in the store back then.
While I was going through the store, I'm not going to lie: I was singing the market song to myself through the aisles.  I ended up getting two bottles of Gatorade Zero, and when I got to the register, I said to the cashier, "I came to explore the aisles of the grocery store."  He didn't know the reference, and I didn't expect him to, nor did I explain it.  But it's okay.
Then I walked the 0.8 mile distance to the hotel from Rabba.  Before I got settled in for the night, I decided to peek at the refurbishment of the hotel in progress, underway on the fifth floor: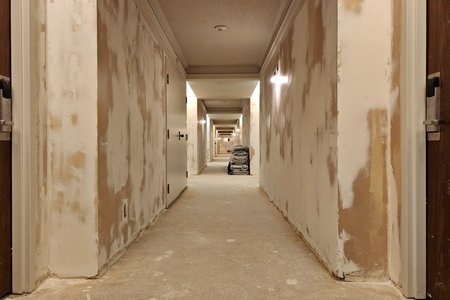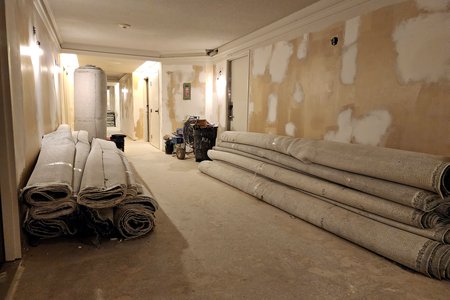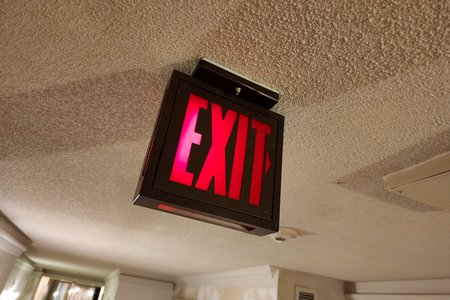 And that was the end of day #2.
The next morning, we got up early, and I had my ramen from the night before.  I think that it was even better the second time around than it was the first time.  I liked that.  After we got checked out of our room at the Chelsea (and no fire alarms – always a good thing when it's time to check out), we spent most of the day with our friend Daniel Marasigan, who lives in Toronto, and who also visited us last year.  We went to Little Canada, and also rode trains for a bit.
Little Canada is a display of various Canadian landmarks in miniature in the basement of a low-rise building next to Yonge-Dundas Square.  It is a permanent installation, and they walk you through different regions of Canada, starting with Niagara Falls, and then to Toronto, the Golden Horseshoe region (i.e. the area that we drove through along the QEW going from Niagara Falls to Toronto), then Ottawa, then Quebec, and then off to the Maritimes.  Another section, about northern Canada, was under construction, but you could still go in and see it as it stood.  At this point, the layout was mapped out, but there were no structures yet.  The lighting was variable over the course of time, as the exhibits changed between day and night on a 15-minute cycle, with nine minutes of bright lights to simulate daytime, and six minutes to simulate nighttime.  The ambient lighting would change accordingly, with the room's brightening and darkening according to the time of day, and lighting in the scenes would adjust accordingly as well, with streetlights and other sorts of lights coming on during the night part of the cycle, and then going back out when the day cycle came.  We spent about three and a half hours exploring Little Canada, meaning that we spent the equivalent of two weeks there, staying through fourteen day/night cycles.  There were also some hidden items throughout the display that we were told to look for.  One was a red and white moose done up to look like the Canadian flag named Maurice.  Maurice was strategically placed in various locations throughout the attraction.  The other was adirondack chairs with the Canadian Tire logo on them, also strategically placed throughout.
I got a ton of photos of Little Canada, from all sorts of different angles.  Here are some of the highlights: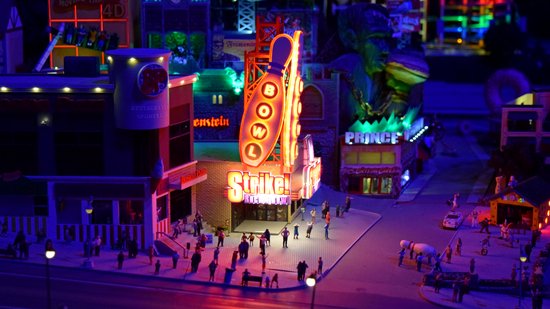 Strike Game Zone in Niagara Falls.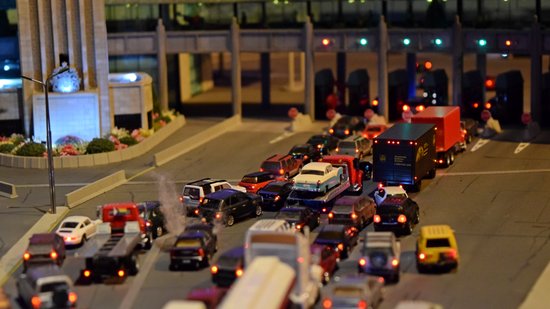 Traffic going through Canadian customs after crossing the Rainbow Bridge.  Elyse and I went through this facility on the outbound trip in 2019.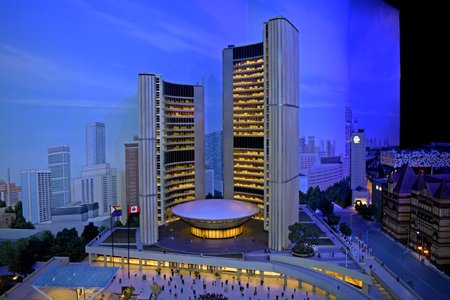 Toronto City Hall.  One thing that surprised me is that the store was not part of this display, though the Chelsea was (look back right).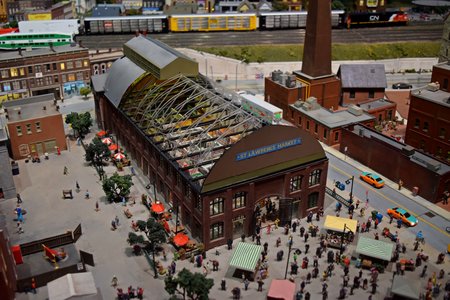 St. Lawrence Market, which Elyse and I visited in 2019.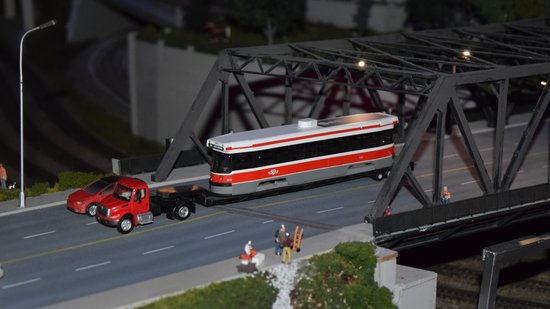 A CLRV streetcar, numbered 4019, being hauled away on a flatbed truck for scrapping.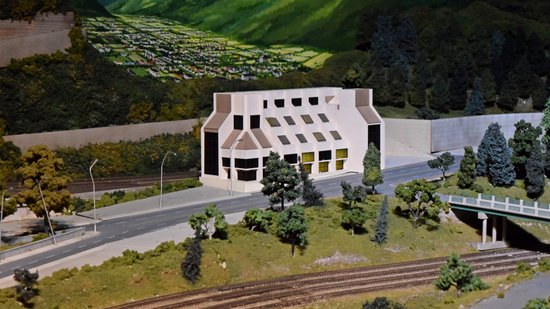 The store may not have been on there, but I spotted the Hamilton Place Theatre!  "Live on Stage" was largely filmed there, and Elyse and I visited it briefly in 2019.  There is a booth where they can photograph you for inclusion in the exhibit, and then you can request where they place you.  Elyse and I got photographed, and we're going to be placed outside of the Hamilton Place Theatre.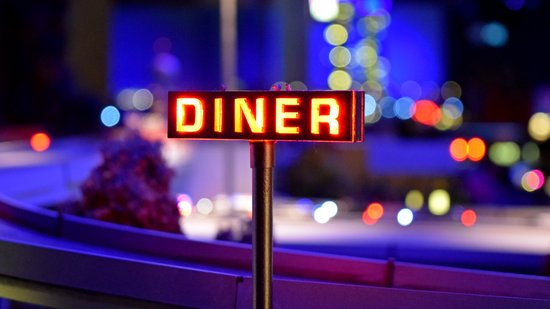 "DINER" sign in the Golden Horseshoe display.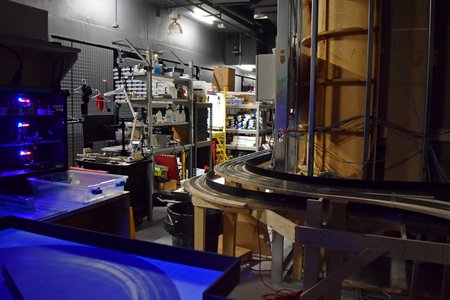 A glimpse through a window of some of the back areas of the attraction.  This is where some of the moving things like cars and trains turn around and/or reverse ends, and where things get pulled off the line as needed.  I would love to tour these areas one day to see how it all works.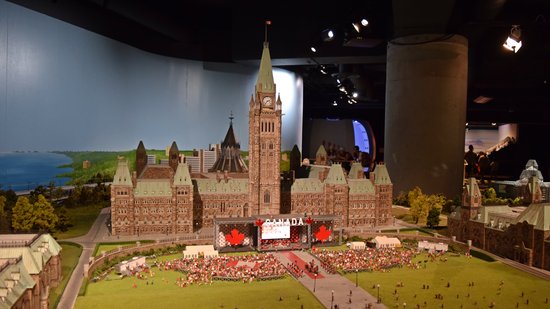 The Centre Block of the Canadian Parliament in Ottawa.  I admit that I was a little bit salty that the Centre Block was under renovation at the time of my visit, because the construction equipment got in the way of what I wanted.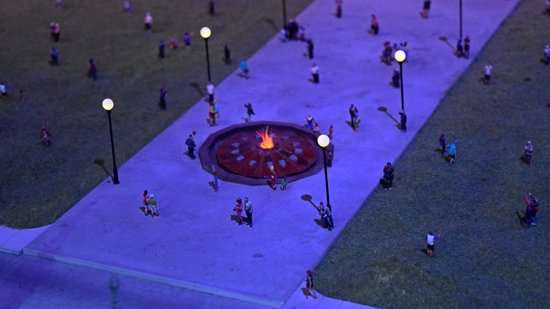 The Centennial Flame, a monument on Parliament Hill commemmorating the 100th anniversary of the Canadian Confederation.  I thoroughly enjoyed photographing this in real life back in May, so I appreciated seeing it here.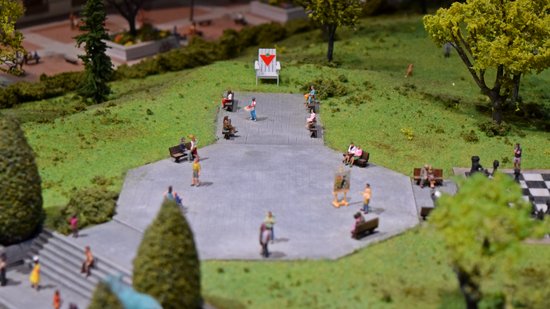 One of the Canadian Tire adirondacks in a park-like setting.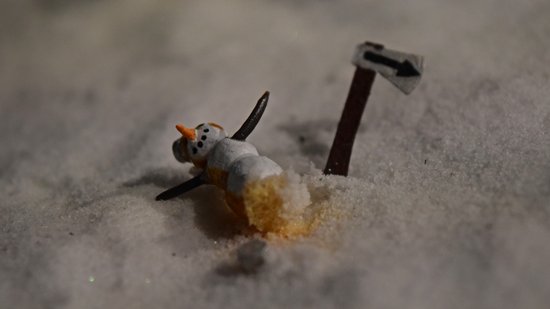 A snowman laying on its side in Petit Québec, as part of a ski resort display.  The color of the snow on the snowman reminded me of something that a kid used to say a lot in my senior year of high school.  He said, "Look out where the huskies go, don't you eat that yellow snow!"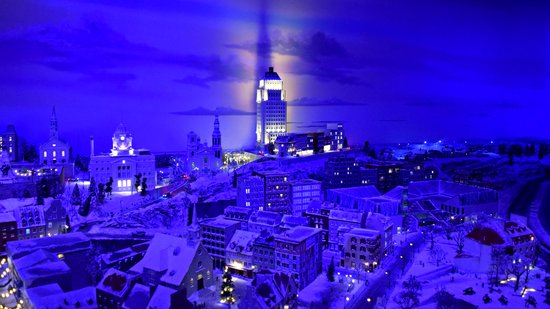 The skyline of Quebec City at twilight.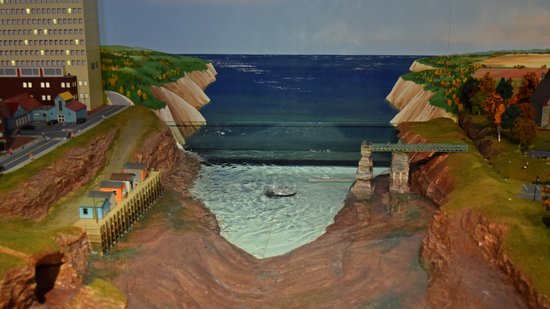 Over in the Maritimes, this was the one place in the entire place that used real water, which went up and down, I believe to simulate the tides.  Real water was interesting and all, but for things like this, the only problem is that water doesn't scale, so for everything in miniature, the water just looks out-sized.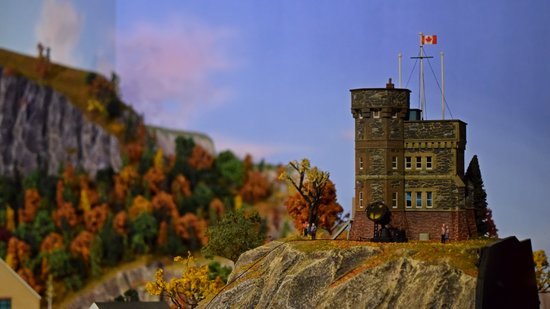 A nice shot in the Maritimes section.  I admit that I have no idea what I'm looking at here…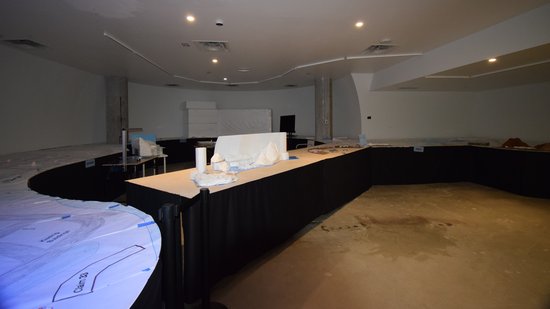 The area that will eventually become Little North.  The layout is mapped out and the tracks for lighting are installed, but no miniatures are in place.
I got lots more photos than this, but again, I'm saving it for when I do this all on Flickr.  Stay tuned.
Finishing up at Little Canada, we headed back to the Chelsea to pick up our luggage, which they held for us while we did Little Toronto.  The plan was for the three of us to get on the subway at Dundas, taking the 1 to Bloor-Yonge, and then transferring to the 2 line, taking it to the end of the line at Kipling.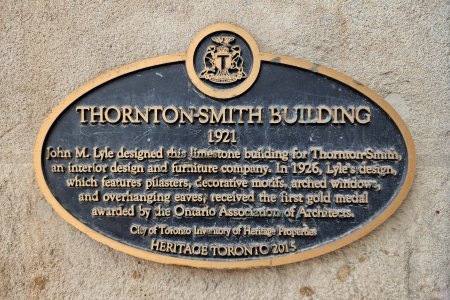 But first, I spotted an historic plaque on the Thornton-Smith Building, at 340 Yonge Street.  Interestingly, we completely missed visiting the plaque at the store, but I did spot some others, like this one.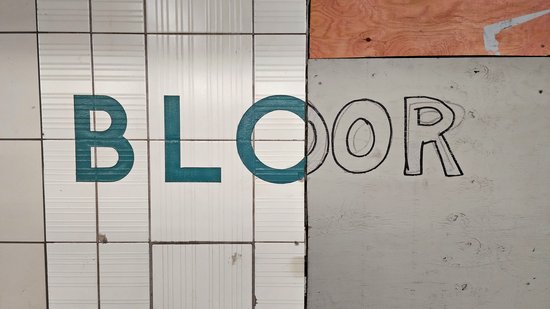 Spotted this on the wall at Bloor-Yonge.  Construction caused some of the tilework to be cut off, and so someone did their best to complete it.  I described it as "an effort was made".
When we got to Kipling, we parted company with Daniel, and then we boarded an express bus to take us to the airport.  One thing that I like about TTC's stations is that the buses are considered to be within fare control for purposes of transfers.  If you take a bus into a subway station, the bus drops you off within fare control, so no additional fare is needed on the bus, and vice versa for rail.  You are already in the system, and so you just go on in.  I've never seen an American system that does this, but it is definitely quite handy.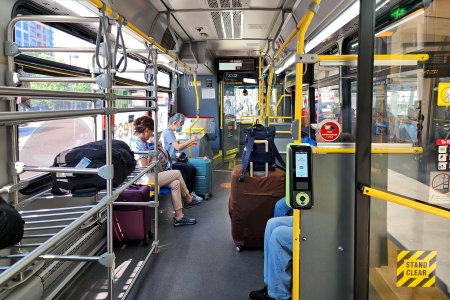 The interior of our bus.  Note the luggage racks, indicative that this bus is specifically intended for the airport route.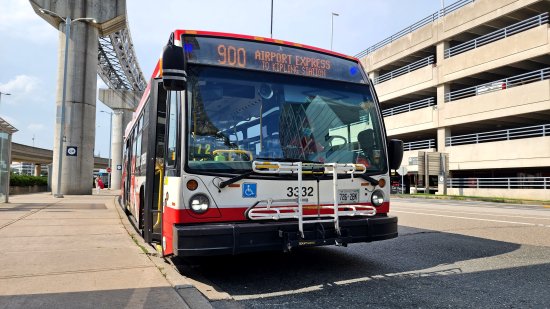 Our bus after we arrived at the airport.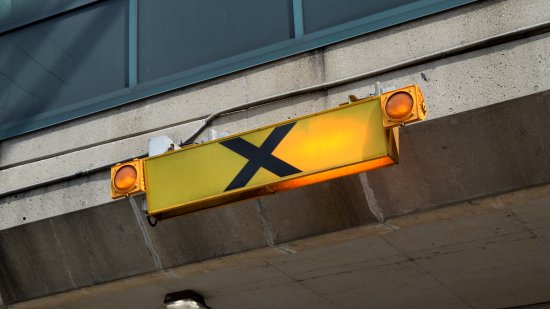 Big "X" signage over the crosswalks at Pearson Airport.  I remember seeing these on the 1999 trip to Toronto and noting how we didn't have these signs stateside.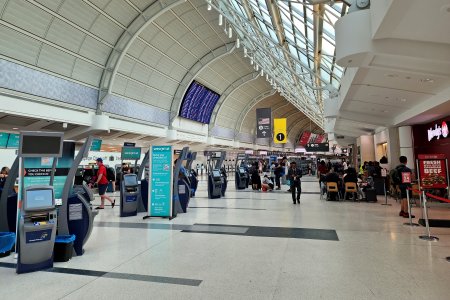 The main atrium at Pearson Airport terminal 3.
Once we got in the airport, while Elyse had already checked us in online, we still had to go through security and US customs.  Elyse borrowed a wheelchair, because her legs were really hurting, owing to that she had gotten a brand new set of braces the week before, and wasn't quite used to it yet.  Her being in a wheelchair was a genius move, as that got us through security quickly, as well as customs, as in we were able to jump the line in both cases.
Finishing at customs, we were segregated into a separate part of the terminal for flights heading to US destinations.  We quickly checked out the duty free store, and then we found our gate.  We were at a gate that boarded from a lower level.  Now that we found it, we had some time to kill, so we explored around the airport a bit.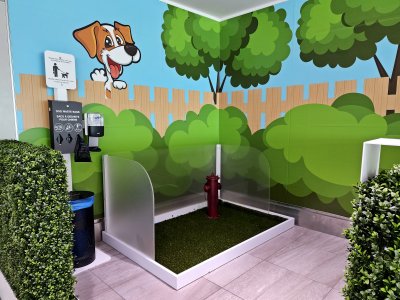 Pet rest area in the US flights section at Pearson.  Elyse wouldn't let me use the fire hydrant, unfortunately.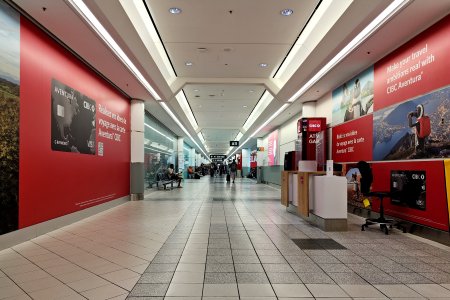 Corridor in the US flights terminal.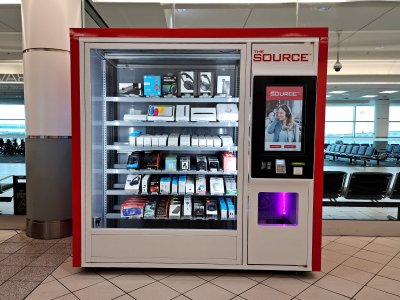 Vending machine for The Source.  The Source is a Canadian electronics retailer, and was, at various times, affiliated with RadioShack and Circuit City, though it is now its own thing.  This vending machine is operated by a touchscreen, and sells all sorts of things from cables to tablets.  We looked up the prices on the machine and compared them to non-airport locations, and while they were slightly higher than market, it wasn't outrageously so.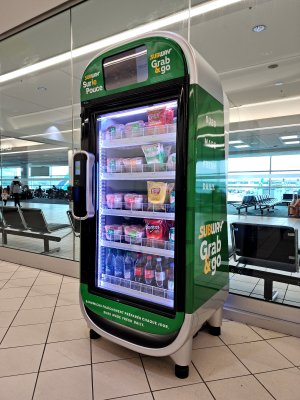 A Subway vending machine.  I have never seen such a thing before, but Elyse decided to get lunch from it.  The way that it works is that you open the door by giving it your credit card, and then it detects what you take and charges you for it.  The transaction is completed when you close the door.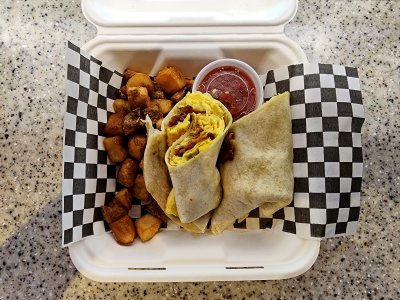 My lunch from Urban Crave, which consisted of a breakfast wrap with eggs and bacon, plus home fries.  It was pretty good.
Finishing up our food, we headed back over to our wing in the terminal, as our departure time was nearing.  But we still had some time to explore, so we headed to the end of our wing just to see what it all looked like.  As it turned out, it went some ways past our gate (A9) and ended up at another ground-level gate.  Seems to work.  Then on the way back, we got in a conversation with some guys in their early twenties who were heading to Las Vegas.  They were a lot of fun.  I mentioned Schumin Web, and, surprise: they were familiar with my work, and one of them realized that he was already following me on Instagram!  How cool is that.  Small world.
Getting down to our gate, we found out that due to a storm system moving across the mid-Atlantic region, our flight would be delayed on account of the route that our plane would be taking to get to Toronto.  This is the route that it took coming up: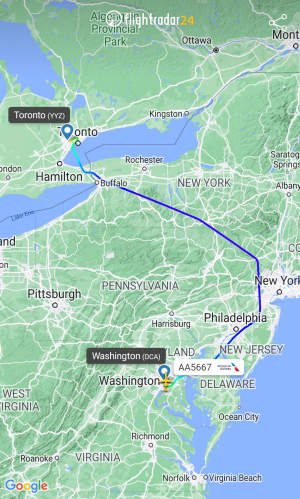 Our plane's route up to Toronto.  Note how it left Washington National Airport and then overflew Philadelphia and the New York City region before cutting across upstate New York to reach Toronto.  The storm was to the west, which necessitated this curved route to avoid it.  Compare to the relatively straight route that we had on the way up under clear skies.
Yeah, it was storming at home while we were in Toronto having nice weather, as Elyse was getting all sorts of reports of weather-related incidents all over Montgomery County.  In the meantime, I entertained myself photographing around the space a little bit.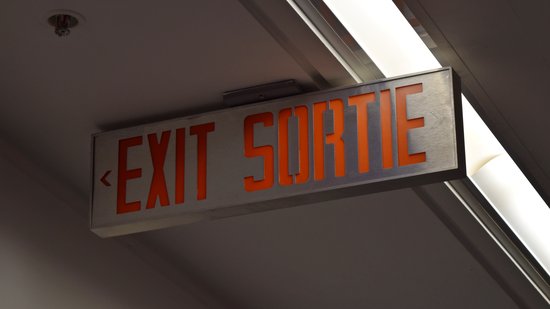 Bilingual exit sign.  About the only place that I saw these signs was at the airport.  Everywhere else used either the running man or was English-only.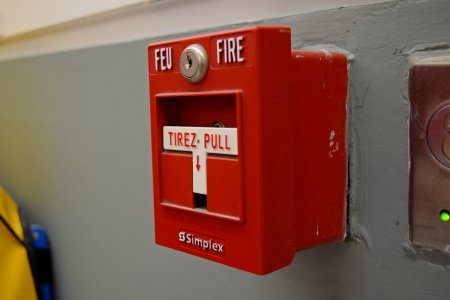 Bilingual Simplex pull station.  Note the keyhole behind the T-bar, which indicates that the airport uses a two-stage system, which is quite common in Canada.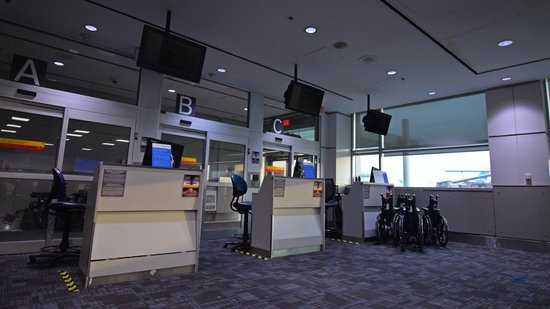 The gates.  We would go through these when it was time to board our planes.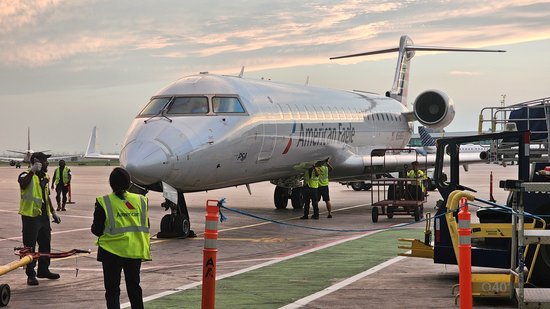 Our chariot, N538EG, a Bombardier CRJ-702ER, has at last arrived.
And then it was time to board.  My carry-on had to be gate-checked because of the size of the overhead compartments, and then we got on.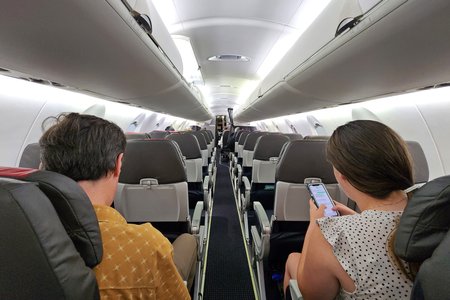 View of the cabin of N538EG from my seat.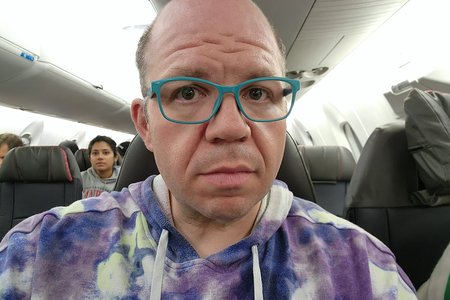 Pre-takeoff selfie.
I was able to help the people sitting in the row behind us.  They had to get a hotel in DC because the delay caused them to miss their connecting flight, and they were talking about hotels in the city proper.  I gave them a quick tip: book in Crystal City.
I didn't photograph all that much on the flight back.  It was dark out, after all.  I ended up getting on the in-flight wi-fi and eventually found my way over to FlightRadar in order to see our progress.  Our route went like this: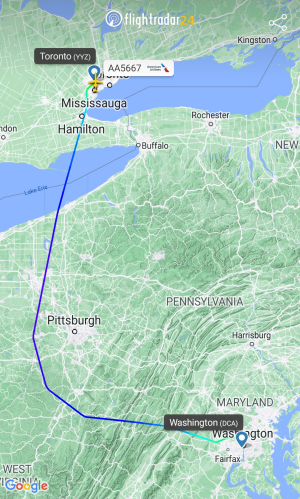 Our route followed a much more westerly course than the same plane's trip up, as well as our trip up two days prior.  This route would take us over Lake Erie, parts of northeastern Pennsylvania, and eastern Ohio, before taking a big turn east, going over parts of West Virginia and western Maryland, before settling into a track that would take us on the "river visual" approach to Washington National Airport.  Elyse and I watched out the window and on FlightRadar as well as Google Maps on my phone as we traveled past Youngstown and Steubenville, Ohio, Morgantown, West Virginia, and then Winchester.  Then we were treated to a view of DC and then the 14th Street Bridge before we landed at DCA.  Not a bad time.  I'd do it again, though I have no further plans that involve flying at this time – though that could change.
Once we got into the airport, it was just a matter of hitting the restroom and then taking the Metro home.  Funny about that: I chose to fly back into National rather than Dulles with the Metro specifically in mind.  I didn't necessarily want to ride the Silver Line all the way back in to Metro Center, since that would be a long ride in and of itself, not even counting the 40-some minutes on the Red Line.  So by coming back via DCA, I would take the much shorter Yellow Line, which meant some time savings.  After all, this wasn't a new system to explore.  This was Metro, which I know every inch of, so I just wanted to get home.
Meanwhile, I noticed this on the way out: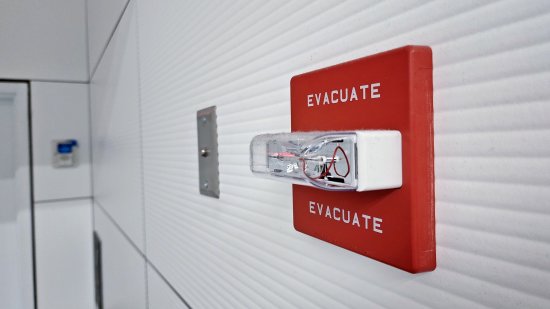 Wheelock RSS with "EVACUATE" lettering instead of "FIRE".  I've never seen this before.
Then from there, we left the airport, hopped onto a Yellow Line train at National Airport station, transferred to a Red Line train at Gallery Place-Chinatown station, and then rode that all the way out to Shady Grove, where we used a ride-hailing service to get the rest of the way home.
All in all, this was a fun trip.  We had great times and experiences with friends, and flying wasn't nearly as painful as I remember it being.  So I'd do it again.  With some additional advance planning, doing weekenders to further-out destinations might be fun.  Clearly, the test proved that I could handle flying, and that weekend trips that involved flying were quite feasible.  Excellent.