December 31, 2020, 2:33 PM
Out of all of the things that occurred in 2020, I think that I could define my year most by my photography work.  I had a very productive year, on a few different fronts.
First of all, I got a new phone in early March, the Samsung Galaxy S20 Ultra, which is a pretty powerful camera in and of itself, with four different lenses built into its design and all sorts of other fun features.  For that, I tend to get the most out of the standard lens and the wide angle lens.  Here's a comparison of two shots taken from the same spot: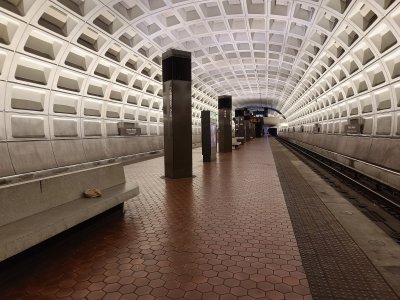 Potomac Avenue station, photographed with the regular lens.
Continue reading…
December 18, 2020, 6:20 PM
Recently, I submitted a takedown notice for content in a post called "Preaching to the Choir" which, among other things, discusses the seventh and ninth commandments in the Bible (conveniently skipping over #8, i.e. "thou shalt not steal"), on a blog called Serendipity Seeking Intelligent Life on Earth.  The post contained a photo that I took of the former Howard Johnson's on Afton Mountain.  Specifically, they used this shot: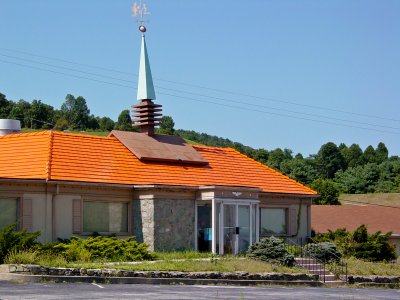 Continue reading…
December 14, 2020, 9:00 AM
On a recent trip to Augusta County, Elyse and I stopped over at Staunton Mall to pay our last respects to the place.  For those not familiar, Staunton Mall recently changed owners, and in late November, the new owners gave all of the remaining tenants a 30-day notice to vacate, except for Belk.  The last day of operation for Staunton Mall will be December 24.  So we stopped in and documented the place fairly extensively.  Before I get started, please note that this Journal entry will be a very high-level look at the mall.  I took over 1,200 photos of the interior and exterior of the mall, including at least one photo of every single storefront, and I'm going to give the place a more complete treatment as a photo set for Life and Times.  But this ought to hold everyone for now, because the more complete treatment is going to take a while to put together.
The thing about photographing retail settings is that stores typically don't like it when you photograph in their facilities.  The usual reason cited is to protect trade secrets, which is usually bunk, because, as I understand it, a company has to put actual effort into keeping trade secrets a secret.  If it is in plain view of the public, then it is not a trade secret.  But that doesn't stop stores from chasing off photographers.  After all, it is private property, and they can choose to exclude whatever activities that they want.  For my purposes, it just means that I have to be a bit more stealthy when I photograph, and shoot with my phone rather than with the big camera.  The way that I typically operate when I do this is to go from lower risk to higher risk as far as getting caught goes.  After all, once a place gets wise to me, the photo shoot is over, because they'll never leave me alone again as long as I remain there.  In this case, since I had the drone, I considered the aerial photography to be the least risky as far as getting caught goes, since I could accomplish that mostly from off of the property.  Then after I finished flying around the mall, I photographed the exterior from the car with my real camera.  Then I went inside the mall and did my documentation of the interior with my phone.  I suspected that I wouldn't have any issues with security personnel based on reports from others that there were no security people to begin with, and I was pleased that this ended up remaining the case.  I've seen so many cases where stores and/or entire shopping centers are closing, and employees still get on people about photography.  I can't help in those cases but to think, why do you still care?  After all, the people in question are losing their jobs soon, and so they're continuing to defend their employer because… why?  No matter what you do, at the end of the day, you're still losing your job.  So why are you still loyal to and defending a company that clearly has no loyalty to you?  It doesn't make sense to me.
Continue reading…
December 8, 2020, 10:07 PM
Since I've been a Disney+ subscriber, I've been able to watch the classic Home Alone movies, i.e. Home Alone and Home Alone 2, all over again.  And I figure that this seems as good of a time as ever to explore my thoughts about the movies based on this rewatch as a 39-year-old who is now closer in age to the parents than to Kevin.  In other words, I'm waaaaaaaaay more mature than I was when I first watched them when they were new.
For those not familiar with the Home Alone movies, in the first movie, the McCallister family, a well-off family in the Chicago area, is planning to go on a Christmas trip to Paris to visit relatives.  The night before they are to leave on this trip, two things happen.  First, at dinner, youngest son Kevin gets involved in a fight with his older brother Buzz, who is being unkind to him over pizza.  That leads to his being banished to the attic bedroom ("the third floor" as it's called in the movie), for the night.  Second, while the family is asleep, high winds cause a tree branch to fall on some nearby power lines, creating a power outage, which takes out the alarm clocks, among other things, causing everyone to oversleep.  When the parents wake up, there is a mad dash to make it to the airport in time.  In the course of taking a headcount prior to leaving, a neighbor child, who stopped by to see what was going on and chat, was accidentally counted.  So, with a good headcount, they were off to the airport.  Unbeknownst to them at the time, they had forgotten Kevin.  Kevin, meanwhile, wakes up to discover that the family has left for the airport, and he is all by himself.  He eventually learns that two burglars are working the neighborhood, and that they are looking to target his house, among others.  So he comes up with a plan to defend his house against said burglars, and leads the burglars through a series of traps that should have killed them many times over (but didn't because this is the movies).  Kevin also befriends a neighbor along the way, who ultimately finishes off the burglars with two well-placed blows with a snow shovel, which leads to the burglars' arrest.  While this is going on, Kevin's mother, after realizing that they had forgotten their youngest, is trying her best to get back home to Kevin, and flies to a number of different cities to that end, and ultimately hitches a ride in a van with a polka group to get home, arriving on Christmas morning.  The rest of the family arrives home shortly thereafter, and there is a happy reunion, with no one except Kevin's knowing what had happened the night before.
Continue reading…