Paying my last respects to Staunton Mall…
December 14, 2020, 9:00 AM
On a recent trip to Augusta County, Elyse and I stopped over at Staunton Mall to pay our last respects to the place.  For those not familiar, Staunton Mall recently changed owners, and in late November, the new owners gave all of the remaining tenants a 30-day notice to vacate, except for Belk.  The last day of operation for Staunton Mall will be December 24.  So we stopped in and documented the place fairly extensively.  Before I get started, please note that this Journal entry will be a very high-level look at the mall.  I took over 1,200 photos of the interior and exterior of the mall, including at least one photo of every single storefront, and I'm going to give the place a more complete treatment as a photo set for Life and Times.  But this ought to hold everyone for now, because the more complete treatment is going to take a while to put together.
The thing about photographing retail settings is that stores typically don't like it when you photograph in their facilities.  The usual reason cited is to protect trade secrets, which is usually bunk, because, as I understand it, a company has to put actual effort into keeping trade secrets a secret.  If it is in plain view of the public, then it is not a trade secret.  But that doesn't stop stores from chasing off photographers.  After all, it is private property, and they can choose to exclude whatever activities that they want.  For my purposes, it just means that I have to be a bit more stealthy when I photograph, and shoot with my phone rather than with the big camera.  The way that I typically operate when I do this is to go from lower risk to higher risk as far as getting caught goes.  After all, once a place gets wise to me, the photo shoot is over, because they'll never leave me alone again as long as I remain there.  In this case, since I had the drone, I considered the aerial photography to be the least risky as far as getting caught goes, since I could accomplish that mostly from off of the property.  Then after I finished flying around the mall, I photographed the exterior from the car with my real camera.  Then I went inside the mall and did my documentation of the interior with my phone.  I suspected that I wouldn't have any issues with security personnel based on reports from others that there were no security people to begin with, and I was pleased that this ended up remaining the case.  I've seen so many cases where stores and/or entire shopping centers are closing, and employees still get on people about photography.  I can't help in those cases but to think, why do you still care?  After all, the people in question are losing their jobs soon, and so they're continuing to defend their employer because… why?  No matter what you do, at the end of the day, you're still losing your job.  So why are you still loyal to and defending a company that clearly has no loyalty to you?  It doesn't make sense to me.
In any case, here are some of my aerials of the property: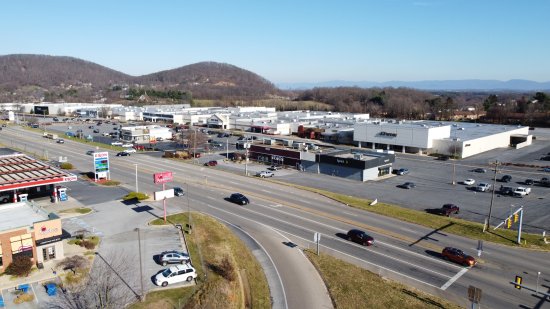 The mall, viewed from the southwest (near the Hampton Inn).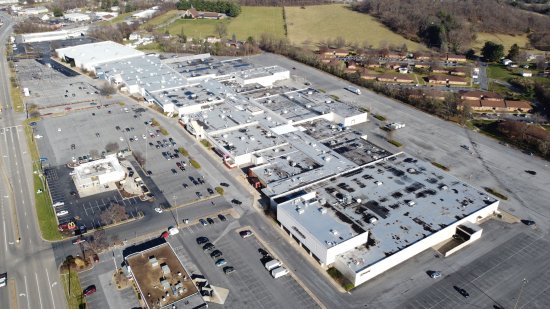 Another view from the southwest, this one from a little closer in.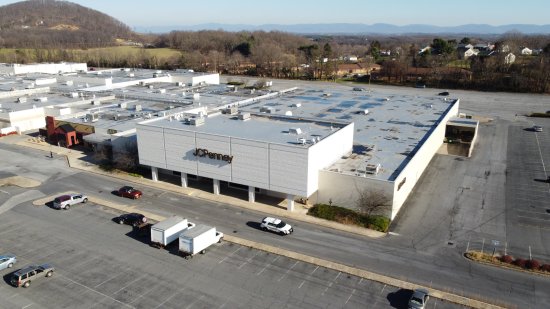 JCPenney store, which closed in October.  This store was an original mall tenant.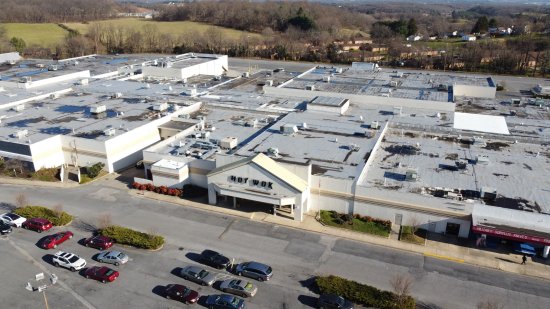 Center of the mall, with "HOT WOK" signage over the entrance.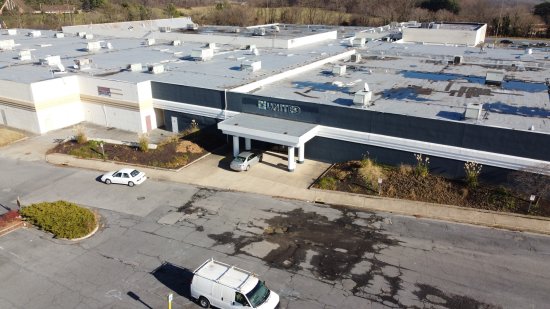 Entrance to the former Safeway/Goody's/Gold's Gym space, which now houses a church.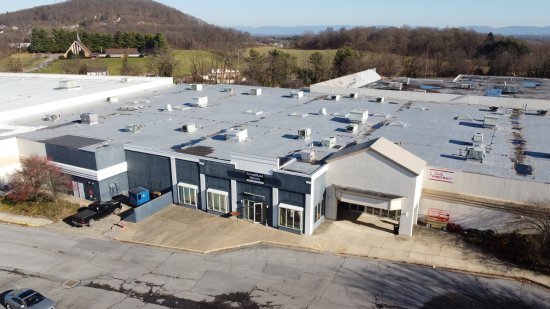 Belk wing entrance, and former Wills/Books-A-Million store.  The latter now houses a secondhand store.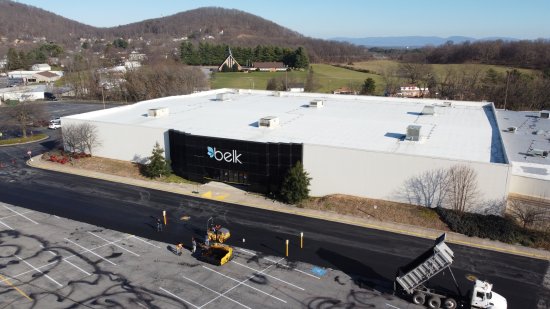 Belk.  This was built (as Leggett) when the shopping center was enclosed.  I find it funny that they're finally redoing the parking lot now that the mall is closing.  That lot should have been resurfaced decades ago.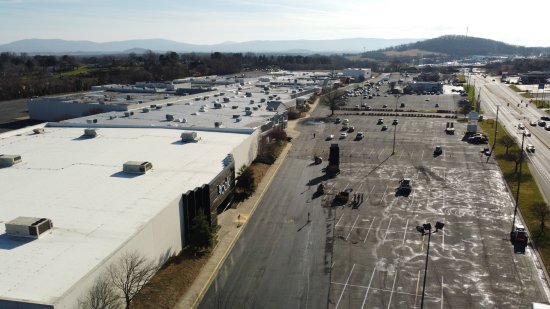 The full mall, viewed from the northwest.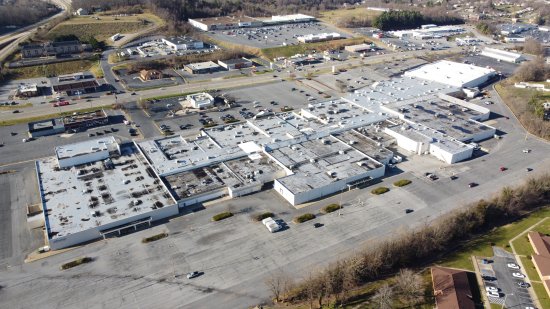 The back side of Staunton Mall, viewed from the southeast.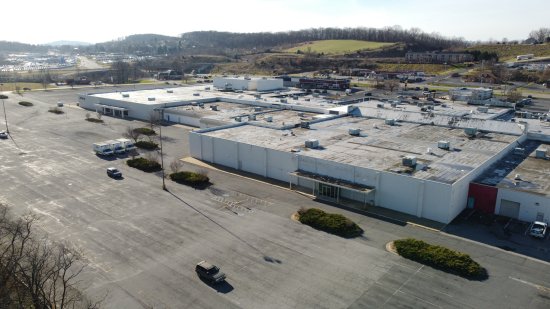 Peebles building, on the back side of the mall.  This building originally housed a Woolworth's, and then briefly housed Stone & Thomas before becoming Peebles.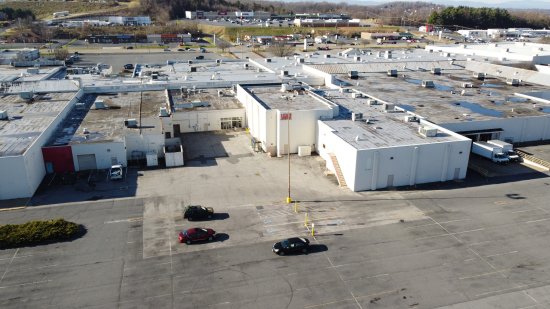 Movie theater entrance.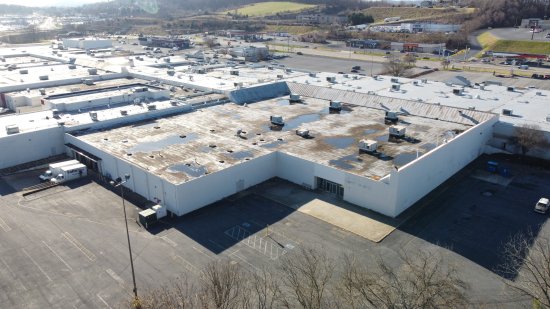 Montgomery Ward building, on the back side of the mall.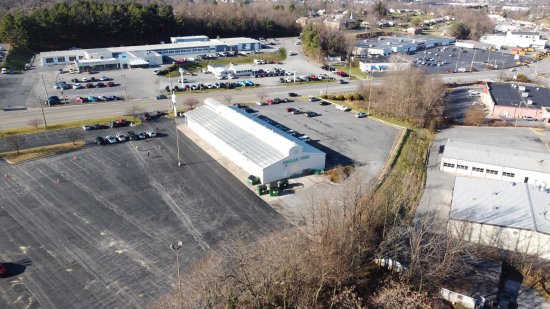 Former Wards Auto Center, now a Dollar Tree.
Then here are some of my photos from the ground: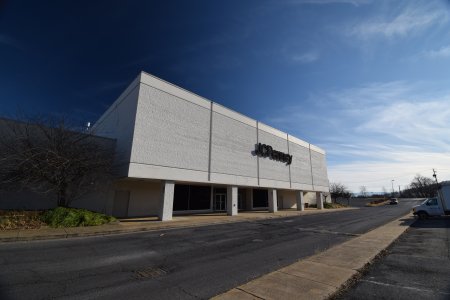 Former Penney's.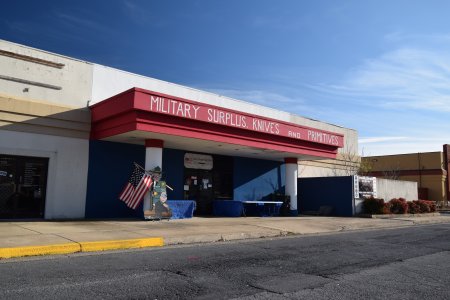 Military store in the former Peoples Drug/CVS space.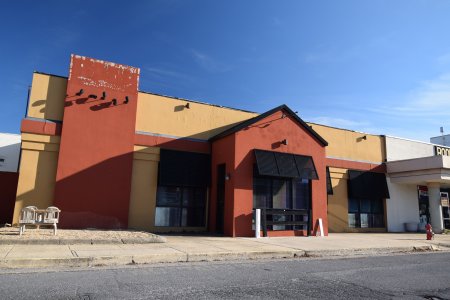 Former Boston Beanery storefront.  This was the only tenant space not accessible from the interior of the mall.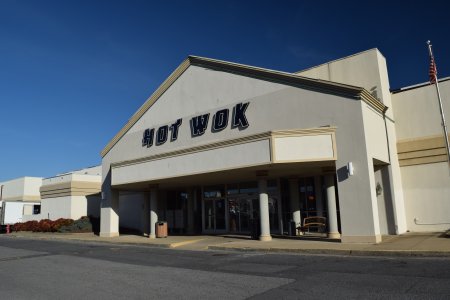 Center entrance, with "HOT WOK" signage.  This refers to a Chinese restaurant that had recently moved from a food court stall to a larger space within the mall.  Previously, this sign had the 1980s-era mall logo, then the Stone & Thomas logo, then Peebles.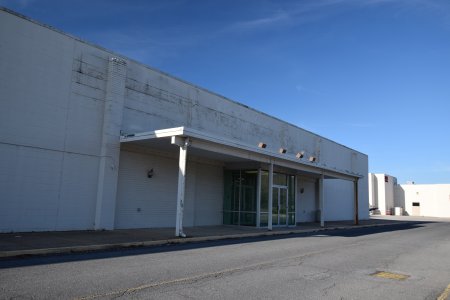 Entrance to the former Peebles space.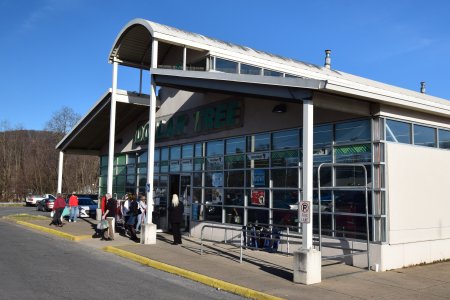 Former Montgomery Ward Auto Center, since converted to a Dollar Tree.
And then I went inside.  The mall was more or less wide open, with a lot of gates open for vacant tenant spaces.  I guess that with the mall's closure in two weeks, it really didn't matter anymore.  And there was no security to speak of.  Here are some of the highlights.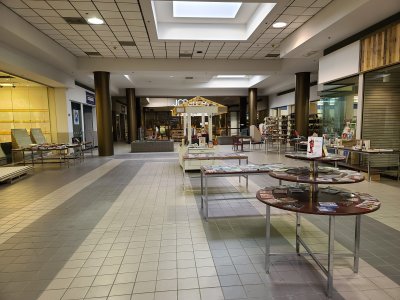 The south end of the mall, facing the former JCPenney store.  This entire section of the mall was occupied by a bookstore that also occupied three store spaces in this immediate area.  When we visited Staunton Mall in October, this was not the case, and the mall was still a mall in this area at that time.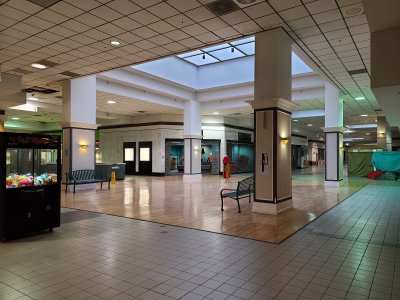 The center court.  The area covered by the cheap wood-look flooring used to be occupied by a massive fountain, which was removed around 1997.  Good riddance to the fountain as far as I was concerned (it was a massive roadblock in the mall), but I was disappointed that they never put new tile in this area, instead going for the cheap linoleum.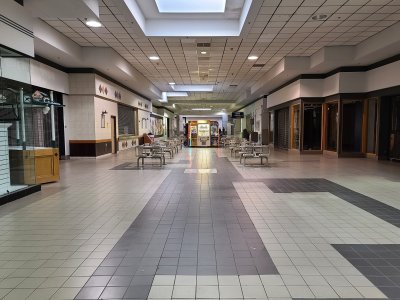 Section of the mall north of the center court, looking towards the food court area.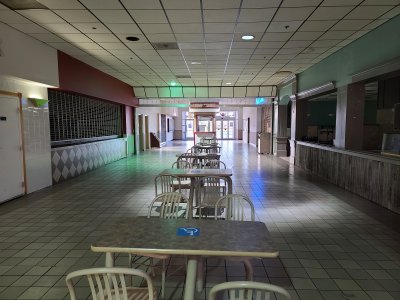 Corridor leading to the arcade and the movie theater.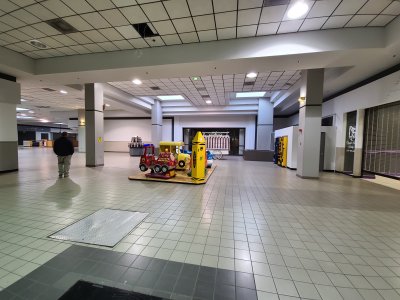 North end of the main corridor, at the former Wards building.  The Belk wing starts to the left.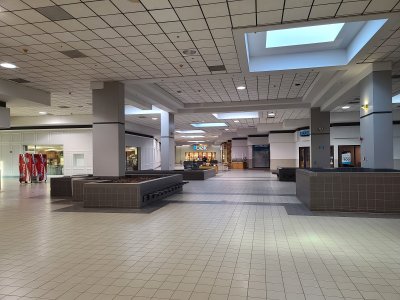 Belk wing.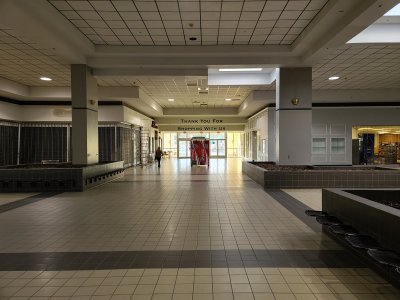 Mall entrance in the Belk wing.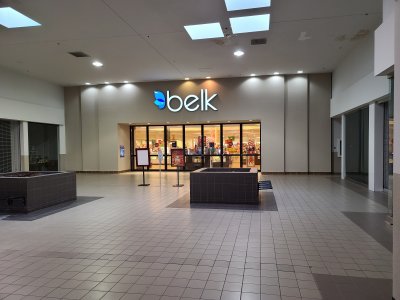 Entrance to Belk.  Clearly, Belk was no longer using its mall entrance, now only welcoming customers through its exterior entrances.
So that's Staunton Mall for you in a nutshell.  The place certainly had a long decline.  It gained several new tenants and got a refresh in the 1990s, but then it was all downhill from there towards dead mall status.  Recall that I was calling Staunton Mall a dead mall back in 2009.  Now, however, the mall has less than two weeks to live.  There's a lot more that I could say about the mall, but I'm saving it for the Life and Times set, since that format will allow me to go into much more detail.
The next stage of the property's life is expected to be a redevelopment that turns it back into an outdoor shopping center, though not like it was in its original form as Staunton Plaza, before it was enclosed to become Staunton Mall.  This is what the mall property is supposed to look like following redevelopment, according to Loopnet: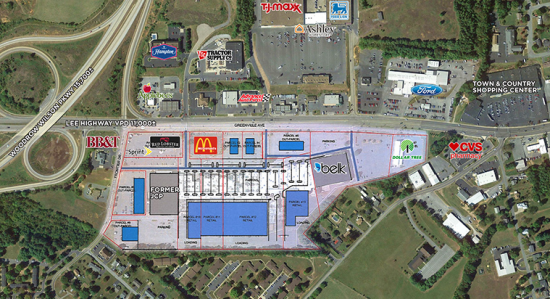 One thing that I was surprised about was how similar it was to my amateur redevelopment proposal from 2014: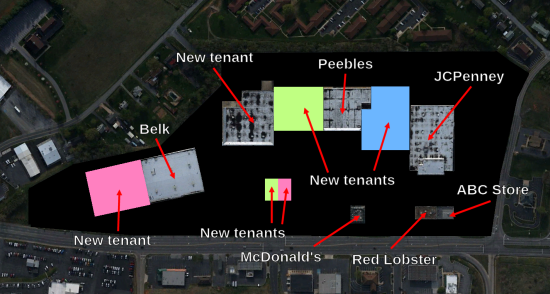 Same basic amount of large tenants.  Still keeps all of the outparcels.  The only real differences between my plan and the real plan are that this retains the Dollar Tree store in its current building, Belk and the former Penney's are totally freestanding, everything between Belk and Penney's is demolished, and a few more new outparcel buildings than I proposed.  But by and large, I had the right idea.  Not gonna lie – I'm a bit proud of myself.
So all in all, I had a good last visit at Staunton Mall.  I got a nice sense of closure on this final visit to the mall, and I documented it pretty thoroughly for posterity.  Now, I look forward to seeing how the future redevelopment project pans out.  I hope that it turns out to be successful, and that this breathes new life into what was previously a dead mall.