Staunton Mall sold for $4.5 million?
March 15, 2014, 10:16 AM
So according to The News Virginian, The News Leader, and WHSV, Staunton Mall has been sold to a Delaware LLC for $4.5 million.  Little is known about the new buyer or their intent, however, according to The News Leader, "The sale includes permits for development and land rights and assignment of leases, rents, deposits, profits and other agreements."  This makes me wonder if someone is finally planning to redevelop Staunton Mall into something better and/or more modern.  At this point, we can only speculate. That said, Staunton Mall does look pretty dismal right now, shown in this file photo from January: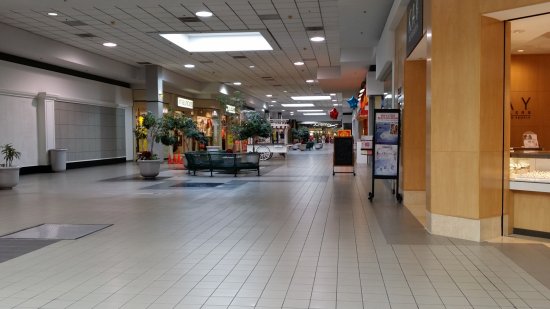 I've discussed Staunton Mall on here before, but it's been a while since I really talked about it.  The three most recent times were from Thanksgiving 2008, May 2009, and January 2010, and two of those weren't even really about Staunton Mall.  The short of it is that Staunton Mall has been on the decline for about a decade and a half or so.
The shopping center that would later become Staunton Mall was built in 1969 as the open-air shopping center Staunton Plaza.  Staunton Plaza was enclosed in 1985 and renamed Staunton Mall.  In the redevelopment from an open air plaza into an enclosed mall, I believe that it was the case that the anchor stores (JCPenney, Woolworth's, Montgomery Ward, and Leggett at that time) were retained, and the rest of the mall was new construction.  I have never seen any photos of the old shopping center, however, so I could be mistaken about whether anything else besides the anchor buildngs was retained in the transition.  The mall received a facelift in 1996 or so, removing a large fountain in the middle of the mall, adding a Goody's store as a fifth anchor in what was previously a large empty space, and adding Stone & Thomas in the old Woolworth's space after that store closed with the rest of the chain.  The rather large food court, which had dwindled down to a single eatery called "Dog Days", was relocated from a location near Penney's to a much smaller location near the movie theater, which added a few new food places, along with a relocated Dog Days.  The original food court was then converted to a Hibbett Sports location.  A number of other new stores were added at that time, including Bath & Body Works, Maurices, The Shoe Dept, a bigger KB Toys, and a Wills bookstore (later Books-A-Million).  And finally, the mall's ceiling was changed from the original black to white by swapping out the ceiling tiles, and more lighting was added, which brightened the mall considerably.  The black ceiling grid in the photo above is a remnant of the original black ceiling, as the grid was never painted white to match the new tiles.
The mall began its decline not long after the facelift.  A few of the stores that opened during the 1990s update closed.  Stone & Thomas became Peebles after the former was bought by another chain and the Staunton location was sold to Stage Stores, which owns the Peebles brand.  Montgomery Ward dropped the "Focus" from its sign and later closed with the rest of the chain.  Colonial Properties bought the mall in the late 1990s, and renamed it Colonial Mall Staunton.  Steve & Barry's opened in the old Wards space in 2004, and closed in 2008.  Goody's lease ran out in 2007, and it was replaced by a Gold's Gym (now independent).  Colonial sold the mall in 2007, and the mall's name reverted back to Staunton Mall.  CVS left the mall in 2007 when it opened a freestanding location nearby.  Books-A-Million opened a new store in Waynesboro in 2008 and closed its Staunton Mall location.  The movie theater closed in 2012.  And in many cases, these stores' former spaces are still empty, along with many other smaller store spaces where the tenants have long since left.  This leaves the mall with a lot of unused space that apparently isn't in very high demand.
In other words, Staunton Mall is quickly turning into a dead mall, if it's not there already.
This leads me to think that if Staunton Mall is going to again become a place where people want to go, it will not do so in its current form.  However, I do recognize that the mall has three anchor tenants that have been there for a long time and show no signs of departing, plus the various outparcel buildings have done fairly well over the years.  Thus my view towards redevelopment of Staunton Mall aims to retain what works and replace the rest.
This is what the Staunton Mall property looks like: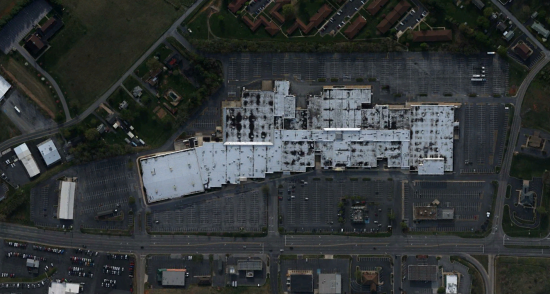 Image: Google Earth
In this Google Earth image, dated October 4, 2012, north is to the left.  The wall furthest to the left on the main Staunton Mall building faces directly north.  US 11 (Lee–Jackson Highway at this location) is located at the bottom of the photo.  Frontier Drive is to the right, and Barterbrook Road is in the upper left.  Route 262, a limited access highway that serves as something of a beltway around Staunton, is out of frame to the right. The front of the mall faces Route 11. There are multiple access ponts to the mall property from Route 11 and Frontier Drive, and there is a single access from Barterbrook Road via a driveway.
These are the relevant parts of the mall property: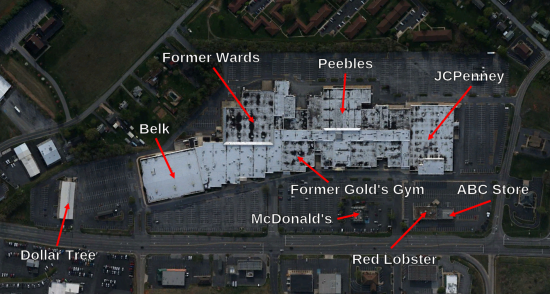 And this is the shape of the mall property: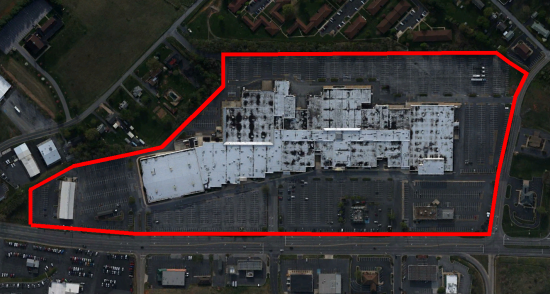 It's also worth noting that the property is somewhat narrow at its north end, and the existing mall is not really centered on the property, sited slightly to the east.  In addition, there is almost no green space or landscaping on the property, as the entire property is either structures or asphalt, save for a few small parking lot islands.
The thing about Staunton Mall is that it really got eclipsed when all of the major retailers started flocking to Waynesboro.  If you want to go to Home Depot, Kohl's, Michaels, Ross, Bed Bath & Beyond, etc., then you go to Waynesboro, because none of these stores exist in Staunton.  Thus the Staunton area could use an area with similar stores.  Staunton Mall seems the perfect place for that, clustering several of the second-tier box stores together to make a modern outdoor shopping center, plus retaining some of the anchor stores from the Staunton Mall and Staunton Plaza days.
In coming up with my plans, I made a few assumptions.  First, I assumed that the current design of Staunton Mall is fully obsolete and has outlived its usefulness.  Second, I assumed that the anchor stores would remain open in their own buildings for the entirety of a redevelopment project, without interruption.  Third, I assumed that the space where the former Gold's Gym is located is not structurally separate from the rest of the mall, and thus would have to be demolished if the remainder of the mall was demolished.  I assumed that the McDonald's, Red Lobster, and ABC store would remain unchanged as well.  And lastly, I assumed that any parking in a new development would be surface parking, and that there would not be underground parking of any sort, nor would any parking structures be constructed.  However, I do not know what Augusta County's requirements are for number of parking spaces.
With those assumptions, that left me with these buildings remaining after removing the mall: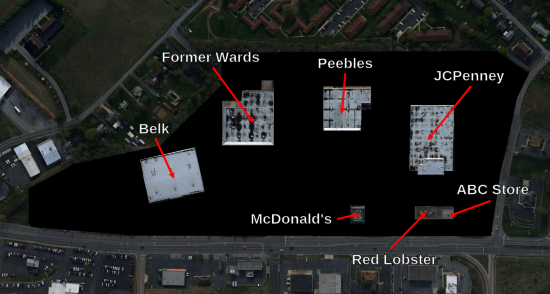 Obviously, Belk, Peebles, Penney's, McDonald's, Red Lobster, and the ABC store are operating and, to my knowledge, doing well.  I also retained the old Wards building despite its being empty because it fits well enough, and I would otherwise put a new building there anyway.  So my thinking was that it might be less expensive to retain the old building and do a build-out for a new tenant, rather than demolish and erect a new building.  I was initially going to retain Dollar Tree (built as an auto center for Wards, which closed a few years before the main store did), but when I figured all of the spaces out, I needed it for a larger tenant space.
So this is what I came up with: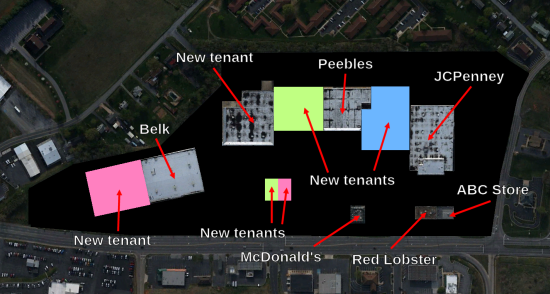 This is the new Staunton Plaza, as I imagine it.  The way I came up with this is that I took the existing anchor buildings and measured them using a graphics program, and then added buildings of similar sizes.  Thus I determined that a building approximately the size of Penney's fit nearly perfectly between Penney's and Peebles.  I deliberately set it back from Penney's in order to make the transition from Penney's to Peebles less abrupt.  The idea here is that since the existing buildings' locations made it impossible to have a straight facade, then let's make it look like the stores were placed in an arc shape on purpose.  Then there is room for a Peebles-sized tenant on the other side of the Peebles building, next to the old Wards.  Then the old Wards building itself is still there, awaiting a build-out for the next tenant.  I initially tried to fit another tenant in between Wards and Belk, but I was unable to do so without creating a very awkward space.  But then I realized that by separating Belk from the rest and leaving a gap in between the two buildings, that retains the usefulness of the access from Barterbrook Road for shopping center patrons.  Then I put another Belk-sized tenant on the other side of Belk, which explains why I needed to remove the Dollar Tree building: I needed the site for parking.  And then, finally, I added a new outparcel building in the parking lot, to hold two new tenants, each the size of Red Lobster.
I deliberately left off landscaping and parking.  I don't know the requirements for either one, but I knew what I wanted as far as buildings go.  However, considering that the shopping center's orientation would now be entirely towards Route 11, with no customer access on the back side, I could envision new green space to the east and south (above and right in the photo) of Penney's, as well as potentially increasing the buffer between the center, and the residential areas east of the center.
I have also deliberately left off names for new tenants, because I don't particularly care what companies settle in there as long as it's full.  Having all of the various shopping options nearby where I now live, they all start to look the same after a while.  I keep hearing from people on social media that they want an Olive Garden restaurant, but honestly, having been there before, Olive Garden food is pretty mediocre, and far better Italian food options already exist in the area.  I also heard a number of people mention about reopening the movie theater that existed in Staunton Mall for many years, and to that, I'll just say that movie theaters have evolved quite a bit since Staunton Mall's theater was built.  There's a reason that many movie theaters nowadays are standalone buildings vs. being in a shopping mall, and it's because they're bigger and offer far more amenities than they used to.  Therefore a mall is no longer the best place for a movie theater.
Then if you're wondering how this new plan compares to the existing mall, here's the overlay without the blackout: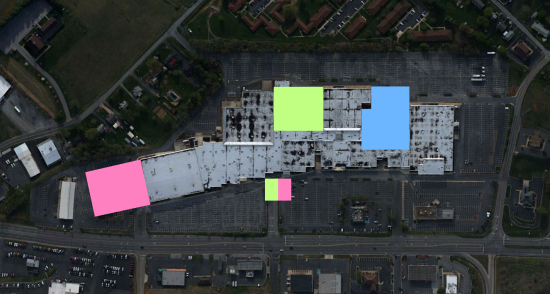 You may be surprised to see how little new construction there really is.  There's far more demolition than new construction.  Much of the old mall would become part of the parking lot in the new configuration, compensating for the loss of parking in the back due to the west-facing orientation with no rear customer access.
So that's my concept for a redevelopment of Staunton Mall into a modern-day Staunton Plaza, turning a dead mall into a productive, if somewhat generic, suburban outdoor shopping center.  Now we just have to wait for news about what the new owners of Staunton Mall plan to do with their new investment.  Perhaps Staunton Mall will look like what I came up with in the end.  Perhaps it will look completely different.  Then there's also the possibility that the new owners' only intention in purchasing the mall is to flip it, i.e. buy it at a discount and then sell it to someone else.  We'll see, I suppose.  In any case, feel free to leave a comment about my concept below.