So Katie and I had fun yesterday…
November 26, 2008, 5:23 PM
Katie and I went out and about in Staunton and Waynesboro yesterday, and we had fun. I can't believe it had been three months since last I saw Katie, but indeed that was the case. But of course, that doesn't mean we had any less fun.
First thing we did was go over to the nTelos store, since it was just about time to upgrade Katie's cell phone, and so we were seeing what the scene looked like. I think Katie's going to get a really good phone this time around – one with an on-board camera, and one that can do all of the cool things that cell phones can do nowadays. And I demonstrated the picture feature on one of the demo phones: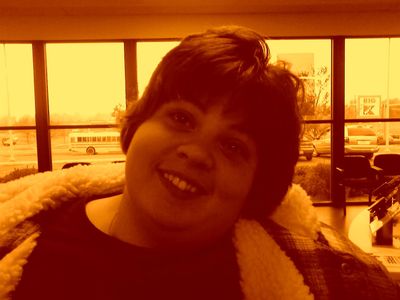 I couldn't quite figure out why it took in orange, but we didn't take the time to figure that detail out. I was just surprised that I could actually beam the photo over to my cell phone from the demo phone. But there you go. And also note Katie's new short haircut.
Afterwards, we went down the road to Staunton, where we spent a large chunk of our time in Staunton Mall. I was struck by how many empty storefronts that Staunton Mall had, and how two large spaces were vacant as well. Of course, I knew about both big vacancies ahead of time. I knew that Steve and Barry's either was in the process of closing or had closed, and that Books-A-Million had closed, having moved to Waynesboro. Still, it was weird to see. Books-A-Million was as expected: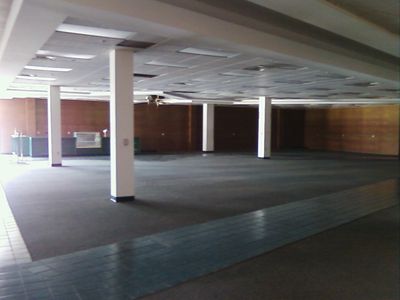 However, Steve and Barry's was a bit of a surprise. The store had ceased operations as Steve and Barry's, and now they were selling fittings. So this is what we saw: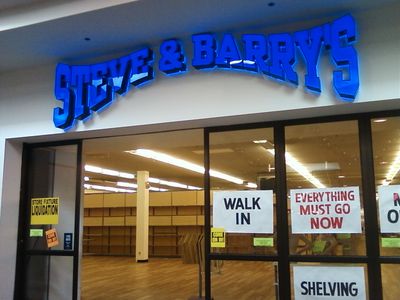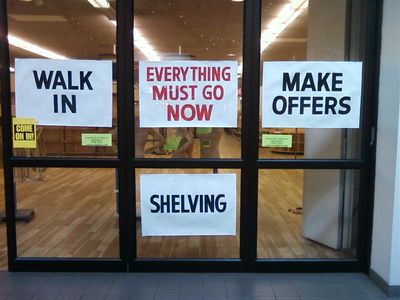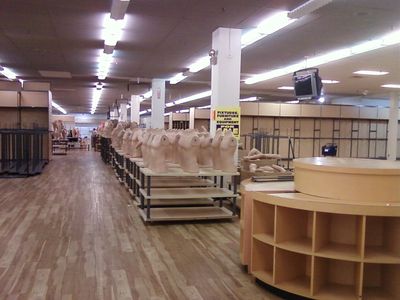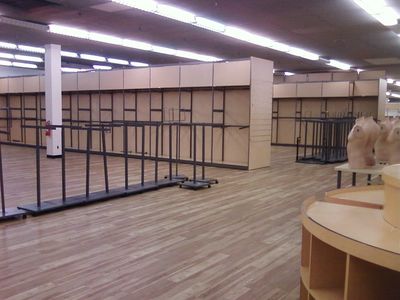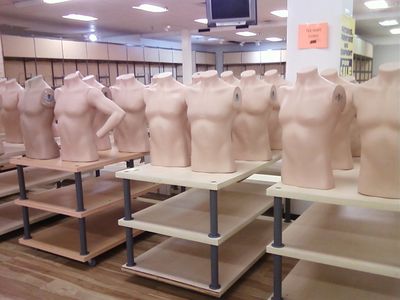 I particularly found that last photo amusing, since it looked like what I called an army of mannequins, or the "mannequins on parade", if you will. Either way, though, it was kind of weird, but we didn't particularly want any store fixtures, so we just looked, I snapped a few photos with my cell phone, and we left.
After that, we wandered down the mall a bit, and ended up at KB Toys at the other end of the mall. There, we ran into Kim, one of our former coworkers from Wal-Mart. Fun times, as we all got to catch up with Kim, whom both of us had not seen in about two years. Fun times. We also began what would come to frame out the rest of the day: looking for a stuffed "Custard Cat" from the Strawberry Shortcake franchise. KB didn't have it.
After the mall, we topped off the Sable, and then proceeded to Waynesboro. We went down to the new Waynesboro Town Center, where we went to Kohl's and Target in search of the elusive kitty. In the meantime, we found this Elmo toy at Kohl's, which is just slightly disturbing. You press its foot, and Elmo tells you that Elmo loves you, and blows you kisses. And you thought that the Elmo-takes-a-dump doll was disturbing. This is even more disturbing.
We also went to PetSmart, where we found a "Bobo" in Christmas garb. We were actually looking for high-capacity water bowls for Peabo, Katie's cat, to go with a high-capacity feeder that they have. The problem is that with the last one of those they bought for Peabo, he played in it, and managed to empty most of it over the floor. On a scale of one to bad, that was a Bad Thing. I suggested that since Peabo, unlike most cats, has no disdain for the water, and likes playing in the toilet, that they just leave the toilet for the cat to drink from (the same place where I have jokingly suggested using to bathe the cat). Katie wasn't too keen on that. And we ended up not getting anything.
Oh, and we never found the Custard Cat toy, at KB, Target, Kohl's, Kmart, and Big Lots.
Then at 6:30, we went over to South River Grill, where we were meeting my friend Patrick and his girlfriend Anna. We had a blast. The server was particularly amusing, as he seemed to have problems with getting the raspberry tea vs. the regular tea, since they were not clearly marked. Katie ordered the raspberry tea, but ended up being given the regular tea on more than one occasion. The server was very nice, though, and we ended up giving him a good-sized tip.
After Patrick and Anna parted company with us, Katie and I went up to the Blue Ridge Parkway and hit up the second and third overlooks for a little look-see. I also explained that I avoid the first overlook as a rule, since it seems all the riff-raff goes to that first one to cause trouble. In fact, one time, while I was enjoying the evening at that first overlook, a guy asked me if I wanted to see his private parts. How gross. That was more information than I wanted to know, and I quickly left there. It seems that the deeper in you get on the Parkway, the less troublemakers you get, and the more you get people who are serious about enjoying the Parkway.
And after that, we went over to Katie's house, where Katie, her mother, and I all watched a Jeff Dunham DVD. It was quite entertaining, and the show was filmed in DC. Fun stuff.
And then around 11:30, after the DVD ran out, and we tried to figure out how to work Katie's non-iPod MP3 player, I headed home. All in all, we had fun, I'd say…