October 27, 2016, 8:24 PM
As I mentioned earlier, the trip to Philadelphia that Elyse and I made on October 3 was primarily about fire alarms.  In short, I now am the proud owner of 16 Federal Signal Model 53 fire alarm notification appliances, and 12 Couch coded fire alarm pull stations.  This was the total haul: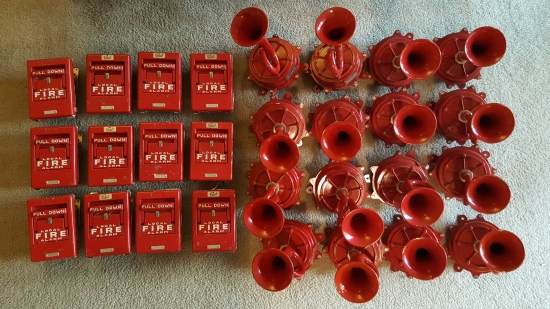 Continue reading…
October 23, 2016, 1:20 PM
On Monday, October 10, I finally visited Ocean City, Maryland and Rehoboth Beach, Delaware.  You would think, having lived in Maryland for nine years, that I would have gotten out there before this, but better late than never, I suppose.
This was a trip where the journey was probably more interesting than the destination itself.  I'm also pretty confident that we did not meet my usual rule for a trip where you should spend as much time at the destination as it takes to get down there and back.  I also felt rushed when we actually got to the destination, but I suppose that such is what happens sometimes.  However, with this being an "overview" trip, where the goal was just to get a feel for what was there for future exploration, meeting my time rule wasn't as important as it might otherwise be.
In any case, we left a little later than I would have liked, and the trip began fairly uneventfully.  Things went smoothly until we made a planned stop at the Wawa near Annapolis.  There, my low tire pressure light came on as we were getting ready to leave.  Okay.  Wawa has free air, so no problem.  The way that I figured, it had been a while since the last time that I had checked the tire pressure, so one of them may have reached the threshold for the warning light from normal whatever.  So I topped off the tires.  The left rear tire was a bit lower than the others, but the light went away.  Cool.  Problem solved.  Continue on trip.
After going over the Bay Bridge (my first time), I learned far more than I expected about center pivot irrigation systems from Elyse.  If it tells you anything, I'm no longer surprised when I learn that Elyse knows a lot about something medical or industrial.  But her information always checks out.  In this case, I learned about the different brands of center-pivot irrigation systems, and how to distinguish between them.  The main brands are Valley, Reinke (pronounced like "rinky") and Zimmatic.  Those names, for whatever reason, made me think of the Pac-Man ghosts: Blinky, Pinky, Inky, and Clyde/Sue.  I said, "Valley, Reinke, Zimmatic… and Sue."  Maybe you had to be there, but we got a laugh out of it.  In any case, though, you saw a lot of them, as the Delmarva Peninsula has a lot of farmland.
Continue reading…
October 12, 2016, 10:25 PM
I had thought of a million ways to start this Journal entry about the 2016 election, but after hearing the revelations of Republican nominee Donald Trump's hot-mic comments about women, and seeing his performance at the second debate with Hillary Clinton, I'm convinced that we don't have to worry about Donald Trump's becoming president.  It's not going to happen, especially after the grownups in his party have more or less abandoned him.
It's kind of funny how it's all worked out, I suppose.  Back during the primaries, I never imagined that Donald Trump would ever get the nomination.  I said that he would likely be in it for a few primaries before dropping out, having made whatever point that he was trying to make, and that ultimately, one of the grownups would get the Republican nomination.  I figured that Ted Cruz, Marco Rubio, or John Kasich would come out on top, and Donald Trump would be a footnote in this election.  Imagine my surprise to watch Donald Trump, a man whose only qualification for political office is being rich and having a very big mouth, take the nomination.  I guess it goes to show exactly how weak the Republican field was this time around.
Realize that Trump's campaign seems to mirror that of Mr. Burns on The Simpsons when he was running for governor of whatever state Springfield is in.  His campaign seems to have the momentum of a runaway freight train, making us wonder why he is so popular.  And the incident regarding women is his fish dinner.  Recall that on The Simpsons, Burns ran for office as a reaction to an inspection of his nuclear plant after a three-eyed fish was discovered by Bart Simpson near the nuclear plant.  Burns' message was about getting government off of our backs.  Just before the election, the campaign arranged for him to have a dinner with a family.  The Simpsons were that family.  At the dinner, Marge served this to Burns:
Continue reading…
October 5, 2016, 10:24 AM
Sometimes, you don't notice the way things change right in front of your eyes until you analyze them a bit more.  I was recently in the Philadelphia/King of Prussia area with Elyse on what was primarily a fire alarm-related mission (more on that later), and was photographing the Manayunk Bridge.  First of all, for those not familiar, the Manayunk Bridge is a former rail bridge that was closed to rail traffic in 1986, and which reopened last year to pedestrian and bike traffic as a rail trail.  I had previously known it as the big arched bridge that the Schuylkill Expressway goes under, i.e. this, as seen in November 2001: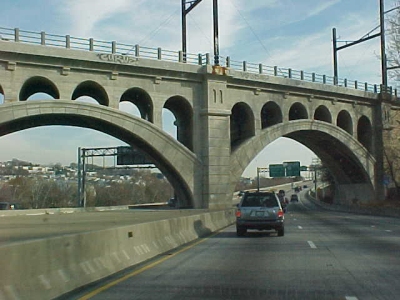 Continue reading…