April 15, 2021, 11:41 AM
No, not like that.  Get your mind out of the gutter.
On Monday, April 5, Elyse and I went up to Westminster, where we saw the annual Peep show, held in the former Sears store at TownMall of Westminster.  There, we saw a number of displays made out of Peeps, those marshmallow rabbit and duck-shaped candies that some people like to eat around Easter.  All in all, it was pretty fun, though I admit that the ones that incorporated the pandemic into their theming made me cringe a little bit, because I am so over that (admittedly, though, I was over it from the moment that it started).
In any case, here are some of the highlights from the visit.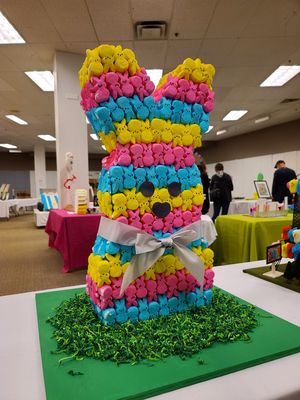 Bunny peep made out of bunny peeps.
Continue reading…
August 27, 2016, 6:27 AM
In the span of two weeks, Elyse and I went to Pennsylvania three different times.  We went to Hanover on the 8th, Harrisburg on the 11th, and then Harrisburg again on the 18th.  Two of the trips were to scout out some potential sites for photography, as well as get something out of our system from the earlier bus trip, and then one was to bring the bus back for my friend.
The first trip was to Hanover.  This was one of those "seeing America" kind of trips, about catching a shot of whatever we found interesting, as well as scouting locations for further attention with our SLR cameras when the weather was more accommodating (it was hot and humid out – yuck).  Elyse met me at my house, and then we left for Hanover via Westminster.  On the way up to Westminster, we both knew about a certain street off of Georgia Avenue in Carroll County near Eldersburg and Sykesville (yes, I refer to Route 97 as "Georgia Avenue" all the way up to Gettysburg), and had to get a photo of it with Elyse.  Check it out: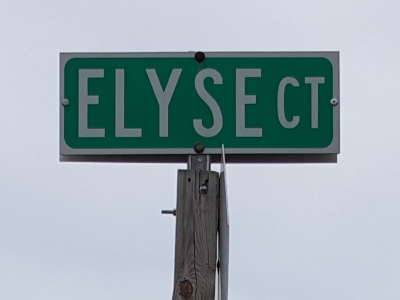 Continue reading…
Categories: Amtrak, Companies, Driving, Elyse, Food and drink, Friends, Hanover, Harrisburg, National politics, Pennsylvania, West Virginia, Westminster
June 24, 2014, 10:21 PM
I went out on a miniature road trip on Sunday, and I had a blast, taking photos of anything that vaguely interested me.  It was more or less spur of the moment, when you consider that for what ended up being a photography trip, I only had my cell phone, and then, I didn't bring my spare battery along.  Thus it was a bit of a continual battle to keep a sufficient charge on the phone with only the car charger, but somehow, I managed, and the results came out pretty well despite my leaving my real camera at home.  The way this trip came about is that I wanted to go up to and explore Westminster, Maryland.  I've been wanting to explore Westminster for a while, ever since my father took an overnight business trip to Westminster a few years ago and I didn't find out about it until it was too late in the day to go up and visit, because Dad didn't realize that Westminster was as close to me as it was.  That sucked, because I would have totally gone up if I had known.  I'll gladly travel an hour or so on relatively short notice to hang out with family.
So early Sunday morning, I just decided to go up and see what there was.  I like doing these sorts of trips, because it's basically a scouting trip, seeing if there's anything that I want to explore and photograph in more detail in the future.  Getting to Westminster is pretty easy: turn onto Georgia Avenue (MD 97) and take it all the way to Westminster.  Seriously, it's that easy.  I got to Westminster just as the sun was coming up.  After a quick drive through the main commercial area along Route 140, I located the downtown area.
The downtown area in Westminster has what I consider an unusual feature: a single-track rail line for the Maryland Midland Railway running diagonally through the main intersection in downtown.  Main Street goes one way, and Liberty Street and Railroad Avenue (both MD 27) go the other way, and the rail line runs diagonally across the intersection.  I would have loved to have seen a train come through here while I was in the area, but unfortunately, I did not get to see that this time.
Continue reading…