I completely nerded out on Sunday, and it was awesome…
June 24, 2014, 10:21 PM
I went out on a miniature road trip on Sunday, and I had a blast, taking photos of anything that vaguely interested me.  It was more or less spur of the moment, when you consider that for what ended up being a photography trip, I only had my cell phone, and then, I didn't bring my spare battery along.  Thus it was a bit of a continual battle to keep a sufficient charge on the phone with only the car charger, but somehow, I managed, and the results came out pretty well despite my leaving my real camera at home.  The way this trip came about is that I wanted to go up to and explore Westminster, Maryland.  I've been wanting to explore Westminster for a while, ever since my father took an overnight business trip to Westminster a few years ago and I didn't find out about it until it was too late in the day to go up and visit, because Dad didn't realize that Westminster was as close to me as it was.  That sucked, because I would have totally gone up if I had known.  I'll gladly travel an hour or so on relatively short notice to hang out with family.
So early Sunday morning, I just decided to go up and see what there was.  I like doing these sorts of trips, because it's basically a scouting trip, seeing if there's anything that I want to explore and photograph in more detail in the future.  Getting to Westminster is pretty easy: turn onto Georgia Avenue (MD 97) and take it all the way to Westminster.  Seriously, it's that easy.  I got to Westminster just as the sun was coming up.  After a quick drive through the main commercial area along Route 140, I located the downtown area.
The downtown area in Westminster has what I consider an unusual feature: a single-track rail line for the Maryland Midland Railway running diagonally through the main intersection in downtown.  Main Street goes one way, and Liberty Street and Railroad Avenue (both MD 27) go the other way, and the rail line runs diagonally across the intersection.  I would have loved to have seen a train come through here while I was in the area, but unfortunately, I did not get to see that this time.
That's not to say, however, that I didn't get some photos of the whole intersection, at sunrise: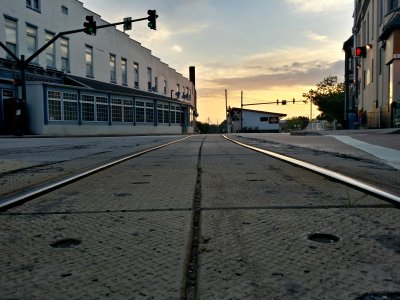 Looking north down the tracks, through the intersection.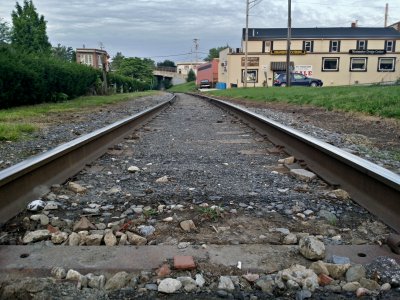 Facing south, looking down the tracks.  Same location as above, facing the opposite direction.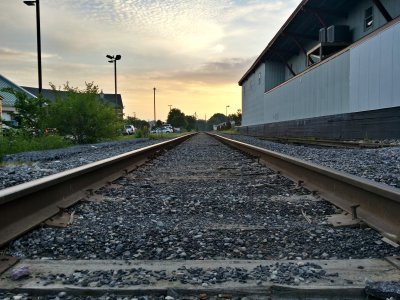 About 100 feet or so north on the rail line, near a second railroad crossing with Winters Street.  The building to the right is now a bike shop.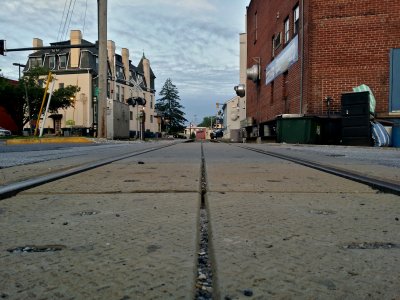 The crossing at Winters Street, facing south towards the Main/Liberty/Railroad crossing.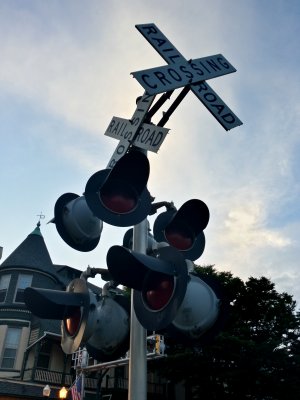 Railroad crossing signal with two sets of lights and crossbucks.  The lights and crossbuck facing left are for traffic on Main Street, while the other set, facing approximately forward, is for traffic on Liberty Street.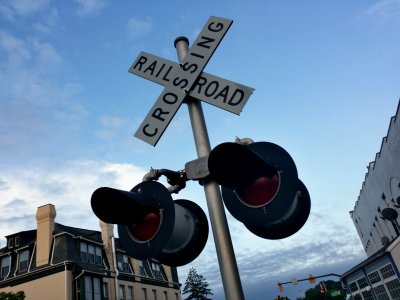 Railroad crossing signal for traffic on Railroad Avenue.
I also got a photo of the sunrise in Westminster: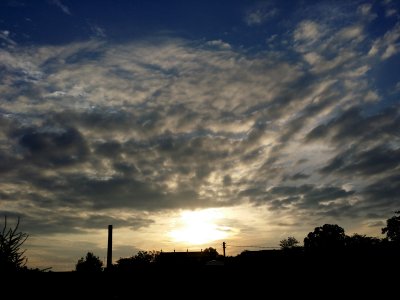 Good morning!
And then I was off to see what else there was in Westminster, plus find some food, since I didn't have any breakfast before I left the house.  I knew that there was a Sheetz in Westminster, and so I planned accordingly, as four years at JMU left me with a love of Sheetz.  The Sheetz in Westminster, however, is probably the smallest and oldest Sheetz that I've ever been in.  Except for the signage, you wouldn't think it was a Sheetz.  The building looked more like a generic convenience store than a Sheetz on the outside, and there was a mix of different styles on the inside.  While the right half of the store was up to modern design standard for a Sheetz, including the MTO area, the checkout counter, and the restrooms, the left half of the store appeared to have not been updated in 20 years, with 1990s-era styling that I didn't realize still existed in any Sheetz stores.  Unfortunately, I didn't get any photos of the inside of the store, but it's definitely worth a few photos next time I'm up this way.  The fuel area was similarly small, but I did get a photo of that: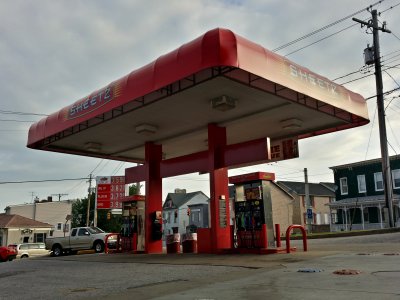 Have you ever seen a Sheetz with only four fuel pumps before?  That was a new one to me.
Otherwise, a few signs caught my attention in the town: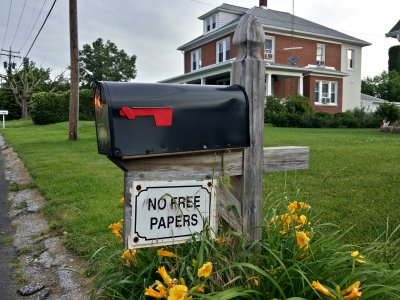 I saw a number of signs like this saying "NO FREE PAPERS" in front of several houses in Westminster, including one in front of an apartment complex.  Have never seen signs like this around.  Is there a Carroll County ordinance that gives these signs some teeth and requires compliance, or is this just a well-intentioned (but ultimately futile) request that just happened to catch on?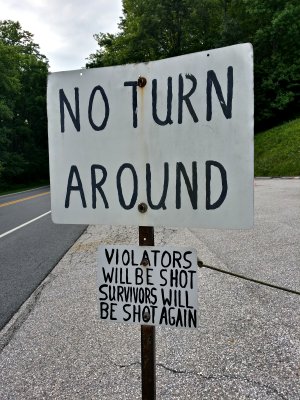 I spotted this sign on Gorsuch Road in front of an auto place, having made a wrong turn earlier.  Never did I think that a sign saying, "Violators will be shot, survivors will be shot again," existed in real life.  Meanwhile, when I went by, the business was closed, so… I used their parking lot to turn around, but not before taking a photo of the sign (how ironic?).
Getting back into Westminster's commercial corridor, I spotted a Pizza Hut building in Five Guys clothing: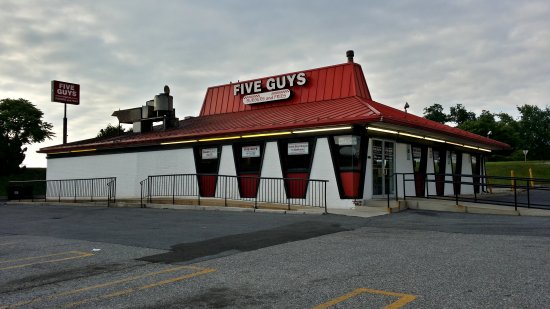 No mystery about what this building was built to house!
That's one thing about chain businesses and the buildings that house them.  You don't realize how much these kinds of places have been etched into our landscape and our consciousness until something else is in one of their buildings.  There is no mistaking this as a Pizza Hut, much like there is no mistaking the Federated FAPW Warehouse in Staunton as a former Walmart, and that there is no mistaking the Wheaton campus of the Ana G. Mendez University as a former Circuit City.  In this case, the roof design and those trapezoidal windows make it unmistakable as a former Pizza Hut, and no amount of paint or signage will change that.  I'll bet that you probably know of a few former repurposed chain locations in your own town.  In any case, this is the one downfall of having architecturally distinct locations for your chain: when the location closes, there is a building left that is no longer associated with your chain, still has the distinctive design that your chain is known for, and no amount of paint, signage, or architectural modifications will hide it.
And speaking of converted buildings, on the way out of Westminster, I found this on Route 140: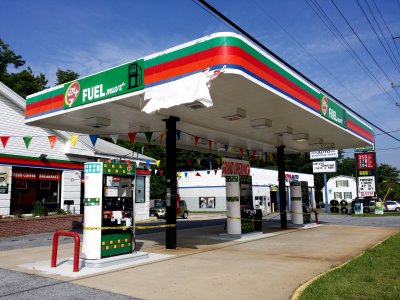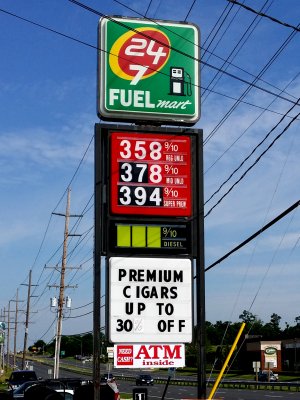 This is 24/7 Fuel Mart, and there's no doubt about what this place used to be.  That building, canopy, and sign screams "former Citgo station".  The new logo and green color scheme aren't fooling anyone on otherwise standard Citgo hardware.  And then despite the "GRAND OPENING" sign on the building, things have apparently not been going so well for them, as the place was deserted, I saw caution tape around the pumps, and a sign that said, "Station is closed for repair":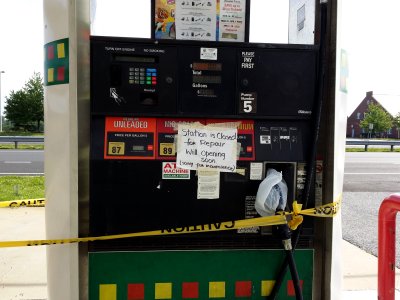 Apparently something has gone seriously wrong at this station, because it's unusual for a gas station to shut down the whole operation.  I've seen many cases where the fuel is down and the store is open, and where the fuel is open and the store is closed.  No idea what's wrong, but they're not running, and apparently not too long after opening.  In any case, I find it a little strange.
Just up from this location, I spotted this cluster of signs: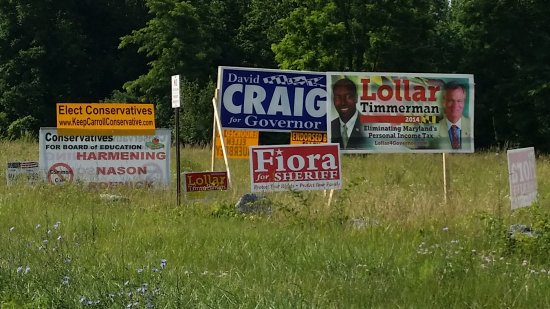 This surprised me a bit, because most of the political signs that I've seen in Montgomery County are for Democratic candidates.  No one even gives a second thought to the GOP down here.  Based on the yellow sign, it would appear that the Carroll Conservative PAC is likely behind the posting of this cluster of signs.  Also funny when you realize that this area shares a congressman with my area, as it's still the 8th District all through here.  Realize that the 8th District is currently shaped like a lopsided hourglass, with the smaller end of it in Montgomery County, a narrow "neck" in the middle (I live in the southern end of the "neck"), and then a larger end to the north.  The district also stretches from the DC line to Pennsylvania, as Maryland is quite gerrymandered.  In any case, interesting to see, because it's very easy to forget that not all of Maryland is as "blue" as the area where I live.
Continuing down Route 140, I spotted this tower near Finksburg:
This tower is on the same site as an AT&T building.  I have never seen a tower that's shaped quite like this, and from the looks of it, it appears to carry a number of different services on it.  The most intriguing thing was the two devices at the top of the tower, visible in the photo to the right (another view on Google Street View).  Anyone have any idea what those are? [Update: Reddit says that these are horn antennas for a microwave relay station.]
From here, Maryland 140 headed into Reisterstown, and then into Owings Mills.  In Owings Mills, I noticed some water towers that looked interesting, so I stopped by to take a look.  The water towers were off of East Pleasant Hill Road, and in figuring out where to park the car, happened on this sign at the end of the road: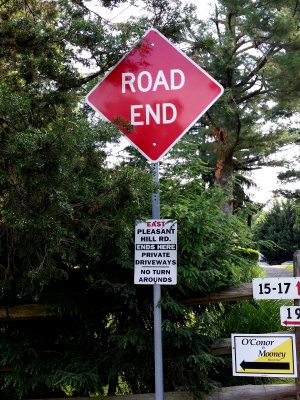 This "ROAD END" sign is a new one to me.  I've seen similar diamond-shaped signs that are yellow and say "DEAD END", but I've never seen a diamond-shaped "ROAD END" sign in red before, though I have seen smaller red diamonds in threes before at the end of frontage roads that randomly dead-end.
And then here are the water towers:
I was really having an infrastructure-and-commercial-buildings day today, wasn't I?  However, here was also where a twist was thrown into my day.  I had the window down when I parked for the water towers.  Since I would only be out for a minute, I left the driver's window down when I got out.  I closed the door behind me, and it made a funny sound.  I thought, hmm, and continued.  Getting back, I went to put the window up, and it got stuck 2/3 of the way up.  It worked fine up until 2/3 of the way up, but it wouldn't go past that.  As it turned out, the window jumped the track in the door at the forward end.  Unfortunately, no amount of manhandling would get it to go back up.  So this was how I was driving for the rest of the day, since I couldn't fix it on the fly, and I couldn't find a Kia dealer open on Sunday: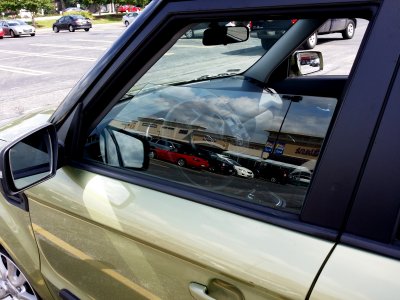 And there is no doubt that it jumped the track: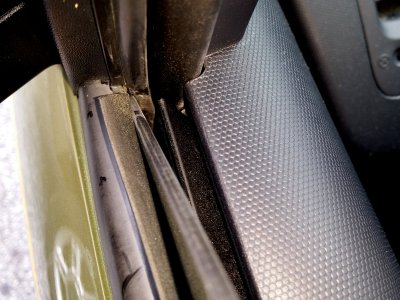 Well, lovely.  So for the rest of the day, it looked like I was driving around with the window open, because there was nothing I could do about it.  Thankfully, it wasn't supposed to rain.
Crossing the boundary into the city of Baltimore, I encountered another repurposed commercial building: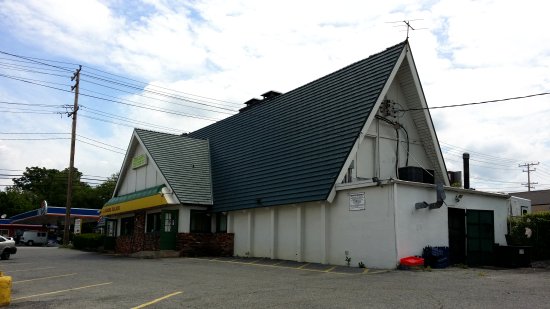 No mistaking that for anything but a former IHOP, that's for sure.
Otherwise, I tracked through Baltimore rather quickly.  I found a number of Baltimore Metro stations on the way, but due to the car window, I didn't stop to check them out.  I came out of Baltimore on Route 1, which passes through Arbutus.  However, just before leaving the city limits, I passed this: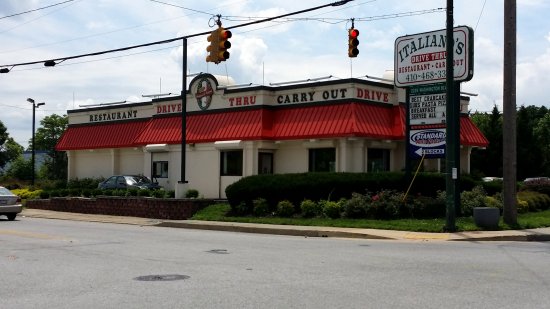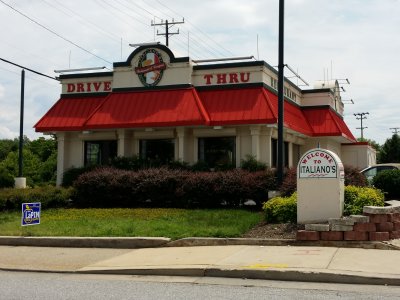 I wonder if the food at Italiano's is as "finger lickin' good" as the previous tenant.  Of course, considering the quality of the food that KFC sells, "better than the previous tenant" is a pretty low standard.  In any case, the building would have looked similar to this when it was KFC.  This is one of the better conversions that I've seen, though it's still clearly a former KFC.
One of the things that I like about the Route 1 corridor between Baltimore and Laurel is the amount of vintage motel signs that you see along that route.  I saw these between the Baltimore city limits and Route 100: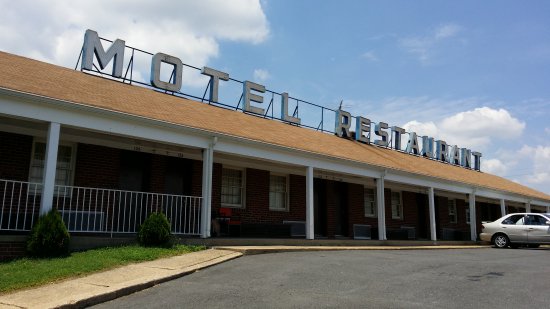 Rooftop sign, Beltway Motel

Road sign, Beltway Motel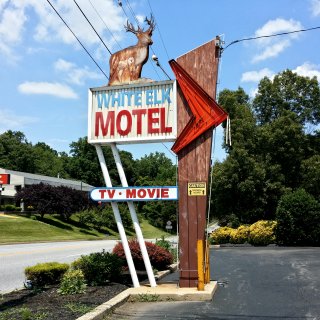 White Elk Motel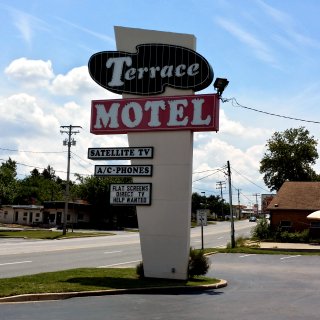 Terrace Motel
At Route 100, I turned east, and headed over to Arundel Mills.  I needed to satisfy a craving for Dave & Buster's, so I did.  Funny thing happened there, too.  I did my usual thing, putting a few bucks on my card and then heading out to play.  Fairly early on, I ended up at this machine: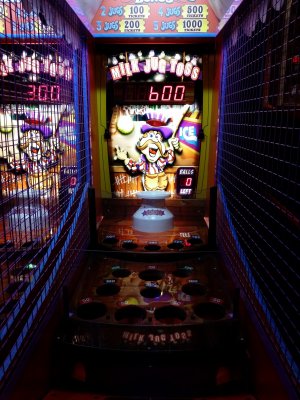 I played the game through, and got a modest score of 800.  That's not great, but it's not awful, either.  I had earned 20 tickets.  While the machine was dispensing my tickets, I swiped my card to play again.  The balls came down, and I threw three, getting a score of 600 over those three balls.  However, the fourth ball never came out, and I started looking at it like, what's going on?  Then I noticed what was going on at my feet: the machine was still dispensing tickets, and quite a few had come out: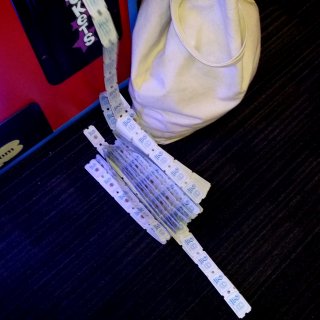 This was what I had at 3:25 PM, after it had been going for a few minutes.  I quickly realized that the machine had malfunctioned in a major way.  My game where it wouldn't give me my last two balls had timed out (the machine still owed me another two balls), and it was dispensing far more tickets than I had earned.  And it continued.  Ten minutes later, at 3:35: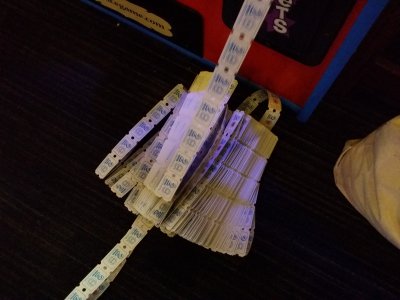 I even took a video of the scene:
It kept going for more than 30 minutes.  This was the final take: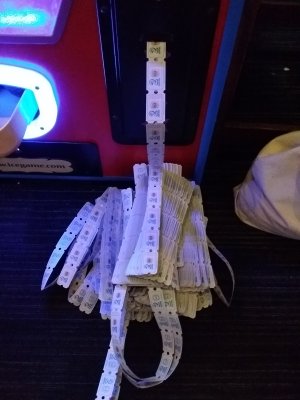 And I got someone to take a picture of me while holding the full take: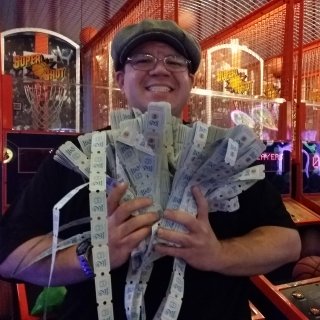 In the end, the machine dispensed approximately 4,500 tickets (worth 9,000 points), which I redeemed, added to my card. There was no question about whether or not I would redeem these: in games where you are playing against the house, as was the case here, any mistake or error is always resolved in the player's favor. Thus I redeemed the tickets for points without hesitation.  My decision was confirmed by the fact that while this insanely large pile of tickets was piling up, an employee came by to refill the machine to the right of this one, which was a basketball toss game.  They walked right past the machine and didn't even blink.  That was all I needed to see.
Otherwise, I had a pretty good time playing the various redemption games.  Notwithstanding the 4,500-ticket malfunction in my favor, I had a pretty average take.  I did better, ticket-wise, the last time I went, but I still had lots of fun, though on this trip, I used one of my reusable shopping bags for tickets rather than a cup due to the out-sized take from the milk jug machine.  Most disappointing, however, was my spin on the Big Bass Wheel game, which is more or less the Showcase Showdown wheel from The Price is Right.  I got the four-ticket spot, which is like getting a nickel on Price.  So close to the dollar, and yet so far.  And it's not like this was a bonus spin or anything, where the nickel is worth $5,000 (or whatever it is now).  And for the record, when I'm playing this game, I like making the beeping noise that the Price wheel makes.
So that was Dave & Buster's.  I saved the points on my card for another day, since there was nothing that I really wanted to redeem them for.  And that's fine, since I've never actually redeemed any of my points yet.  There was nothing that I wanted to get, and I come there primarily to have fun, and the prizes are secondary.
And then I hit the road again, getting back on Route 1 and heading south towards Laurel.  On the way, I saw a few more vintage signs: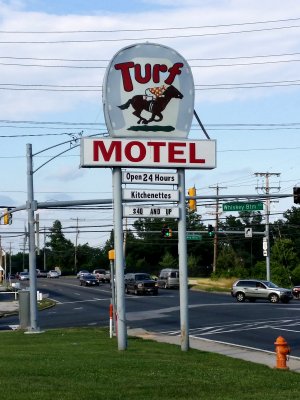 Turf Motel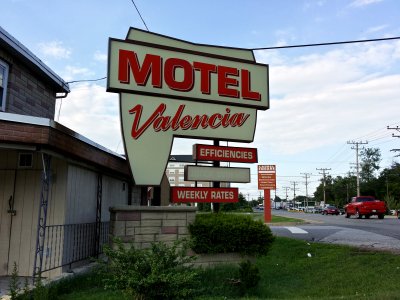 Motel Valencia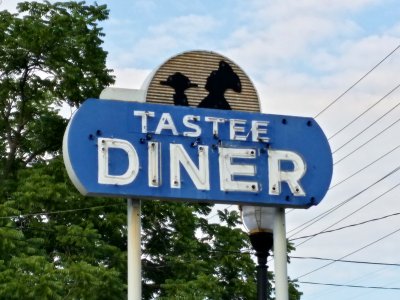 Tastee Diner
And then I also saw a former Howard Johnson's: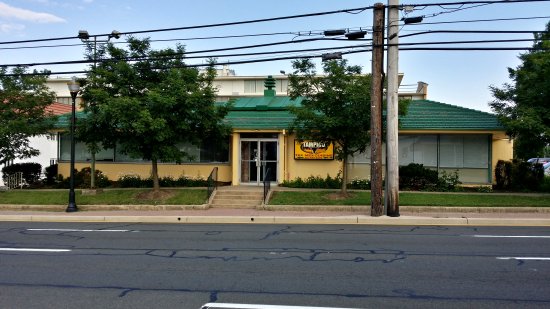 This one is the former Laurel location.  I'm not sure when the restaurant stopped being a Howard Johnson's, but like the former Pizza Hut, Citgo, IHOP, and KFC that I saw earlier in the day, there's no mistaking who the building was built for.  In fact, with some of the paint flaking off the roof, the original orange color of the shingles (Howard Johnson's was known for its orange roofs) is becoming visible once again.
Then from Laurel, I turned west on Route 198 towards home.  On the way, I stopped over in Burtonsville and photographed an abandoned KFC (technically one of those combination KFC/Taco Bell locations) in the now-mostly-empty Burtonsville Crossing shopping center: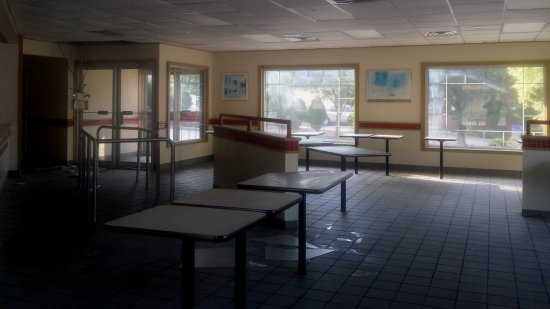 Dining room, facing the main entrance.  Note the exit sign and emergency light dangling from the ceiling via a conduit.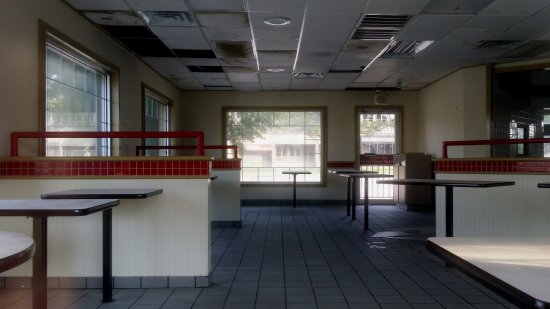 Dining room, from the opposite side of the building.  Since closing, the building has apparently experienced some water leakage, since a number of the ceiling tiles are noticeably sagging, and some have visible mold on them.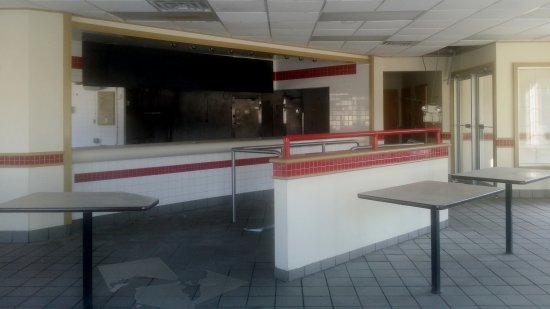 Customer ordering area.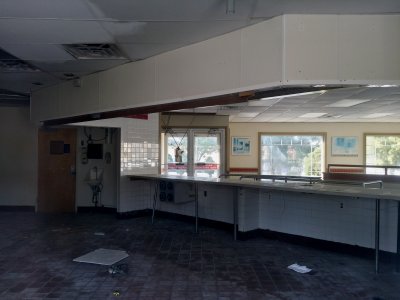 The other side of the ordering area, viewed through the drive through window.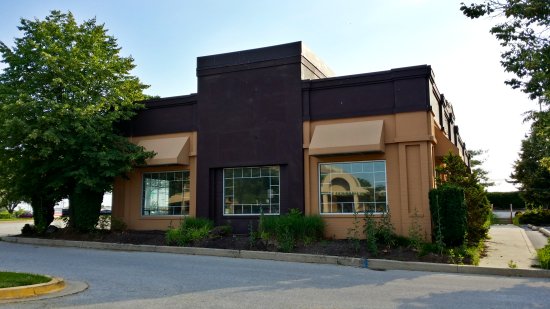 The exterior.  According to a discussion on the Twitter with Dan Reed of Just Up The Pike, the building was repainted shortly after it closed.  There is a photo on Just Up The Pike showing what it looked like before it closed.  I don't know who anyone is trying to fool when chain locations do a paintout after they close.  Even in a different color, it's still painfully obvious what it used to be.
Walmart does this, too, by the way, and it looks even more ridiculous on them, like we're not going to recognize it as a former Walmart because the sign area is painted a different color or something.
And then from there, I headed home.  All I had left to do was to put something over the window to keep the weather out: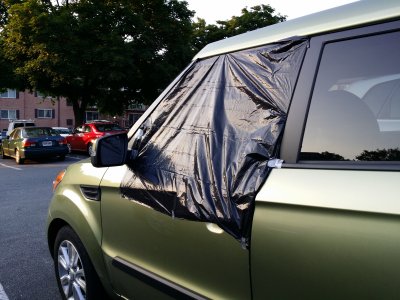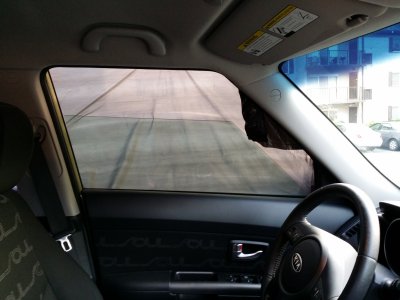 Then I took it to the dealer the next morning for a warranty repair.  And that was that.  All in all, I had a fun little road trip, don't you think?  I should do these sorts of local-ish road trips more often.
Categories: Arundel Mills, Baltimore, Baltimore County, Companies, Converted buildings, Driving, Howard County, Howard Johnson's, Photography, Reddit, Sheetz, Vintage business, Westminster