July 24, 2016, 8:55 PM
…and now I have.  Elyse and I made an impromptu road trip to York, Pennsylvania on Thursday, July 14.  We got together in Ellicott City, but didn't know quite what we wanted to do, and so we ended up doing that.
However, our first stop was a completely unplanned one, in Catonsville.  There, the McDonald's in 40 West Plaza recently closed, and was in the process of being vacated.  At the time that we came by, they had started roofing over the McDonald's-style mansard, and removed the signage, and were packing stuff up inside.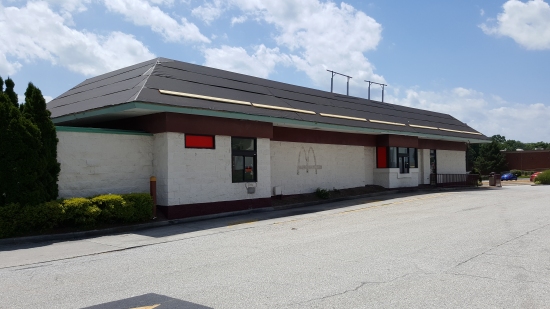 Continue reading…
December 20, 2015, 12:41 PM
This past Thursday, among other places, Elyse and I checked out a store called Bill's Music in Catonsville.  What a wonderful place this was, with professional-grade equipment for sale at professional-grade prices (but you're paying for quality).  The store has every single piece of musical equipment that you could imagine, including some stuff I hadn't seen in years, like real xylophones and such.  Elyse actually knows a thing or two about music, unlike me.
The first thing that we discovered was a metallic xylophone (metallophone?).  I hadn't played one of these since sixth grade music class, a six-week "exploratory" course at Stuarts Draft Middle School.  It was pretty awesome, working not so much with singing, but mostly with musical instruments – primarily xylophones.  We learned some very basic songs on them, and apparently I still remember a couple of them:
Continue reading…
September 16, 2015, 5:46 PM
This past Friday, I was out with my friend Elyse checking out a few interesting shopping centers in the Baltimore area.  We weren't so much interested in shopping as we were in seeing the centers themselves, and their various eccentricities.  We first visited Owings Mills Mall, which is a large. two-story facility in Owings Mills, Maryland that contains only six tenants: Bath & Body Works, DTLR, Gymboree, JCPenney, Macy's, and Victoria's Secret.  Needless to say, this was a dead mall.  Then we visited the Centre at Glen Burnie, which is a small and well-hidden single-level indoor mall off of Route 2 in Glen Burnie.  This was no dead mall by any means, but its being an enclosed mall surprised me.  I'd been by this shopping center many times in the past, and shopped at the Target store there, and never would have guessed that this was an enclosed mall.  Then our third and final mall was Security Square, a mid-sized single-level mall in Woodlawn.  Security Square was interesting for its former JCPenney building, which, after Penney's closed, was converted to "Seoul Plaza", a mall-within-a-mall consisting mostly of Korean businesses, though now approaching dead mall status (though the rest of the mall is doing well).
However, the biggest surprise of the day came as Elyse and I were walking through the Sears wing of Security Square.  Does this remind you of anywhere in particular?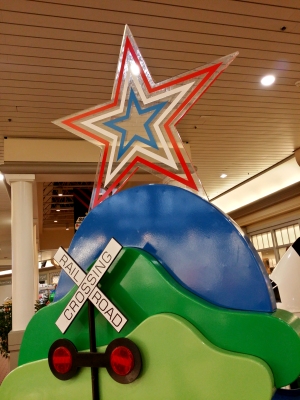 Continue reading…
June 24, 2014, 10:21 PM
I went out on a miniature road trip on Sunday, and I had a blast, taking photos of anything that vaguely interested me.  It was more or less spur of the moment, when you consider that for what ended up being a photography trip, I only had my cell phone, and then, I didn't bring my spare battery along.  Thus it was a bit of a continual battle to keep a sufficient charge on the phone with only the car charger, but somehow, I managed, and the results came out pretty well despite my leaving my real camera at home.  The way this trip came about is that I wanted to go up to and explore Westminster, Maryland.  I've been wanting to explore Westminster for a while, ever since my father took an overnight business trip to Westminster a few years ago and I didn't find out about it until it was too late in the day to go up and visit, because Dad didn't realize that Westminster was as close to me as it was.  That sucked, because I would have totally gone up if I had known.  I'll gladly travel an hour or so on relatively short notice to hang out with family.
So early Sunday morning, I just decided to go up and see what there was.  I like doing these sorts of trips, because it's basically a scouting trip, seeing if there's anything that I want to explore and photograph in more detail in the future.  Getting to Westminster is pretty easy: turn onto Georgia Avenue (MD 97) and take it all the way to Westminster.  Seriously, it's that easy.  I got to Westminster just as the sun was coming up.  After a quick drive through the main commercial area along Route 140, I located the downtown area.
The downtown area in Westminster has what I consider an unusual feature: a single-track rail line for the Maryland Midland Railway running diagonally through the main intersection in downtown.  Main Street goes one way, and Liberty Street and Railroad Avenue (both MD 27) go the other way, and the rail line runs diagonally across the intersection.  I would have loved to have seen a train come through here while I was in the area, but unfortunately, I did not get to see that this time.
Continue reading…