November 22, 2020, 10:39 PM
Sometimes it's fun to think back about what mental connections you made in younger years that you probably should not have, i.e. rationalizing things based on incomplete or wrong information.  I want to say that I've always filled in gaps and such myself, and when I eventually learn the truth, it always makes me laugh to think about what I had once believed.
Right offhand, I remember how I used to think that "gross" was spelled when I was a child.  Now mind you, I had never seen the word written down before, but I had heard my mother use the term plenty of times.  I like to think that I had a fairly decent grasp on the English language even as a child, so I took a good guess.  In my mind, I thought it was spelled "groce", which to me makes a lot of sense.  After all, "grocery" has that spelling, and is pronounced the same way.  And words that end in -oss are typically have an "aw" sound for that vowel than a long "o" sound, like boss, cross, gauss, and moss.  "Gross" doesn't fit.  I remember when I saw the word in print for the first time, and was informed that it was "gross", I remember thinking, oh, that's how it's spelled?  Weird.  "Groce" still seems more logical for me, but clearly, I'm not going to win this one.  I do tend to say, "G-R-O-C-E gross," as in spelling it out the way I think it should be spelled and then saying the word, when the situation merits it.  You may recall in a Journal entry about soda from 2017 that I used this phrase.  That's where it comes from.
Then there's the opposite situation, where there were words that I had seen in writing but had never heard pronounced.  I remember reading about bones in Charlie Brown's 'Cyclopedia, Volume 1, which a children's book all about the body.  It was a good book, and I learned a lot from it.  About bones, they said that while the outside of our bones are hard, the insides are "soft and spongy".  I had never made the connection between this word and a sponge before, and so I assumed that it was pronounced in a similar way to bong or thong.  I also assumed based on context that "spongy" was something related to softness, and so I was able to work around the unknown word well enough and keep it moving.  When Mom eventually set me straight on the word, it suddenly made the passage in the book make a lot more sense, but I admit that I missed my original pronunciation.
Continue reading…
November 19, 2020, 11:31 AM
Back on November 6, Elyse and I took the drone out for a spin again, and I did some photography.  This time, we went out to Leesburg, and took a late afternoon golden-hour flight around a familiar landmark: the former Walmart off of Route 15.  This is a typical 1990s-era pylon-style store, and it closed in May 2019 when a new Supercenter opened elsewhere in the Leesburg area.  Because of the proximity of the location to Leesburg airport, I had to notify the airport of our activity using their online form, and then, whirlybirds away.  I flew up and around the building, and even investigated the roof a little bit.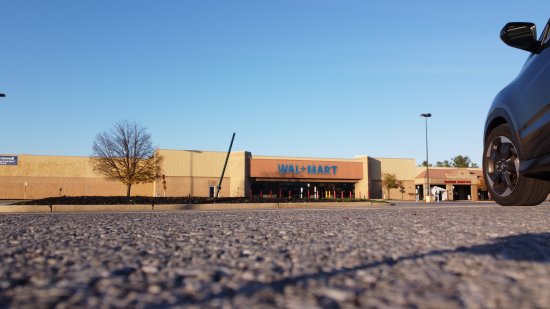 A pre-flight capture, with the HR-V at right.
Continue reading…
November 8, 2020, 2:15 PM
On the morning of November 7, I was pleasantly surprised to learn that former vice president Joe Biden had won the race for president, defeating incumbent president Donald Trump.  I am not disappointed by this result, but I am a bit surprised by it.  I fully expected, when the election was all settled, that Donald Trump would win a second term in the White House, and it would be borne out that the Democrats had snatched defeat from the jaws of victory, as they are so prone to doing, once again.
I started writing this Journal entry back in April when Biden had first captured the nomination, but then life sort of got in the way, which caused this to get cast aside, and become less relevant.  I was then going to rework it into a pre-election Journal entry like I did in 2016, but with all of the early voting, and my having voted almost a month before election day, I felt like it would be too little, too late, and so I didn't do anything with it then.  So here we are now, with the election all but settled.  When I first started writing, this entry was titled, "He should have taken the hint when he got the Medal of Freedom…" and was lamenting the choice of Biden as a nominee.  That was following the winnowing down of a very large field of candidates that included the likes of Bernie Sanders, Elizabeth Warren, Pete Buttigieg, Michael Bloomberg, Tulsi Gabbard, Amy Klobuchar, Tom Steyer, Andrew Yang, and a whole host of others that you have probably never heard of.  I didn't particularly like the way the nomination was reached, in that it felt once again like they were trying to stop Sanders, no matter what it took.  I recall that Sanders started out pretty well, outperforming each of the rest of them individually, though combined, the others still had more support than he did individually.  Then after Super Tuesday, the other candidates all started dropping like flies and endorsing Biden, who I felt like was the old coot trying to to remain relevant despite his being past his prime.  I figured that Biden hadn't taken the hint that the Presidential Medal of Freedom that Barack Obama awarded him in their final weeks in office meant that his political career had reached its end, and that it was time for him to retire, and that this would have disastrous consequences for the country.  But with most of the other candidates gone and putting their efforts into his campaign rather than their own, Biden swept it and got the nomination.
Continue reading…