August 29, 2021, 6:30 PM
On Wednesday, August 25, Elyse and I got together with two friends of ours, Kyle and Pete, and we went up to the Ellicott City area, where we went on a hiking adventure.  We hiked up through the remains of what was once part of St. Mary's College, and which has since become part of Patapsco Valley State Park.  The goal was to visit "Hell House", which is the remains of a structure on the former campus.  Elyse was most familiar with this area, so she led the way.  The former campus contains the remains of a number of buildings, and we had a pretty fun time there overall.  Getting to Hell House was a bit of a challenge, considering that the path is not necessarily obvious and required climbing some steep slopes, but in the end, we made it there.
The hike itself wasn't too photogenic, but we did see a few things: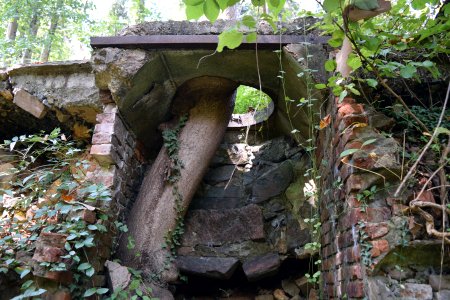 Continue reading…
August 22, 2021, 10:14 AM
I recently came to the realization that it has been a little more than twenty years since my first true railfan trip on the DC Metro system, on July 28, 2001.  Mind you, I had ridden the system plenty of times before that, and I had photographed the system a few times prior to this, but this was my first time going in with the rail system itself as the destination, rather than as the means to an end.  I explored around in DC and Virginia, photographing stations, making recordings of the door chimes, and exploring new areas of the system that I had never been to before.  Back then, there was no Silver Line, the trains were still orange and ran in four and six-car consists, and they stopped in the center of the platforms rather than at the end like they do today.  I was using my original Mavica for the photos, which saved photos at 640×480 resolution onto 3½" floppy disks.  To record the door chimes, I used a boombox-style tape recorder and recorded it to a cassette.
As I recall, I started at Vienna, stopped off at Virginia Square, went down to L'Enfant Plaza, took the Yellow Line over the bridge to Virginia, got out at Pentagon, checked out the bus bays at Pentagon, briefly took an escalator up into the Pentagon from the station (and then turned around because I didn't want to visit the Pentagon), went to Pentagon City, visited Pentagon City Mall, then headed to National Airport and Franconia-Springfield.  I stopped at Arlington Cemetery station, and then headed towards Vienna, stopping at East Falls Church and West Falls Church along the way.  Then I got back in the car and headed down to Woodbridge to visit Potomac Mills, where I was trying to get a new optical drive for my computer.  I didn't find anything at Potomac Mills, but I did remember an optical drive that I had passed up earlier at the Babbage's store at Pentagon City.  So after leaving Potomac Mills, I drove over to Franconia-Springfield and got back on the Metro, riding back up to Pentagon City and buying that optical drive.  I then stopped at Crystal City and King Street stations on the way back to Franconia-Springfield.
I had a number of firsts on that trip.  I rode between Pentagon City and Franconia-Springfield for the first time, and logged my first visits to Franconia-Springfield, King Street, Crystal City, Pentagon, Arlington Cemetery, Virginia Square, East Falls Church, and West Falls Church.  I consider that a pretty good amount of new territory covered.
Continue reading…
August 8, 2021, 9:00 PM
Back on July 20, Elyse and I made a trip up to Pennsylvania for a little photography.  This was one of those adventures where we had a specific mission that brought us out that way, but that mission was too small to justify the time and distance on its own, so we built a trip around it in order to justify the mission.  In this case, the main objective was to purchase some newly released cans of G Fuel (an energy drink) at a Sheetz that had them, and send them to Shock in order for him to do a review video.  Elyse called around ahead of time, and located the flavor in question at a Sheetz location in Gettysburg.  Then in order to justify the trip, I planned a route, adding some stops.  In this case, Sheetz in Gettysburg was a must, but then I added some stops in Waynesboro and Fairfield to the mix to round it out, creating a little arc across south-central Pennsylvania.  We were originally going to run it all the way out to Hanover, but decided to cut it off at Gettysburg in order to get home at a more reasonable hour.
Our first stop in Waynesboro was the Wayne Heights Mall.  This was by no means unfamiliar territory for us, as this was where the Gordmans that we photographed was located.  Gordmans has since closed, but it was a good flight target nonetheless.  Elyse liked it because she could visit Tractor Supply while I was flying.  So here we go: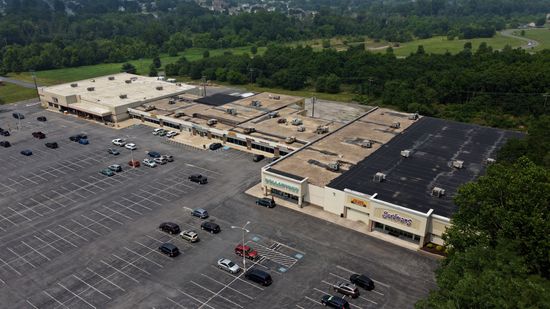 Continue reading…