Going to show that you never know what is going to produce the winning shots…
August 29, 2021, 6:30 PM
On Wednesday, August 25, Elyse and I got together with two friends of ours, Kyle and Pete, and we went up to the Ellicott City area, where we went on a hiking adventure.  We hiked up through the remains of what was once part of St. Mary's College, and which has since become part of Patapsco Valley State Park.  The goal was to visit "Hell House", which is the remains of a structure on the former campus.  Elyse was most familiar with this area, so she led the way.  The former campus contains the remains of a number of buildings, and we had a pretty fun time there overall.  Getting to Hell House was a bit of a challenge, considering that the path is not necessarily obvious and required climbing some steep slopes, but in the end, we made it there.
The hike itself wasn't too photogenic, but we did see a few things: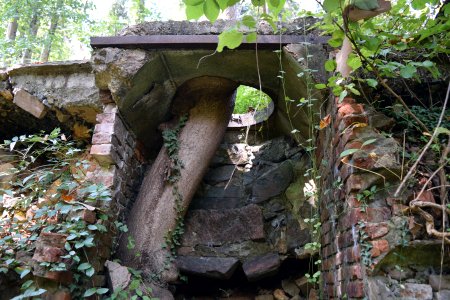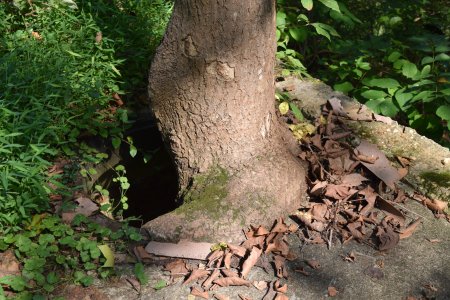 This tree was growing through what I presume was once some kind of manhole.  It's also grown around the edge of the hole on one side.
We also found the remains of a small building with a concrete roof.  Kyle, Pete, and Elyse explored down in it, while I stayed up to photograph the graffiti.  I didn't want to go in (too steep of an entrance for my preferences), plus, I figured, not knowing what was down there, someone had to be in a place of safety to call 911 in case anything happened.  But the graffiti was enough to keep me amused.  Here are some of the highlights: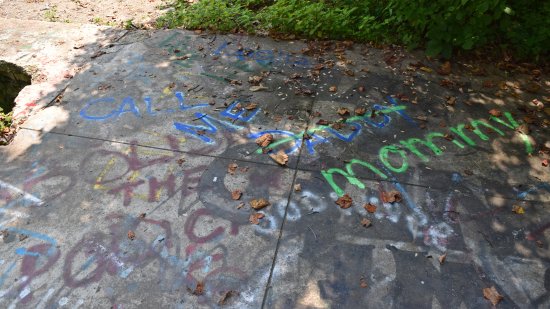 "Call me Daddy mommy" graffiti.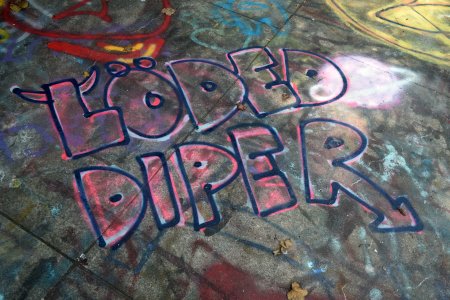 "Löded Diper" graffiti, referring to a fictional band from the Diary of a Wimpy Kid book series.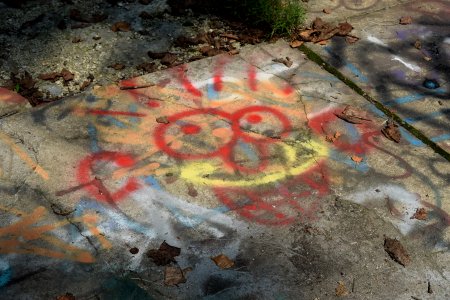 A smiling face.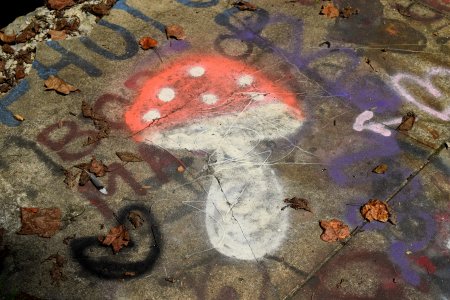 Mushroom.
And then this is Hell House itself: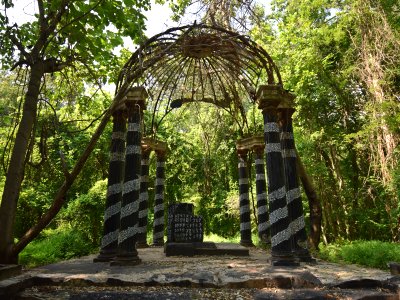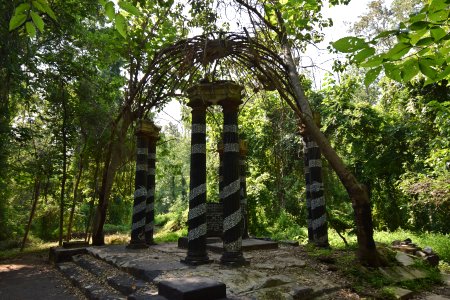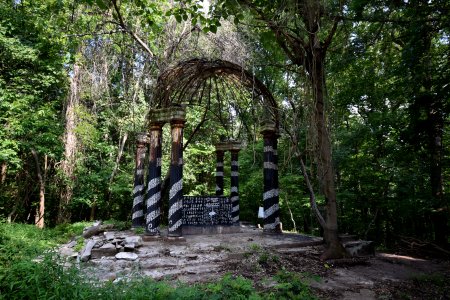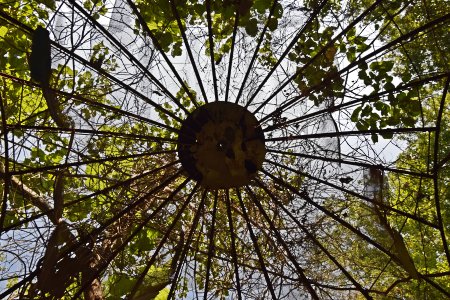 I feel like my photos of Hell House came off as a bit uninspired.  I don't know if it's the time of day that I shot it, the amount of foliage this time of year, the angles that I could get, or that despite my best efforts to keep hydrated that I felt a little parched by the time I got up there, but I feel like I could have done better.  I consider these results "tepid" at best.  However, in any case, I suspect that this structure likely isn't going to go anywhere anytime soon, and so I can always revisit on another day.  We'll see, I suppose.
After we all got back to the car, I took the drone out for a quick spin to photograph a railroad bridge while Pete consumed some water and Elyse and Kyle put their feet in the water to cool off.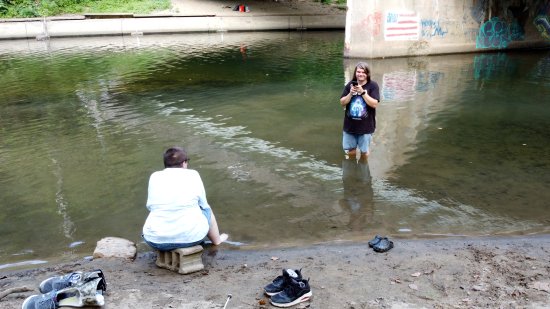 Elyse and Kyle in the Patapsco River.  I wanted to photograph some of the graffiti under the bridge with the drone, but unfortunately, breezes in that area moved my drone around enough that I felt uncomfortable flying there.
And then I photographed the railroad bridge: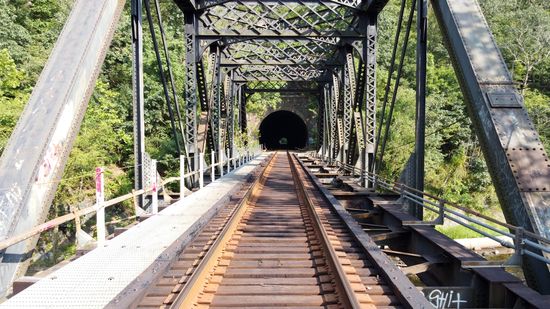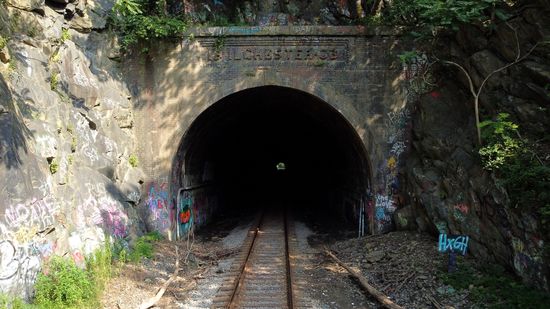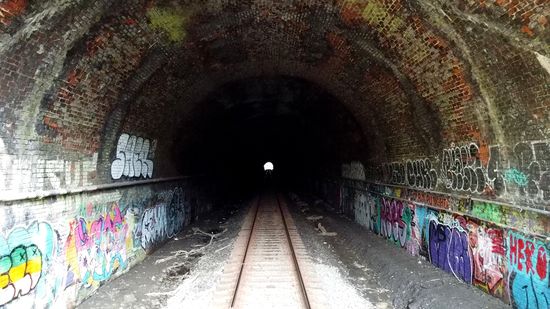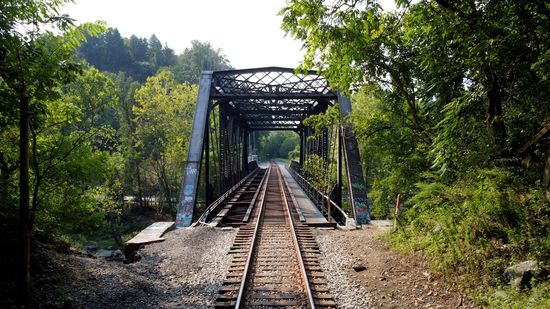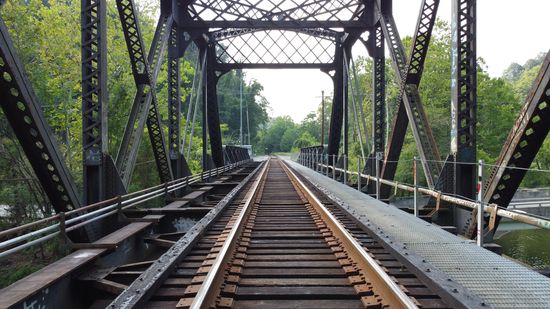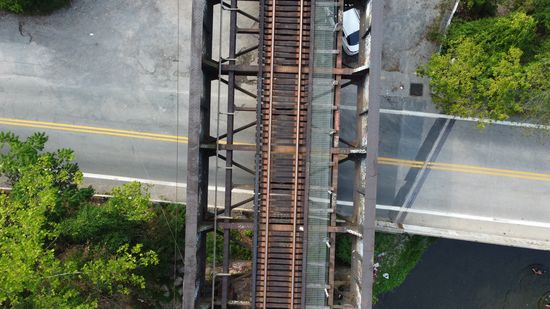 And I also got a selfie before landing: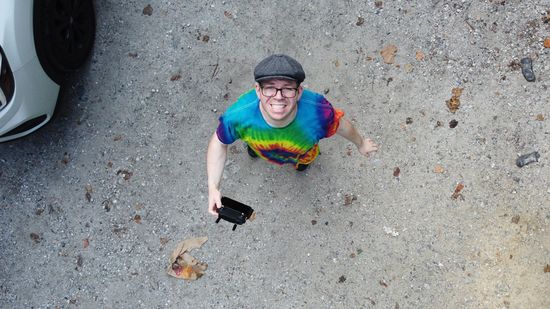 By the way, you don't know how good it feels to stand underneath your drone while it's ten or so feet up in the air on a hot day.  It makes a great fan that way.
We then went over to Old Ellicott City, where everyone checked out Antique Depot.  I took the drone up again, this time checking out a siren: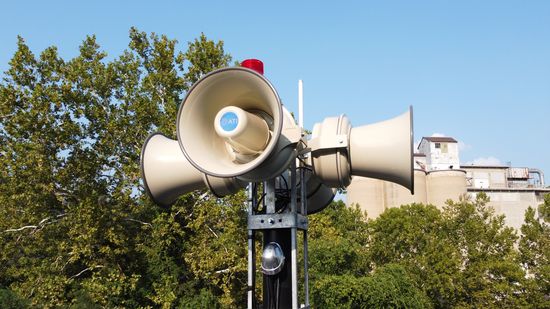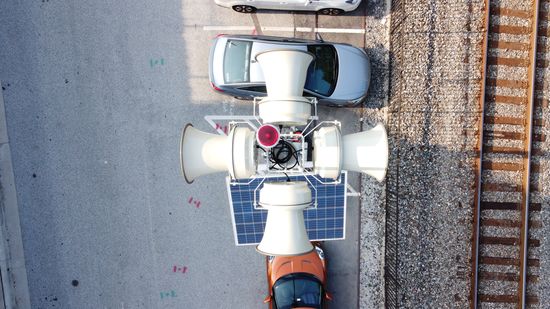 This was installed following the second flood in Ellicott City in 2018.  The last time that Elyse and I checked this out, it was on a temporary base at the top of the hill, but now it's permanently installed at the bottom of the hill.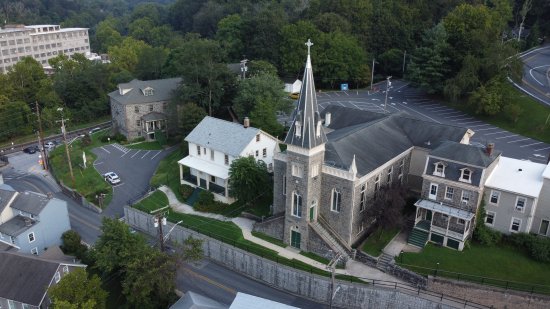 St. Paul Catholic Church.
Then we went over to the Avalon area of Patapsco Valley State Park.  I wanted to photograph the site of the Bauers' house (it's since been demolished) with the drone, but unfortunately, I couldn't get the drone up high enough to clear the trees due to altitude restrictions in that area (and I didn't want to walk up the hill to photograph an empty lot).  However, I did get some photos of Thomas Viaduct, located nearby.  I photographed that from outside of the park, focusing on an obelisk located adjacent to the viaduct: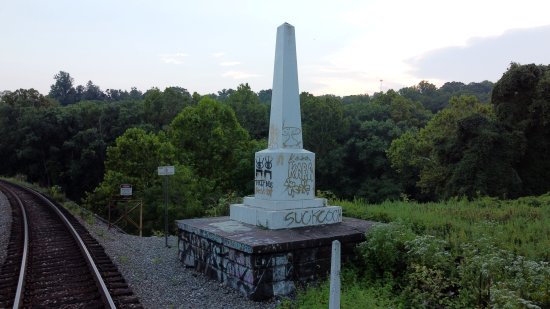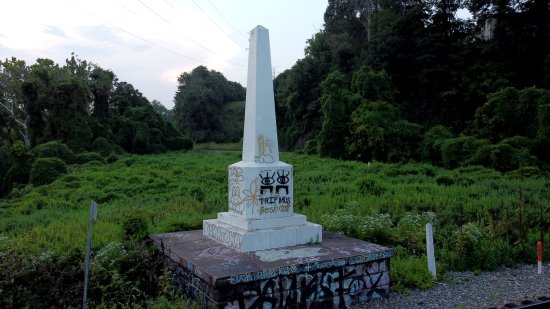 The obelisk.  I was kind of disappointed that it was covered with graffiti.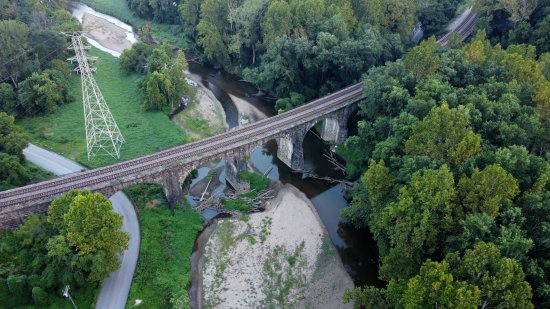 The viaduct itself.
So all in all, I'd say that we had a good trip.  The primary mission was Hell House, and while we had a whole lot of fun there, the photography was lacking.  But I'd say that I made up for it with some of my drone work later on in the day.