September 24, 2019, 8:26 AM
September 24 marks the day that I have been a former employee of Food & Water Watch for the same amount of time that I had been an active employee there.  Since leaving, I have given plenty of thought to my tenure there, and nowadays, I tend to give it a mixed review.  On one hand, that job was what got me up to the Washington DC area in the first place, and it was good for me for a period of time.  I grew both personally and professionally because of my experience there, and I certainly benefitted from that.  I also certainly had lots of good times while there.  However, I probably stayed there for much longer than I should have, as most people spent two or three years there and then moved on.  I was there for just over six years, was ninth in seniority by the time that I left, and was no longer all that interested in the issues that the organization was working on by the time that I left.
One thing that I have come to realize with the passage of time is that my position ultimately came to its logical conclusion.  When I was hired, the organization had about twenty people, with most people based in DC.  By the time that I left, the organization was somewhere around 100 people spread across many offices.  In my role as office manager, I was that "jack of all trades, master of none" person.  I had no direct involvement with the program content, but rather, I was the guy behind the scenes who made sure that the people handling the program content had what they needed to do their thing.  I was tasked with fixing stuff, working with outside vendors, making sure that the office had all of the necessary supplies, doing all of the shipping and receiving, handling matters related to the building, and so on.  In other words, I served in a very generalist role.  I knew a bit about a lot of things, and it suited me well for a time.  What happened was that over the years, as the organization grew, they would carve specialist roles out of my responsibilities.  It made enough sense, because a bigger organization justified creating more specialized roles.  My job gradually evolved over the years as my responsibilities shifted with the growth of the organization.  The view of my generalist role also evolved, with the focus of my role's shifting from the "jack of all trades" part to the "master of none" part, as, with the hiring of more specialized roles, I went from being the guy who knew a lot about a lot of stuff to "what does he know?"  And eventually, my role was whittled down to a very low-level role that I was overqualified for, and probably overpaid for as well.
Continue reading…
September 17, 2019, 9:14 AM
As you well know, I am a big fan of Today's Special.  I certainly know more about the show than most, and have traveled to Toronto to visit a number of different filming locations from the show.  And before we get too far along, nerd alert: I'm going deep into the weeds with this one.
There's one episode, though, where I take issue with the credits.  In that instance, I think that the music that they chose to use doesn't completely fit the mood of the ending.  That episode is "Babies", from 1984.  In that episode, we learn that Wanda Willoby, from the Willoby Tale stories, has run away from her home in Possum Ridge and has come to the store, because she feels as though she is being replaced by a new baby that's on the way.  After everyone finds Wanda, they comfort her, and explain to her that her parents won't love her any less now that there will be a third child in the family.  Meanwhile, Wanda, while meaning well, causes a lot of trouble in the store, including accidentally dropping a large display of balls in the Children's Department, and inadvertently backing into an alarm button in the Computer Room.  This underlines the need to get Wanda back home to Possum Ridge as soon as possible.  In the end, Wanda realizes that she is not being replaced by the new baby, and the episode ends with the storyteller, a young Lori Chodos (whom you might better remember as Beezus from the 1988 Ramona series), telling everyone how well Wanda handled the new baby after her experience in the store.  The episode ends on a high note, though certainly differently than any other episode, since the storyteller had never been integrated into an episode like this before (storytellers typically appeared in standalone segments).
The end credits music used was the slow flute theme, which is the basic melody of the theme on flute with some other accompaniment.  This is used on four episodes: "Babies" and "Butterflies" in 1984, and "Wishes" and "Phil's Visit" in 1986.  Of those four episodes, "Butterflies" and "Wishes" have sad endings.  "Phil's Visit" doesn't have a sad ending per se, but it's a very emotional episode about alcoholism, and the slow flute ending fits.  Out of the four, only "Babies" has a happy ending.  "Babies" is also the first episode to use that piece of music.  For recurring pieces of music, the first usage is sometimes very different than the other usages.  For instance, the music typically used during suspenseful scenes first appears in a relatively lighthearted scene in "Police", where Sam is attempting to help Officer Hardy look for clues, but ultimately gets in his way.  In almost every other instance, the tune is used to help build suspense, such as when a spaceship lands on the roof, or Muffy is rescued after becoming trapped in a utility chase.
Continue reading…
September 8, 2019, 10:09 AM
In going through what I've posted, I've realized that I've mentioned some things but never fully explained them.  I typically realize this when these things are slated to appear again or are otherwise planned to be referenced, but discover that there has not been a proper introduction.
In this case, meet Woomy, one of Elyse's "critters":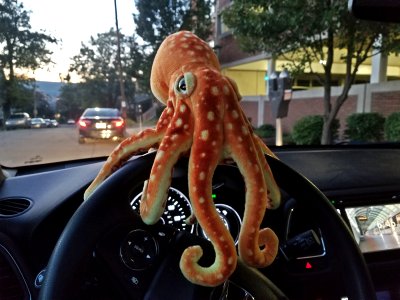 Continue reading…