Meet Woomy…
September 8, 2019, 10:09 AM
In going through what I've posted, I've realized that I've mentioned some things but never fully explained them.  I typically realize this when these things are slated to appear again or are otherwise planned to be referenced, but discover that there has not been a proper introduction.
In this case, meet Woomy, one of Elyse's "critters":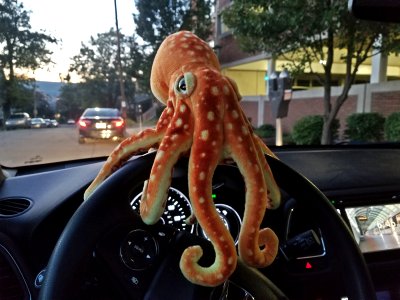 Woomy is a stuffed octopus, and Elyse found him at a thrift store.  His name came from the Internet, which named him on one of Elyse's live streams on YouTube.  We took one look in his eyes, and we immediately knew his personality.  We knew that Woomy was a curmudgeon.  Unlike most of Elyse's critters, who carry on extensive conversations with us just by nodding their heads, Woomy speaks audibly, but he only says one thing: "I don't like that!"  Considering that phrase is, for the most part, the only thing that he ever says, we suspect that even if he did like something, he would still tell us that he didn't like it.
Woomy also the most-traveled critter by far.  Woomy went on our October trip to Cortland and Scranton, and Woomy also went to Toronto with us.  He's also come along for a few doctor's appointments.  Did he enjoy any of it?  Not a chance.  At least that's as much as he told us.  Woomy is also a social media darling, as people really love seeing Woomy make appearances on my various feeds
Here are a few photos of Woomy, not liking things: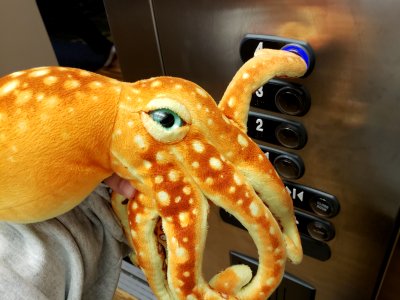 Woomy presses the button for our floor at the Holiday Inn Express in Cortland.  Regarding the elevator, he said, "I don't like that!"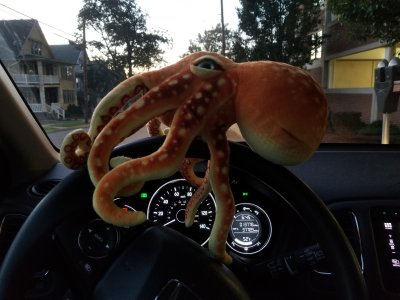 Woomy hangs onto the steering wheel during our Scranton trip.  When he saw this photo, he said, "I don't like that!"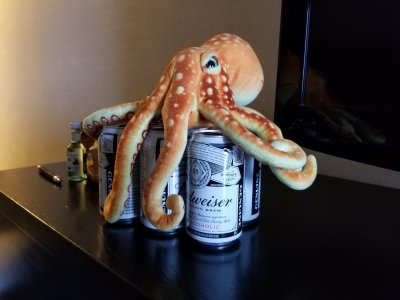 Woomy guards a six-pack of non-alcoholic Budweiser at the hotel during our Toronto trip.  When we asked him about it, all he said was, "I don't like that!"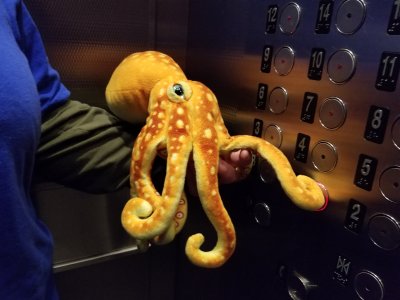 Elyse helps Woomy press the button for the lobby in a building in Toronto.  The button earned Woomy's seal of disapproval, as he simply said, "I don't like that!"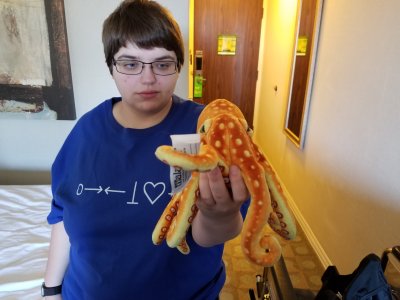 Elyse gives Woomy one of those what-the-hell looks because of what he did while on our Toronto trip.  He grabbed a Malabar label, and then promptly announced that he did not like it.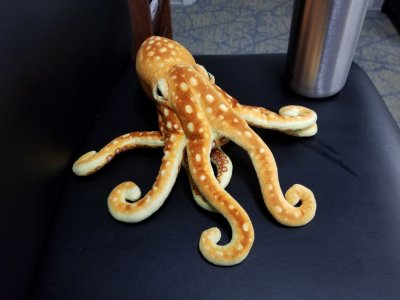 Woomy sits in the waiting room at a doctor's appointment for Elyse.  I don't know what it was, but Woomy's assessment of the whole thing was, "I don't like that!"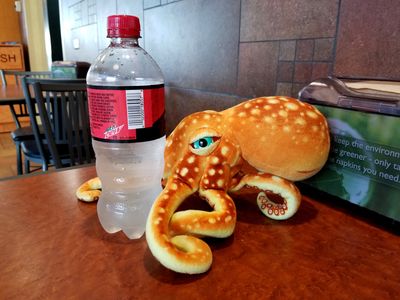 Woomy inspects a bottle of Mountain Dew at Sheetz in Frederick.  The verdict was, "I don't like that!"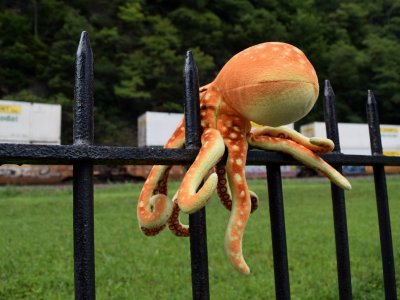 We took Woomy along with us when we recently went trainspotting at Horseshoe Curve near Altoona.  Woomy watched as well, but all he had to say about it was, "I don't like that!"  We'll see if I ever take him trainspotting again…

Woomy reads the information board at Horseshoe Curve, and then promptly declared his dislike of it.
A friend of mine from high school remarked regarding this photo, "Well, with three hearts, you're bound to have a lot of feelings on many subjects."  I ran it past Woomy, and then reported back: "Woomy has already declared that he doesn't like that."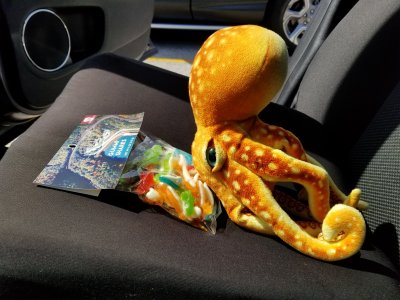 Woomy inspects a bag of gummy shark candies that Elyse got at the gift shop at Horseshoe Curve.  When he finished looking at them, he said, "I don't like that!"
I, meanwhile, sang "gummy shark" to the tune of that "Baby Shark" song.  You're welcome.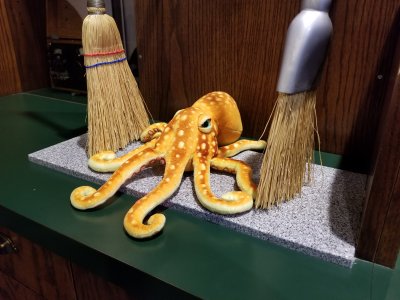 Elyse messed with Woomy a little at the railroad museum in Altoona.  The two brooms here are part of an interactive exhibit, and they swept back and forth.  Woomy got quite a shaking from it, and shouted, "I don't like that!"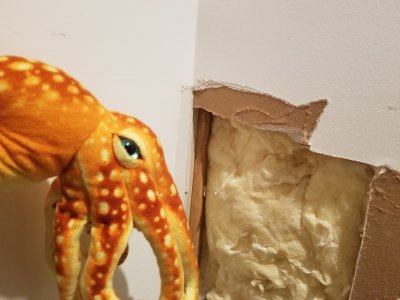 Woomy surveys the damage after an accident where I damaged a wall while pushing a case of Priority Mail boxes down the basement stairs, because I didn't want to carry all of them down.  He took one look at it and declared, "I don't like that!"  Neither do I, Woomy.  But at least he doesn't have to fix it.
All in all, we like Woomy, despite his curmudgeonly disposition.  However, the other critters don't take as kindly to him.  Another octopus once gave Woomy a swift kick after he declared that he didn't like something.  That elicited another "I don't like that!" from Woomy.
In any case, follow me on Instagram for more pictures of Woomy, and you'll occasionally see him pop up here as well.