July 22, 2013, 11:28 PM
You may have gotten a hint from the notes in the July 14 photo feature, but this past Friday, July 19, was my last day working at Food & Water Watch.
On my last day, we were having an ice cream social in my honor.  I wanted to make it a celebration of me rather than an emotional goodbye, so I made a slideshow of photos to go through and talk about with the folks gathered.  Many had never seen these photos before, and I was sure that the photos would garner some laughs and rekindle fond memories.
On the evening before my last day, though, I was a bit nervous.  I was somewhat uptight about how my emotional state would be when I finally said goodbye.  I didn't want to cry on my last day, but I was really afraid that I might.  I even went to far as to post this Facebook status at 1:44 in the morning:
Thinking about my last day at Food & Water Watch on Friday. Wondering how the mood will be when I finally say goodbye, and thinking about it in terms of the ending theme for an episode of Today's Special. I think it could go one of three ways:

1) A very upbeat end to the day. That would warrant the regular ending theme.

2) A more emotional ending that might have me in tears at the end of it. That kind of end would call for the flute theme that was used in "Butterflies", "Babies", "Wishes", and "Phil's Visit".

3) Considering that I have a slideshow with old photos planned, it might be a celebration of days past with mixed emotions of laughter and sadness. For that, I would lean towards the ending theme used in "Memories", the series' last episode, which was a continuation of that episode's final song.

We'll see how it plays out on Friday, but I'm rooting for the day to warrant the regular ending theme.
Continue reading…
July 9, 2013, 10:46 PM
I can't believe that I completely forgot to mention this in the last entry discussing the July 4 trip to Harpers Ferry and Winchester.  Pete and I spotted this scene along Route 7 in Clarke County on the way back to DC, and had to stop for photos: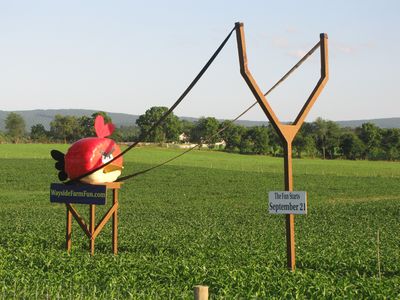 Continue reading…
July 8, 2013, 11:50 PM
So in our last episode, I was discussing a trip that my friend Pete and I made to Harpers Ferry, West Virginia and to Winchester, Virginia on July 4.  I got as far as the end of Harpers Ferry, when I realized that the Journal entry was running quite long, so I cut it off and promised to continue at a later time.  And now for part two.
Leaving Harpers Ferry, we soon came to Charles Town (not to be confused with Charleston, the state capital).  For those not familiar, Charles Town is the place where people in Harpers Ferry go to go grocery shopping.  For out of town folks, it's also the home of the Hollywood Casino at Charles Town Races.  I've never been gambling before, but it might be fun to do one time.  But in this case, Pete and only stopped for lunch, and then it was at a Martin's grocery store, where we each got salad.  Funny how you can get pretty decent food on the go from grocery stores these days.  But we did just fine at Martin's.  They had a decent-sized salad bar, and there was also an eating area.  All in all, not bad.
Then from there, we continued along to Winchester.  That took us on Route 340 to its intersection with Route 7, and then we took Route 7 the rest of the way into Winchester.  When I first made a close pass to Winchester some time in the 1990s, I was a little bit underwhelmed by the size of the town.  Understand that Winchester is listed as a control city for I-81 for quite some ways – more than 100 miles when traveling northbound.  In my experience up to that time, I had only seen bigger cities as control cities for highways, like Little Rock or Richmond.  Thus I figured that Winchester was a really big city.  Surprise: Winchester is, while by no means tiny, also not a big city by most measures.  It's comparable in population to Staunton.
Continue reading…
July 7, 2013, 11:58 PM
First of all, I hope everyone had a lovely July 4.  I know I did.  I got together with my friend Pete (whom you may remember from the Confirmation Demonstration and White House to Quantico photo sets), and we went on something of a road trip.  We both figured that with living in the Washington DC area, and considering how July 4 is in DC, that was a good day to get out of town.
So we decided to go on a trip to Harpers Ferry and Winchester.  Prior to this trip, I had only been to Harpers Ferry by train, and then only passing through.  As far as Winchester went, I had only been to Winchester once prior, and that consisted of driving around at night trying to find the downtown area, and a stop at the Apple Blossom Mall and the local Walmart.  So this was going to be fun.
I met up with Pete at Glenmont Metro, and then we were off.  To get from the Aspen Hill area where I live to Harpers Ferry, you drive up I-270 to Frederick, and then from there, you take I-70 for about a mile, and then take US 340 (yes, that 340) the rest of the way to Harpers Ferry.  The drive is beautiful.  The first bit of beauty is just outside Frederick, where there is a "Scenic View" wayside on 270.  We wouldn't ordinarily have stopped there, except that was a good place to stop and put the phone into GPS mode for the remainder of the distance to Harpers Ferry, since we were both kind of fuzzy on the exact way to get there.  While we were stopped, I got a few photos of the area:
Continue reading…