From the White House to Quantico
Part 2
Then on Sunday morning, I was up and going, ready for the second half of this weekend's activity. This was the trip to Quantico, in Prince William County, for the Bradley Manning demonstration. While a number of people would be traveling to Quantico by bus from around Union Station, I got together with Isis and a couple of others, and we drove down in my car. We decided to do this because it gave us greater flexibility to plan.
What's funny, though, is that I still can't seem to manage to account for traffic conditions when I drive places around here. I've been living in the DC area for almost four years now, and I can never get a good handle on how long it will take me to get somewhere. Too many traffic lights, I believe, because my luck is such that any traffic light will immediately turn red as soon as I get within a thousand feet of it. Either I'm really early and have to kill time, or I'm late. But this time, I made it to our designated meeting point at exactly noon. I was impressed.
And so we were on our way. We went through the Springfield "Mixing Bowl" interchange, and south on I-95 from there. Going down to Quantico was pretty uneventful. The traffic was moving at a pretty good pace, and soon we had made it to Exit 150, for Triangle. As soon as we got off the freeway, you could tell that something was up. As we got to the intersection with Route 1, we saw barricades blocking the road to Quantico, and lots of cops. No less than four different police agencies had responded for this demonstration. You had Prince William County Police (the local police agency), the Virginia State Police, the Manassas City Police, and, surprisingly, the DC Metropolitan Police. Obviously, a group of peaceful demonstrators just scares the panties off of these cops.
Before joining the demonstration, however, we pulled into a nearby Dunkin Donuts off of Route 1 for a quick potty break. Not a bad place to go to the bathroom, but getting out of the parking lot was tough, as it was close to a signaled intersection but not right on it. Basically, on the totem pole of drivers at this intersection, you have straight-through traffic at the top, then right turns, then left turns, and then down there where the dog lifts its leg was the Sable, since we were trying to make a left turn just before the light. But eventually we made it, and we were on our way.
The organizers for this demonstration had arranged for everyone to park at the Marine Corps Museum, just to the south of the place where the demonstration would take place. Here, after we parked, is where we really got an idea about what the police's attitude about this demonstration was. We spotted, to the side in the museum's parking lot, a Lenco armored vehicle painted in Virginia State Police livery. Inside and around the vehicle were state troopers in full SWAT gear – yes, SWAT gear – complete with black ski masks and large guns. I fail to see how this is necessary for a political rally. However, I've also never seen a political demonstration in Virginia where the state hasn't pulled out the big guns, and pulls out the big State Police riot control vehicles for these things. Your tax dollars at work, Virginians, being used to suppress political dissent. People ought to make a stink about it, but I fear that they might gun you down with those big SWAT guns if you try.
---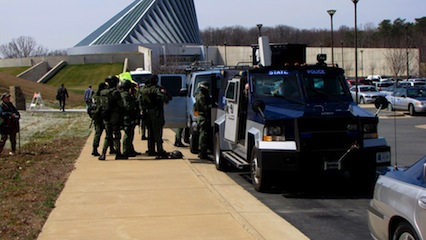 Virginia State Police SWAT vehicle, complete with masked officers.
---
Arriving at the demonstration site, we discovered just what kind of environment that we would be demonstrating in. First of all, Quantico is literally in the middle of nowhere just north of the border between Prince William and Stafford Counties, with Woodbridge (and Potomac Mills) a few miles to the north, and Stafford a few miles south. Then we would be demonstrating in a field, which, based on its rather rough appearance and straw covering, I presumed would be houses before too long (but after doing some research, I learned that this is actually part of a road construction project). I later discovered that the site was previously home to several commercial structures, as Google Street View showed, as of this writing in spring 2011, an abandoned Shell gas station and a boarded up McDonald's restaurant, as well as a motel that is present in one Street View shot, and missing in the next. Likewise, Google Street View showed other commercial structures across the street that were missing when we came through.
And the demonstration began. Medea Benjamin from Code Pink handed out signs and such, and speeches soon began from the stage that had been set up. While the speeches were going on, people also worked the roadway, holding up signs for the cars driving by on Route 1.
---
This is what the ground looked like at the demonstration site. No grass – just dirt and straw. Pretty rough terrain. And there was mud, too, as I unfortunately discovered firsthand when I stepped in it.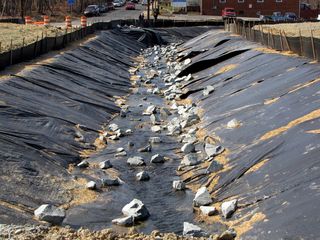 ---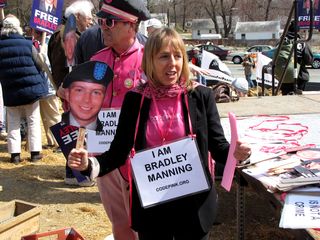 Medea Benjamin holds up Bradley Manning masks and "I AM BRADLEY MANNING" signs.
---
Another Code Pink volunteer hands out prison-striped costumes, and chains to go with the costume.
---
After that, he handed out orange jumpsuits.
---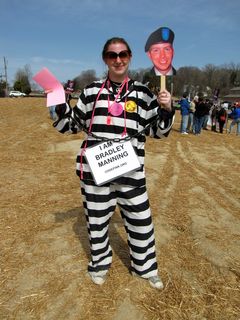 A finished costume!
---
---
Reporters took time to interview demonstrators.
---
Daniel Ellsberg arrives at the demonstration.
---
---
A Prince William County Police cruiser, as well as three Prince William motorcycles, soon arrived at the roadside. There were absolutely too many police at this demonstration. Your tax dollars at work.
---
Some demonstrators walked along the roadside, holding up their signs for the traffic on Route 1 to see.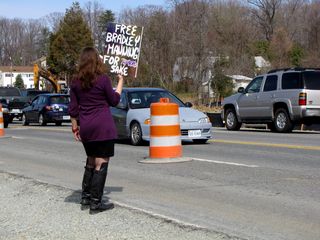 ---
All the while, speakers spoke from the stage.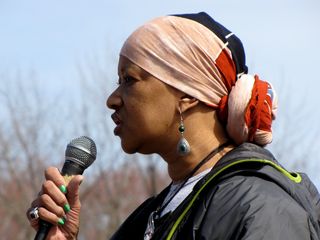 ---
---
At the end of the speeches, the march began. This, like the day before, was a short, symbolic affair. The march started at the stage, and headed north to the next street, and then marched alongside Route 1 to the intersection of Route 1 and Route 619 (Joplin Road).
---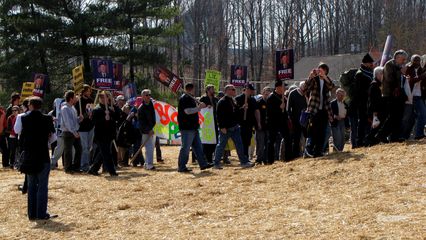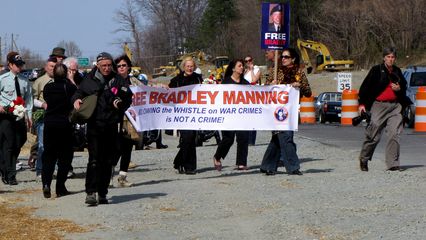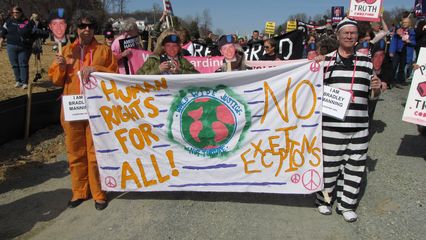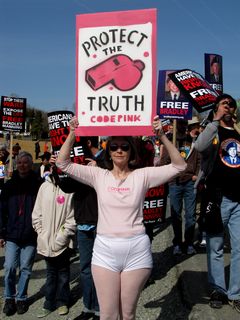 ---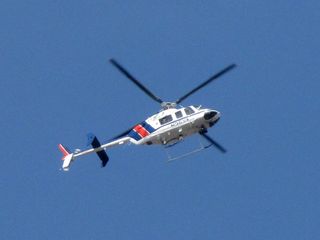 Meanwhile, a Virginia State Police helicopter, tail number N36VA, flew overhead.
---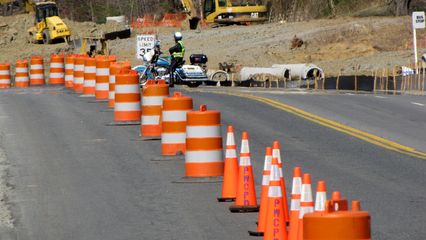 And then police blocked off the road.
---
At the intersection, demonstrators were penned into a free-speech zone in the northwest corner of the intersection. My question is, why? The police had closed all of the roads leading to the intersection, and were turning traffic back. There was absolutely no reason that police should not have given demonstrators the full run of the entire intersection. It was really a case of police giving orders for the sake of giving them. Save me the "safety" argument, if you don't mind, since the only clear and present danger there was the masked police officers with the large guns who would probably love nothing more than to shoot a peace activist in the back.
However, the demonstrators would not have it, as they did take the entire intersection, calmly and peacefully removing the police barricades. The demonstration remained peaceful, but now just took up the whole street. And that was fine, though the Prince William County cops didn't like it too much – enough that they declared the assembly unlawful and ordered it dispersed. I have a feeling that the declaration of an unlawful assembly was simply a legal formality so that they could start rounding people up and play with their toys, since the police almost certainly knew better.
From here, the state troopers in riot gear came up with their big shields. The best sight was of people placing "Free Bradley Manning" stickers on the riot cops' shields, and the cops' trying in vain to remove them.
---
Police officers and their various equipment. I'm amazed about the amount of force that they decided to show for a bunch of peaceniks. Apparently, the Commonwealth of Virginia and Prince William County are so safe that the cops have nothing else to do besides harass anti-war activists conducting a peaceful demonstration.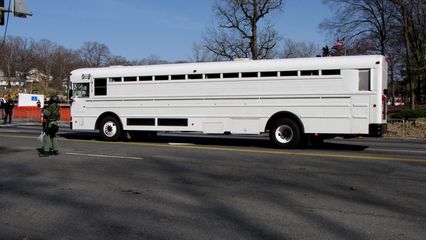 ---
---
State Police in riot gear, with "Free Bradley Manning" stickers on their shields.
---
Overview of the demonstration, taking place at the intersection of Fuller Road, Joplin Road, and Route 1.
---
The demonstration continues. Tension begins to arise between the police and the demonstrators.
---
As the tensions continued, however, the four of us that traveled down together decided that we had seen it, and decided to head out. We got a few parting photos of the ridiculous police presence, and headed back to the car at the Marine Corps Museum.
Leaving and getting back to Washington, however, was going to be more exciting than we might have liked. Normally, from the Marine Corps Museum, you see, one would make a left out of the parking lot onto Route 1, and then another left onto Route 619, and from there to I-95. However, the demonstration that we had just covered was blocking that route. And that is fine, because I'd rather see them there, and would gladly detour around them. So we ended up taking Route 1 south as far as Stafford, to Route 610 (I-95's exit 143). There, we stopped at a Wawa store for a snack, and figured out how we were going to get back to Washington. The problem was that I-95 looked really bad. Traffic was backed up a little bit on the on-ramps, and the freeway itself looked really bad as well. And then Route 1 was blocked because of the demonstration that we had just covered. So the question was, what to do? Do we take I-95 or find an alternate route? And while we did have smartphones, it didn't substitute for a real computer in this case. It looked as though the only other alternate route would have been to take US 17 around via Warrenton and approach DC from the west, but that would have added an hour to our drive, and with gas around $3.50 per gallon, it was a steep proposition. Ultimately, we decided to just "strong arm it" down I-95, and get to the HOV lanes as soon as possible. This ended up working out, and it was smooth sailing once we were in the HOV lanes.
We got back to our original meeting place in early evening, and then I went home from there. All in all, I think we got our message out, and this year's anniversary demonstrations proved that the message and the group is indeed evolving. This time, the group was definitely older, and there was a noticeable lack of younger people at this weekend's demonstrations. No black blocs or other well-defined radical presence. I don't know if this is because the early-20s crowd has become overly disenchanted, whether it's because of the breakup of DC SDS, or whether this year's anniversary just kind of passed under the radar, but the youth presence was definitely missed. And the message itself is changing, as the war in Afghanistan turns ten this year, the Iraq War turned eight, and the bombing of Libya began on the anniversary of the invasion of Iraq, while we were demonstrating. Additionally, there was a strong push on the idea that governments should keep no secrets from their people, and thus why support for whistleblowers is so important.
Welcome to the United States, I suppose, and unfortunately, the United States is nowhere that it needs to be right now, with multiple wars underway and the government keeping secrets from its people. It's going to be a long and hard effort to get the country where it needs to be. Are you willing to help turn our country around?
Part 2