Remembering the Soul
Part 1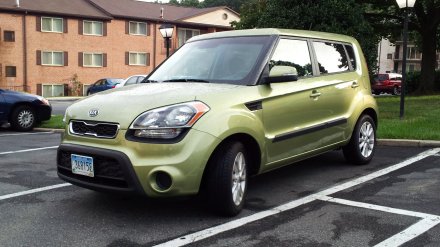 On the evening of February 7, 2018, I lost my 2012 Kia Soul in a fire.  Everyone involved got out safely, though the car itself was a writeoff.  I wrote a Journal entry a few weeks later where I introduced the Soul's replacement, a 2018 Honda HR-V EX, and also did a small retrospective on the Soul's relatively short tenure with me.
The Soul will always hold a special place in my memory, since it was the first car that I bought new, and one that I selected following a fairly extensive search to find the perfect car for me.  Over the course of five years, ten months, and 27 days, we did a little more than 90,000 miles together.  This photo set is a larger, more comprehensive retrospective of the Soul's life than the Journal format permits, in order to provide a fuller sense of closure, and also put the fire into perspective as a single event at the end of an otherwise enjoyable career.
I made this set in part for Elyse, who took a lot longer to move on from the loss of the Soul than I did.  After all, while the Soul was my fourth car, Elyse more closely associated the Soul with me, because that was the only car that she had known me to drive up until that point.
---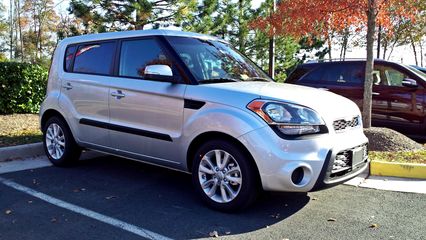 The journey actually began with another Kia Soul, at Ourisman Kia in Chantilly, Virginia.  I went out there with my friend Matthew on November 6, 2011, and gave this Kia Soul a test drive to see what I thought of it.  I remember liking the tight turning radius and the light handling.  We put it through its paces, as I took it around the Chantilly area, including on a major road, in and out of several parking spaces, and through a neighborhood.  The biggest test was to do a U-turn in the middle of one of the neighborhood streets.  It did fairly well.  However, the salesman alienated me pretty quickly when we got back by giving me an insultingly low bid for the Sable.
---
I later did a second test drive on a red Soul from Charlie Obaugh Kia in Staunton, Virginia, in order to verify my findings from my first test drive.  That's when I decided that a Kia Soul would be my next car.  A few months later, after lining up some financing, I sought some trade-in offers for the Sable from some other dealerships.  While the trade-in offers came in better than the Ourisman offer, they both alienated me pretty quickly through some very sleazy behavior.
While I was doing that, my father located a Soul at Charlie Obaugh Kia that met all of my expectations: it was the mid-tier model, it was green, and it even had a little spoiler on the back, which, while unnecessary, I liked.  And the price was right.  On March 12, I came down to Staunton, and it was mine.
---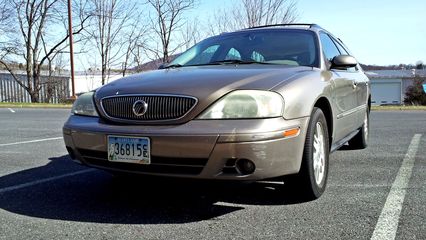 After we took care of the Soul's sale, my father and I went over to motor vehicles so that he could get some tag work done on another car while the dealership got the Soul ready to go.  While he did that, I got some final photos of my previous car, a 2004 Mercury Sable.  It was a good car for the time, but it had started to develop a lot of issues, which told me that it was time to get a new car.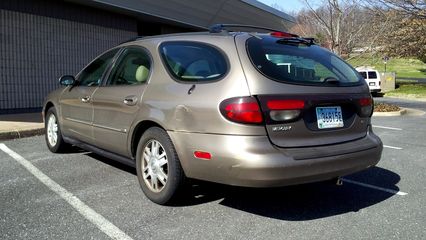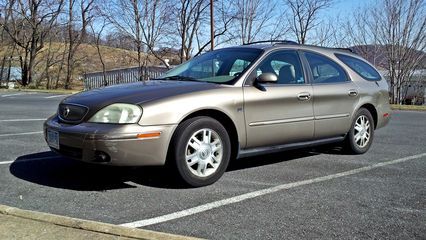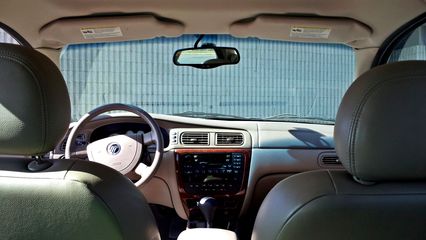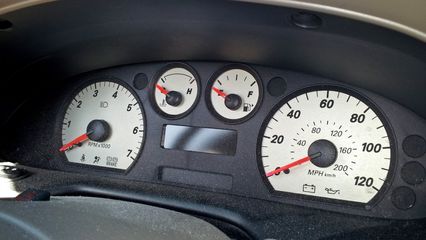 ---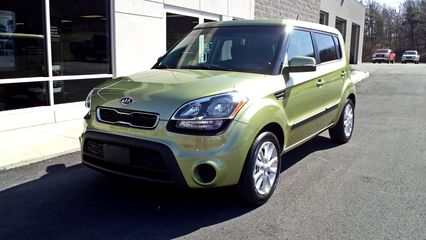 My first photo of the Soul.  Note that there is no front license plate yet.
---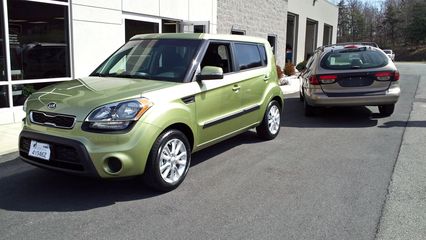 The Soul and the Sable, together for the first and only time.
---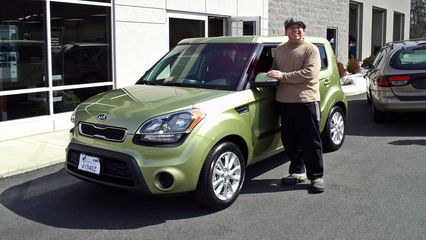 First photos with the Soul.  First at the dealership, and then at my parents' house.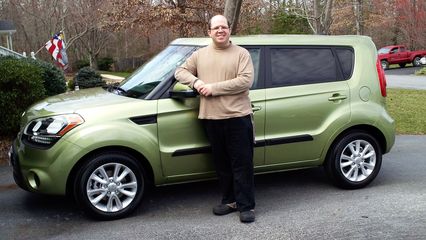 ---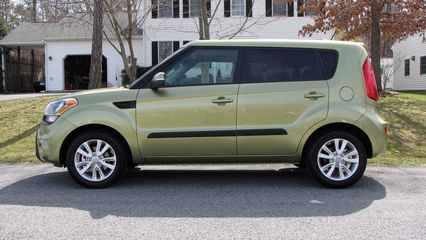 I also got all sorts of photos of the Soul on the street in front of my parents' house on the first day.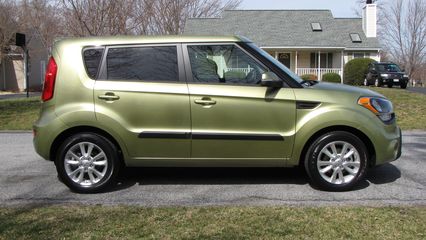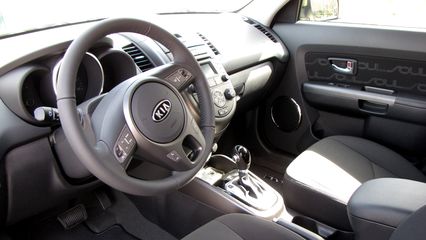 ---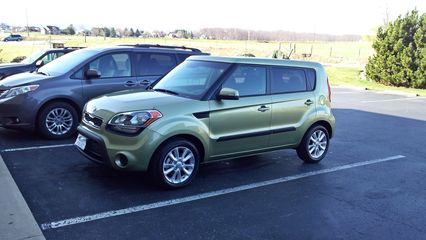 I used this photo taken at The Cheese Shop in Stuarts Draft to demonstrate how much shorter the Soul was compared to the Sable (about 35 inches' difference).  I now had plenty of room in a parking space.
---
My first road trip with the Soul was the three-hour drive to bring her home.  After all, I may have bought her in Staunton, Virginia, but she was going to live in Maryland.  I remember being so surprised to find myself picking up a significant amount of bugs on the windshield – more than a typical trip in the Sable – but otherwise, the trip was uneventful.
---
The first time fueling the Soul was after swimming on the night of March 15, 2012, at the Exxon station in Olney.  This was probably the Soul's most expensive fill-up, at $3.89 per gallon.  Gas was in the $2 range for most of the Soul's lifespan.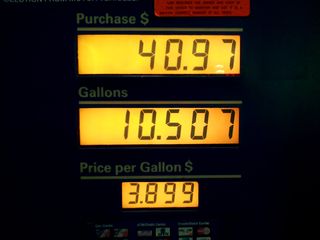 ---
On March 29, she earned the right to wear her Maryland license plate.
---
Getting rid of a bunch of old clothes on April 14.  The bags contained clothes that were going to the Shady Grove Transfer Station for recycling, and then the baskets contained clothes that would be donated to Goodwill.
---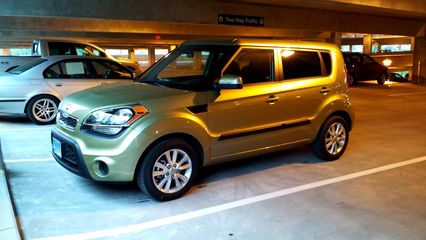 First time parking at the east garage at Glenmont, April 18, 2012.
---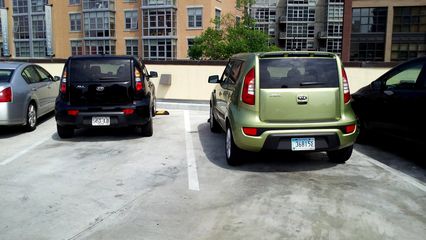 Parked next to another Soul on the roof of the P Street Whole Foods store in DC on May 3.  The Soul on the left is an older model than mine is, based on the taillights.  The 2010-2011 models had split taillights, whereas the taillights were in a different arrangement on the 2012 models, with a much larger red section.
---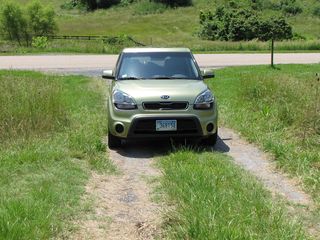 On May 28, 2012, the Soul waits for all of us while we wandered around DeJarnette Center in Staunton for a little bit.  This outing led to a set in Photography.
---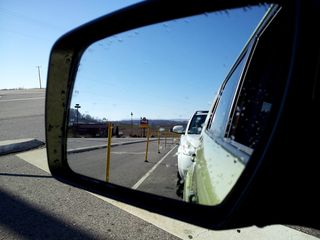 On November 22, 2012, I was headed down to Stuarts Draft to see my parents for Thanksgiving.  Here's a view out the left side mirror as I was waiting to turn onto Route 608 from Ladd Road.
---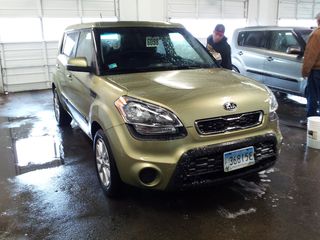 The Soul gets a bath at Charlie Obaugh Kia following her first oil change on November 23, 2012.
---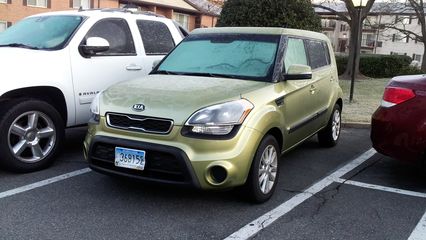 The morning of January 8, 2013 was the first time that I ever saw frost on the Soul.  Thankfully, I didn't have to scrape this, because I took the Metro to work on this particular morning, riding a Rohr car into DC.
---
In regards to winter weather, that first winter had me a little bit nervous.  Unlike the Sable, where I had to drive it in a snowstorm the weekend after I bought it, I got the Soul at the very end of winter, so I didn't know how it would do in winter weather for almost a year.  Would it be terrible in the snow like the Previa was?  Would it be decent in the snow like the Sable?  My concern was that the Soul was a lightweight compared to my previous cars, making me wonder if it was heavy enough to push through effectively.  I didn't know yet, but I supposed that I would eventually find out, and hoped for the best.  Turned out that the Soul performed about the same as the Sable did in winter weather, though I did soon learn that I needed to turn the automatic traction control system off in the snow.
---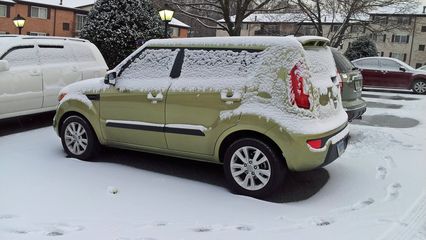 On January 24, 2013, the Soul experienced her first snowfall.  And just like that frosty morning earlier that month, I took Metro to work.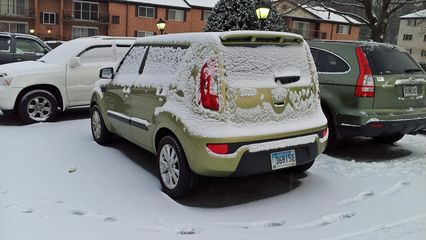 ---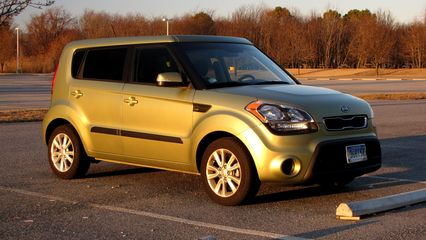 On February 9, 2013, when I made my Sandy Point State Park set for Photography, I finished up in the "golden hour".  Before I left the site, I got some photos of the Soul in this lighting.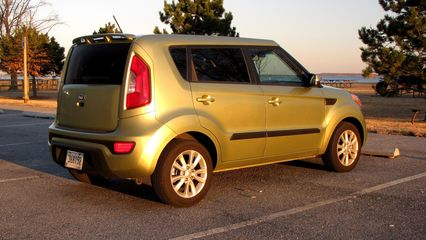 ---
Visiting my parents in Stuarts Draft on a snowy day, March 25, 2013.
---
Returning from the visit, the Soul was covered in salt residue.
---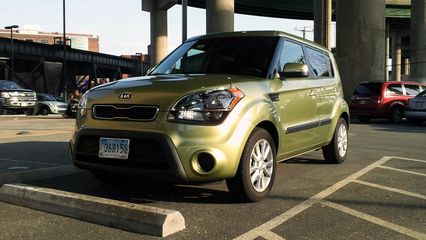 Clean again, and parked in Shockoe Bottom while I made the Richmond 2013 photo set.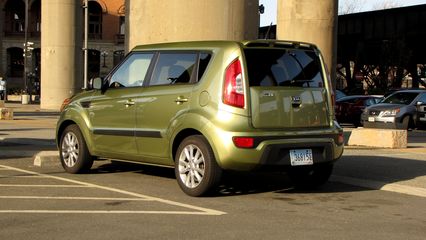 ---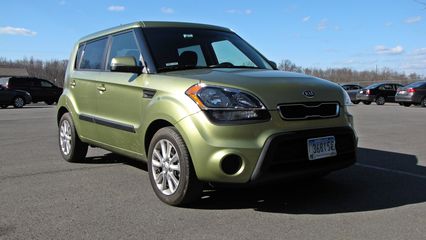 Three days later, on the Cumberland trip, I stopped to take a few more glamour shots while at the Gene Mason Sports Complex, where I photographed the river.  Unfortunately, she didn't make it out of the day clean, as she got some mud on her just behind the right front tire.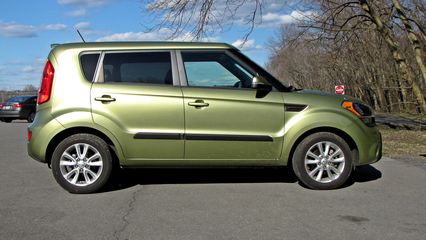 ---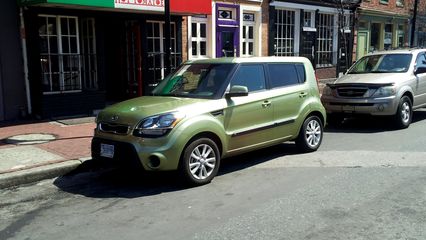 Parked on Broadway in Baltimore's Fells Point neighborhood on April 5, while I photographed around the area.
---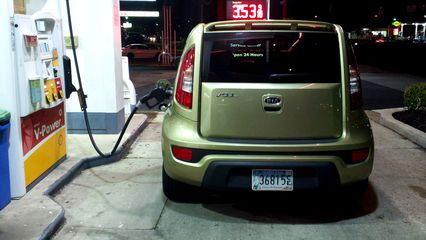 Another fill-up, this time at the Shell on Aspen Hill Road, on April 30.
---
On May 16, I specifically photographed the dashboard and the radio.
---
Funny thing about the headlights.  Unlike the Sable, where the dashboard lighting was controlled by the headlight switch, the Soul's dashboard was lit up all the time, which was a new concept to me.  It led to a couple of occasions early on where I inadvertently went out without the headlights on, because I saw the dashboard all lit up and assumed that the lights were already on.  I also quickly learned that cars now have an indicator on the dash specifically to show that the headlights are on.  Very handy.
Meanwhile, the radio was pretty straightforward.  This was the lower-end radio, because I viewed the "UVO" radio as unnecessary.  I mostly listened to podcasts, and so I didn't need a fancy radio to listen to people talking.  During our time together, I originally listened through an iPod Classic via an aux cable, and then I upgraded to an iPod Touch in 2014 and used the built-in Bluetooth.  I later switched over to Google Play, listening via my phone.  And then on those occasions when I wasn't listening to podcasts, I listened to WTOP.  I'm pretty sure that I tuned the radio to WTOP in 2012 and then never moved it again.
---
I photographed my hands while sitting in the Soul on June 2, 2013, after Melissa and I had finished our tubing adventure down in Luray.  This is what several hours in the water will do to a pair of hands.
---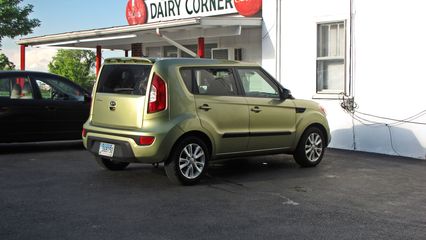 On July 4, 2013, I went on a trip with my friend Pete to Harpers Ferry and Winchester.  I got some shots of the Soul in Winchester at Pack's Dairy Corner, a local frozen custard stand.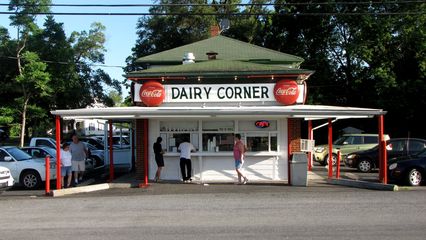 ---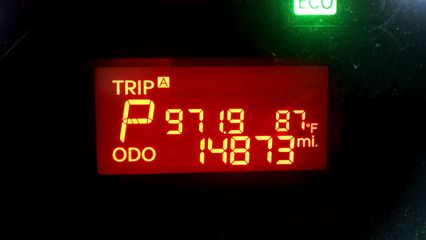 July 23, 2013: one year, four months, and some change, and nearly 15,000 miles.
---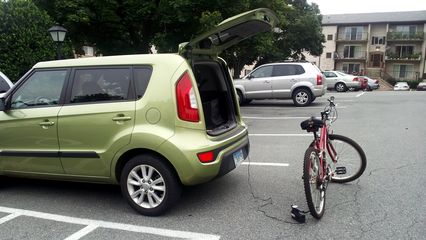 This was a test to see if I could fill the tires of my sister's old bicycle with an electric tire pump.  The pump was a freebie from Staples that had a cigarette lighter plug, and I had intended to use my sister's old bike for myself.  Unfortunately, the bike was too small for my own use, which ultimately led me to go another direction with the bike, which ended with my buying a bigger bike for myself.  However, in the meantime, I managed to blow out both tires on the bike because I overinflated them based on reading somewhere that bicycle tires needed to be inflated to 110 psi.  That wasn't smart on my part.  Live and learn, I suppose.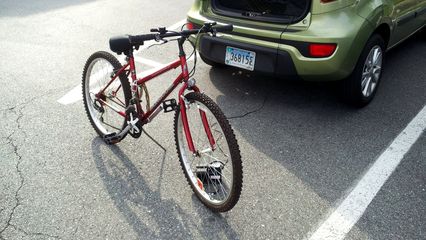 ---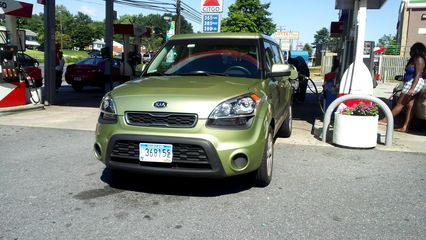 The Soul is all clean and getting prepped to go out to Chesapeake Beach for a water park trip on August 4, 2013.
---
"Kia Key" was a social media program that Kia launched in 2012.  The way it worked was that Kia gave photo prompts, such as above, where you took the photo in such a way so as to make it look as if you were pinching your car.  The way that you included the photo in the program was to tag it with #KiaKey.  When you did these things, Kia would award you points.  Then you could redeem the points for various promotional items, like sweatshirts, stuffed toys, and other various odds and ends.  I had a good bit of fun with the program, and was disappointed when it ended in 2015.
---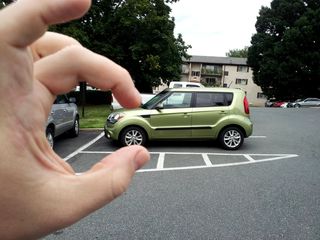 This was a creative "pinch" photo that I did as part of the Kia Key program.
---
Another Kia Key prompt.  This one was called "hero shot".
---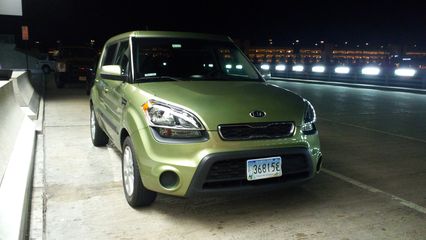 The Soul's first visit to Dulles Airport, on September 10, 2013.  I was there to pick up my friend Pete, who was coming home on a late flight from Ecuador.
---
On September 16, I got my first bit of loot from the Kia Key program.  I got a roadside emergency kit, as well as a red "Hamstar" hoodie.  The hoodie went in my closet, while the emergency kit went in the back of the car.  I got some use out of the emergency kit when I needed to jumpstart the car after I inadvertently drained the battery, but the roadside kit was ultimately lost during the fire.  I still have the hoodie, though I've never actually worn it out of the house.
Part 1