Richmond 2013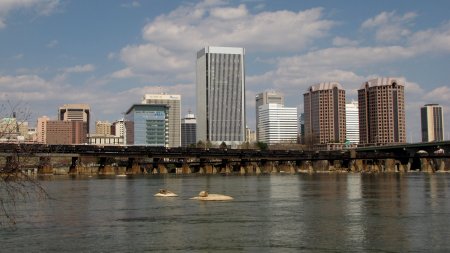 The Canal Walk and River District of Richmond have always been something of a favorite of mine to photograph.  I first visited the area on March 4, 2002, when I did the photo work for the Richmond's Canal Walk photography set, and visited again on March 10, 2003 when I made the Richmond section of An Urban Comparison.  After that visit, however, I would not return to the Canal Walk and River District areas again for a decade.
In the intervening ten years, much had changed in the area.  When I visited in 2002 and 2003, the Canal Walk was mostly separate from the surrounding neighborhood, and much of the Canal Walk was surrounded by warehouses and other industrial buildings.
Now, a decade's worth of development has brought the Canal into the neighborhood, smoothed out many of the rougher-looking aspects, and made it not only a place to go for a stroll, but also a place where people live, work, and play.  In the eastern part of the Canal Walk, many of the old industrial buildings now house restaurants and loft-style apartments, and new construction has brought additional residential, retail, and entertainment facilities to the area, with some opening directly onto the Canal Walk area.  Additionally, a narrow, semi-enclosed stretch of the Canal Walk next to a former power plant has been opened up and painted with murals.  West of 9th Street, the Canal Walk had always been mostly parkland, which has not changed as much as the remainder.  The most notable change there is an additional footbridge spanning the Canal that was built in 2011, connecting Brown's Island with 5th and Tredegar Streets.  North of the Canal, the most notable change was the addition of a new building, as MeadWestvaco had relocated its headquarters to Richmond, across the street from the Federal Reserve building, in 2010.