Mill Mountain Park Revisited
On December 28, 2003, I once again visited Mill Mountain Park, and did a loop around the park.  I started out at the lower parking area, near the Discovery Center.  I then went out to the lower observation deck – the one without the star behind it.  Took some photos.  Then I moved up the sidewalk to the top of the park, taking photos all along the way, where the other observation deck, in front of the Roanoke Star, is located.  Except for the sub-freezing temperatures, the weather conditions on this particular night were perfect, with a clear sky and no haze over the city.  There was nothing to obstruct my view, either at close range or for at a distance.
---
The city of Roanoke, as seen from the lower observation deck of Mill Mountain Park, is always a beautiful sight, though especially so at night, when all the lights become bright.
---
Meanwhile, within the park, lampposts light the way to both the lower parking lot (left) and also on the way up to the star.
---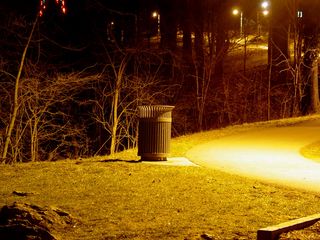 At every corner, trash receptacles stand at the ready, prepared to collect whatever waste patrons generate in the park.
---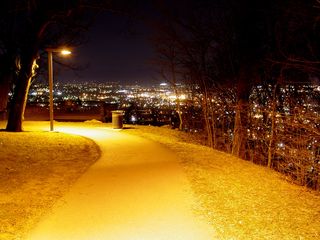 Looking back at the lower observation deck, we observe bright city lights in the distance, and the path around the park close by.
---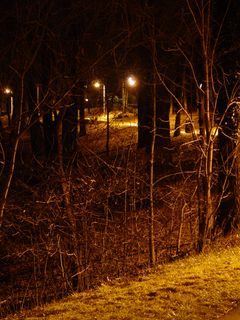 The slope at the edge of the sidewalk marks the boundary of the park, beyond which it's heavily wooded.
---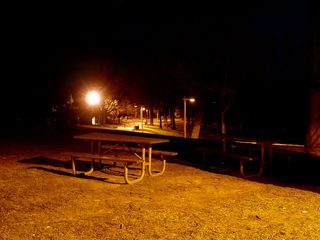 Inside the loop created by sidewalks and drives within the park, picnic tables sit at the ready for the next couple or family willing to enjoy a meal.
---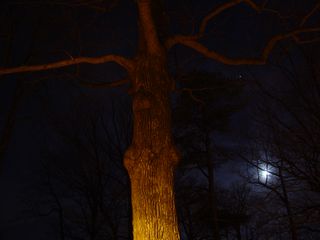 A tree, meanwhile, uses its branches to point at the sky.
---
The path to the Roanoke Star from the lower observation deck eventually straightens out, making for a clear path straight up to the star, going up a slight incline.
---
All along the way up to the star, the city is visible through the trees…
---
When seen at night, the foot path to the Roanoke Star is indeed a sight to behold…
---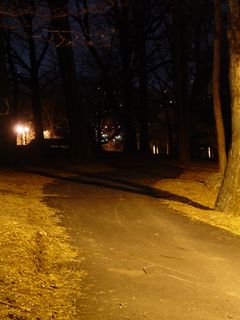 An asphalt path, presumably added later, provides a quick shortcut back to the lower parking area.  However, this path is unlighted, making it less inviting as night sets in.
---
Finally reaching the Roanoke Star, we found to our surprise that the entire inner ring, normally lit up in blue, was completely out this particular evening!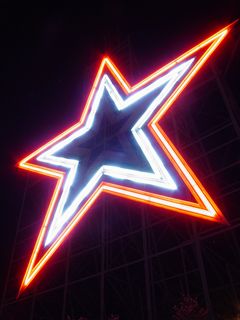 ---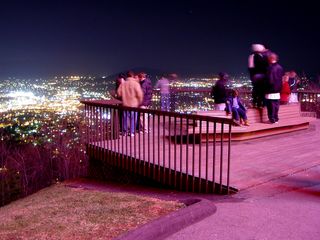 Despite the cold, the observation deck was abuzz with people, out enjoying a beautiful view.
---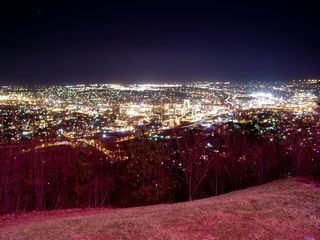 And from directly in front of the star, serving as a beacon to the city, the city still shines brightly.