Cumberland, Maryland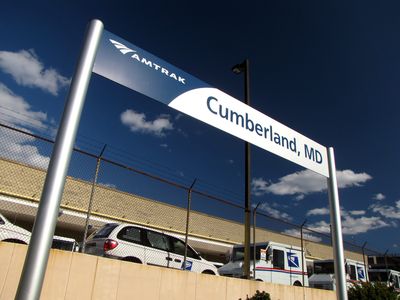 Cumberland, historically nicknamed "The Queen City", is a town of approximately 20,000 people in Allegany County, Maryland.  Once the second-largest city in Maryland (after Baltimore), prior to World War II, Cumberland was a major manufacturing center for the glass, breweries, fabrics, and tinplate industries.  It was also a major transportation hub, as the northern terminus of the C&O Canal is in Cumberland, and the town also serves as a railroad hub.
In fact, the railroad is how I became acquainted with Cumberland in the first place.  Cumberland is the fourth stop on Amtrak's Capitol Limited when traveling westbound, and I first passed through it by train at night on December 26, 2007 on the way out to Chicago.  The Cumberland stop is one of the longer station stops.  There, Amtrak changes engineers, and, due to the length of time spent at the Cumberland stop, is also a designated smoking stop, where passengers who wish to smoke are permitted to exit the train to do so.
Having viewed and taken photos of Cumberland from the train on several occasions, I decided that Cumberland was a place that I wanted to visit, and did so on April 2, 2013.  I arrived by car, and explored the center of the town.  I quickly learned that Cumberland is bisected twice: once by the four-track CSX railroad line that runs near the downtown area, and again by Interstate 68.  In addition, Wills Creek empties into the Potomac River at Cumberland.  As my interest in Cumberland came from what one might see from the train, my photography focused primarily on that, as the focus moves from the railroad to commercial buildings, infrastructure, a distinctive church, houses, and finally the WTBO sign on a nearby mountain.