Evening on Afton Mountain
The photos that comprise this set were made over two different evenings – the sunset photos were taken on December 28, 2002, and the other photos were taken on May 26, 2003.
When you're high above the surrounding areas, such as on Afton Mountain, a relatively quiet mountaintop, the arrival of the nighttime is a presentation of colors and lights that can go unappreciated in more urban settings.  See what I mean…
---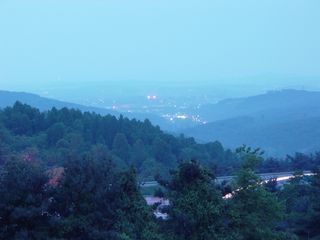 From the mountain above in the early evening, the lights of the nearby city of Waynesboro seem very distant through a slight haze, even though the city is only a few miles away both north and west of Afton Mountain.
---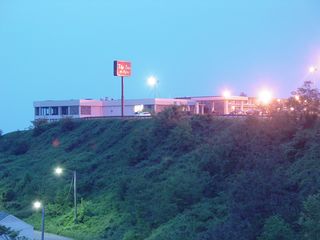 Meanwhile, The Inn At Afton, with its high visibility to westbound travelers coming up Afton Mountain on the Albemarle County side, is a beacon of refuge for weary travelers with its brightly lit sign and areas.
---
Interestingly enough, but also somewhat not surprisingly, lights also shine on and from the abandoned portions of Afton Mountain – the Howard Johnson's, the Skyline Parkway Motor Court, and the Skyline Parkway Motel.  All still received electricity even though the buildings were no longer being used.
---
About three miles east of the motel buildings on Afton Mountain, at a scenic overlook on Interstate 64, the sun sets over a partly cloudy sky…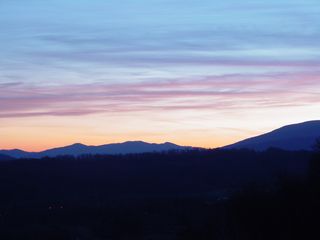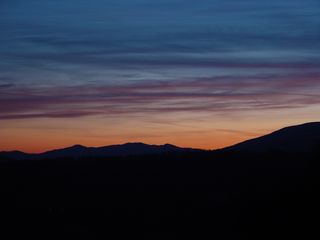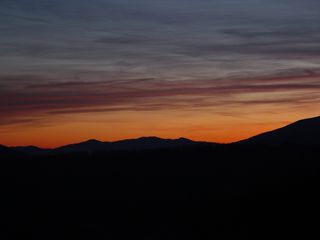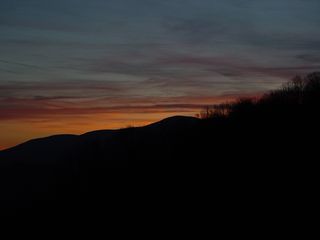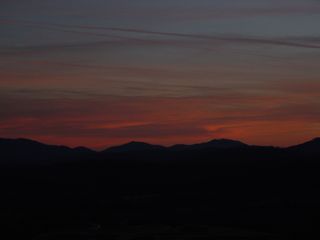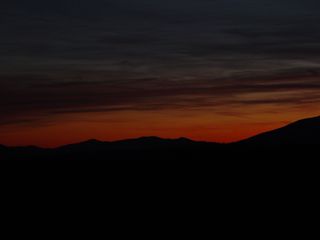 ---
The headlights and taillights of cars and trucks on Interstate 64 light the way in these views east on Afton Mountain, towards Albemarle County.
---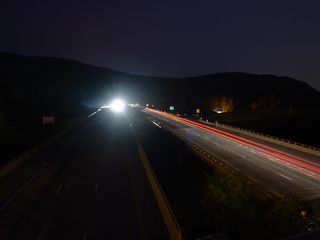 Similarly, cars and trucks light the way along the western side of Afton Mountain, in Augusta County.