Confirmation Demonstration
At noon on February 9, 2005, the DC Anti-War Network (DAWN) sponsored a small demonstration on the sidewalk in front of the Supreme Court building in order to protest the human rights record of Alberto Gonzales, who was Attorney General under then-President George W. Bush for much of Bush's second term.  According to DAWN's press release posted on DC Indymedia, it is a "vote of no confidence" in regards to Gonzales's confirmation.  DAWN also called for activists in other cities to conduct similar demonstrations around the country.
In front of the Supreme Court, this was very much a visual demonstration.  Some participants wore orange jumpsuits representing the detainees at Guantanamo Bay, and others wore black.  All wore black hoods similar to that worn by prisoners in Abu Ghraib as depicted in a famous photograph showing conditions at Abu Ghraib.  In addition, three people were arrested while participating in civil disobedience (demonstrating on the steps of the Supreme Court vs. on the sidewalk – see Journal entry).
---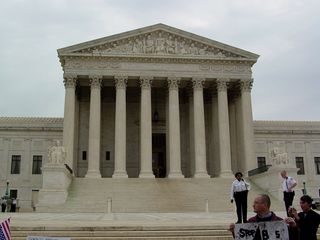 At the foot of the halls of justice, the people make their voices heard.
---
When I first arrived, two people were engaging in civil disobedience.  It was stated by law enforcement officers on site to stay on the sidewalk, and not to go onto the steps.  When these individuals stepped off the sidewalk and onto the Supreme Court's patio, law enforcement took notice.  Pete Perry, wearing the brown jacket, was detained briefly and released (the officer is merely holding his hands behind his back), while Midge Potts, wearing a green shirt and an Abu Ghraib hood, was handcuffed and arrested.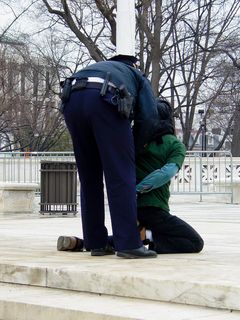 ---
According to A Journalist's Brief Glossary of Nonviolent Struggle, civil disobedience is defined as "Deliberate, open, and peaceful violation of particular laws, decrees, regulations, military or police orders, or other governmental directives. The command may be disobeyed because it is seen as itself illegitimate or immoral, or because it is a symbol of other policies which are opposed."
Perry was later arrested while participating in a second civil disobedience action later on in the demonstration, along with activist David Barrows.
---
The main theme of the demonstration was to show victims of torture, with Guantanamo Bay and Abu Ghraib featured prominently.  Participants held their hands behind their back as if handcuffed or otherwise restrained.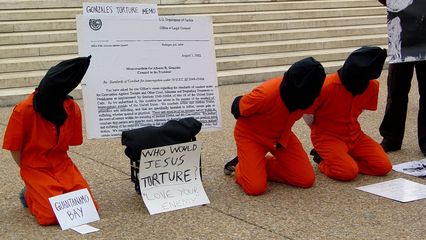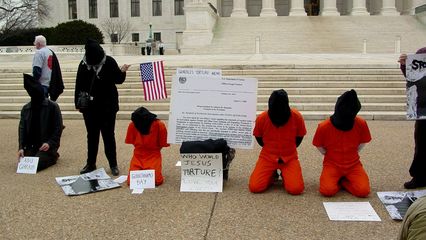 ---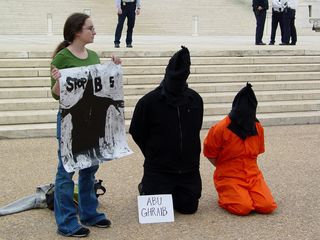 Some participants had signs near them, such as "Abu Ghraib" and "Guantanamo Bay".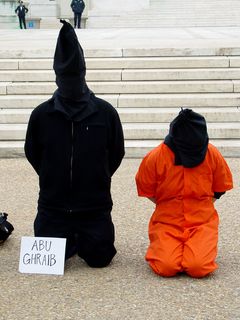 ---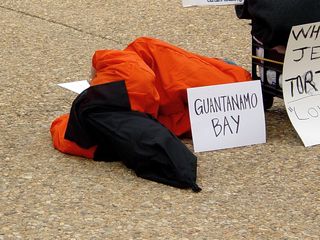 One participant laid on their side for a time, which made for quite a dramatic appearance, with the "Guantanamo Bay" sign prominently displayed.
---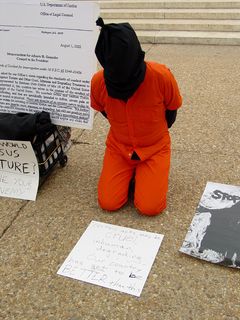 One participant placed a sign on the sidewalk in front of them, saying, "Certain acts may be cruel, inhuman, degrading… our country has got to be BETTER than this!"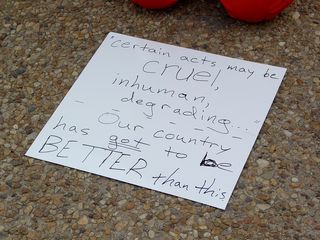 ---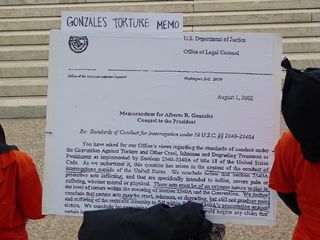 On a sign labeled "Gonzales Torture Memo" is an enlarged version of the first page of a memorandum for Alberto Gonzales, dated August 1, 2002, regarding "Standards of Conduct for Interrogation under 18 U.S.C. §§ 2340-2340A". (See full memo)
---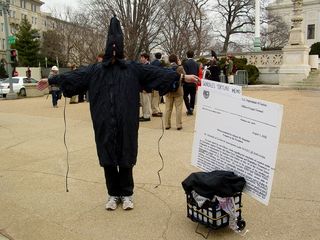 A man poses in a manner similar to a famous photo run by news organizations in order to remind those passing by of torture tactics used by our own military personnel.
---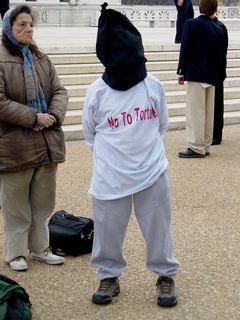 This gentleman experienced torture firsthand as a survivor of being held under the US-supported Marcos regime in the Philippines.
---
While some participants dressed the part, others held signs for all to see.
---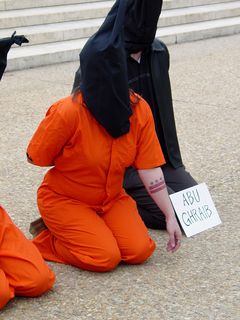 One woman showed off a tattoo of the District of Columbia flag, which she had done after being arrested at a DC statehood rally.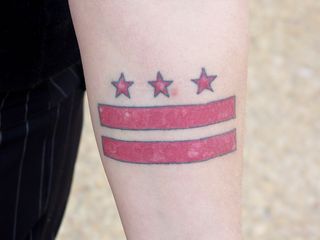 ---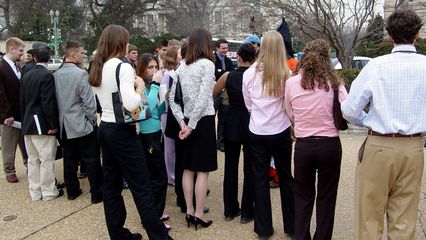 A number of groups of young people stopped by to see what was going on.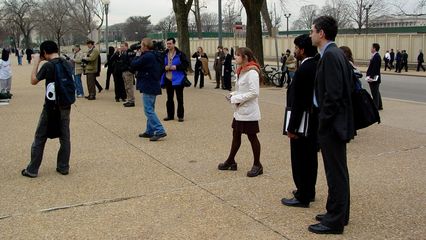 ---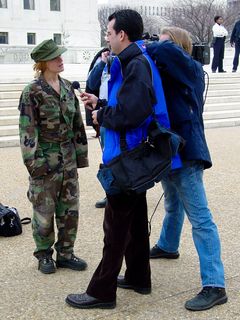 Some people conducted interviews with participants.
---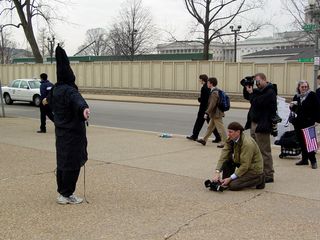 This demonstration was certainly a great photo opportunity, where DAWN and supporters could spread their message.
---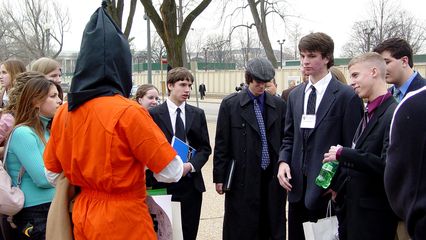 Before beginning a short march around to the Capitol's west side, bystanders engaged a few participants in a question-and-answer session.