High Rock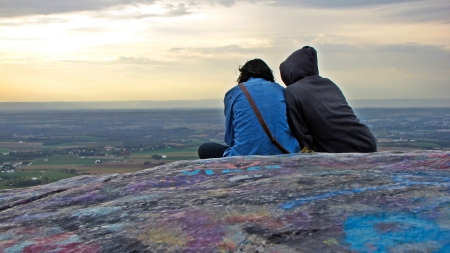 High Rock is a rocky outcropping on South Mountain, part of the Blue Ridge Mountains.  Located near the border with Pennsylvania, the site offers views to the south, west, and north of Washington County, Maryland and Franklin County, Pennsylvania, including the towns of Waynesboro and Rouzerville.  As well as being a popular overlook, the site is also a launch site for hang gliders.
The site itself is reached via Pen Mar High Rock Road, and consists of a parking area and stairs leading to the rock itself.  The rock itself is covered with years' worth of graffiti, which I found to be as interesting as the view, if not more so.  The site is also quite popular with visitors, with many people coming and going during my visit.  Some brought their dogs, some climbed on and around the rocks, some took photographs of the view, and some just sat and enjoyed the view.  I suppose it's a sign of the times that some people came up to High Rock, ostensibly to enjoy the view, and spent most of their time looking at their mobile devices rather than at the site and the views.
This set was photographed on October 22, 2015, around sunset.