UNITE HERE Picket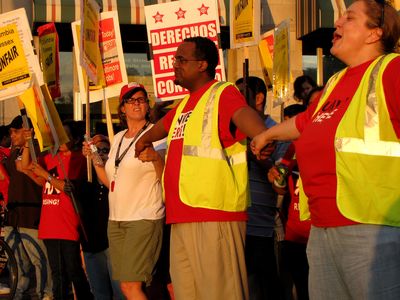 On June 20, 2009, supporters of the UNITE HERE-led boycott of the Hilton Crystal City formed a picket line in honor of the anniversary of the beginning of the boycott due to alleged unfair labor practices on the part of the hotel's operators, Columbia Sussex.
The event consisted of three stages.  The first stage was a simple picket outside of the Hilton Crystal City, where demonstrators marched in a circle in front of the hotel in a designated area filling one lane of the one-way South Clark Street.  The second stage involved the entire group's spreading out to fill the entire street.  In the third stage, a group of ten people was arrested one by one as part of a civil disobedience action, where they sat in the street with arms locked until they were arrested.
According to an article in DC Indymedia:
On the evening of June 20th, 2009, several hundred workers, supporters, and community allies took to the streets in Crystal City, honoring the anniversary of the boycott UNITE HERE workers declared on their own hotel, the Hilton Crystal City.

In a 400-strong show of force workers and the community let the bosses know that rather than giving up the fight when Columbia Sussex imposed a contract (as of May 1st), they would only fight harder.

After an hour of solid picketing and chanting, the people took the street in front of the hotel, blocking all traffic, until the police gave the order to return to the sidewalk.  While most of the workers and supporters returned to the sidewalk and resumed picketing, ten folks remained in the street, locked arms, and sat down, refusing to move until they were all placed under arrest, all to an enthusiastic crowd chanting "Columbia-Sussex unfair" and "No Justice, No peace".

The workers' contract at the Hilton expired the end of 2007.  Since then, Columbia-Sussex management has tried to fleece workers at the Hilton Crystal City anywhere they possibly can.  They have tried to cut out sick days, pensions, skyrocket the costs of healthcare, eliminate seniority rights, increase workloads, decrease salaries, and merge and eliminate positions.  The contract imposed May 1st effectively did all these things (although workers were later given back their pensions in a move to avoid massive tax penalties that would be imposed on the management).  In 2008, the workers, by an 85% margin for a boycott of their own hotel, and by summer of 2008 the boycott had gone public.  Since then, there have been regular leaflets and pickets in front of the hotel, by both workers and community allies.
---