A Sunny Day at the Capitol
The first time I photographed the United States Capitol up close was in July 2001.  A lot had changed when I paid the Capitol another visit on March 20, 2004.  Security concerns now prohibited people from going up the Capitol's west steps without a ticket.  Compare to 2001, when the general public was permitted to wander the west steps and the terraces as much as they wanted.
Additionally, the grounds adjacent to the East Front were torn up as part of construction of a new visitors' center.
However, on the ground in front of the Capitol's West Front, which faces the National Mall and the Washington Monument, the area is very much like a public square.  Pigeons and squirrels go about in their hunt for food.  Tourists get their travel companions and passers-by to take photographs of them in front of the Capitol.  And it's also the place to make a political statement and get seen, by both the general public as well as those in positions of influence and/or power.
---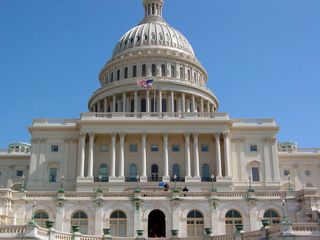 The West Front shines brightly in the sunlight.
---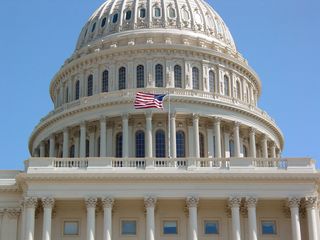 The flag of the United States flies in front of the dome.
---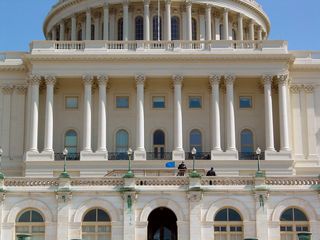 Beneath the dome, our nation's legislative business is attended to.
(Note: See the small blue flag near the center of the photo?  That has no symbolism whatsoever.  It serves a practical purpose: directing tourists to where they need to go.)
---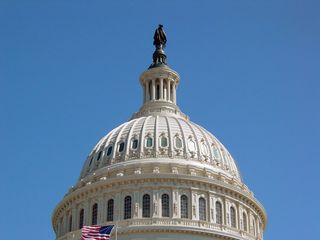 Crowning the dome is the Statue of Freedom.
---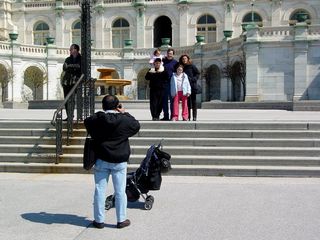 As well as housing our legislative bodies, the Capitol has great symbolic value to our nation, making it a popular place for tourists to have their pictures taken.
---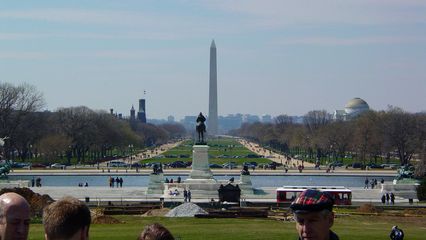 The view from the Capitol is indeed majestic, with statues and the reflecting pool nearby, the Washington Monument down the Mall, the dome of the Smithsonian Natural History Museum at right, and the Lincoln Memorial and the skyscrapers of Rosslyn off in the distance.
---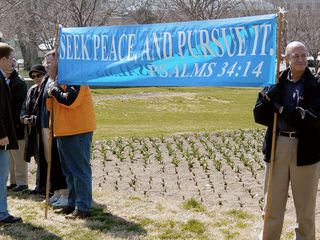 Meanwhile, just beyond a retaining wall, a small but determined group of people holds a silent vigil in protest of the occupation of Iraq on the year anniversary of the US invasion.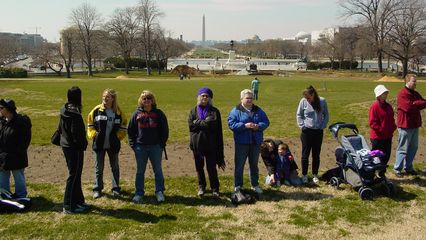 ---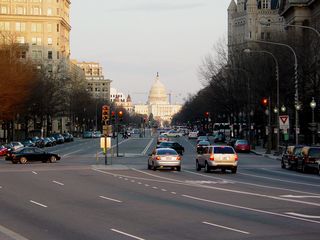 Later on that day, in the evening, the Capitol shines almost a golden color in the setting sun.  These two photos were taken from Freedom Plaza, at approximately 13th Street and Pennsylvania Avenue NW.