Union Station
Union Station is a place with an interesting history.  It was originally completed in 1908, and through its initial period as a train station, housed a number of things including a bowling alley, mortuary, baker, butcher, YMCA, hotel, ice house, and a liquor store, among others.  In the 1960s, with the decline of the locomotive for passenger service due to the rise of air travel, it was determined to convert Union Station into the National Visitor Center.  It opened as the visitor center on the date of the Bicentennial – July 4, 1976 – and closed two years later, in 1978, lacking the patronage necessary to be worthwhile.  In 1981, Congress determined to have Union Station restored, and to make the facility financially viable again.  In September 1988, Union Station reopened in its current form, a bustling hub for transportation and shopping, with MARC, Amtrak, Virginia Railway Express, and Metro serving the station.
---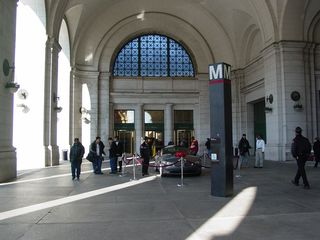 Emerging from the Metro station, we enter an open area outside the main station.
---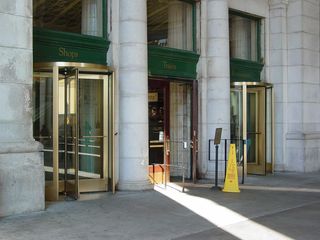 Through these revolving doors, we enter the shopping area.
---
Outside the entrance, however, we find a BMW convertible on display.  In the picture at left, the security guards have let a gentleman behind the barriers in order to get a better look.
---
Inside the main atrium, we find barrel-vaulted ceilings decorated with 74 pounds of gold leaf, skylights, and statues ringing the space.
---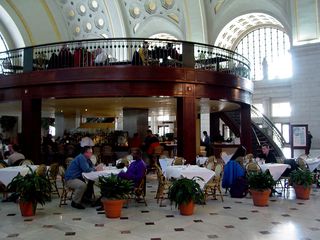 Inside, along with various vendors, a small two-level restaurant has been built.
---
Going further around, welcome to the shopping areas!  This area is actually the area where the floor collapsed after a train accidentally crashed through a wall and into this area in 1953.  Nowadays, this area is a very convenient place for tourists and commuters alike to drop their money and buy some stuff.
---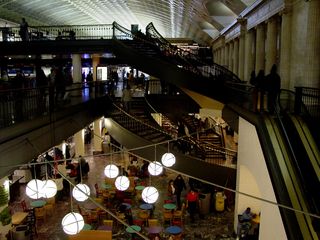 As you can see, there are about three levels of Union Station shopping!
---
Beyond the shops is a modern train station.  I saw this, and it immediately reminded me of an airport terminal.  Shops and stuff were there, most notably a Sbarro, plus you boarded your trains at certain gates, with a similar system relaying arrivals and departures – the what, when, and where.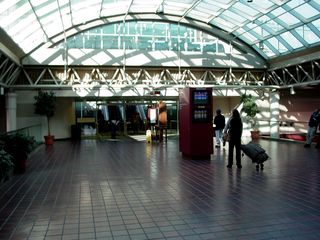 ---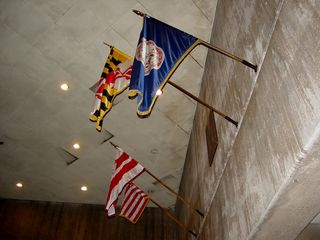 And finally, at the end of all this is the other end of the Union Station Metro station, the entrance to which is decorated with flags of the areas that Union Station and Metro serve – Virginia, Maryland, Washington DC, as well as the flag of the United States.  The United States flag is wrapped around its pole slightly, most likely due to wind caused by normal train movements in the Metro station, which are known to cause strong breezes.