Lake Moomaw
Lake Moomaw is a man-made lake in Alleghany and Bath Counties in Virginia, near the West Virginia line.  The lake is impounded by Gathright Dam, which was built as part of the Flood Control Act of 1946.  With Lake Moomaw and Gathright Dam, the area not only gets flood control on the Jackson River, but also recreational facilities for all to enjoy.
This photo set is part of a day I spent out in the woods, so to speak.  I not only went to Lake Moomaw, but also explored two nearby towns, Clifton Forge and Covington.  In this photo set, I explored the lake out near the boat docks, and then went out to Gathright Dam, where Lake Moomaw ends, and turns back into the Jackson River.
---
Out by the boat docks, Lake Moomaw comes from behind, so to speak, and then opens up wide.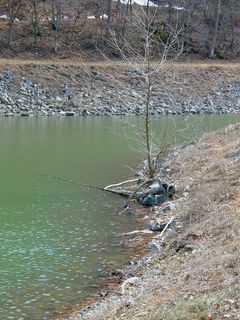 ---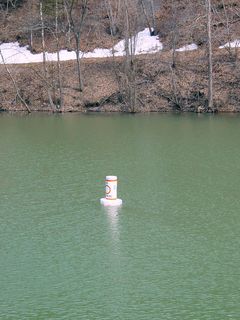 Since this area is intended for boating, the area is marked with a circle on the buoys, meaning no swimming.
---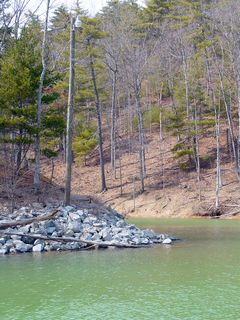 To the left of the docks is this small cove…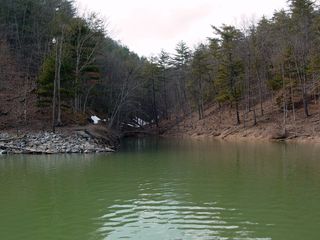 ---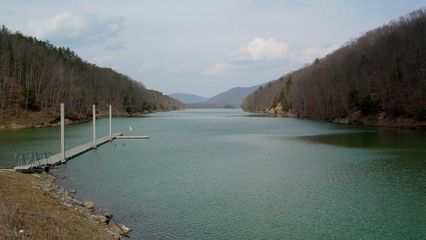 And this is Lake Moomaw!  Absolutely beautiful, with mountains on either side of the lake.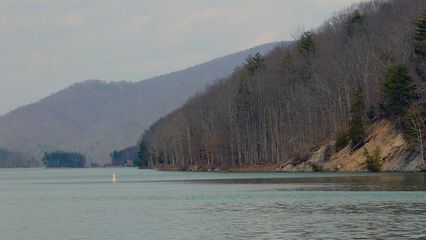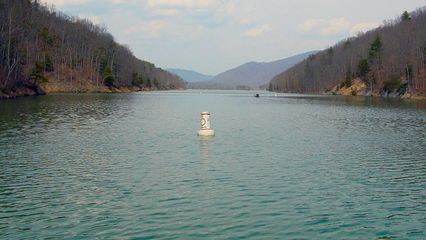 ---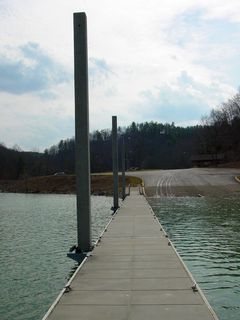 The dock is nothing fancy, but designed to be always available regardless of the water level, as it's designed to be flexible via hinges to ride any waves, and also to rise and fall with changing lake levels, as there are rollers on the points where it connects to the poles.
---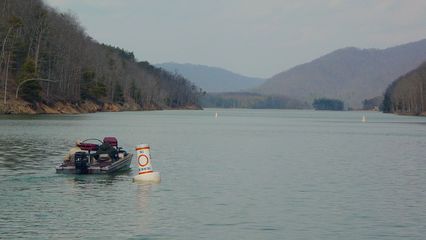 This pair of friends is taking their boat out for the first time of the season!
---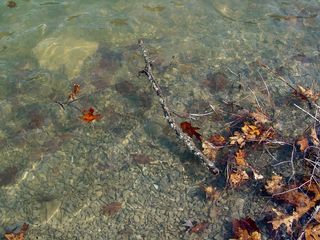 Meanwhile, Lake Moomaw is as beautiful up close as it is from a distance, with perfectly clear water…
---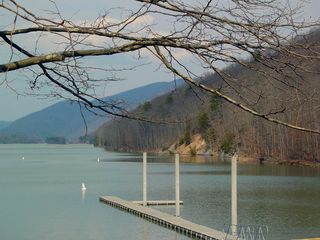 Lake Moomaw… what a place!  Now, off to Gathright Dam…
---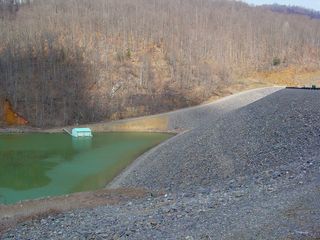 Gathright Dam is really not what I expected.  I expected a structure more closely resembling the Hoover Dam, though much smaller in size.
---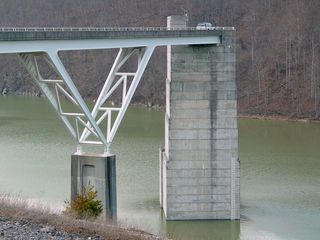 In fact, I didn't even realize that I was standing right on Gathright Dam!  I thought that the structure pictured here was the dam.  And so I wondered how on earth this did the job of keeping back the water, considering that it didn't appear to even extend all the way across.  It soon clicked with me that I was actually standing on the dam…
---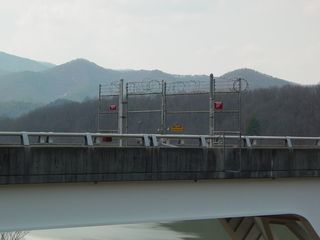 However, it should be noted that the structure is a restricted area nonetheless.
---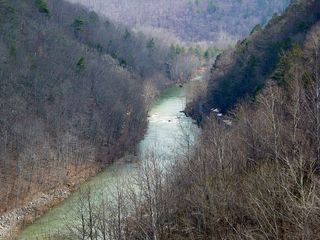 On the other side of Gathright Dam, we find the Jackson River.
---
Going down the Jackson River side of the dam is a long set of stairs.  Sad to say, though, access to the stairway is restricted.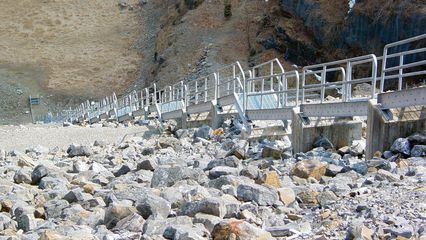 ---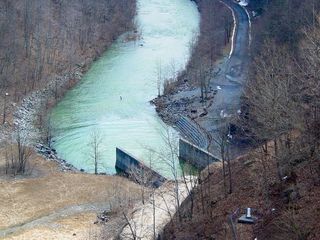 And out comes the Jackson River!
---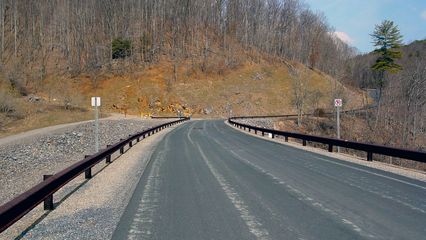 On top of Gathright Dam, a road runs across.  No parking is allowed on the dam.  From this vantage point, Lake Moomaw is on the left, and the Jackson River is on the right.
---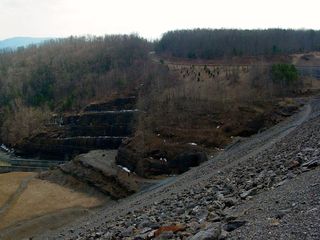 The landscape is truly beautiful out here, don't you think?
---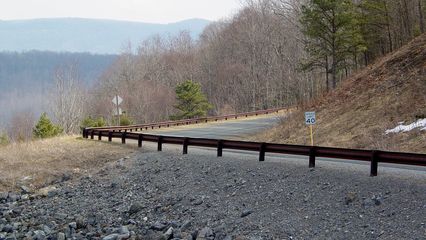 And after the photo set, off we go down the access road.