SlutWalk DC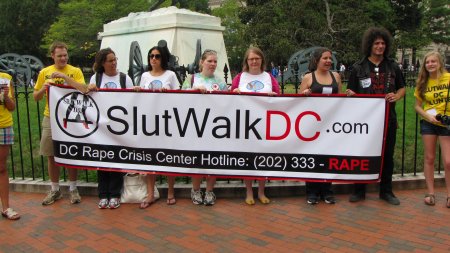 SlutWalk is a movement that manifests itself as protest marches against explaining or otherwise excusing acts of sexual assault by making reference to a person's appearance.  The movement began in Toronto after a Toronto Police officer suggested that "women should avoid dressing like sluts" if they wanted to remain safe.
In Washington DC, the event, called "SlutWalk DC", was held on August 13, 2011.  The group met up under cloudy skies at Lafayette Park, across the street from the White House.  The overarching message was that a person's body is solely their own, and that no one should be allowed to engage in sexual activity with another person if they do not have the other person's consent.  The message of the group went further to indicate that consent for sexual activity is something that is expressed – never implied – and that nothing about how a person is dressed is automatic consent for sexual activity, and that rape is never the fault of the victim.  The event took a sex-positive stand, but sex-positive only with expressed consent.
While the message of SlutWalk was serious, the mood, however, was light.  People were smiling, and the signs were creative and colorful.  The participants' attire ranged from plain to, in keeping with the idea that an outfit is not an invitation for sexual activity in and of itself, quite revealing.
When it was time to march, the group headed east to exit Lafayette Park, and then marched south on 15th Street NW toward the National Mall.  The destination was the National Sylvan Theater, a stone's throw away from the Washington Monument.
At the National Sylvan Theater, the speeches were given.  This is also where one could really get a sense of the crowd that had gathered for this event.  While this was not one of Washington's largest protest marches by any means, it was certainly a respectable turnout.  While the speeches were going on, a thunderstorm brought a bout of heavy rain to the event.  It may have left everyone soaking wet, but it certainly didn't dampen the mood.
While the speeches were going on, I went about photographing the participants.  I loved the outfits, the signs, the body paint, and the poses.  It definitely demonstrated the light and happy mood of the event, even as the crowd got rained on.