SS United States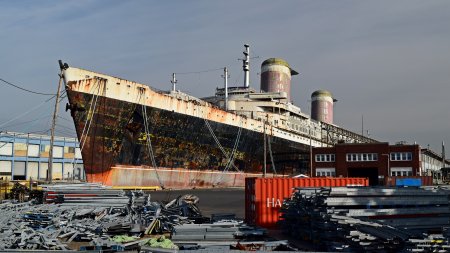 The SS United States is an American ocean liner that was built at Newport News Shipbuilding in Virginia in the early 1950s.  The ship was designed by naval architect William Francis Gibbs for passenger service, with the ability to convert the ship to a troopship with relative ease in the event of war.  She left on her maiden voyage on July 3, 1952, capturing the Blue Riband, the honor given to the fastest ship on the Atlantic, on that crossing.  She still holds that title today.  She sailed on the transatlantic route until 1969, when she was withdrawn from service while in Newport News for her annual overhaul, as transatlantic ocean travel had become unprofitable as jet airliners took much of the passenger business from the shipping lines.
Since her withdrawal from passenger service, she passed between a number of owners with various ideas for further service.  She was moved to Norfolk a few years after her withdrawal from service, and her fittings were auctioned in 1984 in order to satisfy creditors.  In the early 1990s, she was towed to Turkey and Ukraine, where she underwent asbestos abatement, stripping the interior of the ship bare in the process.  In 1996, the ship was towed to Philadelphia, where she remains to this day.  Since 2011, she has been owned by the SS United States Conservancy, an organization whose stated mission is to preserve the ship for the future.
I have always been something of an ocean liner enthusiast, and had read about this ship in various books about ocean liners.  Imagine my surprise, while my family was visiting relatives in South Jersey in the summer of 1996, to find a giant ocean liner in Philadelphia, visible from the Walt Whitman Bridge, and then realizing that it was the United States.  I admired her from afar on various family trips to New Jersey, nearly made myself airsick trying to photograph her from the air in 1999, and finally got an opportunity to properly photograph her from the street while on a trip to Philadelphia in 2015.
With this photo set, I took to the skies, and photographed the ship using a DJI Mavic Mini, i.e. a drone aircraft.  Using a drone, I was able to get much closer and get many more interesting angles than I ever would have been able to do using more conventional photography.  I flew all around her, photographing her from stem to stern on the afternoon of January 14, 2021.
---