Humpback Rock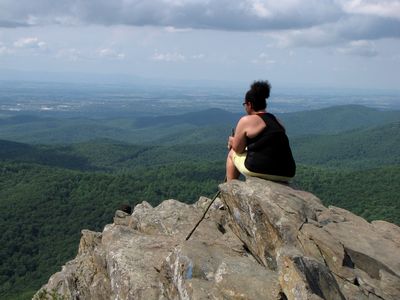 Humpback Rock is a massive greenstone rock formation on Humpback Mountain in the Blue Ridge Mountains, on the boundary between Augusta and Nelson Counties in Virginia.  The site is approximately six miles south of Rockfish Gap (and the abandoned buildings on Afton Mountain), accessible via the Blue Ridge Parkway.  The formation also lends its name to the immediate area, with the Humpback Rock visitor center nearby.
The formation itself is reached via a hiking trail from the Blue Ridge Parkway at Humpback Gap.  The trail is approximately one mile long, but is a strenuous hike due to the great change in elevation between the Humpback Gap parking area and the Rocks.  To illustrate this, see this photo of the Rocks from the visitors' center.  The visitors' center is at approximately the same elevation as the parking area, though further away.  Note the difference in elevation between the camera's location and the Rocks.  The trail covers that difference in elevation, making for a strenuous hike.  However, the view at the top is well worth the hike, providing a view of Waynesboro, Fishersville, Stuarts Draft, and Lyndhurst.
This photo set was made on May 28, 2012 while hiking the trail with friends as part of a day trip to Augusta County.  We also photographed the DeJarnette Center in Staunton on the same trip.