Day tripping it to Stuarts Draft…
May 29, 2012, 8:46 PM
I certainly had fun on Monday!  I went with Isis and Cubby to Stuarts Draft and surrounding areas.  First I picked them up, and then we headed down to Augusta County, Virginia.
Our first stop was the old DeJarnette Center in Staunton.  For those not familiar, DeJarnette Center was constructed in 1932 as a privately funded mental institution named for Dr. Joseph DeJarnette.  The facility became a state-operated children's mental institution in 1975, and was abandoned in 1996 when the DeJarnette Center moved to a new facility across Route 250 from the original.  The facility was renamed the "Commonwealth Center for Children and Adolescents" in 2001 due to Joseph DeJarnette's strong support of eugenics.  The facility was boarded up in 2009.
On our visit, we stopped the car nearby, and then took a walk around the outside of the building.  We didn't go inside for a few reasons.  First, due to the board-up, there was no light inside.  Second, asbestos.  And lastly, snakes.  I'm told that the building is infested with snakes on all levels of the building.  And snakes creep me out.  Speaking of snakes, while walking around the grounds, we found a snake, laying on the ground partly in our path as we walked behind the building.  It was a long black snake.  It wasn't interested in us, but still, snakes creep me out, especially so when Cubby indicated that it could either be a black king snake (not poisonous), or a cottonmouth (very poisonous).  In any case, I didn't really want to find out for sure which one it was.
And then here are some of my photos of DeJarnette: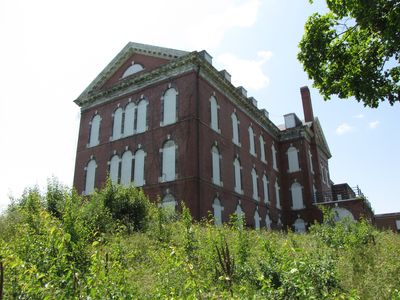 North side of the north building.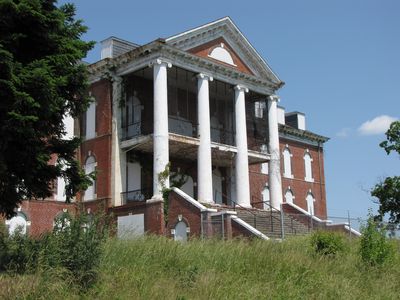 Front of the north building.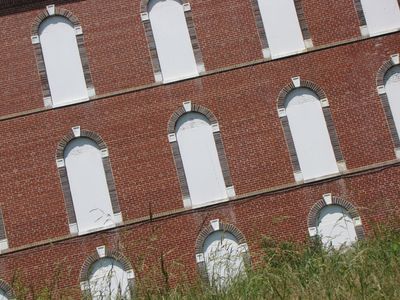 Boarded up windows on the front side of the north building.  Why they bothered to paint the board-up is beyond me, but paint it they did.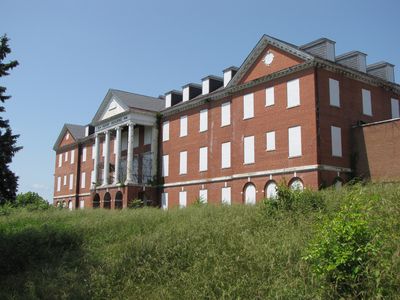 Front of the Peery Building.
Then after DeJarnette, we headed up Afton Mountain.  For that, we took US 250 through Fishersville and Waynesboro.  I think my description of Fishersville was pretty apt, when I described it this way: "They took the space between Staunton and Waynesboro and called it Fishersville."  Seriously, there's not much to Fishersville.  That town only got its first grocery store a few years ago, if that tells you anything.
Then on the mountain, we photo'd one of my favorite locations for photography: the abandoned buildings on the mountain.  This time, I had on slightly more substantial shoes, and thus could explore these buildings a little more deeply than I could last year.  However, one thing about going in: the smell of mold was near unbearable in places.  Yuck.  However, I did make an interesting discovery in one of the rooms in the back building (the one covered by graffiti): all sorts of paperwork and files: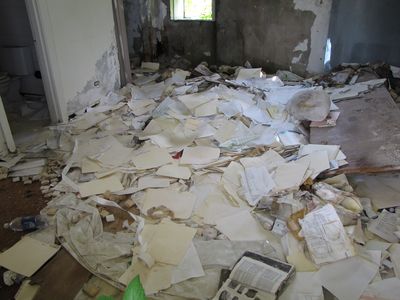 All sorts of paperwork dumped in a former motel room.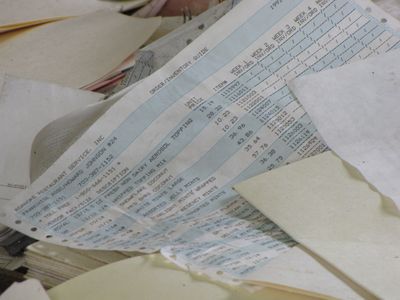 Restaurant supply ordering guide for the Howard Johnson's restaurant.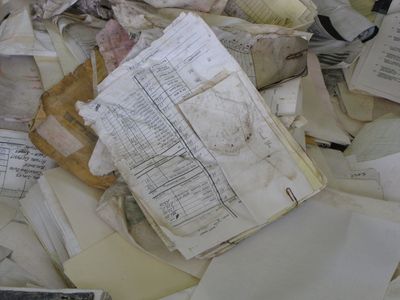 Inventory sheet, apparently for the convenience store.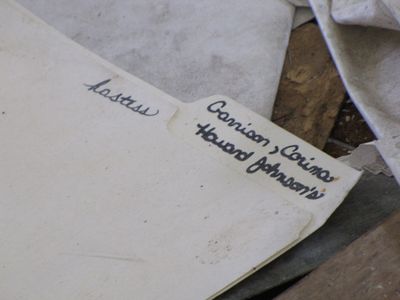 Personnel records, this one apparently for Corina Garrison, a hostess at the Howard Johnson's restaurant.
That really surprised me.  One day, I would love to explore these files a little more deeply and just see what all is there.  It's apparent that these files were dumped here pretty much as you see them, because this is not a file room, but rather a motel room, and there was no filing-type furniture for these files.  I'm sure that human resource professionals the world over are getting the vapors seeing employees' personnel files just kind of scattered about in an area where anyone can access them.  I know I was surprised, for sure.
Then after that, we headed to Humpback Rock, where we hiked.  Remember this photo from 2003?  See the rock outcropping near the top of the photo?  That's Humpback Rock.  We hiked from not far from where the camera is in that photo up to there.  It's only a mile long, but it's pretty strenuous, because that's a lot of elevation change for only a mile.  But the view from the top is gorgeous: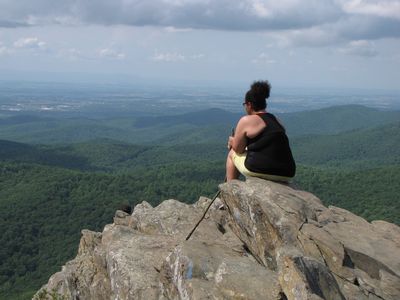 Facing northwest.  The person in the photo just happened to be sitting there.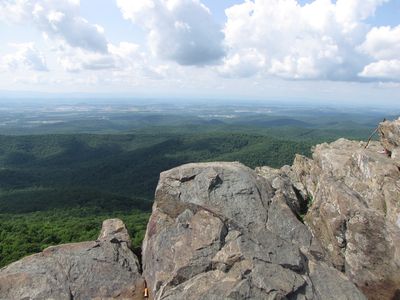 Still facing northwest.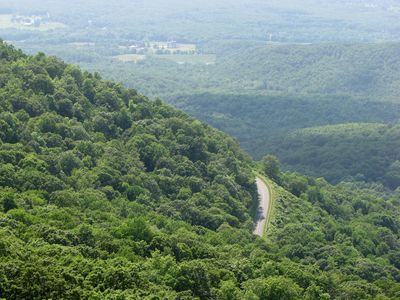 View to the southwest.  The road near the center of the photo is the Blue Ridge Parkway, approximately at the elevation where the trail starts.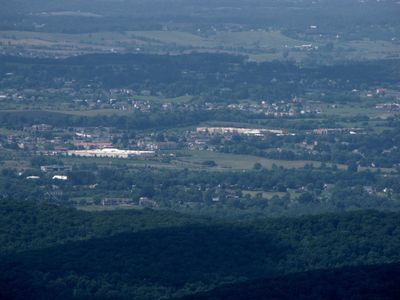 Waynesboro.  The two large structures in the middle of this photo are, at left, Home Depot, and at right, my ex-Walmart store (with emphasis on "ex").
And then these are the shoes I wore to go hiking: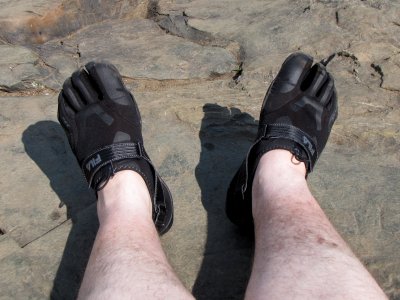 Yes, I wore the toe shoes to go hiking.  And they actually did really well for hiking.  They protected my feet, and were great for climbing over rocks and stuff.  Could be worse, though.  Look what this girl wore when she hiked the trail: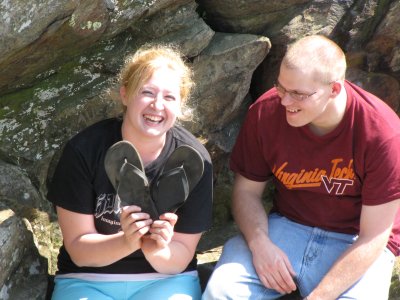 Yes, those are flip-flops.  She wore flip-flops to go hiking.  Cheap ones, too.  No way would I ever do that, but she indicated that she has done this trail many times, most recently a month ago before this, and so I presume she knows what she's doing.
Then after we finished hiking, Isis made a change of clothes in the restroom at the bottom of the trail, and then we headed over to my parents' house to visit them.  That was fun, but I needed a little caffeine to reconstitute myself while there.  While I did the hike without any issues, it still took a lot out of me, and I needed a pick-me-up to get through the day.  But I did better than I ever did doing the hike.  I'd done it about three times in the 1990s, and I'm in far better shape now than I was back then.  Still, I needed that caffeine.  Thank goodness for iced tea.  While there, Cubby and I helped Mom put an IKEA shelf together that she had a problem with, plus we got to share what we did all day.
And then we started making moves back towards DC.  We stopped by IHOP in Charlottesville on the way back, and then went back up via Route 29.
All in all, not a bad time!  The three of us are going to have to do more of these sorts of day trips in the future.  This was fun.  Plus it's good to have other folks who are interested in urban exploration.  I'd like to get into it more than just photographing on the mountain, but I wouldn't want to do it alone.
Web site: Photos of the interior of DeJarnette, before the board-up went on
Song: The sounds of motorcycles. There were lots of folks out on motorcycles throughout our entire trip, in both the DC area and in Augusta County.
Quote: Meanwhile, explain me this: I was the only one of the three of us to use sunscreen for the hike. Guess who the only one who got sunburned was. Me. What gives?