April 30, 2017, 10:00 AM
So according to Deadline, there will be an eight-episode revival of the 1990s sitcom Roseanne.  From what I've read, most of the actors from the original series will reprise their roles.
Roseanne is probably the last sitcom that I would have imagined would do a revival.  Reason is that over the course of the final season, they more or less trashed the entire premise of the show as things went completely off the rails, as the Conners won $108 million in the lottery, turning them from working-class to fabulously wealthy overnight.  Then there was the ending of the final episode, which retconned much of the series with the revelation that Dan had died from his heart attack, Jackie was gay (and not Bev), Darlene married Mark and Becky married David, that the events of the final season were a fantasy, and that everything that we saw over the past nine seasons was actually a book written by a heretofore unknown person named Roseanne Conner.  So where do you go from there?
First of all, however, in exploring where this show might start, I'm inclined to dismiss speculation by Roseanne Barr from 2009 about what the characters might be up to.  From the article cited above:
On her website in 2009, Barr gave her detailed take on where each of the main characters from the show would be in a possible Roseanne revival: Roseanne and Jackie opening the first medical marijuana dispensary in Lanford; Dan reappearing alive after faking his death; DJ being published; Mark dying in Iraq; David leaving Darlene for a woman half his age; Darlene coming out, meeting a woman and having a baby with her; Becky working at Walmart; Arnie befriending the governor of Illinois and remarrying Nancy; Bev selling a painting for $10,000; Jerry and the grandsons forming a boy band; and Bonnie being arrested for selling crack.
Continue reading…
April 27, 2017, 10:24 AM
On Tuesday, Elyse and I took a big loop trip through Virginia and Maryland.  We started at my house, went up through Frederick (where we had a late lunch at Sheetz), then took US 15 over the Point of Rocks Bridge into Virginia, where we went through Ashburn, and then down into Manassas, and from there, back home via the Beltway.  The plan was to see Manassas Mall, which we both realized that we had never actually been to.
As it turned out, Manassas Mall wasn't that exciting.  It was a fairly generic one-story suburban shopping mall that contained fairly typical mall stores and a Walmart store, plus it contained an indoor go-kart track, as well as a place called Uptown Alley, which contained an arcade, bowling alley, and laser tag, as well as a restaurant.  Other than the entertainment venues, it was more or less as expected.
However, more interesting than Manassas Mall was a side trip that we made on the way down.  You may recall that, since 2007, Schumin Web has been hosted with DreamHost.  In 2012, DreamHost began operating in a data center in Ashburn, Virginia, and my site was one of many to get moved there.  It makes enough sense, since Schumin Web is based in the eastern US, and the largest segment of my viewership is also in the eastern US.  I remember getting a big boost in speed when the site started serving from Ashburn rather than Los Angeles, which made site maintenance that much easier.  With the site hosted in Northern Virginia, it wasn't a large leap to imagine a trip to go see where the building that it was housed in was.
Continue reading…
April 16, 2017, 5:37 PM
On Tuesday, April 11, I got together with Elyse and Melissa, and we headed down to Virginia for the day.  The plan was to get together with my parents, plus visit Afton Mountain and downtown Staunton.
We left the house at 9:30, and took US 29 down to Charlottesville.  First stop was Moe's Original Bar B Que, where we had lunch with my father.  Fun time, and my father seems to have a sixth sense when it comes to finding good barbecue.  Every barbecue place that Dad has taken me to has been wonderful, and this was no exception.
From here, we took US 250 across to Afton Mountain.  There, we went to the second overlook, i.e. the Rockfish Valley Parking Overlook, to get some views.  I tend to avoid Afton Overlook, the first overlook, after being propositioned for sex there one night back in 2005.  The second overlook, which is a mile and some change further down the road, tends to attract fewer undesirables.  I suppose it's because it's further away from civilization than the first one, which is a minute's drive from the freeway.  In any case, the view is awesome: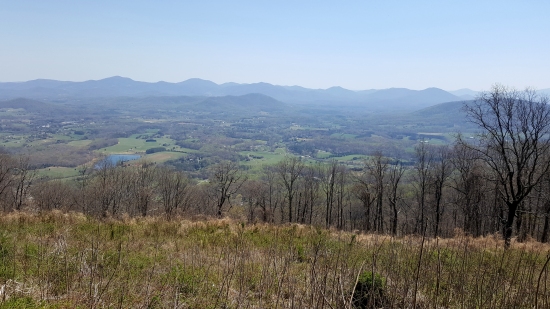 Continue reading…
April 6, 2017, 2:07 PM
So, as promised, here's the rest of the trip to Richmond that Elyse and I made.
After leaving the Science Museum, we headed over to Carytown.  Elyse wanted me to see Rocket Fizz, which is where she got some bottles of "Stalinade", a strawberry-flavored soda that, as I said on Instagram at the time, was "Communism in a glass.  Definitely tastes the way that I would expect communism to taste: red."  They have a very large selection of unique sodas, and some with novelty flavors, and some with novelty names.  I ended up buying a six-pack of novelty flavors.  Here was the take: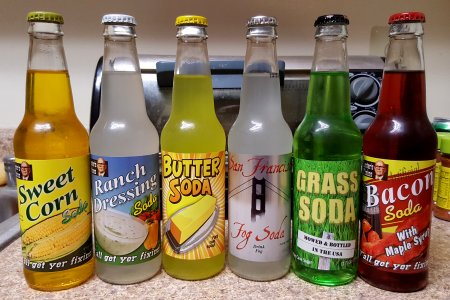 Continue reading…