December 12, 2014, 11:07 AM
…and for that, I am filled with regret.  I thought that perhaps these people would be able to respond to some level of reason.  I was quite wrong on that point.  This time, it was on the "Wilson Memorial Hornets Football" page on Facebook.  I don't remember how I ended up landing on this page, since I don't really care about Augusta County high school sports, but somehow, there I was.
For those not familiar, Wilson Memorial High School is located in Fishersville, Virginia.  The school was built at the same time as Stuarts Draft High School, i.e. where I went to high school, and is identical to Stuarts Draft architecturally.  The two schools are traditionally rivals, and play each other every year in football, though now, I believe, as an exhibition game, since the two schools are now in different conferences.
This Facebook page for Wilson football, however, has been a bit controversial.  On December 6, the page's owner made the following post: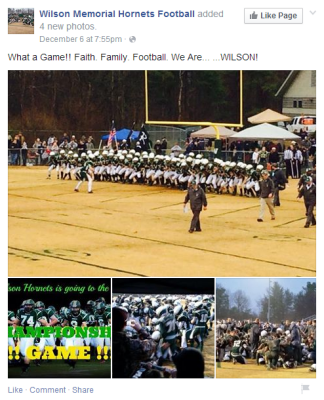 Continue reading…